Live Betting — also called In-Game Betting — has emerged as one of the most dynamic forms of sports wagering, amplifying the thrill of every moment and revolutionizing the entire industry.
The latest technology and real-time data allow bettors to wager on live events while having a bunch of stats and information about the match right in front of them, which is a massive improvement compared to traditional pre-game bets.
Most of the leading sites offering real money online sports betting in the US also have live streaming services enabled directly on their apps and websites, so thousands of events across different sports are streamed throughout the year. Watching the game live and then making a betting selection based on what you are seeing is a big plus and can help in the long run by beating the bookies.
Whether you are wagering on player-specific performance, the next goal in a soccer match, total points scored in a basketball duel, or the outcome of individual sports like tennis, in-game betting always offers many options.
In this pokerfuse betting guide, we will do our best to help beginners understand how live betting works, how to place wagers, and how to read the odds. We will also discuss the biggest pros and cons.
If you are looking for an extra dose of excitement, engagement, and a unique betting experience, live-action is definitely a splendid choice.

Last verified: August 2023
Special Signup Offer
First Bet Offer up to $1500!*
Enjoy live streaming of popular events
Great mobile betting experience
Variety of betting markets on offer
*except NY
Please play responsibly. If you or someone you know has a gambling problem and wants help, call 1-800
GAMBLER
.
Getting Started
Of course, the first thing every sports betting beginner is going to need is a funded account with an online sportsbook (check our list of the best sports betting sites in the US).
Claiming welcome bonuses can help rookies gain some experience by using bonus bets to get a few extra shots without additional financial exposure.
The second step is locating the live betting section, which is usually displayed as a category in the main lobby. All you have to do is click on the "Live" tab, and a new screen with active games should appear in a couple of seconds.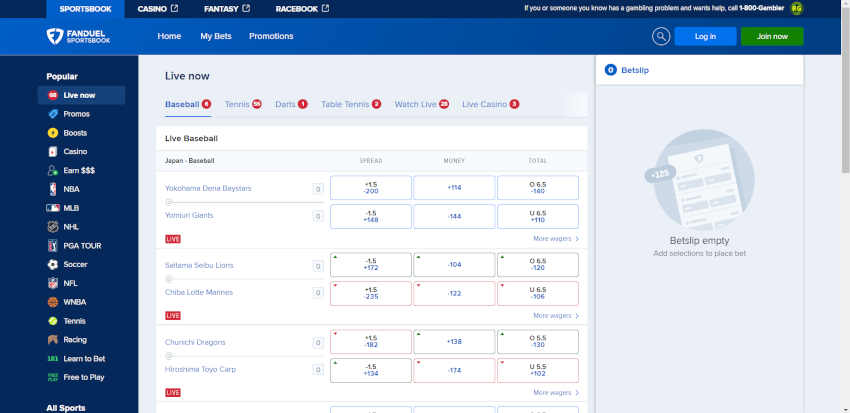 Now let us briefly discuss what the interface is showing here. As you can see in the screenshot, there were live matches available for four different sports — six baseball games, 49 tennis matches, two table tennis, and one darts game.
Of these events, 28 were live-streamed, which means anyone with a funded account can watch the match live for free. By clicking on their match of choice, players will get presented with dozens of markets to bet on, listed in a couple of categories.
Types Of Bets Available & The Changing Odds
The number of markets and options available is going to vary depending on a couple of factors, such as your online operator, the sport you are betting on, and the timing of the wager.
Running a live betting operation for thousands of matches daily is not a simple task, and you will instantly spot how frequently the odds for live betting change. A big majority of betting lines are adjusted by computer algorithms, which are heavily influenced by the action as it unfolds.
Let's discuss this with an example of an NFL game between the Kansas City Chiefs and the Philadelphia Eagles and say that both sides were priced at -110 to win the duel pre-game.
The game starts, and KC's major star QB Patrick Mahomes is injured and replaced by a rookie. What do you think will happen with the live lines? They would shift towards Philadelphia's victory instantly as the chances of the Eagles winning the match have increased drastically after the abovementioned event.
Talking about the wagers available for live betting, every sportsbook at least covers all the pre-game options during the in-play as well.
Depending on the sport, there should be some more specific lines like which player is going to score the next goal in a hockey match, how many runs are going to be in a specific baseball inning, how many three-pointers Steph Curry is going to make in the second half, etc. The main sections are typically displayed as Popular Markets, Prop Bets, Totals, & Race To X Points.
How To Place a Live Wager
Placing your first in-game betting wager should be a simple task. After deciding on the match and market you want to bet on, simply add the selection to the bet slip (usually a left click if you are using a PC or a tap for mobile devices), set the stake, and hit the "Place Bet" button underneath.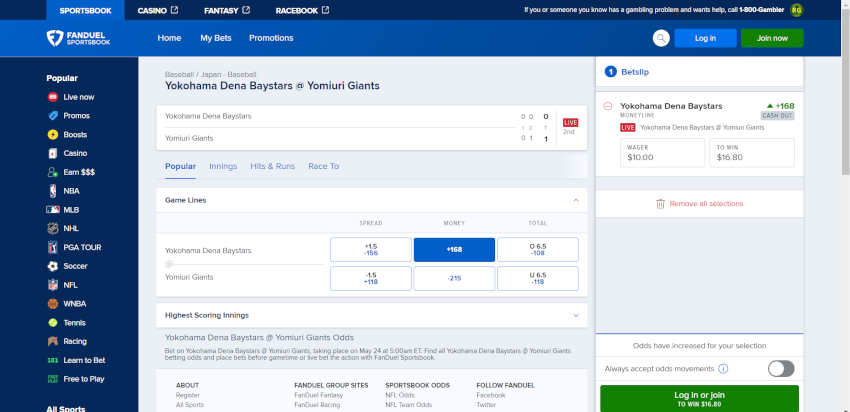 There are a couple of things to keep in mind here. Since this is live-action, the sportsbook will take a couple of seconds before it accepts your bet.
A few seconds are more than enough for a big basketball score or a player to get a 2-minute suspension in a hockey match, which completely changes the lines.
If your wager gets accepted, there is going to be a notification on the screen. If the live betting on a match gets suspended before the bet goes through, wait and see what comes next.
Sometimes, the odds will change while your bet is being processed, so players are given two options: to always accept odds movements or stop the bet if the lines change.

Last verified: August 2023
Special Signup Offer
$1000 First Deposit Bonus
Access to renowned DraftKings Rewards Program
Great mobile betting apps
Fast and hassle-free withdrawals
Please play responsibly. If you or someone you know has a gambling problem and wants help, call 1-800
GAMBLER
.
Tips & Suggestions for Beginners
Watch as Many Games as Possible
If you are an expert in a specific sport and have access to the games' live broadcast, you will likely spot something that could be a good advantage against the sportsbook's computers and algorithms.
Wagers that are strictly based on numbers will never get you an edge against such advanced technologies. Live streams are a perfect opportunity to find that advantage and capitalize on it.
Get Familiar with the Interface
As mentioned above, the interface for in-game betting differs greatly from your standard sportsbook view of lines and markets. Take a couple of hours to familiarize yourself with your provider's interface, learn where to find specific wagers, and prepare for the action.
Imagine spotting a tennis player getting extremely mad or nervous on the court, predicting him to make a double fault on the serve but failing to find that market just because it was placed under the "Specials" tab.
Set Your Limits
If not well-experienced or able to control their emotions, bettors are in danger of burning through a lot of money with this fast-paced form of betting. It is very easy to get carried away with all the action, so we highly suggest either making smaller deposits or simply tracking your bets on a spreadsheet.