Pokerfuse announced on Tuesday a new system that will describe just how many steps backwards the industry takes with each published news article with their color-coded early-warning system.
"It's clear that every story casts online poker in a bad light these days," says pokerfuse spokesman Chris Philips. "What readers want to know is – just how big of a blow is the industry taking with each news article?"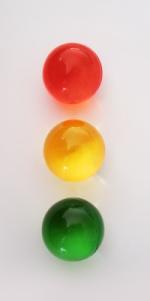 Articles will be categorized from the lowest level – "The Green Shoulder-Shrug of Acceptance," through the orange "Significant/Lasting Damage in the Eyes of the Mainstream Media" up to the highest "Red Alert – Critical Blow to the Progression of Online Poker."
"A lot of news these days is met with a collective 'Standard,' and would simply be labelled 'green' for the normal shoulder-shrug response," says Philips, referring to recent news like PartyPoker's failure to stop blatant cheating over a five-month period and iPoker's inept customer service tellling players that there were bots on the network.
"We feel it's important to distinguish these regular bad stories – that add to but do not significantly progress the collapse of online poker industry – from the mighty bombshells that really grab the attention of the wider media." Philips cites Full Tilt Poker and the failure of its regulators the AGCC and ARJEL as prime examples.
"When we first came up with the idea of a threat-warning system," Philips continues, "we had envisaged another level – 'The Silver Lining of Hope,' for all the positive news articles."
"You know, for the ones that show online poker in a true positive light: how it is a recreation and profession enjoyed by millions, how it creates jobs and raises tax revenue, how the industry is working hard to police itself – to shed the misconceptions in the mainstream of a dark, illicit wild-west filled with cheaters, scammers and con-men – by running trust-worthy poker rooms and jurisdictions and promoting online poker as a healthy sport and past-time."
"But then we realised… when would we ever use it?"