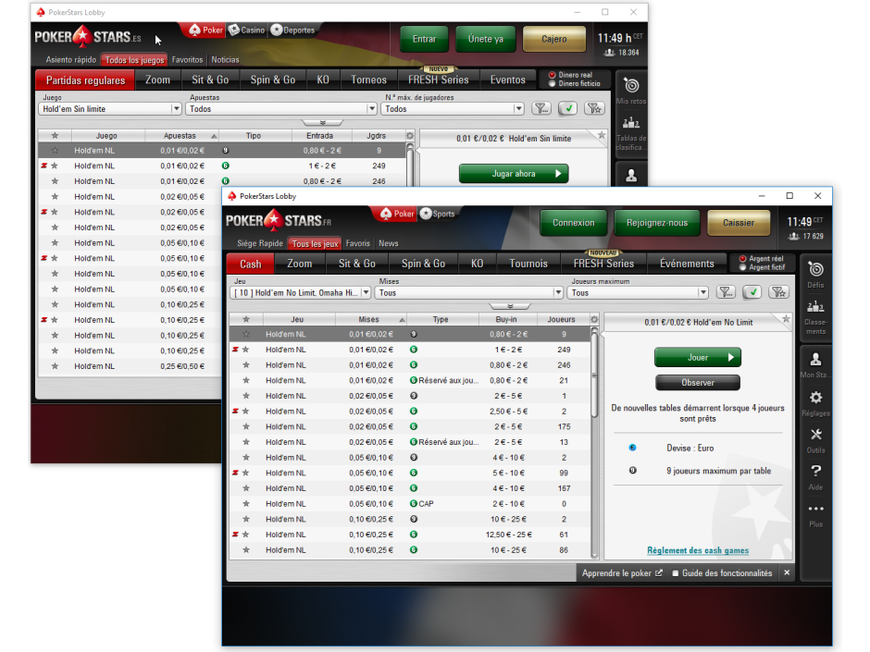 European Shared Liquidity finally became a reality on Tuesday when PokerStars became the very first online poker company to share its player pool between France and Spain. The event marks a significant breakthrough in efforts to join the player pools in regulated European markets.
Just one day after Spanish regulators completed the required steps to allow operators to combine their player pools with other select European countries by publishing its cross-border liquidity sharing resolution in the state gazette, PokerStars launched its Franco-Spanish liquidity pool, the first of its kind in the world.
"This will be great for players and great for the poker category," said the Chief Operating Officer of Stars Interactive Group, Guy Templer. "The French and Spanish regulators have done an excellent job in enabling a dramatic improvement in the gaming experience in their jurisdictions."
Sooner Than Expected
The speed at which the new liquidity pool went live was a bit unexpected. Although PokerStars was known to be the only online poker company to have received the special permission required to combine player pools from the French gaming regulator ARJEL, it was thought that clearing the technical requirements of the Spanish gaming regulator would take additional time.
Additionally, the requirement put in place by Spain to provide "adequate and sufficient prior knowledge" to customers had at least some industry experts thinking that the launch date would come at the end of January at the earliest.
However, the shared player pool simply went live with little to no hype or advanced marketing by PokerStars. As of approximately 3PM GMT on Tuesday, players in both France and Spain were able to access cash games and tournaments that included players from both countries through the lobby.
Online Poker Offerings Not Exactly The Same
Although, the offerings from each country are not completely identical. In Spain, the highest buy-in tournament available has a €250 buy-in as a result of that country's gaming regulations. That means that high stakes tournaments are currently only available to players on the French site.
In France, regulations prohibit the offering of casino games, and as a result, the casino tab that appears in the lobby in Spain is not available to those players accessing the site in France.
Other minor variances include special IntelliPoker branded tournaments—representing PokerStars' poker training program—absent in the French lobby and what seems to be segregated player pools for Spin & Gos, PokerStars' popular lottery-style sit and gos. It is unknown if these small differences are meant to be permanent or temporary.
Those small differences notwithstanding, cash game tables, Zoom games, sit and gos, and MTT seem to have been all pooled together.
"Having a strong, competitive regulated offering—which comes from combining player pools—has proven to be attractive to consumers who might otherwise be choosing to play on un-licensed and potentially un-safe sites," said Templar. "We're looking forward to extending this to Italian and Portuguese players, and offer our full support to the relevant authorities in those countries to do so."
Other online poker operators are expected to follow PokerStars' steps in the near future, and PokerStars' shared European player pool is expected to expand into Italy and Portugal as soon as all regulatory hurdles are cleared.