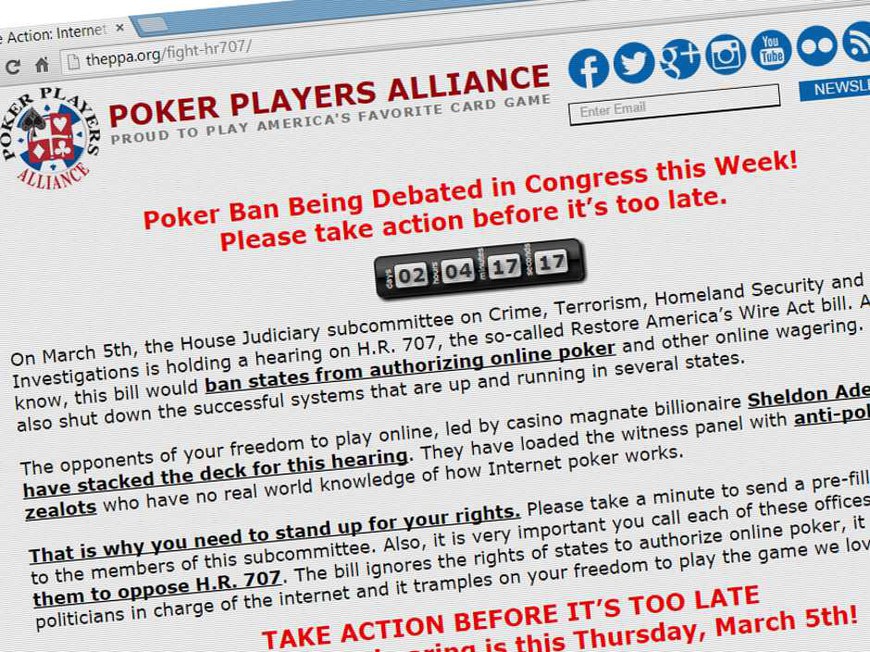 The Congressional hearings on the Restoration of America's Wire Act (RAWA) bill which threatens online poker in the US will be held on March 5. The Poker Players Alliance (PPA) is urgently calling for players to take action in the remaining hours before the committee meets.
An online petition was quickly organized and has been sent to committee members, so action now is focused on sending a consistent message by phone and through social media which will let the members know that there is widespread support for online poker and opposition to the proposed law.
The PPA website has a list of all the members telephone numbers, and a pre-filled tweet that can be sent to each politician with only a couple of clicks.
The text reads:
"@RepMikeBishop [the relevant names are all pre-inserted] Support Internet freedom. Oppose stripping states of their #TenthAmendment right to authorize poker sites. #OpposeHR707"
After making calls to representatives it is important to remember to register those calls with the PPA —the more calls, the more tweets, the more powerful the PPA's case becomes.
The RAWA bill has been sponsored by Las Vegas Sands owner Sheldon Adelson, who spent over $100 million in the last presidential elections in political contributions. His money makes him a powerful force within the Republican party, although his support extends to politicians of all philosophies, so long as they support what he wants the law to be.
Adelson financed the Coalition to Stop Internet Gambling (CSIG) which has put out a tremendous amount of pure propaganda on the issue. The PPA counters these arguments with the reality of online poker, but it can only succeed if poker players help.
Former partypoker CEO Jim Ryan believes that the threat from RAWA is real—poker players need to act to ensure that they are not blindsided again, as they were when the UIGEA was passed in 2006 in a blatant abuse of the democratic process.