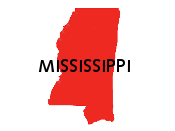 For the third time in as many years, lawmakers in the state of Mississippi plan to debate the prospect of licensing online gaming in the state.
State Rep. Bobby Moak (D-Bogue Chitto) plans to introduce a bill to regulate online gaming in Mississippi in 2014.
Moak has also proposed igaming legislation in 2012 and 2013, but neither bill was able to gain enough traction to emerge out of committee.
Since the last attempt by Moak failed in February of this year, the US has seen real-money internet gambling occur in regulated markets in Nevada, Delaware and New Jersey.
Proponents of online gaming in the US are watching as New Jersey, the biggest of the three states with regulated internet gaming, emerges from its soft launch and begins offering real-money online poker and casino games to the general public on November 26. Mississippi State Rep. Richard Bennett (R-Long Beach) is one of those watching to see how successful the rollout in New Jersey will be.
Barring any major glitches, Bennett plans to move quickly on igaming. "I don't want to be holding the ball on this. I want to be out front," Bennet told Mary Perez of Sun Hera;d
Bennett also disclosed that there are already "hearings and discussions on Internet gambling" planned for the 2014 legislative session in Mississippi.