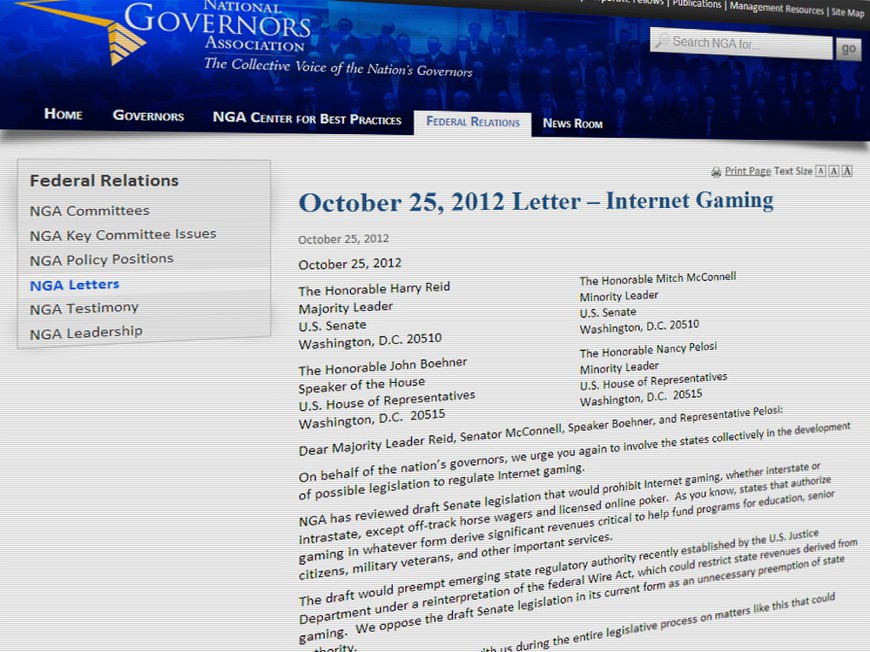 In a letter on Thursday, the National Governors Association (NGA) informed House and Senate leaders that they oppose the draft of Senate online gambling legislation.
The Internet Gambling Prohibition, Poker Consumer Protection, and Strengthening UIGEA Act of 2012—commonly known as the Reid/Kyl bill because it was co-sponsored by Senate Majority Leader Harry Reid D-NV and Senate Minority Whip Jon Kyl R-AZ—seeks to prohibit most forms of internet gambling but would provide an exception for online poker.
The NGA, chaired by Republican Pennsylvania Governor Tom Corbett, opposes Reid/Kyl "in its current form as an unnecessary preemption of state authority."
The key objection cited in the letter by the NGA is the restriction of state revenues under the proposed legislation.
"As you know, states that authorize gaming in whatever form derive significant revenues critical to help fund programs for education, senior citizens, military veterans, and other important services," the letter states.
Following the US Department of Justice's reinterpretation of The Wire Act last year, states began to move forward with their own online gambling legislation. Illinois initiated the sale of online lottery tickets and Delaware passed legislation legalizing a variety of online gambling including online casino games and online poker.
Nevada, which had passed online poker legislation prior to the DOJ's latest opinion on the Wire Act, has begun issuing licenses and is about to begin offering real-money online poker in the coming months.
It is not surprising that Reid/Kyl, which many critics believe gives an unfair advantage to the state of Nevada, is supported by at least one governor: Brian Sandoval, Governor of Nevada.
Sandoval issued his own letter to congressional leaders. The Nevada Governor contends that online gambling is "inevitable" and his past experience as Chairman of the Nevada Gaming Commission can put him in a position to help craft legislation that will strike a balance between states' rights and consumer protection.
The consumer protection framework put in place for Nevada's online poker program is available for other states to mimic. So unless helping states maintain their authority over gambling related issues translates into revenue, it is unlikely Sandoval's offer will carry much weight with other governors.