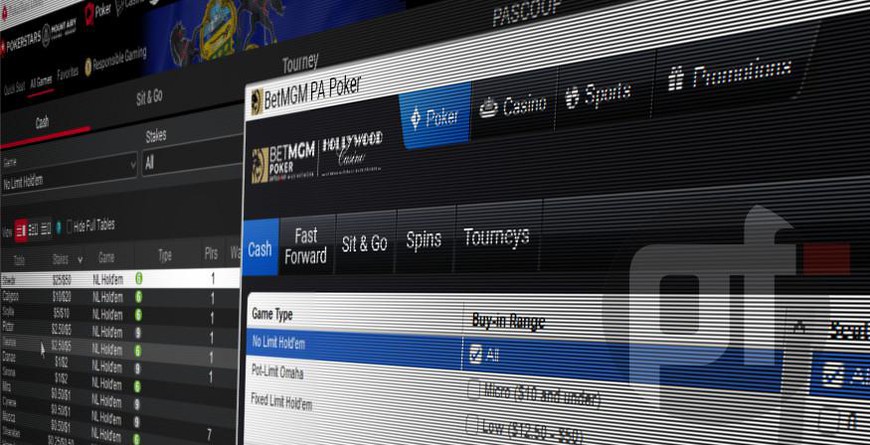 The first week of cash game data for the expanded Pennsylvania online poker market is in, and BetMGM's results are likely lower than they were hoping for.
After a short soft launch starting April 27, BetMGM Poker PA, along with partner room Borgata Poker PA, went fully live on April 29, offering the first competition to rival PokerStars PA.
With the first week of data for the newly expanded market in PA, the two rooms, run through a joint venture between MGM Resorts International and Entain (previously known as Roar Digital), posted average cash game traffic of around 30 concurrent players.
That is significantly lower than the veteran in the market, PokerStars PA They have been operating in Pennsylvania since late 2019, where they have averaged between 350 and 400 concurrent users over their lifespan.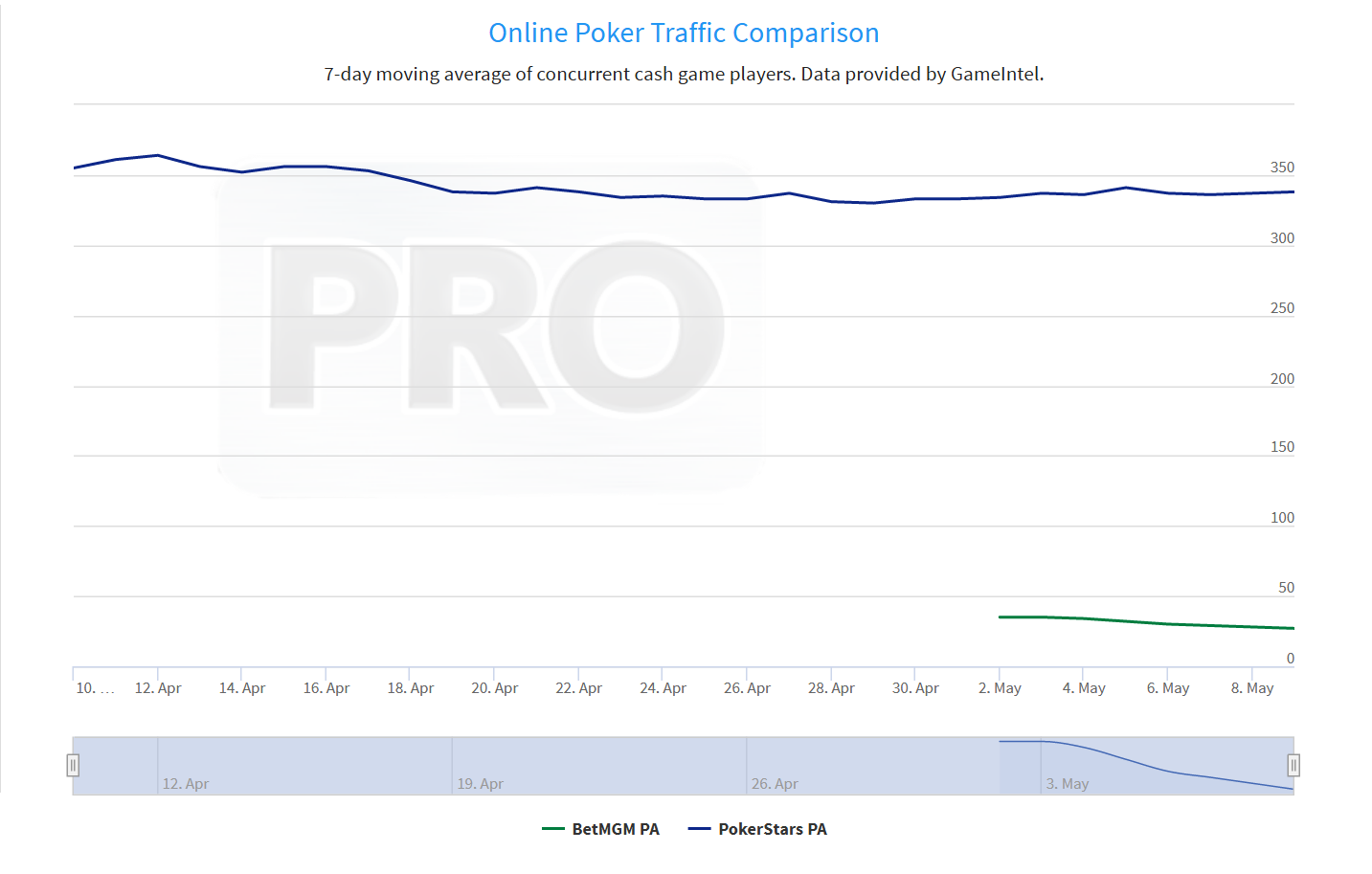 The last 30 days of traffic for PokerStars is somewhat below that longer trend, with values from as high as 364 to as low as 330, but the trend for the last 30 days is very stable for PokerStars, with solid, consistent traffic.
The best BetMGM has been able to manage so far is 35 concurrent players, and that was on the first two days for which data is available, May 2 and 3. Since then traffic has actually dipped slightly, with May 9 numbers showing just 27 concurrent players, compared to 338 on the rival PokerStars.
They may be looking to turn that around on the tournament side of things however. There is an entire week of freeroll action planned in Pennsylvania for this coming week, which should inject some cash into the games.
Stronger Launch in Michigan
Pennsylvania is the third state to have access to BetMGM/Borgata Poker products. A month before the PA launch, BetMGM Michigan went live.
They jumped into the much newer Michigan market just a couple months after PokerStars became the first operator to offer poker in the Wolverine state in late January of 2021.
In Michigan, BetMGM Poker MI debuted at about the same levels as the PA room did, around 30 concurrent players. They appear to have gone different directions post-launch however. Numbers in PA dipped somewhat after the first days around 30, while MI numbers grew, stabilizing around 75 by mid-April.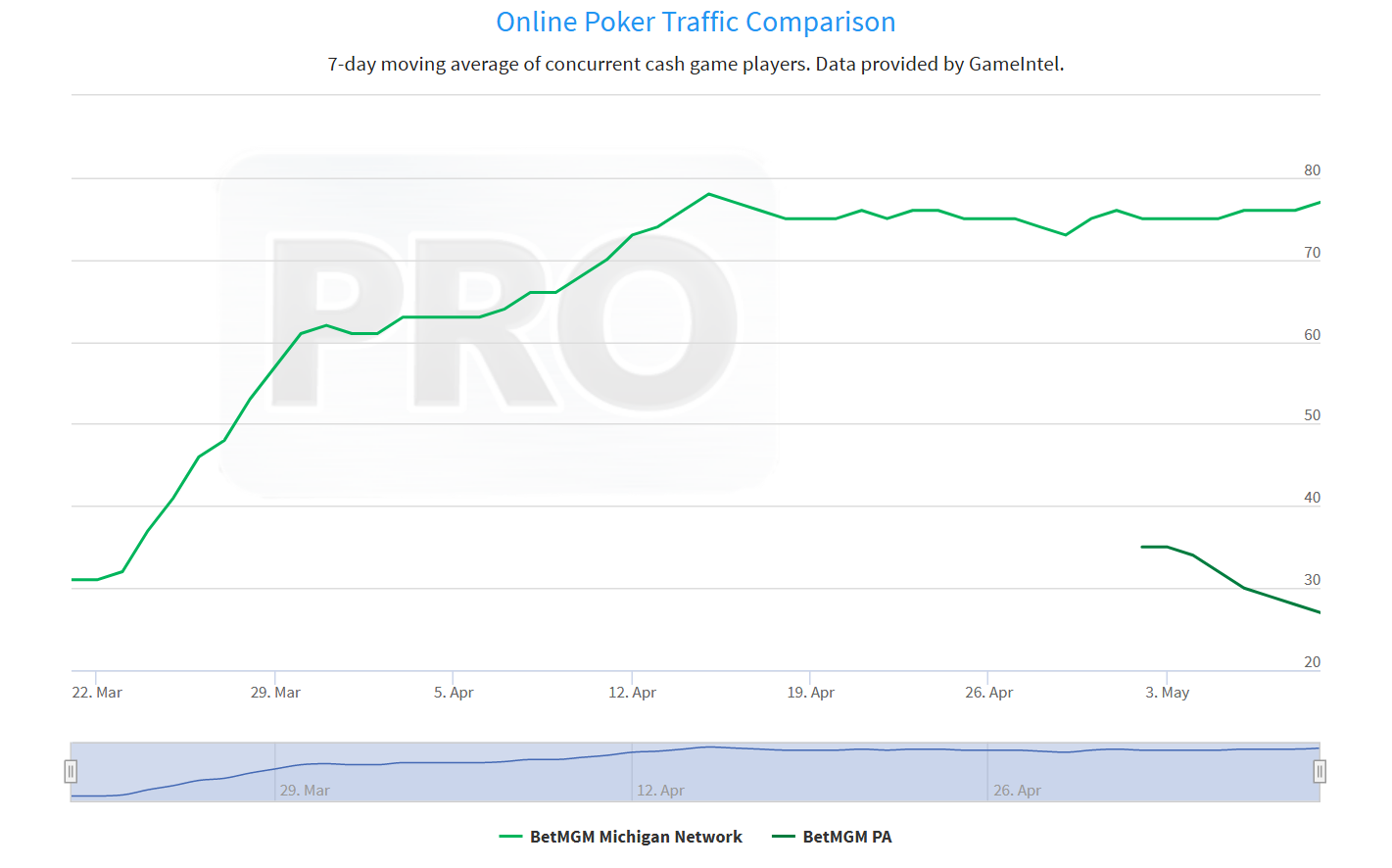 Along with partypoker, which runs the software behind BetMGM and Borgata Poker USA offerings, they have a long history in the New Jersey market as well. They have a much stronger presence in New Jersey, with numbers that rival traffic at PokerStars.
Both operators are behind the WSOP/888 US network in New Jersey, but it is not an apples-to-apples comparison. WSOP shares liquidity with Nevada and Delaware, adding about 3 million extra people to their potential market that neither PokerStars nor BetMGM can currently access.
Freeroll Week in Pennsylvania
Among the promotions BetMGM PA has on-deck for the coming days to help boost interest is an entire week of freeroll action. Freerolls are scheduled daily throughout the week welcoming new players, including existing casino or sportsbook clients.
There is more than $1,500 in free value in each of these, though players are limited to a single freeroll during the week. Each game has 15 prizes up top, with the winner slated to get a $535 ticket to an "Online Poker Open Event". There are no further details on the target event at this time, but the name suggests an online series from BetMGM Pennsylvania soon.
Action has been slow in the early days of BetMGM PA Poker, both on the cash and tournament side of things. They have been seeing overlays in most of their guaranteed events since launch, but the upcoming freeroll week, and the presumed BetMGM PA Online Series will be chances to turn that around.
It is unclear why the PA launch seems slower than the recent Michigan launch, especially given the larger population of PA, however there is one possible answer. BetMGM entered the Michigan market while it was still in its opening frenzy, riding a high from the huge PokerStars MICOOP. Michiganders were already excited about the new poker offerings, and that seems to have helped the BetMGM launch.
The PA market is much more mature, with rival PokerStars established in the state since late 2019. There is no longer an initial rush of excitement over a new game on the market to fuel the fire in PA, and so attracting new customers could be more of an uphill battle in such an established market.
Whatever the answer, it is still very early days in the expanded PA market, and there is plenty of time for things to turn around for BetMGM. It seems clear they need to find a way to increase their user base however, and a week of freerolls may be just the ticket.