Borgata Poker US made its debut on November 26, 2013, when it launched in New Jersey. The site has been live ever since, making it one of the longest-running regulated poker rooms in the US.
For more than seven years, New Jersey was the only state that Borgata Poker US had an online presence in. Then, in April 2021, it went live with its second room in Pennsylvania.
Borgata Poker in the US is the result of joint venture between technology company Entain and the global entertainment giant MGM Resorts International.
Borgata Poker US sites run on partypoker's software and along with BetMGM Poker US and partypoker itself, the trio is often referred to as the BetMGM Poker US Network. However, interstate player pooling is not currently allowed between these sites.
Luckily, the legal bar on shared liquidity looks certain to change soon. Promoting the idea of a network is a clear indication that the BetMGM US sites want to offer multi-state player pools as soon as they are legally allowed to.
The collaboration does allow the three operators to pool players within state jurisdictions — most notably in New Jersey — giving Borgata Poker USA the chance to generate greater cash game traffic and bigger fields for tournaments. Having these three different skins enables them to try different things, meaning Borgata Poker USA can experiment with formats and promotions, and develop a more distinctive feel.
Once multi-state shared liquidity is a reality, other states will inevitably regulate online poker. Increased player pools will make it much easier for poker rooms to be profitable — especially in places with small populations — and more profit means more taxes, and few states will want to miss out on that.
The most likely candidates for the next Borgata Poker US Site are:
Illinois will be of particular interest to the operator, due to its large population (approximately 13 million). It is also worth noting that Borgata currently has no presence in Michigan, which already has regulated gaming and is another jurisdiction with a population of over 10 million people, making the Great Lake State another likely candidate for the next Borgata poker room, especially as it's the newest addition to the MSIGA and will be launching multi-state online poker soon, offering a great opportunity for BetMGM US sites to form an interstate network.
Borgata Poker in the
USA
The Borgata brick-and-mortar resort opened in July 2003, instantly becoming the highest-grossing casino in Atlantic City. In 2013, it partnered with bwin.party to offer online poker in the state of New Jersey.
Borgata Poker US as we know it today, began to take shape in 2018 when Entain (formerly known as GVC) teamed up with MGM Resorts International. That partnership now runs Borgata, as well as BetMGM and partypoker in the US.
The three skins all use partypoker software for their poker rooms. As such, Borgata Poker sites in the US have a similar design and feel to the rest of the partypoker network. They also offer a similar choice of tournaments and cash games, as well as many of the same promotions and bonuses.

Last verified: December 2023
Special Signup Offer
100% deposit bonus up to $1000!
Up to $75 worth of

MTT

tickets
A reputable brand
Great range of games across all stakes
Please play responsibly. If you or someone you know has a gambling problem and wants help, call 1-800
GAMBLER
.
Borgata Poker NJ
Borgata Poker New Jersey greets new players with a fairly generous welcome bonus: a 100% first deposit match, up to a maximum of $1000, released in 10% chunks as wagering requirements are met. There is also up to $75 in MTT tickets up for grabs, depending on the size of the first deposit.
Traffic on the site is decent. All three partypoker US network skins have a presence in New Jersey, and they pool their player base within the state, generating very similar numbers to PokerStars.
Both lag somewhat behind WSOP NJ however — which enjoys the benefit of shared liquidity with Nevada and Delaware — illustrating how valuable multi-state poker will be when it becomes available for the rest of the US.
Borgata NJ runs regular tournament series, most notably the Borgata Online Poker Open, the WPT Borgata Online Series, as well as the partypoker US Network Online Series.
September 2021's Borgata Online Series was a particular success, producing a $917,300 total prize pool. The Main Event alone generated $432,700 —the largest prize pool in partypoker US network history.
The games spread at Borgata Poker New Jersey are heavily weighted towards No-Limit Hold'em, as you would expect. Omaha players might struggle to find cash games although there are a handful of PLO tournaments spread daily, including some Hi/lo contests.
The variety of games will improve when multi-state becomes a reality. The larger player pools will allow Borgata to offer more niche variants, as well as games that require more liquidity, such as fast-fold poker.
Download Borgata Poker NJ and get in on the action or head to our comprehensive Borgata Poker NJ Review for more info.
Borgata Poker PA
In keeping with the overall theme of the network, Borgata Poker Pennsylvania looks and feels similar to the New Jersey poker room. The welcome package for new sign-ups is basically the same as for NJ, including the added bonus of up to $75 in added tournament tickets.
There is an obvious reason for the extra inducement — Borgata Poker PA is one the most recent poker rooms to go live in the US, having just launched in April 2021, and the operator wants to build up a player base as quickly as possible.
Its main rival in the Keystone state is PokerStars PA, which had a de facto monopoly there for 18 months. During that time, PokerStars PA became the biggest regulated site in the US.
It is unsurprising then that Borgata Poker has had a tough start in Pennsylvania. Despite sharing liquidity with the sister site BetMGM PA, it has struggled to make much of a dent in PokerStars' traffic.
Borgata PA is such a new site that, at the time of writing, its inaugural online series has only just begun: It kicked off on June 20, also running on BetMGM PA.
It remains to be seen how successful it will be, but the $270,000 set aside in guaranteed prizes suggests a good degree of optimism for this first venture.
Understandably, with low traffic on the site, the variety of games on offer is not huge but is it very early days for the site. Borgata will be hoping to expand its player base and range of games as time goes on. The prospect of inter-state shared liquidity is looming — which would help enormously in this regard.
Download Borgata Poker PA and get in on the action or head to our comprehensive Borgata Poker PA Review for more info.

Last verified: December 2023
Special Signup Offer
100% deposit bonus up to $1000!
Up to $75 worth of

MTT

tickets
A reputable brand
Great range of games across all stakes
Please play responsibly. If you or someone you know has a gambling problem and wants help, call 1-800
GAMBLER
.
Online Casinos & Sportsbooks Powered by Borgata
USA
Borgata online offers other gaming products aside from online poker. The New Jersey site features an online casino and sportsbook.
Borgata Casino NJ provides table games such as blackjack and roulette, including live dealer varieties. It also offers a large selection of slots, with several games that feature progressive jackpots.
The sportsbook covers all major US sports, as well as some of the more obscure ones such as table tennis, NASCAR, MMA, and lacrosse.
Pennsylvanians currently only have access to casino games at Borgata Casino PA but as BetMGM PA runs a sportsbook, it is probable that Borgata PA will also add one in the future.
| State | Sportsbook | Online Casino |
| --- | --- | --- |
| New Jersey | Yes | Yes |
| Pennsylvania | Available via BetMGM PA | Yes (Borgata Casino PA) |
Check Out the Action on Borgata Poker USA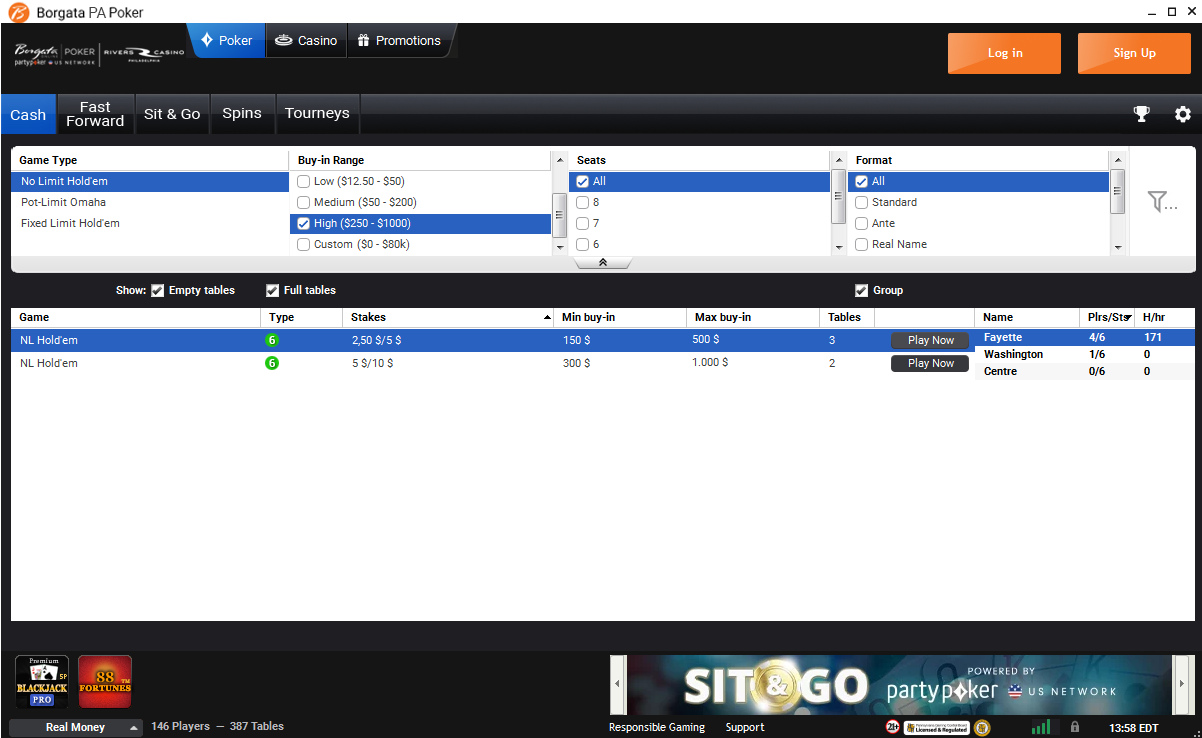 The cash game action across all stakes available on Borgata Poker US sites
Spin and Go tournaments on Borgata Poker PA featuring potential for big prizes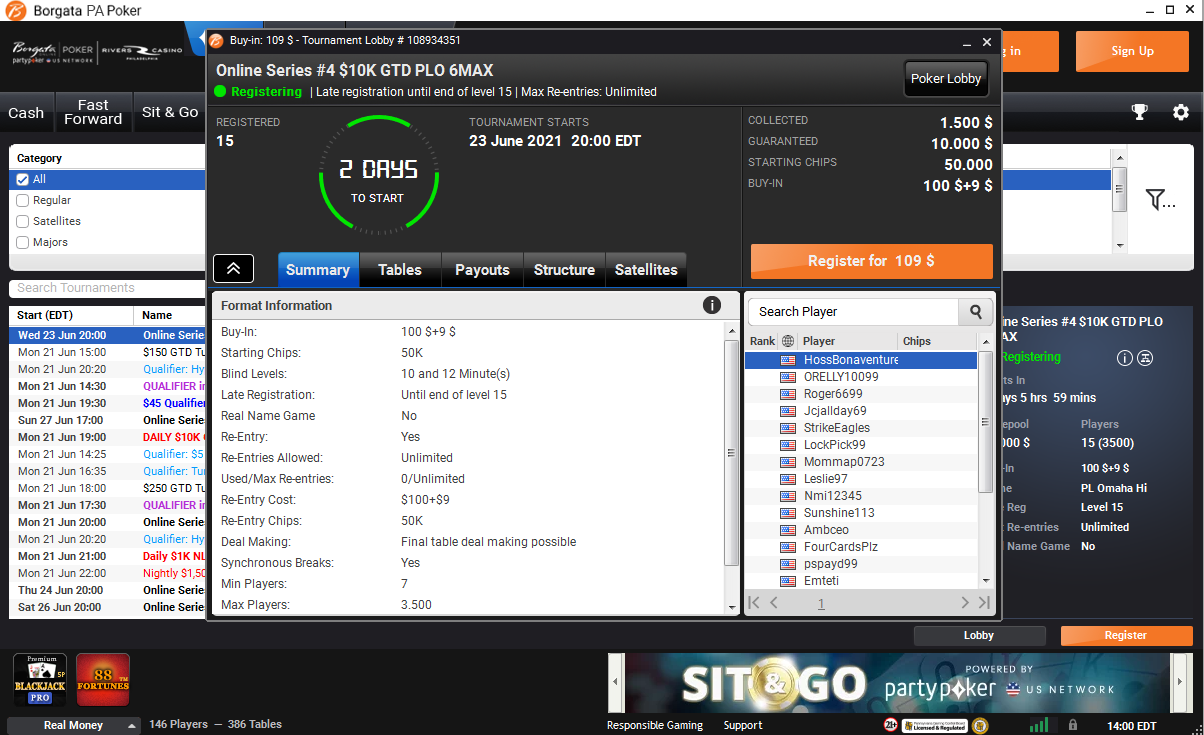 Tournament lobbies provide all the information you need about the event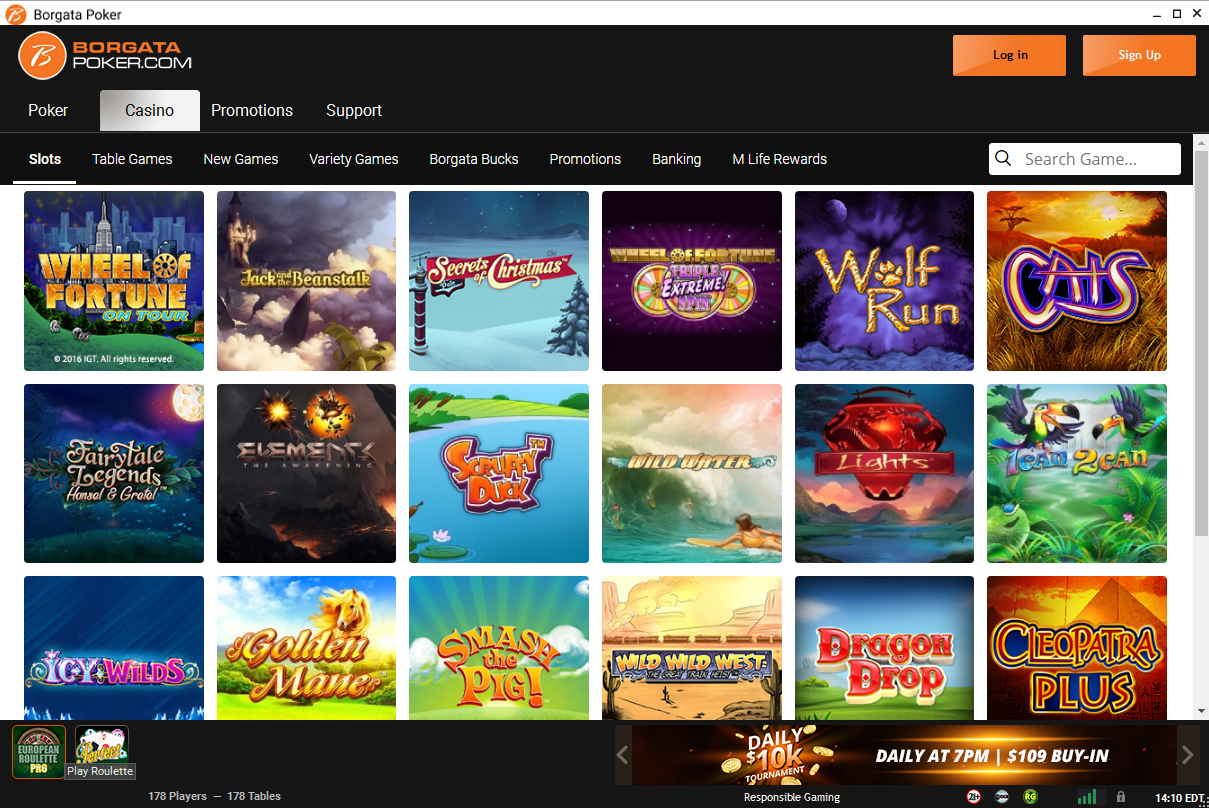 The casino lobby is available from within the poker client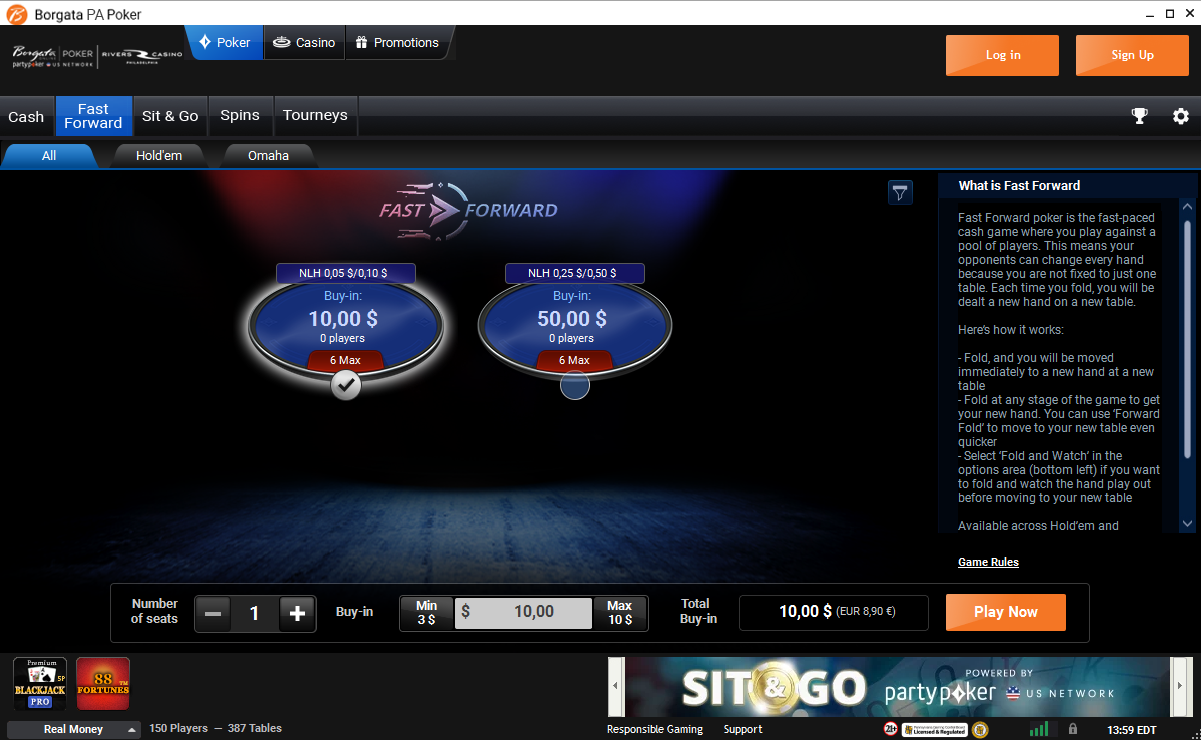 Fast Forward games offering fast-paced action but suffering from fairly low traffic
Online Poker Regulations in the US
April 15, 2011, has gone down in poker history as Black Friday, the day the Department of Justice (DOJ) closed down online poker rooms across the US. Since then, there has been a long and slow process to legalize and regulate poker on a state-by-state basis.
It took two years for the first regulated poker room, Ultimate Poker, to go live, launching in Nevada in April 2013. Delaware was the next state to launch online poker, seven months later. Less than three weeks after that came Borgata Poker NJ.
The Early Days of Borgata Poker
USA
In the early days, real money online poker in New Jersey was dominated by Borgata and WSOP, which both went live in November 2013. At this point, New Jersey was by far the biggest state to offer regulated online poker, and it would remain so for a long time.
For a while, there was hope that regulated poker would open up quickly. But that optimism was short-lived, and it would be six years before Pennsylvania became the next state to offer the game online.
Borgata Poker
USA

, 2016-2020

While New Jersey remained Borgata's only live poker room in the US, a lot of work was going on behind the scenes to make the legal and logistical changes that would allow Borgata USA to expand in the future.

In February 2016, GVC acquired Bwin.Party Digital Entertainment beginning the process that would lead to the BetMGM US Network of today.

Partypoker, who had been struggling for several years, immediately saw an upturn in its fortunes, growing 10% in the first year after its acquisition.

The following month, Borgata and WSOP were joined in New Jersey by PokerStars and the three remain the big operators in the Garden State.

Borgata Poker NJ is at a disadvantage here, as WSOP enjoys the only interstate shared liquidity currently operating in the US. It pools its NJ players with those in Nevada and Delaware and therefore generates more traffic than Borgata NJ, highlighting just how valuable shared liquidity will be when it becomes available throughout the rest of the US.

In 2017, GVC — who was already providing Borgata's poker and casino software — signed a deal with MGM Resorts International, forming what was to become BetMGM and Borgata Poker USA.

GVC changed its name to Entain in December 2020 and committed to operating solely in regulated markets. This laid the foundations for further Borgata Poker sites in the US.
Borgata Poker US: Present and Future.
In April 2021, Borgata Poker US finally launched its second regulated poker room. Borgata Poker PA went live in the Keystone State, with sister site BetMGM Poker PA launching at the same time.
The inception of a new Borgata US site after six years is a sure sign that Entain and MGM have confidence in the brand and intend to expand it as the US markets open up.

Last verified: December 2023
Special Signup Offer
100% deposit bonus up to $1000!
Up to $75 worth of

MTT

tickets
A reputable brand
Great range of games across all stakes
Please play responsibly. If you or someone you know has a gambling problem and wants help, call 1-800
GAMBLER
.
Borgata Poker
USA

Highlights
November 2013: Borgata Poker New Jersey goes live.
April 2014: Borgata NJ deals its 30 millionth hand. To celebrate it gives away $10,000 to the winner of the landmark hand.
September 2014: Borgata Poker NJ hosts the Garden State Super Series (

GSSS

). Guaranteeing $1 million in prize money, it is the largest tournament series in US regulated online poker history.
February 2016:

GVC

takes over Bwin.party, thereby becoming the owner of Borgata and partypoker. At the time, it is the biggest poker network in the US in terms of revenue.
July 2018:

MGM

Resorts International and

GVC

partner together to target the markets opening up in the US.
September 2018: After scaling back the Garden State Super Series, Borgata sees the

GSSS

grow for four editions in a row. This time around, it generates $450,000 in guarantees, with $100,000 for the Main Event.
June 2020: The inaugural

WPT

Online Poker Open is hosted by Borgata and its fellow BetMGM US Network sites in NJ, with $300,000 in prize money.
September 2020: New Jersey's

WPT

Borgata Online Series culminates in a $1060 Main Event. The $432,700 prize pool is the biggest in the BetMGM US Network's history.
December 2020: September's record is short-lived, as New Jersey's

WPT

Online Poker Open Main Event generates $1,264,000.
April 2021: Six years after launching in NJ, Borgata goes live with its second poker room, in Pennsylvania.
June 2021 Borgata Poker PA co-hosts the debut partypoker US network Online Series in PA, with $270,000 in guarantees.
The Future of Borgata Poker
USA
Real money online poker in the US is opening up at the fastest rate since regulation began. Seven states have now legalized internet gaming, and many more are in the process of doing so.
The main driving force behind this is the prospect of shared liquidity between state jurisdictions. In January, after years of legal ambiguity, the United States Court of Appeals for the First Circuit ruled that the 1961 Wire Act did not apply to online poker.
Shared liquidity now seems inevitable, and the taxes that come with it will be too good a prospect for most states to turn down. It appears that the US is approaching the tipping point, where traffic and revenue could begin to resemble those that were enjoyed before the events of Black Friday.
In April 2022, Michigan became the fourth state to join the only existing online poker multi-state agreement (MSIGA), announcing things to come. While Borgata currently does not have an active platform in Michigan, it could still likely benefit from the player pool on the sister site, BetMGM Poker MI.
Michigan, of course, has had online poker since January 2021, and with sister site BetMGM MI already live in the state, all the infrastructure is in place for Borgata to launch there if it wishes to do so. Michigan also recently signed onto the Multi-State Internet Gaming Agreement (aka MSIGA), joining Nevada, Delaware, and New Jersey in interstate poker. As partypoker, Borgata, and BetMGM already share a network in NJ and BetMGM Is already present in MI, it would make a whole lot of sense for Borgata to launch in Michigan so the network could connect the three brands in NJ with two brands in MI, truly taking advantage of the shared liquidity opportunity.
Once shared liquidity is available, the BetMGM Poker US network will really come into its own. Borgata US may only have two poker rooms up and running, but it will be able to pool its customers with all other sites in the network.

Last verified: December 2023
Special Signup Offer
100% deposit bonus up to $1000!
Up to $75 worth of

MTT

tickets
A reputable brand
Great range of games across all stakes
Please play responsibly. If you or someone you know has a gambling problem and wants help, call 1-800
GAMBLER
.
Frequently Asked Questions
Is it legal to play on Borgata Poker sites in the US?
Yes! Borgata Poker US is legal and fully regulated. To be eligible to play at Borgata, you must be a US resident, at least 21 years of age, and physically located in a state that Borgata is operating in.
What states does Borgata Poker US operate in?
Borgata currently has online poker rooms live in New Jersey and Pennsylvania.
Do I need to be a resident in the States to play on Borgata Poker USA?
Yes. You must be a US resident, and you must be physically present in the same state as the operator to play. Borgata uses geolocation technology to establish players' whereabouts. It is extremely accurate and players trying to log in from outside the jurisdiction in question will not be able to play.
What US states can I access Borgata Poker from?
At the present time, Borgata is only available in New Jersey and Pennsylvania.
Does Borgata Poker in the US share liquidity between different states?
Shared liquidity is not currently permitted between states, though that is highly likely to change in the near future.
Can I legally play on Borgata Poker US sites when visiting the States as a tourist?
No, unfortunately, that is not possible. Nor can a US resident play when they are out of the country.
Can I register for one of the Borgata Poker US sites if I live in the US but not in a state where the operator is licensed?
Yes, you can register with Borgata Poker US, wherever you live in the country — but you will not be permitted to play unless you are within the respective jurisdiction.