The start of the 54th Annual World Series of Poker (WSOP) in Las Vegas is less than two months away, and WSOP NV wants to help players get there for the big event. For the month of April, the operator is offering freeroll tickets for deposits to the site, with the top prize being a ticket to the 2023 WSOP Main Event in July.
With the world's biggest live poker festival rapidly approaching, WSOP NV is set to give players a good shot at winning a seat in the big game. For the entire month of April, deposits to the site are eligible for a ticket to a big freeroll game at the end of the month that will see at least one player earning their way to the WSOP 2023 Main Event.
The promotion began on April 1, but it is no April Fool's joke — the offer remains open until April 26, and qualifying deposits made on WSOP NV April 1 – 26 will be eligible for a ticket. All depositors have to do is use the special deposit code VEGAS10, and the ticket is theirs.
There is a limit of one use of the code per customer, so players are limited to a single freeroll ticket. Once a player makes an approved deposit, the ticket will be credited to their account, but it is the player's responsibility to ensure they register for the target game on April 28 in time.
WSOP

NV Offers Bracelets Live and Online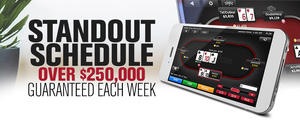 WSOP.com is the place to be if you're looking to score some WSOP hardware. Whether Nevada online poker players are looking for online or live glory, WSOP NV can help them get there.
This depositors' promotion is one way that WSOP NV can help players in the state get their hands on some WSOP bling this summer, but there are plenty of other ways to win as well. The regular weekly schedule has over $250k guaranteed in shared tournaments with players in New Jersey and Delaware.
Each week, players get a shot at earning the cash they need to hop into WSOP events, either live or online. WSOP NV is also trying to help players earn their way to the WSOP 2023 Main Event through satellites. Throughout the month of April, the operator is running weekly satellites across the WSOP US network with tickets to the Main Event as the top prize.
For players who can't be bothered to leave their house or hotel room, WSOP NV has them covered. There will also be 20 online shots at WSOP Gold Bracelets this year via the online platform, with players from New Jersey also competing in the games.
WSOP NV can help players get to the big 54th annual World Series of Poker in Las Vegas in many ways — the depositors' freeroll is just one way to get to the series. Register for a WSOP.com account if you don't have one already, and then use code VEGAS10 on any qualifying deposit from April 26 to get a ticket for the April 28 game, and get ready for a shot at bracelets both live and online this summer.