The first week of the World Series of Poker (WSOP) is just three months away, and it is time to start planning bracelet runs. For US online poker players in New Jersey, Nevada, Pennsylvania, and Michigan, WSOP US offers cheap seats every week in special satellite games on the online client.
Sundays in March are the days for US online poker players to win their way to Las Vegas for the WSOP 2023 Main Event. The capstone of the world's biggest live poker tournament, the Main Event, is an annual ritual for some of the world's biggest names and a bucket list item for many recreational players.
Whether the Main Event is a lifetime poker dream or a yearly shot at the most prestigious title in live poker, getting into the $10k dream-maker for a couple of hundred dollars is a pretty good deal. For online poker players in the United States with WSOP US access, that deal is available every Sunday in March starting March 5.
The $215 satellite game runs at different times in different jurisdictions, but the idea is the same — spend a little and get a Main Event Seat for a win. The games are double-reentry, so some players will undoubtedly be in for more than $215, but even with a few bullets, a $10k seat is a sweet return.
WSOP

US Main Event Online Satellites
Site
Local Time
Buy-in
Re-entries

WSOP

MI
18:00 on Sundays
$215
2 per player

WSOP

PA
18:00 on Sundays
$215
2 per player

WSOP

NJ
16:30 on Sundays
$215
2 per player

WSOP

NV
16:30 on Sundays
$215
2 per player
Main Event Shots in All Jurisdictions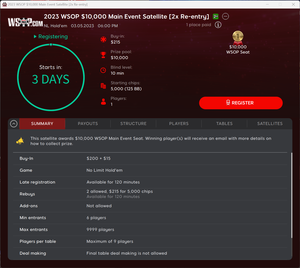 No matter what regulated jurisdiction the player is in, WSOP US offers a shot at the WSOP Main Event playing out in July in Las Vegas. Every Sunday in March, players on all three clients (WSOP PA, WSOP MI, WSOP NJ / WSOP NV) will have a shot at a seat in the most prestigious live poker game on the annual schedule.
While there are sometimes bigger buy-ins and bigger prize pools on the live circuit, the WSOP Main Event carries prestige and history unmatched by any other game. The $10k price tag can be out of reach for some players, but the most famous WSOP rags-to-riches story in history started with a satellite ticket.
Whatever the motivation for playing the game, there is always value in getting in on the cheap. The WSOP US network gives players in NJ, NV, PA, and MI a chance to live the dream of winning millions off a couple hundred dollars.
The games run every Sunday in March, with two extra chances at each game in the form of re-entries. Games in PA and MI run at 18:00 (6 pm), while NJ/NV games run at 16:30 (4:30 pm) with one ticket guaranteed and one ticket for every 50 entries.
Last verified: November 2023
Special Signup Offer
100% deposit bonus up to $1000!
Up to $100 in free play with first deposit
Top-quality software
Compete for

WSOP

bracelets & rings
Please play responsibly. If you or someone you know has a gambling problem and wants help, call 1-800
GAMBLER
.
WSOP

Circuit Super Series Upcoming in PA & MI

For players in Pennsylvania and Michigan, WSOP US has even more to offer in March. From Mar 9 – 26, the WSOP Circuit Super Series will hold 18 events in each state, with Circuit Rings on the line in each event.

There are three $50k guarantees throughout the series in PA and two games of equal size in MI. Pennsylvania also has a $40k guarantee, while MI has a couple of games that will be at least $40k.

Players will have shots at Main Event tickets throughout March, no matter where they play. Full details are in the local client, but in 2003, Chris Moneymaker turned a satellite ticket into millions and launched the poker boom — WSOP US is offering plenty of shots at that very dream this March.

Not signed up yet? Head to WSOP.com to create your account and start playing!