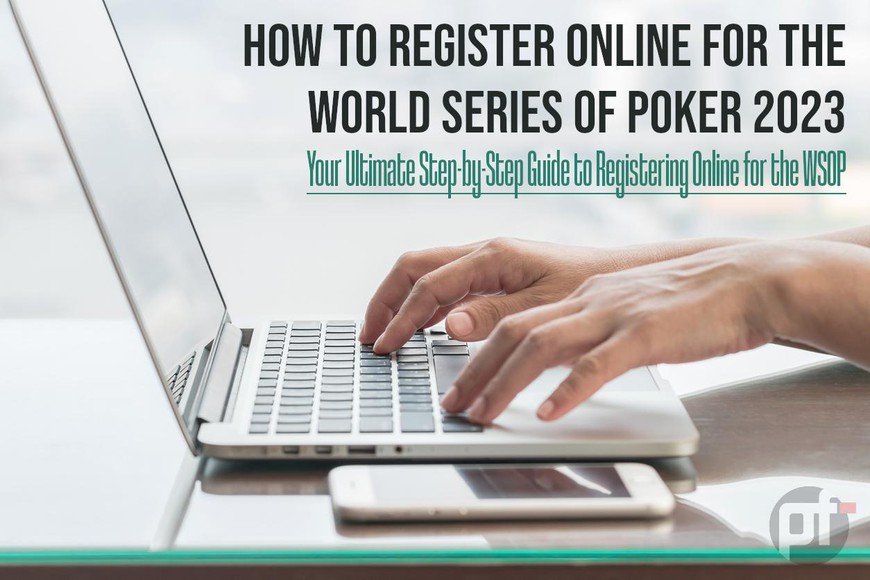 The 54th Annual World Series of Poker (WSOP) will surely be 2023's most epic event in the poker world. Each year, flocks of poker players descend on Las Vegas as the iconic tournament attracts players from all over the globe.
If you intend to participate in the 2023 WSOP, you'll undoubtedly want to plan accordingly and prepare beforehand so your time in Vegas can be as easy and stress-free as possible (at least away from the tables).
One essential item on the WSOP Attendee To-Do List is registering for the event. Fortunately, online registration is available, and it's an easy and efficient way to sign up, and as of April 14, 2023, online registration to the WSOP 2023 is officially open.
Here's a step-by-step guide to help you navigate the online registration process:
Step 1: Register for a Caesars Rewards Card®/Account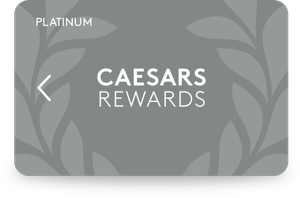 To register online for the WSOP, you must have a Caesars Rewards Card®/Account and player number.
In addition to providing access to the 2023 WSOP Online Registration, the Caesars Rewards program comes with all sorts of exciting perks, such as discount room rates and casino credits. You'll earn points for playing poker at the WSOP and through the Caesars Casino Loyalty Club, rewarding you for dining, relaxing, shopping, gaming, and more during your time at the WSOP.
If you don't already have one, you can register for and activate a Caesars Rewards Account here.
Be sure to bring your Caesars Rewards to Vegas, as you'll also need it on hand for registration. Alternatively, you can download the Caesars Rewards iOS and Android app and have a digital version of your card on your phone, meaning one less thing to pack and risk forgetting at home.
Last verified: November 2023
Special Signup Offer
100% deposit bonus up to $1000!
Up to $100 in free play with first deposit
Top-quality software
Compete for

WSOP

bracelets & rings
Please play responsibly. If you or someone you know has a gambling problem and wants help, call 1-800
GAMBLER
.
Step 2: Go to the Bravo Poker Live Website & Sign Up for an Account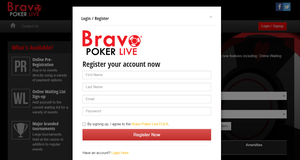 The online registration process is hosted on the secure and encrypted Bravo Poker Live website.
You can find the website here.
If you're a first-time user, you must create an account with Bravo Poker Live. This one-time sign-up will save and password-protect your registration information, making it easy for you to register for future events.
If you've already registered for the WSOP or other events via Bravo Poker Live between 2016 and 2022, you will already have an account and can log in using your credentials.
Note that if you experience login issues, you may need to reset your account password.
Step 3: Complete the Online Registration Process & Submit Payment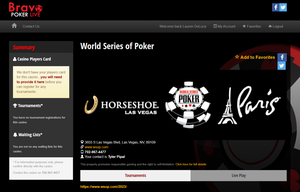 Once you have a Bravo Poker Live account and a Caesars Rewards Card®/Account, you can complete the online registration process for one or more events.
Note: You'll need to send in payment at the time of registration.
Payments Accepted
Credit Card — For buy-ins $10,000 and under only. Accepted card payment types include Visa, MasterCard, American Express, Discover, & Diners Club.
Once a credit card has been verified for

WSOP

2023, this same card can be used for online registration until the end of the

WSOP

.
ACH — For buy-ins $10,000 and under only (no waiting period required).
Wire Transfer — Requires registration and funds wired at least 14 days before the event's start date.
Fees and Refunds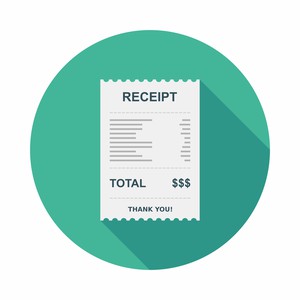 It's important to note that there are fees associated with online registration, including a $3 processing fee added to each event transaction and a credit card fee of 2.95% (3.95% for American Express).
If you use an international credit or debit card (Visa, MasterCard, or Discover), there will be a 3.50% fee in addition to the $3 processing fee for each transaction.
Additionally, anyone who uses a wire transfer or cashier's check is still subject to any fees their bank imposes. You're responsible for paying the total registration amount and all applicable fees.
If you register for an event online but choose not to play, you may get a refund at the WSOP registration cage on-site in the Paris Convention Center up to the start time for the event.
Step 4: Verify Your Identity In-Person & Print Your Seat Cards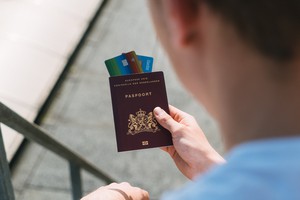 After completing the process, you'll need to show up in the Paris Convention Champagne Ballroom at least one hour before the start of the event to have your identity verified.
If you paid with a credit card, you'll need to present the same card used for registration, which must be in the name of the registered player.
Once you're verified, you'll receive your seat assignments and receipts for all the events you registered for.
Once you have signed up to the Online/Mobile Registration System and verified your identification on-site at the WSOP, you can print your seat cards at one of the many kiosks throughout the Horseshoe and Paris Casinos.
To use the kiosk, individuals must have the Caesars Rewards card used for their online registration, so be sure to bring yours with you or download the Caesars Rewards app and have your digital rewards card ready to go.
ADA-accessible kiosks are available at designated locations, and staff is available at those kiosks to provide additional assistance if needed.
Have more questions about the 54th Annual World Series of Poker? Learn everything you need about the tournaments, venue, schedule, and more in our complete WSOP 2023 guide!