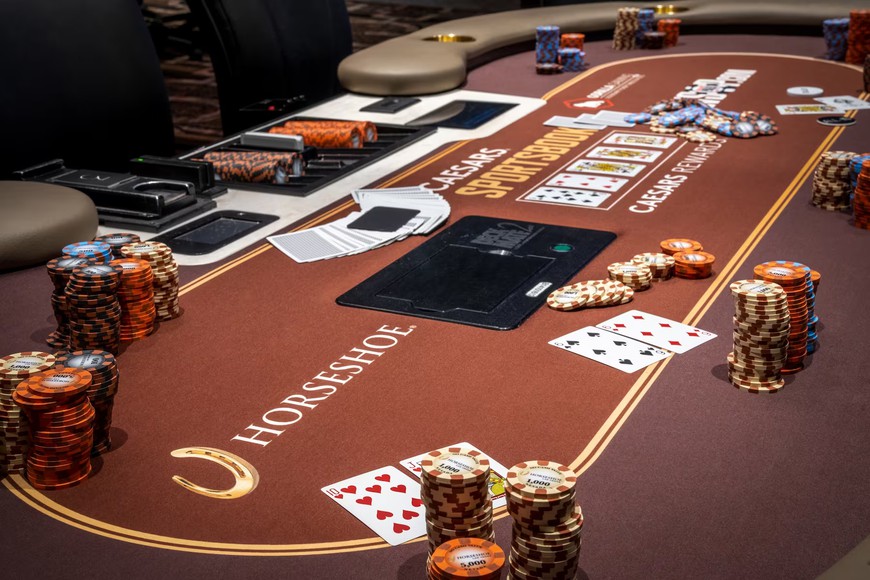 This year's WSOP is poised to break records with an unprecedented range of options to qualify for and attend the WSOP Main Event, widely recognized as the World Championship of poker. The 54th annual World Series of Poker (WSOP) has nearly arrived. The longest-running and richest tournament series will return to the Las Vegas Strip for the second year in a row.
Taking place in less than three weeks' time beginning May 30, this year's schedule features a massive 95 live bracelets plus another 34 bracelet events that will be held online on the WSOP.com platform.
A whopping 608 tables will be set up to accommodate hundreds and thousands of visitors from around the globe, creating the largest tournament capacity in the WSOP's 50-year-plus-long history with more than 200,000 square feet of event space at the Horseshoe (formerly Bally's) Las Vegas and Paris Las Vegas.
It may be a cliché but all eyes will be on the WSOP Main Event aka the $10,000 buy-in No-Limit Hold'em World Championship which as per many is poised to shatter records this year and become the biggest event of all time.
The WSOP 2023 Main Event action gets underway on July 3, with the final starting flight (1D) scheduled to run on July 6.
"This year's WSOP is poised to break records with an unprecedented range of options to qualify for and attend the WSOP Main Event, widely recognized as the World Championship of poker," said World Series of Poker Senior Vice President and Executive Director, Ty Stewart in a recent press release.
Last year, the WSOP Main Event came very close to becoming the largest ever in its five-plus decades-long history. It drew 8663 entrants falling just 111 players shy of the record. Carrying on with that momentum, there is a great deal of optimism in the air and many analysts are predicting that the 17-year record will be finally broken come July.
And indeed, the officials are leaving nothing to chance.
Firstly, international exclusive partner GGPoker has committed to sending 600 players to the Main Event — 500 of which will come through qualifiers on GGPoker.com and another 100 through ClubGG, the operator's subscription-based app available globally including the US.
Secondly, WSOP itself will be running an unprecedented coordinated, five-continent effort to send 100 players through a live qualification campaign billed as Main Event Maynia starting later this month. Furthermore, another 112 seats will be given through its online platform for players in the US under the campaign Seat Sprints.
To sweeten the pot even more, WSOP has come up with a unique new twist: If a new participation record is hit, then WSOP will conduct a prize draw among all Main Event participants, awarding one lucky player WSOP Main Event entries every year for the next 30 years.

Last verified: August 2023
Special Signup Offer
100% deposit bonus up to $600!
Or get up to $100 worth of rewards
Available in many regulated markets
Great

MTT

schedule including

WSOP

events
What to Expect from this Year's Main Event?
As WSOP approaches its 54th edition, let us take a look at what we can expect from this year's Main Event and why this edition would be the biggest one yet.
Main Event Breaks 2006 Record
In 2022, the WSOP Main Event saw 8663 players enter the tournament, narrowly missing out on beating the record created in 2006 (8773 players). In 2019, prior to the outbreak of COVID, it was 204 away from the record.
With officials pulling out all the stops to set a new attendance record, it will not only become the most attended but also exceed the 9000 level.
First-Place Prize to Remain at $10 Million
Daniel Negreanu, the global ambassador of GGPoker, is confident that the 2006 level will finally be breached. Not only he thinks that the record "will be broken," but it will also award the "largest first prize" in WSOP history.
Jamie Gold who took down the biggest Main won $12 million for his efforts. However, at the time, the event paid out 12%. Over the years, the payout structure changed and today it is 15%.
To surpass the $12 million top prize, the event would need to draw at least 10,500 entrants. Despite all the optimism, it looks unlikely the participation level would cross that level and so the top prize is likely to remain at $10 million.
Most Number of Places Paid
With WSOP paying out approximately 15% of the field size and should the Main attract 9000 players, the number of places would be around 1350. If that happens, it would be the most number of places paid in WSOP Main Event's history.
More Online Qualifiers
The WSOP 2022 champion, Espen Jorstad, from Norway, won his way to the $10k event by qualifying through a $1050 buy-in satellite on GGPoker.
Considering the wide variety of paths to the Main available on multiple platforms, once again, online qualifiers are expected to come out in strong numbers. It would also not be surprising to see one of these qualifiers winning the Main or coming very close to it. In fact, GG has offered $1 million as an added bonus if a player qualifies for the pinnacle event on their platform.
Increased Female Participation
Pokerfuse also expects that this year will see more female players compared to the previous years. In the past, the number of women representing the Main Event field ranged from 3% to 4.5%. In 2022, the participation by ladies slightly ticked up to 4.52%. This year, it could shoot up to over 5% or around 450 women players.
Possibly One Big Name at the Final Table
The reigning champion Espen Jorstad, even before his Main Event win, was a known face in the poker world, having served as an ambassador for Unibet Poker and streamed his gameplay on Twitch as well as produced coaching videos for Run It Once. The 2021 winner Koray Aldemir is also a well-known high-roller player with years of tournament experience.
Despite the Main getting a massive field, it is not common to see known poker pros making deep runs in the Main, and this year should be no exception. A known face or big poker personality reaching the final table would be massive for the game and poker fans will be rooting for them to take down the event.