Up until now, regulated real money online poker in the US has been the domain of just three operators — WSOP, PokerStars US, and BetMGM Poker.
A fourth operator, Run It Once Poker US, could join them in the near future and change the United States online poker landscape as we know it.
RIO is by no means a newbie in the online poker industry. The room is an offshoot of Phil Galfond's Run It Once training site, having launched in February 2019. It served the international dot-com players for nearly three years but had to close its operations in January 2022 to focus on the newly rejuvenated US market.
Its path to enter the US market was revealed after Rush Street Interactive (RSI), a leading iGaming operator in the US, announced that the company acquired Galfond's online poker room in March 2022 and will use the Run It Once platform to integrate into its existing gaming vertical.
While details are scarce, it seems the rebooted US version of Run It Once (RIO) powered by BetRivers (the flagship online casino brand of RSI) is expected to go live either in late 2023 or 2024.
Run It Once Poker could launch in Delaware, Michigan, and New Jersey, and they would likely share the same player pool from Day 1. It could also launch in Nevada — another state that's part a multi-state compact for online poker.
The company could also consider launching in Pennsylvania — one of the biggest regulated online poker states — though the state has yet to join the compact. Other jurisdictions like West Virginia and even Canada's largest province, Ontario, are potential long-shots for the company.
As RIO prepares to enter the US market, we have prepared an in-depth guide that will teach you about RIO's unique online poker product and what made it stand out, its parent company RSI and how it acquired to help make it the fourth online poker provider in the US.
Run It Once Poker US: Key Facts
🚀 Expected Launch
End of 2023 or 2024
📍 Potential Markets
Delaware, Michigan, Nevada, New Jersey, Ontario, and Pennsylvania
🕹️ Expected Games on Offer
Cash Games, MTTs, and SNGs
🤑 Potential Welcome Offer
100% up to $600
🎁 Potential Rewards Program
Legends Rewards Program
✨ Main Highlight
Low rake coupled with high rewards & innovative features
🏢 Owner
Rush Street Interactive
Is Run It Once Poker available in the US?
Run It Once Poker is not yet available in the US. The poker site used to cater to the global market, prior to shutting down in 2022. Since then, the platform has turned its efforts towards the US, partnering with Rush Street Interactive, laying foundations for launch in the United States. From the available information, RIO Poker could go live in the US in 2024.
When Run It Once Poker US Could Launch
While Run It Once Poker has been tight-lipped about details surrounding its US launch, a recent tweet by Galfond suggests that the company has settled on the name and it will maintain the RIO branding. However, the US version will be powered by BetRivers — the flagship casino brand of RIO's parent company, Rush Street Interactive (RSI).
Very recently, poker social media guru Kevin "Kevmath" Mathers asked Galfond on Twitter if he expects the launch of RIO in the US this year. To which Galfond replied, "I have an answer to that, but it's not for me to disclose anymore."
RSI was also selected in August by the Delaware Lottery as its exclusive igaming provider and is aiming to launch online casino gaming by November 1, 2023. The Lottery also confirmed that it was working with RSI to launch online poker but did not provide a timeline.
The online poker room is expected to open either later this year or sometime in 2024.
Where Run It Once Poker US Could Launch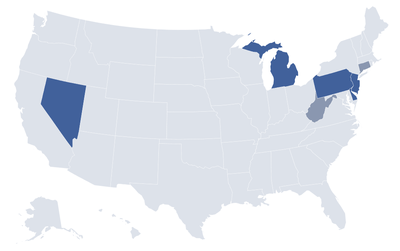 BetRivers is live with online casino gaming in four states — Michigan, New Jersey, Pennsylvania, and West Virginia. Online poker is also legal in all four states, so RSI could launch Run It Once Poker, Powered by BetRivers, in all four markets.
Online poker (and casino) is also legal in Delaware, where RSI was selected as the Lottery's exclusive igaming partner in August, so RSI has a potential fifth US market for Run It Once Poker there.
But RSI could also potentially launch the platform in two new markets: Nevada and Ontario. However, as a Canadian province, the latter could not share its player pool with any US states.
Run It Once Poker Delaware
RSI will likely launch multi-state poker when it finally does bring a platform to market, and Delaware would be one of three states where that could happen first. That's because Delaware is a member of the Multi-State Internet Gaming Agreement (MSIGA), a multi-state online poker compact that also includes Michigan, Nevada, and New Jersey.
The Delaware Lottery selected RSI as its exclusive igaming vendor in August 2023. The operator is expected to launch online casino gaming on November 1, 2023. Although both the Lottery and RSI say they are planning to launch online poker at some point, they did not provide a timeline for when that could happen. Early speculation is that a launch could occur by the end of 2023 or sometime in 2024.
Run It Once Poker DE would be provided through custom skins built for three racinos in the state — Bally's Dover (formerly Dover Downs), Delaware Park, and Harrington Raceway.
Run It Once Poker Michigan
[Michigan joining MSIGA] reaffirms our belief that the US online poker market is poised for future growth.
In Michigan, Run It Once Poker MI would compete against three more established rivals: BetMGM Poker MI, PokerStars MI, and WSOP MI — the last of which is the most recent addition to the market after launching in March 2022.
Here's what Galfond, the founder of Run It Once Poker, told us when Michigan became the fourth member of the multi-state online poker compact.
"Rush Street Interactive and Run It Once are pleased about the recent developments involving Michigan joining the Multi-State Internet Gaming Agreement (MSIGA), and we believe more jurisdictions will continue to join the MSIGA over time," Galfond told Poker Industry PRO in an exclusive. "This reaffirms our belief that the U.S. online poker market is poised for future growth."
Run It Once Poker New Jersey
Like Delaware and Michigan, New Jersey is a member of MSIGA and has multi-state poker. A launch in the Garden State makes sense for RSI because it would provide the biggest boost for the operator as it goes head-to-head against more established brands.
New Jersey is also a more crowded market than either Delaware or Michigan for online poker. Run It Once Poker NJ would face PokerStars NJ (which operates under the Resorts license), but would also get competition from WSOP NJ and 888poker NJ (on the Caesars license) and BetMGM Poker NJ, Borgata Poker NJ, and partypoker NJ (on the Borgata license).
Run It Once Poker NJ would likely operate under the land-based casino license of Golden Nugget.
Run It Once Poker Nevada
Nevada is an entirely different animal — the state is a member of MSIGA and has online poker, but it also only has one operator active in the state: WSOP NV.
That could be changing. BetMGM has teased that it will launch online poker in the state one day. Other operators have been reluctant to move forward in large part because, despite being home to Las Vegas, Nevada is a small market for online gambling.
Run It Once Poker Pennsylvania
Things get a little different here. While Pennsylvania has legal online regulated poker and is a populous state, it is not a member of MSIGA. That means that while RSI could launch Run It Once Poker PA in the state, it couldn't connect to its player pools in states like Michigan and New Jersey.
But the Keystone State is also a lucrative market for online poker operators because of its sheer size (13 million residents). Pennsylvania's previous governor considered joining the compact, but left the decision to his successor, Democratic Governor Josh Shapiro, who took office in January.
Run It Once Poker Ontario
Ontario isn't a US state but is the most populous Canadian province with a growing online poker market. BetRivers was one of the first operators to launch in Ontario back in April 2022, and It has operated an online casino and sports betting there.
While Ontario is a segregated market, RSI could be interested in its cross-selling opportunities with online poker running alongside its casino and sportsbook products.
Jason Senti, Head of Run It Once Poker, told Poker Industry PRO in an exclusive interview in March 2022 that RSI was focused on US states but added that a launch in Ontario would also be considered.
Run It Once Poker West Virginia
Like Pennsylvania, West Virginia is a state with legal online poker that is not a member of a multi-state compact like MSIGA. But unlike the Keystone State, the Mountain State doesn't have any online poker rooms.
The West Virginia Lottery has said that it is interested in applying to join MSIGA. But the Lottery also said it won't apply for membership until an operator says it wants to deploy multi-state poker and asks it to apply to join the compact. Run It Once Poker WV could be the operator that gets the ball rolling.
Run It Once Potential States in the US
State

RSI

License?
Shared Liquidity
Delaware
In Progress
Very Likely
New Jersey
Yes
Very Likely
Michigan
Yes
Very Likely
Nevada
No
Likely
Pennsylvania
Yes
Likely if PA Joins

MSIGA

West Virginia
Yes
Likely if WV Joins

MSIGA

Ontario, Canada
Yes
Not Likely
What Run It Once Poker US Could Look Like
As RIO prepares to enter the regulated US market, here are seven unique features that previously set the platform apart from other online poker rooms and that will likely return for US players:
Check out Run It Once Poker in action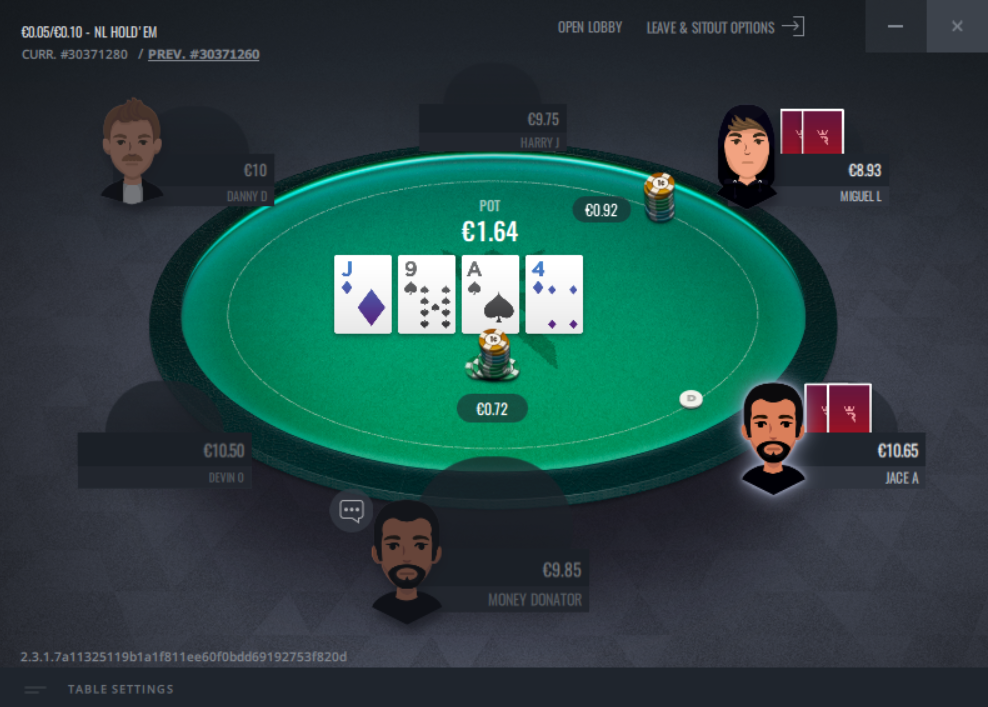 Cash game in action at Run It Once Poker featuring a modern table view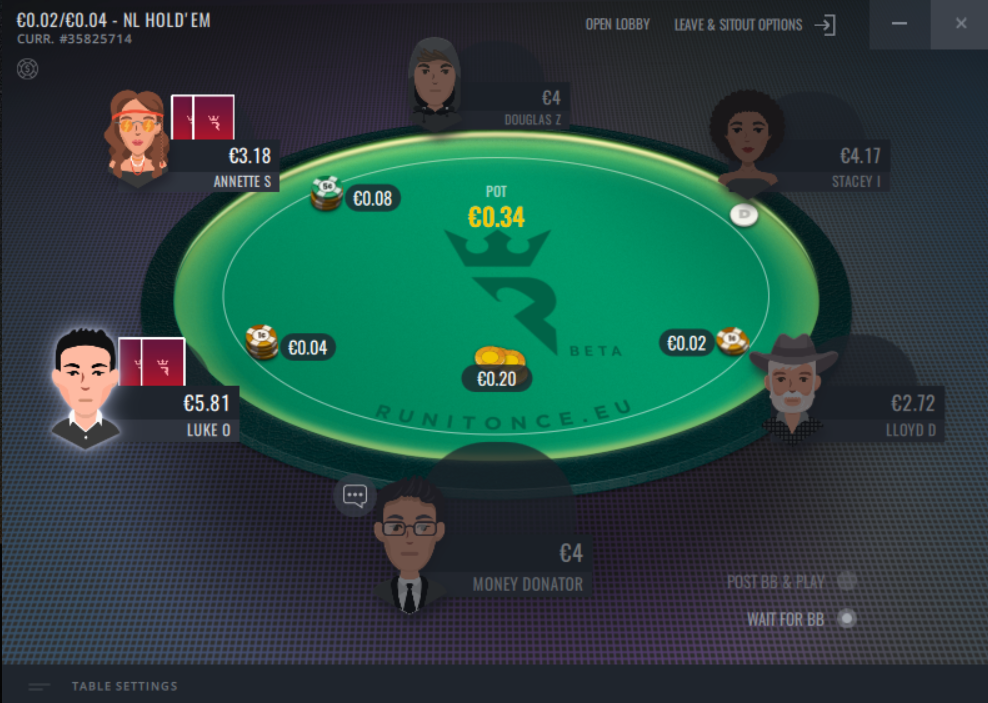 Random splashed pot in cash game table at Run It Once Poker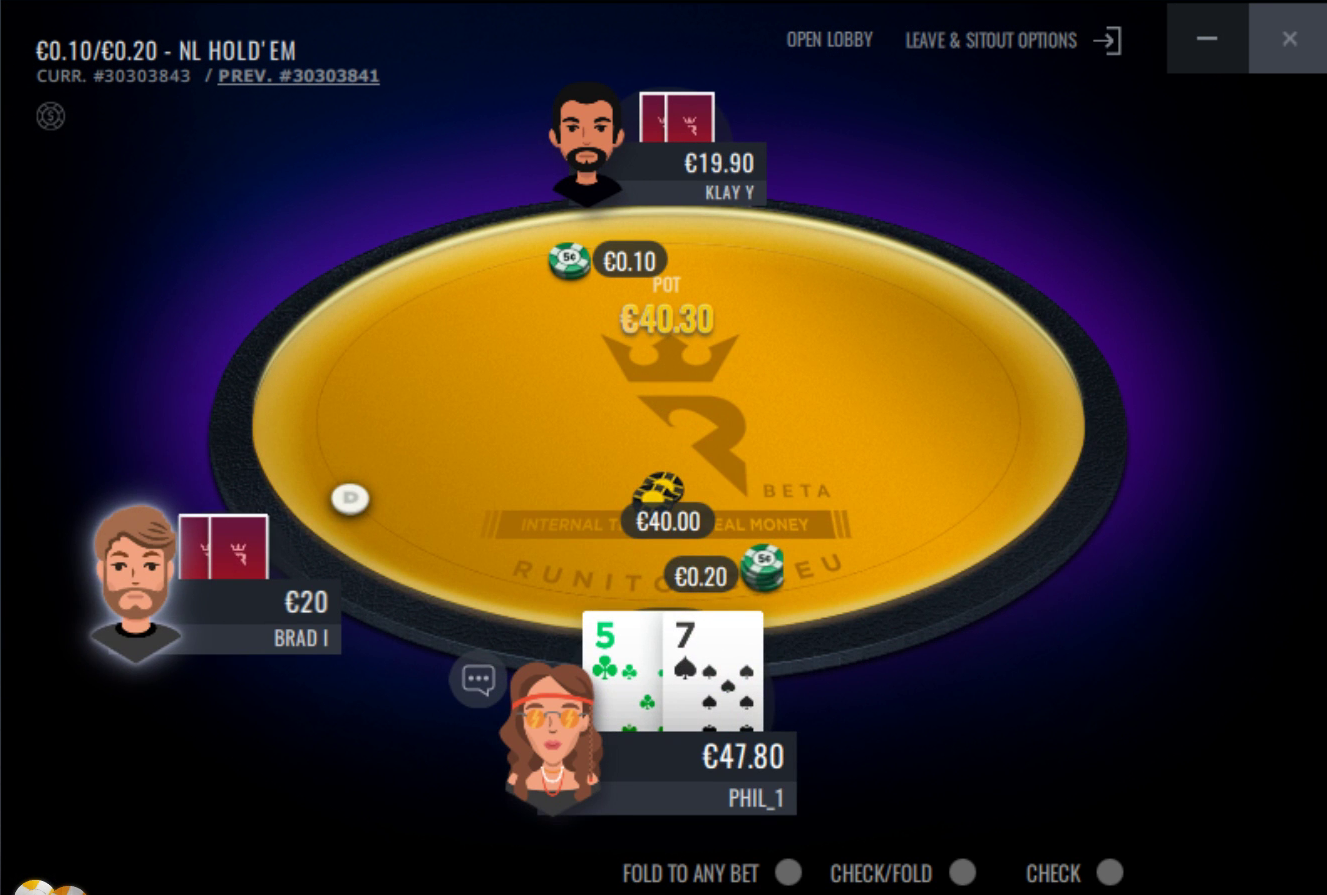 The table theme changes when a big pot is splashed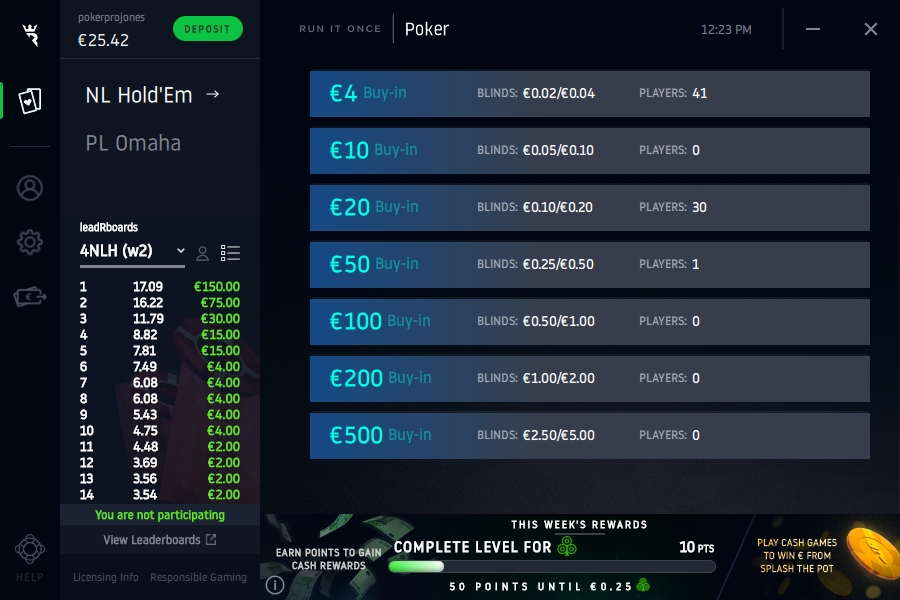 The main lobby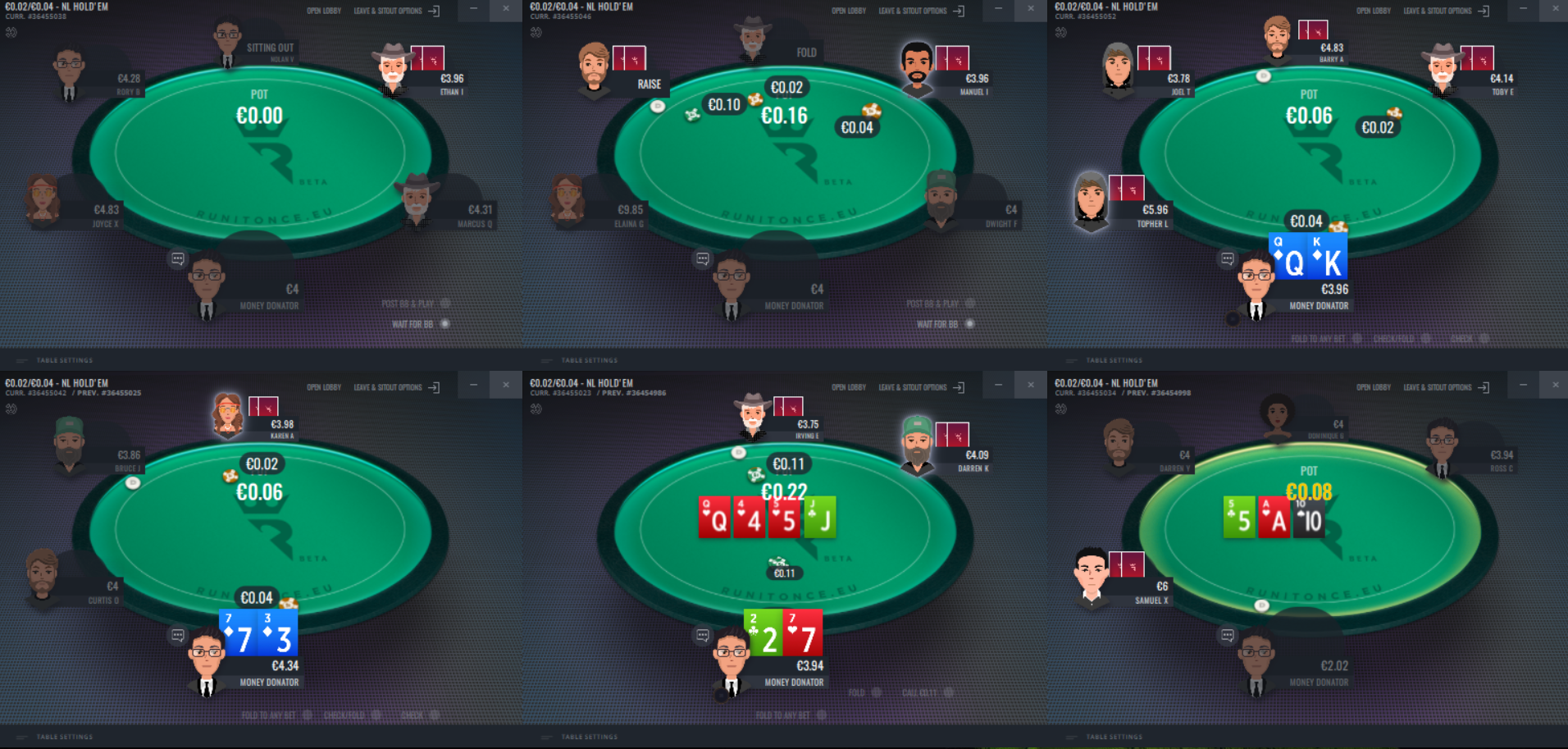 Multi-tabling is quite smooth at Run It Once Poker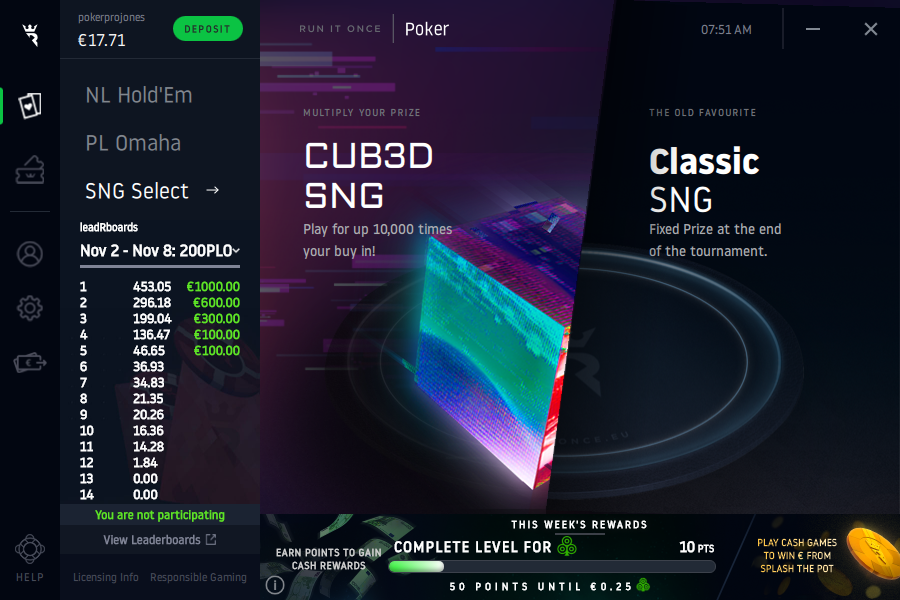 Players can choose the
SNG

they want to play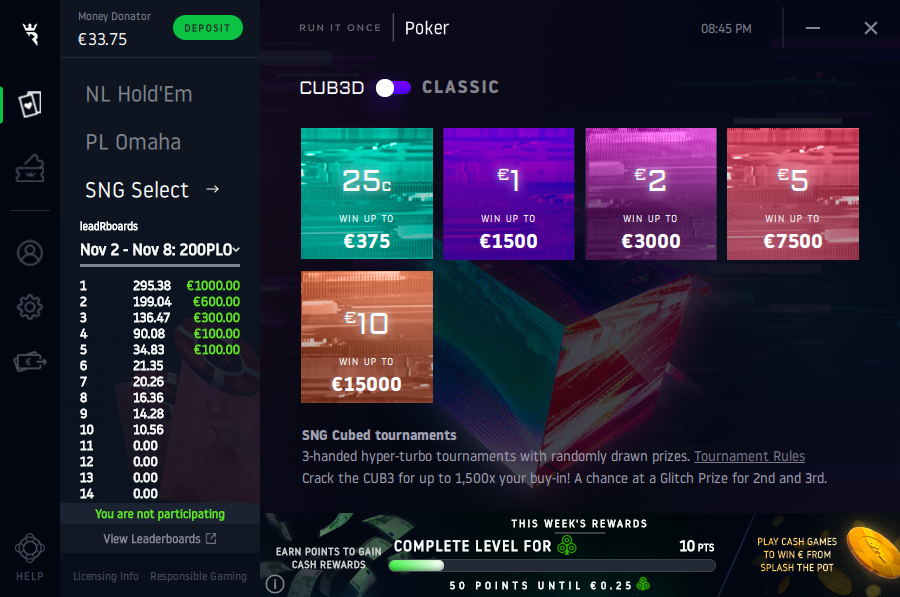 Check out the
SNG

Select Lobby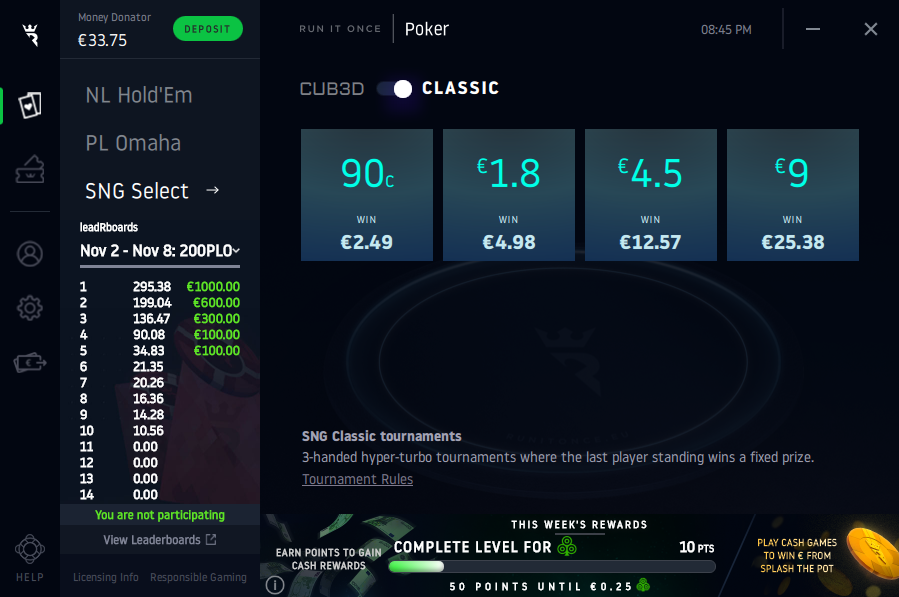 SNG

Classic lobby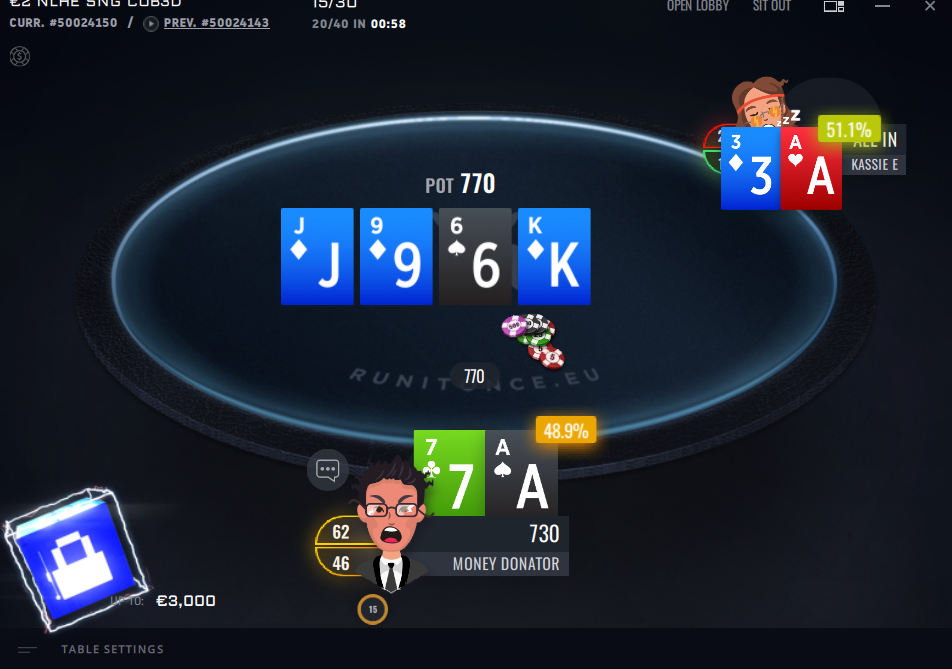 SNG

Cube gameplay
1. Splash the Pot
Splash the Pot (STP) was arguably RIO's most innovative feature. It was a unique system where rewards were randomly added to the pot.
The loyalty program was first set up to return 51% rake of all rake taken at the table in the form of extra money distributed and added to cash game pots. RIO later change this to 30% when it unveiled its weekly cashback program, Legends.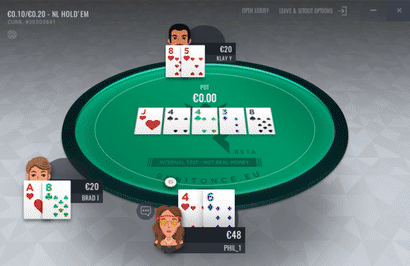 How big the pot "splashed" was based on the pot size of the previous hand. Bigger pots yielded higher rewards, with splashes ranging from 1 to 1,000 big blinds. Every time a splash of 100 big blinds or more was triggered, players were forced "all-in or nothing," which meant that they were only competing for the splashed pot.
The feature added a new dynamic to the game. It also served as an additional method for keeping bots off the platform. STP was such a big innovation that it would be surprising if it was not included in the US relaunch. We expect some tweaks to be made to the STP once the site goes live in US markets.
2. Dynamic Avatars
Another unique feature of the RIO platform was Dynamic Avatars, a system where players had a random avatar with a unique expression based on the player's recently-observed play style. Eight facial features were included — among them, asleep, passive, and angry.
The expressions were based on vital preflop statistics available in heads-up displays (HUDs), such as Voluntarily Put Money in the Pot percentage (VPIP), Pre-Flop Raise percentage (PFR), and 3-Bet percentage.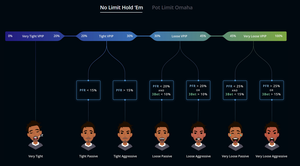 The 'asleep' expression would be applied to a player playing too tight, while an aggressive player would get the 'angry' avatar attached. The expressions only changed after a player had played ten hands.
Dynamic Avatars were introduced to discourage the use of third-party tools such as HUDs and to help protect casual players by removing any advantage that players might gain by circumventing the platform's rules and illegally operating HUDs.
3. HeroIQ
Six months after RIO debuted, it launched an optional built-in HUD called HeroIQ that integrated seamlessly with Dynamic Avatars.
The built-in HUD provided the three most common pre-flop statistics — the VPIP, PFR, and 3-Bet percentages — which have long been considered the "default" heads-up display statistics in third-party software. Similar to Dynamic Avatars, the HeroIQ stats were displayed after a minimum of ten hands were played.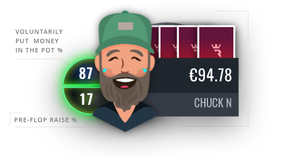 The VPIP and PFR statistics were shown next to the avatar of all players at the table, including their own. The stats were color-coded with a heat map ranging from green to red. When the player hovered over the display, the 3-Bet percentage was shown, along with two gauges and the number of hands observed.
While the Dynamic Avatars categorized the player into one of eight different expressions, HeroIQ showed the numbers behind the avatar.
When Run It Once Poker US is re-launched, HeroIQ would be the first built-in HUD in the US regulated online poker market if it is also made available.
4.

SNG

Select
SNG Select was RIO's unique interpretation of lottery jackpot sit and gos. The game offered both standard sit and gos, called Classic, and lottery sit and gos, called Cub3d. RIO used the same player pool for both types of games so the action would often start quickly.
Under the Classic version, players competed for a fixed prize based on the total prize pool minus the rake. The Cub3d version worked like a lottery-style SNG format, where the prize pool was randomized — prizes could range from 2- to 1,500 times the buy-in.
Regardless of which game players chose, they were three-handed and in the winner-takes-all format. Players on Cub3d had access to "Glitch" — random prizes awarded with a bonus, even if players lost.
5. Auto Seating & Fixed Buy-in
RIO's international version offered cash games through the blind lobby system of auto-seating. Buy-ins were fixed at 100 big blinds, under a policy to keep games quick to join and fair to play.
Seat selection was eliminated after RIO removed the list of tables and players playing on the table. Players were instead presented with a choice of buy-in and were automatically moved to an available seat. The system reduced a player's ability to look for specific opponents.
A fixed buy-in system was also instituted to create "force bankroll management" on recreational and professional poker players.
If RIO implements auto seating and fixed buy-ins, it would be the first online poker room in the regulated US market to offer a blind lobby.

Last verified: November 2023
Special Signup Offer
100% deposit bonus up to $1000!
Up to $75 in

MTT

tickets on top of the bonus
Frequent

MTT

series with good guarantees
Great action around the clock
Please play responsibly. If you or someone you know has a gambling problem and wants help, call 1-800
GAMBLER
.
Like most online poker rooms, Run It Once Poker also had a generous welcome bonus for new players, including the traditional 100% deposit bonus offer. It often spiced up the welcome offers with extra prizes on top.
The 100% deposit match was valued up to €600. The bonus was released incrementally with a value of either €5 or €10.
For example, if a player deposited €250, they were credited €5 for every €25 rake they contributed. Once the €100 bonus was cleared, they received €10 for every €57.10 for the next €100 batch, and so on.
The welcome bonus was more appealing because there was no expiration date to clear the bonus as long as players played at least 1 hand every 30 days. Furthermore, all deposits in the first 30 days counted towards the bonus, not just the first deposit.
On top of the 100% Welcome Bonus Deposit Match offer, the room also spiced up welcome offers with lucrative deals from time to time. For instance, when the site introduced its sit & go game, SNG Select, it awarded all depositing players €50 in tickets distributed over their first four weeks.
It also boosted the welcome offer with "Earn and Learn" — considered one of the most lucrative deals any online poker room offers in recent history. The deal, which ran for a few weeks, included:
Up to €100 in

SNG

Select tickets
Two months of boosted Legends (loyalty program) cash rewards
Free Run It Once training courses valued at up to $149
Access to the "Essential Content" Run It Once Training for up to three months
In the highly competitive US online poker market, operators often go the extra mile to attract new players. At least two operators currently provide enticing incentives, such as a 100% deposit match up to $1000 and additional perks like $100 in free tickets as part of their first deposit bonus.
Given the level of competition in the market, it is expected that Run It Once Poker US will also strive to match the industry standards and offer comparable generosity to attract and retain players.
What Promotions Can be Expected Once the Room Relaunches
Besides offering a generous rewards program and a high-paying welcome offer, Run It Once Poker also ran promotions on a daily basis, effectively increasing the value of the rewards up to the equivalent of 80% rakeback and sometimes even higher up to 101%.

The 101% Week was highly regarded as one of the most lucrative offers provided by Run It Once Poker to its international players.
As the name would suggest, 101% Week was designed to give back 101% of all rake collected at the tables, providing an additional 50% rake returned to players on top of the regular 51% returned through the Splash the Pot rewards program. The promotion featured different mechanisms for returning money to players each day of the week.
For instance, on the first day of the promotion, the extra money was added directly to players' accounts. On the following day, the money was distributed through "Super Splash" Splash the Pots, creating additional opportunities for players to benefit. On Fridays, a "Big Spring" rake race used to run, where €1010 was distributed among players based on their rake contributions.
These structures were then repeated throughout the week, with direct rakeback on Saturday, Super Splash on Sunday, and Big Sprint on Monday. The promotion culminated on Tuesday with a special "Rake Return Day," where any remaining rake not distributed back to players will be added to a larger pool.
These promotions often gave a boost to its traffic, with many times seeing an all-time high during the period of promotions.
The site also ran direct rakeback promotions, Splashy Hours, which increased the Splash the Pot pot during designated hours, bigger pot "splashes," rake races, and more. The promotions also catered to four-card lovers by running PLO Appreciation Week with similar mechanism as 101% Week.
The leaderboards ran for both Hold'em and Omaha variants as well as for SNG Select. RIO also offered free SNG ticket bundles of value up to €100 from time to time.
Expect similar generous promotions to be spread once the US version launches.
Lower "Net Rake" and Higher Rewards
Run It Once Poker was known to offer lower rake despite being very generous in rewarding its players. At cash games, the site charged 4% to 5.75% rake, with the rake cap from €0.50 up to €3.75, depending on the stakes and the number of players playing at the tables.
At No Limit Hold'em, the rake was set to 5.75% at the micro stakes, 5.5% at the low to mid-stakes, and 4% at the NL2000 tables, the highest stakes available. At PLO, it was fractionally lower — 4.5% at micros, going up to 5% at PLO50 to PLO5000, then back down to 4% at high stakes.
Run It Once Poker Rake Structure
| Stakes (100bb buy-in) | NLHE | PLO |
| --- | --- | --- |
| €4 | 5.75% | 4.50% |
| €10 | 5.75% | 4.50% |
| €20 | 5.75% | 4.50% |
| €50 | 5.75% | 5.00% |
| €100 | 5.50% | 5.00% |
| €200 | 5.50% | 5.00% |
| €500 | 5.50% | 5.00% |
| €1,000 | 5.00% | 4.00% |
| €2,000 | 4.00% | 4.00% |
In general, when compared with other sites, the rake on RIO was notably higher at similar games and stakes. However, with its generous rewards scheme, the "net rake" was much lower than its competitor.
Legends Could Return
RIO also offered a standard loyalty program called Legends. The rewards system encouraged high-volume play by returning more money weekly to players that reach specific play-through targets.
Legends had five reward levels — from the basic tier, "Clubs," to the highest tier, "Legends." Each tier included five levels, except for Legends, which had unlimited levels. Upon completing a level, *players were awarded cash for their bankroll*and received a level-up boost (free points toward unlocking higher levels).
Players earned one point for every €0.05 in rake they paid.
The Clubs tier started at 10% rakeback and was given to anyone who earned at least 60 points — the equivalent to paying a €3 rake. The cash rewards increased as players generated points, creating an incentive for players to increase their volume.
The Legends tier guaranteed €900 in cash rewards for every 90,000 points (€4,500 in contributed rake) that a player accrued during a week.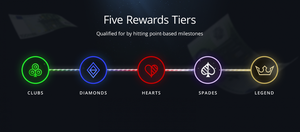 There were also opportunities for players to earn points faster, including bonuses for starting tables, stopping tables from breaking, playing regularly, and for weekly "streak" bonuses — creating higher rakeback percentages.
Combined with STP, the rakeback returned to players ranged between 30% to 75% (for those on the Legends tier).
RIO will likely retain its Legends weekly cashback program, but it could be changed at a later date.
Streamers Could Get Special Treatment
In addition to STP and Legends, RIO also offered a secondary rewards program called StreamR. The program encouraged players to stream their play live on Twitch in exchange for 50% to 110% in additional rakeback based on the number of hours viewers watched in a given month.
StreamR included four levels — the first level required 200 hours of watch time for 50% rakeback, while the fourth level, the highest tier, required 20,000 hours of watch time for 110% rakeback. This level automatically qualified a player for the RIO Team Pro status.
Along with Legends, StreamR could also make a return in the US version of Run It Once room.
Potential iRush Rewards
There is a possibility that Run It Once Poker may incorporate its rewards system in conjunction with the existing BetRivers rewards program.
The poker platform of Run It Once Poker is expected to be integrated into BetRivers online casino and sports betting app. Players engaging in real-money wagering on BetRivers accumulate reward points through the iRush Rewards program.
By combining the two rewards programs, players can enjoy an enhanced and more comprehensive product that offers increased incentives and benefits.
Casino & Sports Integrated to Poker Platform
Following the acquisition by Rush Street Interactive, Run It Once Poker will operate under the branding of BetRivers. This integration allows for a comprehensive online gaming experience, as BetRivers is already established in multiple US states, offering online casino and sports betting platforms. The relaunch of Run It Once Poker in the US will not be limited to poker alone, but will also provide access to a wide range of casino games through BetRivers' integrated online casino products.
This strategic integration presents a significant cross-sell opportunity, leveraging the existing player base of BetRivers to attract and engage players in the online poker vertical. Players will have the advantage of enjoying both online poker and casino games along with sports betting within the unified platform of the new version of Run It Once Poker.
"The precise integration of the two clients is still a work in progress," said Jason Senti, Head of Run It Once Poker, in an exclusive interview with Poker Industry PRO last year, "but the ultimate expectation is for casino games to be accessible to players through the poker applications, including the desktop client."
RIO: A History of an Online Poker Upstart
It's been more than one year since RIO ceased its dot-com online poker operations and paused plans to introduce its innovative platform in the US.
Galfond and his team won legions of fans in the global online poker community when RIO was first announced as a project back in 2016. The site's innovative and unique features generated significant buzz among players when the platform finally went live in 2018. At the time, RIO stood out from the crowd.
Despite its best efforts, RIO failed to gain enough traction with players to remain open. Galfond cited decreased traffic, development problems, and mounting costs as reasons to shut the site down on January 3, 2022. All real money games and sit & gos were suspended.
But two months later, a strategy for how RIO could enter the US market began to emerge after RSI announced that it had acquired RIO for $5.8 million and would integrate the poker platform into its existing gaming vertical.
In March 2023, Galfond issued a tweet suggesting that RSI had selected the name "Run It Once Poker, Powered by BetRivers" as the name of a future online poker platform.
Who Is Rush Street Interactive (
RSI

)?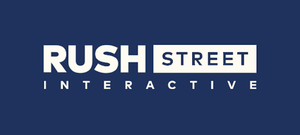 Rush Street Interactive (RSI) is a Chicago-based gaming and entertainment company. It has online casinos in four US states, conducts online sports betting in 15 states and runs retail sportsbooks in eight states. RSI also has online casino and sports betting operations in Ontario, Colombia, and Mexico.
BetRivers is RSI's flagship brand in Ontario, and most US states where it operates, with one exception — RSI also uses its SugarHouse brand for online casino and sports betting in Pennsylvania. However, RSI runs BetRivers alongside SugarHouse in PA and doesn't actively promote the latter.
SugarHouse Casino NJ was RSI's first online casino when it launched in September 2016, but RSI rebranded its online casino and sportsbook as BetRivers in August 2022.
RSI is not to be confused with Rush Street Gaming, an affiliate of RSI that owns and operates two brick-and-mortar casinos in Pennsylvania and one each in Illinois, New York, and Virginia.
Who Is Phil Galfond?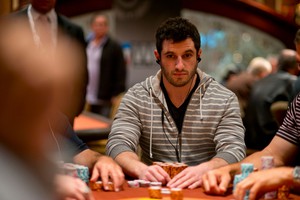 Phil Galfond is an American professional poker player and entrepreneur. Known in online circles as "OMGClayAiken," Galfond is well known for high-stakes cash games, primarily $200/$400 stakes and above. He is considered by many as one of the most successful online poker players, with over $10 million in lifetime earnings in online poker.
His biggest achievement came in March 2010 when he won a staggering $1.6 million in online poker in a single day. Galfond also had success in the live segment, with nearly $3 million in total live earnings and three WSOP gold bracelets to his name.
In 2012, Galfond and notable high-stakes players founded Run It Once Training, a poker training site. Over the years, this platform has flourished, with a remarkable roster of 125 coaches contributing valuable content as of September 2019.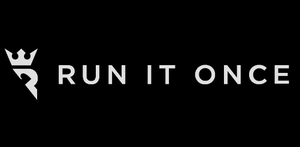 Recognizing the worrisome trajectory of online poker in 2016, Galfond announced he is planning on launching his own online poker room that will have "a stable poker economy" at its core. Three years later, Run It Once Poker was launched in public beta in 2019.
The platform was praised for its innovative features and got plenty of media buzz. Nearly a year after the site launched, Galfond issued the "Phil Galfond Challenge" to generate interest in his fledgling site.
He extended an open invitation to any player to engage in a high-stakes, heads-up battle on his site, with a large side bet to sweeten the deal. Half a dozen pro poker players eagerly expressed their interest, and the first battle started just a week later.
The challenge did drive interest to his online poker room but was not enough to get enough traction. Ultimately, on January 3, 2022, the room ceased operations. At the time, Galfond said RIO was being shut down as a necessary precursor to entering the regulated US market.
Lately, Galfond has been quite active on social media, launching a channel on YouTube where he regularly posts videos. His new channel has been doing quite well, with each video garnering thousands of views. He also expanded his reach with Phil Galfond's Newsletter launch to share his take on the poker world.
Poker Night in America
Assuming RSI adopts a multi-channel strategy, Run It Once Poker US will likely include links to the trove of poker content it has recently acquired.
RSI completed its acquisition of Poker Night in America — a popular series that features cash games and Sit & Go action and airs nationally on the CBS Sports Network — in August 2022. At the time, CEO Richard Schwartz lauded Poker Night for its "deep library of poker TV content and media creation capabilities that will help to further build out the BetRivers network."
Schwartz added that the Poker Night and RIO acquisitions represented "two tuck-ins [that] will position us well for when we eventually launch online poker, and the associated strong cross-sell opportunities that poker will bring to our casino and sportsbook verticals."
Aside from those two developments, the company has been opaque on its US online poker plans. Schwartz hinted last year that poker would play an important part in RSI's plans to turn profitable by the second half of 2023, so a launch could be coming soon.
PNIA

Social Poker App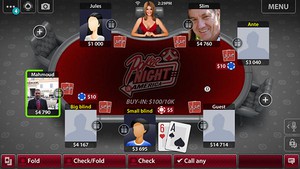 In 2017, Poker Night in America (PNIA) introduced a social poker app based on their popular TV show. This app allows players to enjoy poker games for free while also giving them the opportunity to win real-world prizes, including poker lessons from top professionals. Additionally, players have a chance to secure a seat on the Poker Night in America TV show.
During its initial years, the app presented an exciting offer where users could enter a sweepstakes contest and compete against renowned poker personalities at the table. These included Phil Hellmuth, Shaun Deeb, Doug Polk, and even Hollywood stars like Jennifer Tilly and Brad Garrett. The prize package not only provided a seat at the table but also covered flights, accommodations, and a $5000 buy-in.
The owner of PNIA collaborated with social games developer KamaGames to create the PNIA social app, utilizing KamaGames' existing "Pokerist" technology platform. This free-to-play mobile app offers a variety of poker formats, including Sit 'N' Go and Shootout tournaments. It also includes exciting features like scratch cards, virtual goods stores, daily quests, daily bonuses, and achievements.
It remains to be seen whether RSI has any plans to integrate the Poker Night in America free-to-play app with Run It Once once the site relaunches in the US.
PNIA social poker app is accessible to both Android users and iOS users. Android users can download it from the Play Store, while iOS users can find it on the Apple App Store.
Studio 52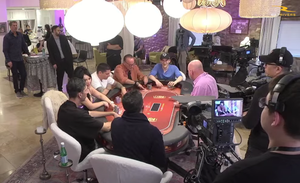 In May 2023, Poker Night in America unveiled its innovative poker show called Studio 52, which received support from various poker celebrities.
This show is being promoted as the first-ever "poker residency" and is broadcasted from a studio located within the lavish residence of Todd Anderson, the founder of Poker Night. Anderson's opulent Las Vegas mansion spans an impressive 10,000 square feet and boasts luxurious amenities such as a backyard wine cave and an outdoor game pavilion.
Studio 52 features an extensive lineup of prominent poker personalities, including Lon McEachern, Joye Ingram, Jason Somerville, and even the RIO founder Phil Galfond himself.
During the inaugural episode of Studio 52, which premiered on May 15, the BetRivers branding was prominently displayed throughout the show. The episode was live-streamed on popular platforms such as Twitch, YouTube, and the BetRivers Network.
The launch of Studio 52 coincides with RSI's preparations to introduce an online poker product in the near future.

Last verified: November 2023
Great Welcome Bonus!
100% deposit bonus up to $600!
Get $100 in casino bonus after wagering $1
Great variety of gaming options
Quality player rewards program
Claim Signup Offer
Please play responsibly. If you or someone you know has a gambling problem and wants help, call 1-800
GAMBLER
.
Branding of Run It Once Poker V2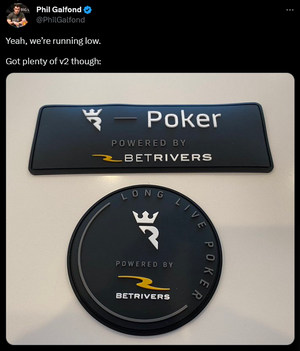 Following the acquisition of Run It Once Poker by new owners, there is still uncertainty regarding whether the site will be relaunched under its original branding or adopt the branding of its new owners in some way.
The Run It Once brand holds considerable prominence in the poker industry, being widely recognized as a major player. The decision regarding the branding of the relaunched site will play a crucial role in shaping its identity and positioning within the market.
We think the new naming will be Run It Once Poker, Powered by BetRivers. Galfond tweeted that this was the name RSI ultimately chose, so it's considered the most likely moniker for the new online poker platform. But it's a long name, and historically companies that unveil a product with a lengthy name attached tend to revisit the issue and tighten up the name at a later time.
Here are some other possibilities that we think RSI could adopt:
Run It Once Poker
This was the name of Galfond's online poker platform when RSI acquired it in March 2022. RIO was a popular platform with players back in its heyday because of its innovative features. It's possible RSI could look to keep that feeling of nostalgia by retaining the RIO name — without BetRivers.
BetRivers Poker
BetRivers is RSI's flagship brand for online casino and sports betting (online and retail). The BetRivers brand is active in 14 states and Ontario, including four states with online casino gaming. Considering that more bettors in the US are aware of the BetRivers brand because of its popularity as a sportsbook, RSI could decide to ditch the RIO name entirely and go with BetRivers.
SugarHouse Poker
It's a long shot, but it's possible that RSI could use this name for an online poker skin in Pennsylvania to run alongside BetRivers Poker PA. That's not unheard of — although the circumstances are slightly different, consider that three racinos in Delaware each have online poker skins running 888poker software. Entain also runs Borgata Poker PA and shares its player pool with BetMGM Poker PA, a 50/50 joint venture between Entain and MGM Resorts International.
Run It Once Poker US
FAQ
When will the new Run It Once Poker launch?
RSI hasn't shared a time frame for when it could start offering online poker, but it was selected as the Delaware Lottery's exclusive igaming provider in August. RSI is expected to launch online casino gaming by November 1, 2023, but online poker will likely take longer to set up.
Will there be a Run It Once Poker App in the US?
Yes, there will very likely be an app for Run It Once Poker, Powered by BetRivers. RIO was reportedly developing an app when RSI acquired it in March 2022.
Will there be Run It Once Poker tournaments?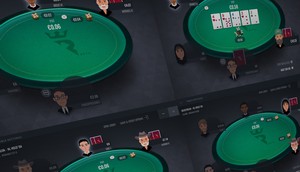 Yes, there will also very likely be Run It Once Poker tournament action on RIO, Powered by BetRIvers once the platform is launched. Although RIO did not support tournament play before RSI acquired it, inclusion in a future rollout is considered essential if it's to compete against BetMGM Poker, PokerStars, and WSOP — each of which regularly hosts tournament play.
Will there be a new Run It Once Poker for US players?
Yes! Based on all we know and the recent updates, it looks like there will be a new Run It Once US online poker platform powered by BetRivers launching at some point, either in 2023 or 2024.
Will Run It Once allow international players once the site relaunches?
No, Run It Once Poker will be exclusively for US players once the site relaunches. It will operate under BetRivers branding but on the same Run It Once Poker platform as before.
Where is Run It Once Poker US expected to launch?
Run It Once Poker US is expected to go live in Delaware, Michigan, and New Jersey from Day 1. Its parent company, RSI. already has gaming licenses in Michigan and New Jersey as well as Pennsylvania and West Virginia. The operator could also go live in Nevada and is expected to get a license in Delaware in short order.
Pennsylvania, however, could be a likely candidate as it is one of the biggest online poker markets and is expected to become the next state to join the multi-state online poker compact.
Will Run It Once Poker share liquidity in the US?
Yes, Run It Once Poker US will likely have a multi-state online poker network from Day 1. RIO's parent company has gaming licenses in Michigan and New Jersey and is expected to get one in Delaware as well. All three states are members of the multi-state online poker compact. RIO would take advantage of this compact and launch the shared liquidity network right away.
Does Run It Once Poker have any plans beyond the US market?
While RIO's primary focus would be the US market, it has also considered Ontario, Canada's largest province. Down the road, it could also make a return to the international dot-com market, but that is unlikely to happen any soon.
Will Phil Galfond be an integral member of the Run It Once US site?
Yes, RIO has confirmed to Poker Industry PRO that Galfond will have a similar role to his previous one. The company also stated Galfond will be the brand ambassador of the room and will be involved in all decisions involving the product, game feature, and game policies.
Will Run It Once Poker US have 3-Handed SNGs or Spins?
Yes, the 3-handed lottery-style sit-and-go, more commonly known as "Spins," will be part of the RIO US game offerings under the name "SNG Select."
Why did Run It Once Poker shut down?
Run It Once Poker ceased operations on January 3, 2022. At the time, Phil Galfond, the professional poker player who founded Run It Once Poker, said the platform was being shut down as a necessary step before launching in regulated markets in the US. RSI acquired Run It Once Poker two months later with plans to integrate it into its existing platform.
Is there a Rush Street Interactive online casino? Can I play poker there?
RSI operates online casinos in Michigan, New Jersey, Pennsylvania, and West Virginia under the BetRivers brand. It also runs SugarHouse Casino PA alongside BetRivers in the Keystone State but doesn't promote it. Each online casino offers video poker, but real money online poker against other players is not currently available.
Does BetRivers have poker?
BetRivers does not currently offer online poker, but its parent company, Rush Street Interactive (RSI), acquired an online poker platform called Run It Once Poker (RIO) in March 2022. RSI has said that it plans to offer online poker in the future.
What is BetRivers?
BetRivers is RSI's flagship brand for online casino gaming and sports betting. BetRivers is live in 17 US states, including four for online casinos. North of the border, you'll find BetRivers Casino Ontario and BetRivers Sports Ontario.
Where does BetRivers operate?
The BetRivers brand is active in 14 US states and the Canadian province of Ontario. It offers online and retail sports betting in seven states (IL, IN, MD, MI, NY, PA, and VA) and runs online sportsbooks only in an additional seven (AZ, CO, IA, LA, NJ, OH, and WV). BetRivers also runs online casinos in four states (MI, NJ, PA, and WV). In Ontario, BetRivers offers online casino and sports betting.
Is BetRivers legit?
Yes. BetRivers is a brand owned by RSI, a legitimate and well-respected gaming company. The appropriate authorities license it in all jurisdictions where it has operations, and like all gaming companies, it is under intense regulatory oversight at all times.
What is the BetRivers withdrawal process like?
We have a trove of information about BetRivers, including details about the withdrawal process in various jurisdictions. Information is available through the comprehensive and unbiased reviews conducted by pokerfuse for BetRivers Casino MI, BetRivers Sports, BetRivers Casino Ontario, and BetRivers Sports Ontario.
Run It Once Poker Updates
Aug 17

Delaware Lottery selects Run It Once Poker's parent company, Rush Street Interactive, as its exclusive gaming provider including online poker for at least five years.

Aug 02

Run It Once Poker's parent company Rush Street Interactive announces Q2 2023 results, with no mention of RIO's launch or its anticipated launch timeframe.