Durrrr v Isildur1 Heads-Up Battle $100k Each, Winner Takes All
Full Tilt is once again promoting itself as the home of online high stakes action with the announcement of a heads-up match between Tom "durrrr" Dwan and Viktor "Isildur1" Blom. The match hype says that they will each put up $100k and play until one of them is bust.
The match will take place on Sunday, December 9th at 15:00 ET and be held over four No Limit Hold'em tables with blinds set at $50/$100.
Previous HU clashes between durrrr and Isildur1 attracted phenomenal interest as the apparently unbeatable online superstar "durrrr" lost millions to the newcomer who resolutely concealed his real identity.
In turn, Isildur1 crashed and burned in a controversial confrontation with Full Tilt Red Pro Brian Hastings. Hastings took $4.2m off Blom in just one day's play, shredding Blom's bankroll and forcing him to grind his way back up to nosebleed stakes.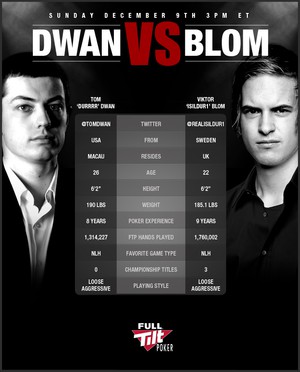 Accusations of cheating and collusion soon followed when Hastings admitted discussing a database of Blom's hands with high stakes regulars Cole South and Brian Townsend. In an interview with ESPN Townsend explained that the three players pored over a database he had put together to find weaknesses in Blom's game and understand his strategy. Full Tilt suspended Townsend for 30 days for breaking their Terms and Conditions.
Isildur became a PokerStars pro following the demise of the original Full Tilt, but decided not to renew his contract shortly before the launch of the new Full Tilt. Three weeks before the relaunch, Full Tilt announced that Tom Dwan and Victor Blom had been signed as Full Tilt Pros joining the first major player to sign up, Gus Hansen.
The launch of any well publicized site tends to follow a trajectory where initial enthusiasm gives way and traffic falls until a plateau is reached. Full Tilt's traffic has dipped following its relaunch and has yet to plateau.
Full Tilt management will want to revive the high stakes action which drew so many players to the site and this match will rekindle memories of Isildur's epic rise and fall that saw him become part of all ten of the largest pots ever played in online poker.
To watch the match, railbirds will need to sign up for a Full Tilt account and can find the game tables by using the find a player menu option.