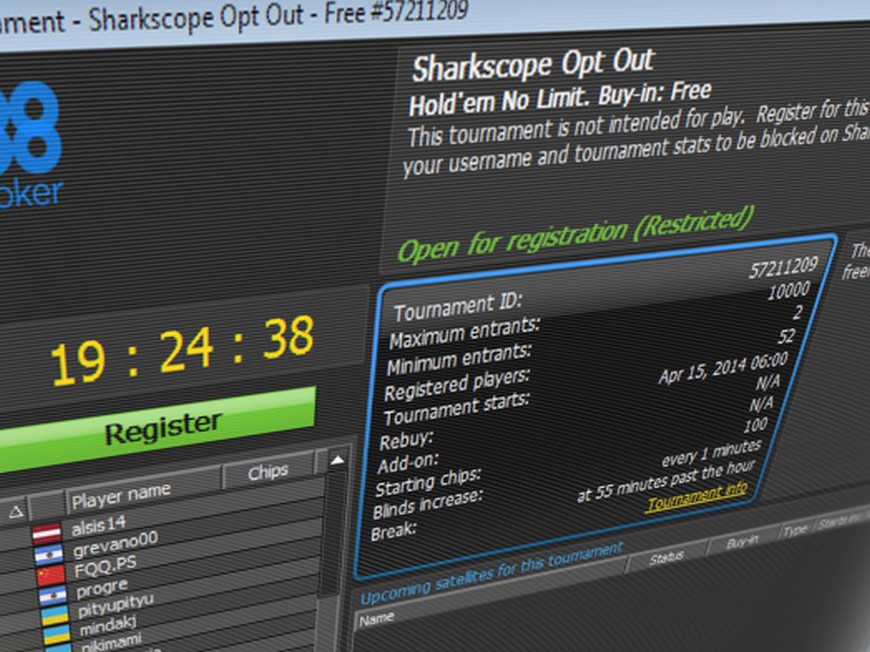 SharkScope, the popular online tool that tracks results in sit & go and scheduled tournaments at online poker rooms, has worked with 888poker to add player data back to the website.
Under the new system, player results—including ROI and profit data—are hidden by default. If a player opts in, then data on their opponents are revealed—and their results are also revealed publicly.
Players can also explicitly opt out, hiding their results from everyone else.
As pokerfuse reported back in June 2013, 888 previously forced SharkScope to remove all data from its website. The poker room stated at the time that it "... does not give permission for any data mining sites to access our poker room, and we actively enforce this policy," adding that the policy "is to protect our members … from these sites providing data on your game play and potentially selling it on to third parties."
SharkScope stated at the time that it had "offered to implement any kind of 'opt-in' procedure they would like, in addition to our existing 'opt-out' and "reset" systems," but that the poker room had rejected all offers.
This difference of opinion has apparently been resolved in the last ten months. SharkScope is now promoting the online poker room through promotional affiliate banners on the site.
Negative customer response may have been at least partially responsible from 888's change of heart: in a blog post announcing the change, SharkScope thanked "those of you who have written and posted that you'd like 888 back."
"We heard you and are glad that we could, with the help of 888 accomplish this goal," they wrote.
Data from both the dot-com site and 888poker Spain, the group's successful Spanish operation, are available on SharkScope. Two special tournaments in the 888 client—named "Sharkscope Opt-In" and "Opt-Out", listed under the "restricted" tab in the client—are used for players to indicate their intentions.
At the time of writing, 312 players had so far opted-in to the first tournament, and 52 have opted out.
A similar system has been place at PokerStars since 2012, when the online poker giant started cracking down on public tracking databases.