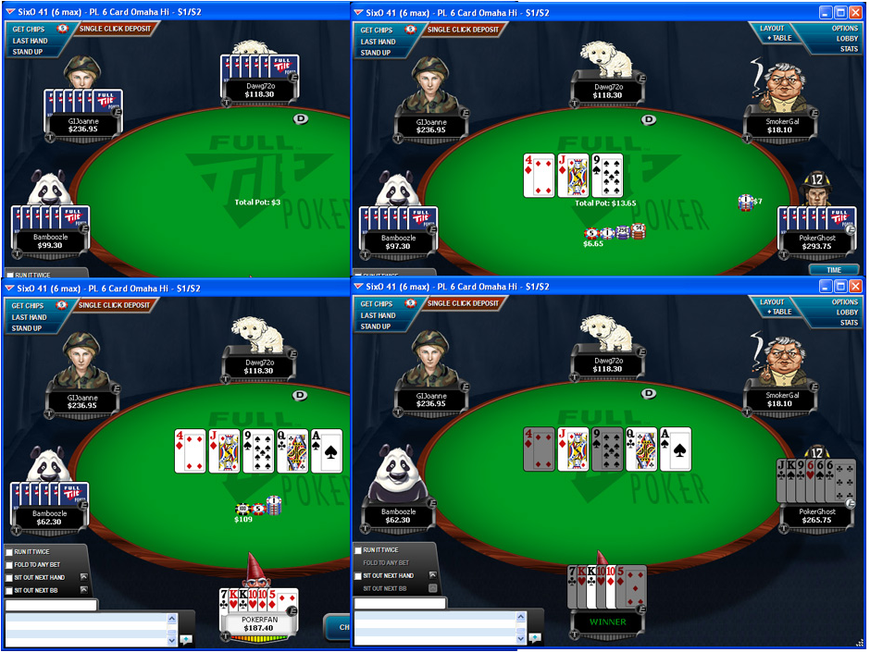 In the latest round of friendly one-upmanship with sister site PokerStars in introducing new poker variants, Full Tilt has announced that 6-Card Omaha will be offered in cash games, SNGs and tournaments.
Six-Card Omaha represents the latest addition in a string of recent updates to Rational Group poker rooms. Full Tilt added Irish Poker mid-March; PokerStars followed on by introducing 5-card Omaha variants a week later. Not to be outdone, Full Tilt followed suit seven weeks later, stating "We refuse to let any other site have a good poker game we don't have."
Six-card Omaha, or Six "O," as the name would suggest, is the same as the standard four-card affair, except players are dealt six cards. "Because," as poker room manager Shyam Markus stated, "sometimes 5 Card Omaha isn't enough."
The same requirement to play two from the hand and three from the board remains, but the vastly increased number of card combinations means that huge hands will be commonplace. Or, as a 2009 article in Poker Player magazine puts it: "Let's be blunt, six-card Omaha was invented by, and is usually played by, utter degenerates."
It will be available in HU and 6-max tables (no full ring, of course, as a single-deck Six "O" game can only accommodate seven players before the deck is exhausted).
To promote the new variant, it will be "game of the week" next week, which means double Full Tilt Points, and event #69 of the MTOPS, Full Tilt's new Micro Turbo Online Poker Series, will be a $3+0.30 tournament with $7500 guaranteed prize pool.