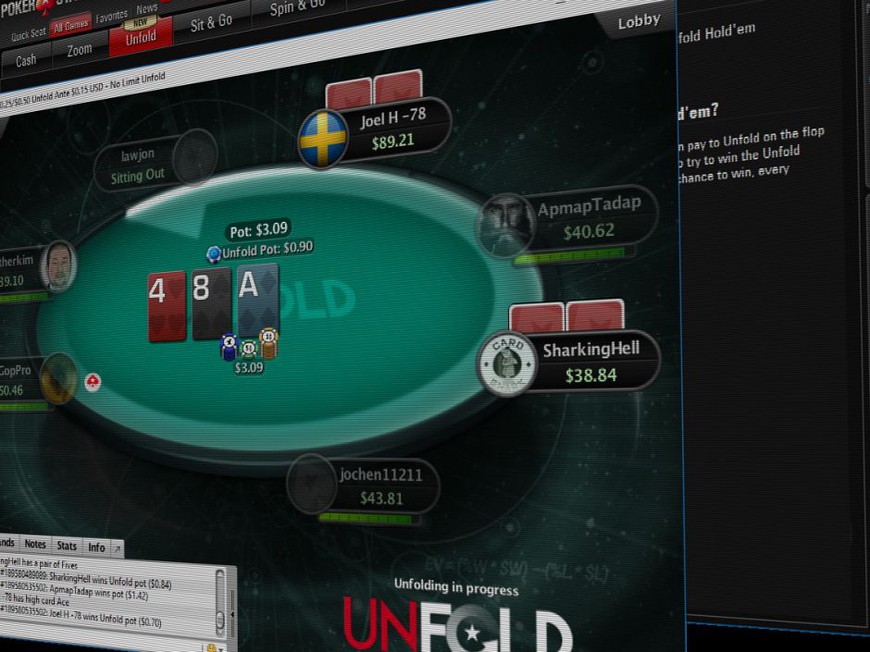 The world's leading online poker site, PokerStars, has made the decision to soon withdraw its latest online poker cash game innovation, Unfold Poker after running it across its international player pool for six weeks.
In Unfold Poker, players can retrieve their mucked cards and get back in the game—something that has been "never done before" in the online poker industry, it was stated when the game first launched.
"Following a strategic review, we have made the decision to fold 'Unfold'," said Severin Rasset, Director of Poker Innovation and Operations in a statement to pokerfuse.
Initially, pokerfuse was informed that the game would be removed on Monday, September 10. It is now understood that the game will remain live for a while longer, but is expected to be withdrawn next week.
Unfold was this year's third novelty cash game variant by PokerStars. The game was first rolled out in Denmark on August 1, and after a successful trial, the game was made available to the international player pool including the dot-UK and dot-EU markets on August 2. The game did not make it to the New Jersey market.
"PokerStars is invested in creating and testing products and new variants of poker to suit a variety of player tastes. While not every new development will be a home run, we will keep trialling, listening to player feedback and analysing engagement with our goal of continuing to offer fresh promotions, formats and updates that enhance our players' experience and bring more people to the game," Rasset continued.
Initially, during the press release announcing Unfold Poker, PokerStars mentioned that the game would be a "permanent" offering. This came as a surprise as both previous new games this year (Split Hold'em and Showtime Hold'em) were offered as temporary products. However, a day later PokerStars removed the word "permanent" from its official press release.
Why Play on PokerStars?

Sign Up Today »
Largest player base in the world.
Home of Spin & Go, Power Up and lots of other unique game variants.
Biggest weekly tournament schedule around.
Will Fusion or Six Plus Hold'em Replace Unfold Poker?
Now that we know Unfold Hold'em will be taken down, PokerStars still has two variants up their sleeve. First is Fusion, which we discovered inside the programs directory of PokerStars folder back in May. There are still no details on how Fusion will be played, but based on its name, it could well be a game blended with two different variants or formats.
In a recent PokerStars client update, the background table image of the game was modified, seeming to suggest that the variant is still in the works and could make its debut soon.
Another game that could replace Unfold Hold'em is Six Plus Hold'em. Six Plus Hold'em, also called Short Deck Poker is a game based on traditional Texas Hold'em that has been gaining a lot of traction over the last couple of years. In Six Plus Hold'em, cards from deuces through fives are removed from the deck.
The game was exclusively revealed by us at the end of August after we spotted new graphics files in the PokerStars client with the name 6+ Plus Hold'em.
A Glance at PokerStars Novelty Games This Year
PokerStars has been quite aggressive in launching new cash game variants this year. The operator first launched Split Hold'em (again revealed ahead of the launch by us) in March of this year. Split Hold'em was a game based on a common home game novelty known as Double Flop Hold'em. The game features two separate boards of community cards dealt simultaneously, creating two flops, two turns and two rivers. The pot is usually split between the best hands on both boards. Players could also scoop the pot by winning both boards.
Split Hold'em was soon replaced by another PokerStars innovation called Showtime Hold'em. In this new twist on No Limit Hold'em, every time a player mucked their cards, their hole cards were revealed to all the players on the table. This encouraged players to bluff more aggressively. The game made its debut at the end of May and was replaced by Unfold Hold'em after running for almost two months.
Edit: September 11: This article originally stated that Unfold would be removed on Monday, September 10. PokerStars later clarified that a decision had been made to keep it live for a short while longer, likely with plans to remove it the following week. The article was updated to reflect this decision.