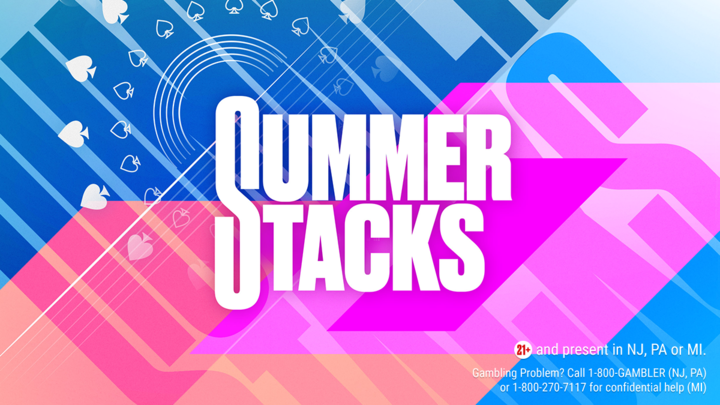 With three separate tournament series in three different US states, PokerStars USA network has filled up the summer slot with an aptly-named, brand new tournament festival called Summer Stacks.
Taking place from June 12 spanning two weeks, Summer Stacks runs simultaneously in all of three US markets PokerStars operates in: New Jersey, Pennsylvania and Michigan.
The 17-day-long series comprises 100 affordable tournaments in each of the markets with a cumulative guarantee of $2.5 million.
Summer Stacks Series: Running across the PokerStars

USA

network!
Available in all three states:

Running in New Jersey, Michigan, and Pennsylvania

Bankroll-friendly events:

all buy-ins under $100

Big prizes up for grabs:

$500,000 guaranteed in NJ and $1 million guaranteed in PA and MI!
It is important to note that each of the three markets is divided by ring-fenced player pools, meaning players can only compete against players within their own state.
Players on PokerStars PA and PokerStars MI will be vying for $1 million in guarantees in their respective states while PokerStars NJ has put up a half-million in prize money.
Summer Stacks: The Casual Series Format
Unlike the recently concluded SCOOP festivals in the US markets, the schedule for Summer Stacks has been designed to meet the demands of casual players. Not a single tournament costs more than $100 and the average buy-in is around $40. Buy-ins range from $5 to $100.
Summer Stacks festival reaches its highest point on June 27 when it hosts two-day Main Events across the three sites with an entry fee of $100. The guarantee for the Main Event is set at $100,000 for players in Pennsylvania and Michigan, while New Jersey players will have half of that.
Two other Main Events with even lower buy-ins will run alongside the $100 buy-ins, costing $10 and $30 respectively.
The schedule for Summer Stacks series in Pennsylvania and Michigan is nearly identical, with both featuring 16 PKOs, 11 Non-Hold'em events and almost the same set of buy-ins.
The Summer Stacks series in New Jersey is clearly dominated by No Limit Hold'em events and features just four Non-Hold'em events. However, the NJ Series has many more PKOs than its counterparts in PA & MI.
Otherwise, the remainder of the schedule is quite similar, with a majority piggybacked on the weekly tournament schedule but with boosted guarantees. In Michigan and Pennsylvania, players will find the PKO edition of the popular Sunday Storm tournament as well as its Half-Price edition.
The average buy-in across the trio of series is almost the same, ranging from $40 to $42.
PokerStars

USA

Summer Stacks Festival
Gtd
Main Event
Avg Buy-in
Non Hold'em Events

PKO

Events
PokerStars PA
$1,045,000
$100,000
$40
11
16
PokerStars MI
$1,000,000
$100,000
$42
11
16
PokerStars NJ
$528,000
$50,000
$42
4
24
Special Freerolls to Accompany the Summer Stacks Festival
As always expected from PokerStars, the series will be accompanied by various freerolls giving away thousands of prizes in tickets.
In all of the three markets, the same set of promotions run including a Main Event Depositor Freeroll and Second Chance Freerolls.
The Main Event Depositor Freeroll gives away 100 tickets worth $10,000 in prizes. To be eligible for the freeroll, all players have to do is deposit at least $30 using the bonus code SUMMER21 before 13:59 ET on June 27. The Freeroll runs just a few hours ahead of the start of the Main.
Furthermore, Second Chance Freerolls will also run daily throughout the series. These freerolls will be open to any player who is knocked out of the Summer Stacks event outside of the money. Each of these freeroll awards up to $650 in tickets.
First-of-a-kind Trio Coordinated Series in the US Regulated Market
PokerStars has run three separate series in its US markets at the same time but the Summer Stacks Festival marks the first time that the same brand tournament festival is being run in all of the three US markets simultaneously.
In Michigan, it is the third tournament series in its short history after having already hosted MICOOP and MISCOOP. In Pennsylvania and New Jersey, it is the operator's fourth tournament series this year.
The Summer Stacks Festival comes fresh off the back of the successful trio US SCOOPs that ran at different dates between April and May.
Each of the SCOOP series smashed their guarantees, producing well in excess of $6 million in prize money. Over 117,000 entrants participated across PASCOOP, MISCOOP and NJSCOOP with PokerStars PA taking the lead with the highest number of entries and prize pool awarded.
Summer Stacks series runs from June 12 to June 28 on PokerStars PA, PokerStars MI and PokerStars NJ.