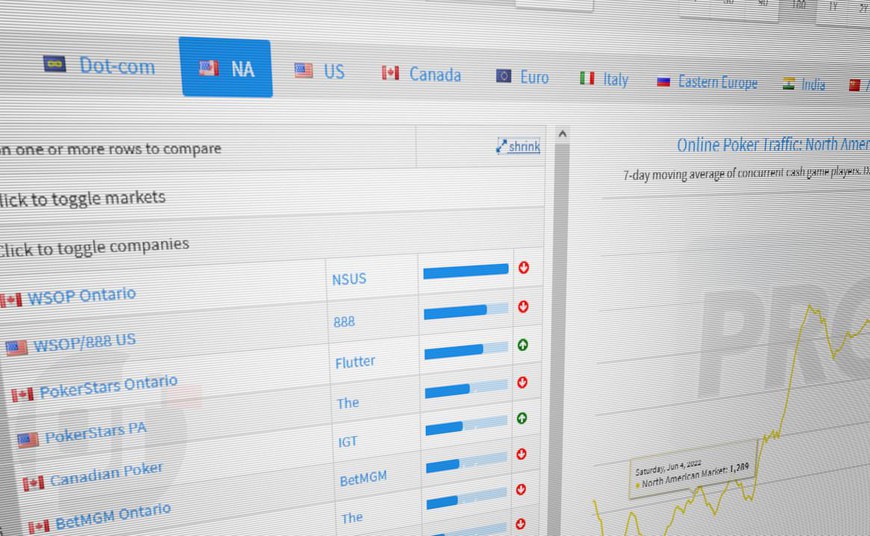 Ontario online poker welcomed its sixth online poker room late last month — WSOP Ontario — and it has immediately jumped to the top of the market, pokerfuse can exclusively reveal.
The first cash game statistics, available on Poker Industry PRO's Data platform, show that WSOP Ontario is the largest regulated real money platform — not just in Ontario but the entire North American market. It is dealing more cash game hands than even the combined WSOP/888 US network, which shares a player pool between three US states and six online poker rooms.
Figures are preliminary, and a clearer picture will form over the coming weeks. But the initial data suggests that the WSOP Ontario app is by far the leading real money Ontario online poker site, ahead of previous market leader PokerStars ON by a wide margin.
Regulated Ontario Online Poker Network Traffic: October 17, 2022
Poker Network
Cash Game Traffic

WSOP

Ontario
335
PokerStars Ontario
230
BetMGM Ontario
135
888poker Ontario
40
All figures are based on average concurrent cash game traffic observed over the last seven days, rounded to the nearest five seats. All data used under license from GameIntel.com via the Poker Industry PRO Data platform.
To put that in perspective, when PokerStars entered the market, the operator started with a 7-day average of 143 concurrent seats, not enough to take the market lead from the incumbent BetMGM Poker Ontario network. As the days passed, PokerStars Ontario enjoyed early growth. It soon hit 200 seats and experienced further gains throughout August, peaking at 220 and taking the market lead.
Rival BetMGM didn't give up. It fought hard, giving tough competition to PokerStars and even retaking the pole position in the first half of September. For weeks, the battle for the top spot was hotly contested by these two networks.
But then WSOP Ontario entered the market, surging out of the gates with an aggressive marketing campaign led by GGPoker's global ambassador, Daniel Negreanu.
The site launched the Ontario-exclusive Circuit series just a day after the site went live. The world-class software provided by GGPoker brought a unique feature-set, offering its built-in HUD, tournament staking, EV Cashout, PokerCraft, and more.
Cash game statistics, tracked by GameIntel, became available on October 13, two weeks after the site went live. Per the data, the network immediately snatched the crown from PokerStars and reached a level no other market operator has touched.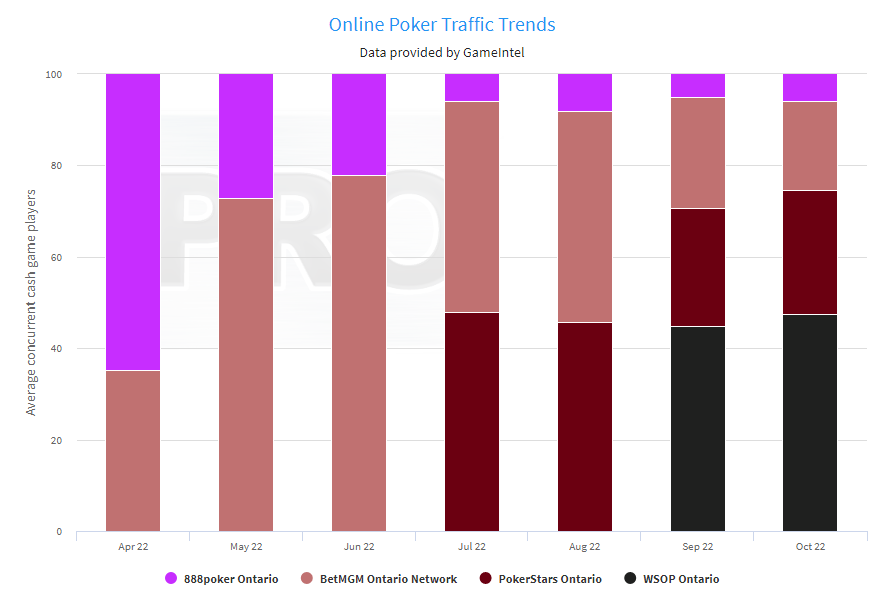 Ontario Far Bigger Than Any Regulated US Online Poker Market
With the launch of WSOP, the Ontario online poker market leaped to around 750 cash game seats, making it the largest regulated poker market in North America. The average number of concurrent cash game seats more than doubled upon its debut.
This shows that WSOP Ontario brought many new players to the market. A vast swathe of its existing Ontario player base — previously under GGPoker, serving the market from offshore before the migration — has transitioned over.
The WSOP Ontario real money launch in the province has not affected existing networks — at least not yet. PokerStars has grown since WSOP's debut, recently peaking at 132 concurrent seats, an all-time high.
BetMGM Poker Ontario, which also hosts skins partypoker and bwin on its player pool, has also fared well, peaking at 158 seats last week — its best in over a month. Traffic has slid a little in the previous week but remains strong,
Ontario is larger than any active US state in terms of population. Its population is slightly larger, with 14.6 million citizens, compared to 12.8 million in Pennsylvania, 10 million in Michigan, and 9 million in New Jersey. But even with that in mind, the market's size impresses: It is only 150 seats away from the entire US regulated market comprising at least four states with a combined population of over 30 million.
With four online poker networks and six rooms, it has attracted more commercial interest than any US state to date. It remains to be seen whether it can sustain that number of online poker sites once its honeymoon period is over. But there is also a strong possibility that another network will launch: iPoker could go live in Ontario by the end of the year.