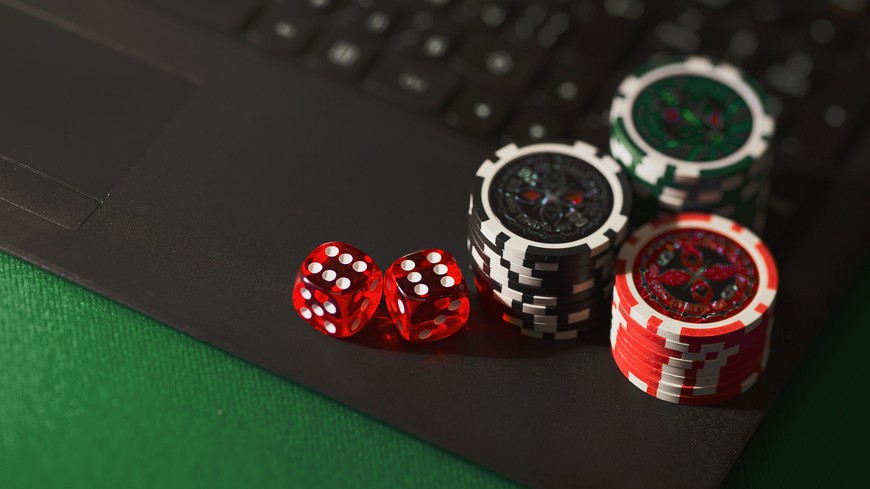 The BetMGM Poker Ontario real money platform has retaken pole position in the Ontario online poker market, demonstrating that the operator has no plans to cede the market lead to PokerStars without a fight, the latest cash game data reveals.
In the week beginning August 1, BetMGM Poker Ontario — which also includes the brands partypoker Ontario and bwin on its network — reported an average of 212 concurrent cash game seats filled at its tables, according to data tracked by GameIntel and available exclusively to pokerfuse and PRO.
This put it ahead of PokerStars Ontario, which reported 198 average seats filled.
BetMGM's numbers were enough to take a 47% market share, marking the operator's best single week in Ontario since launching there four months ago — and the highest single weekly figure for any operator since market opening.
BetMGM Back on Top as PokerStars' First Series Ends
This will be a welcome return to the top of the pack for BetMGM, which has been neck-and-neck with PokerStars in Ontario for more than a month. The last time pokerfuse checked in on the Ontario cash game market a month ago, BetMGM was still narrowly holding on to the market lead with 146 cash seats on average — a hair's breadth ahead of PokerStars' 145.
As predicted at the time, Flutter's online poker room overtook the BetMGM Poker network in Ontario soon after. Indeed, throughout July, PokerStars kept ahead of its rival, peaking at 201 concurrent cash game seats in the last week of the month, an all-time high for a single operator in the regulated market.
Still, BetMGM stayed in lockstep, reporting its all-time traffic high of 196 in the same month.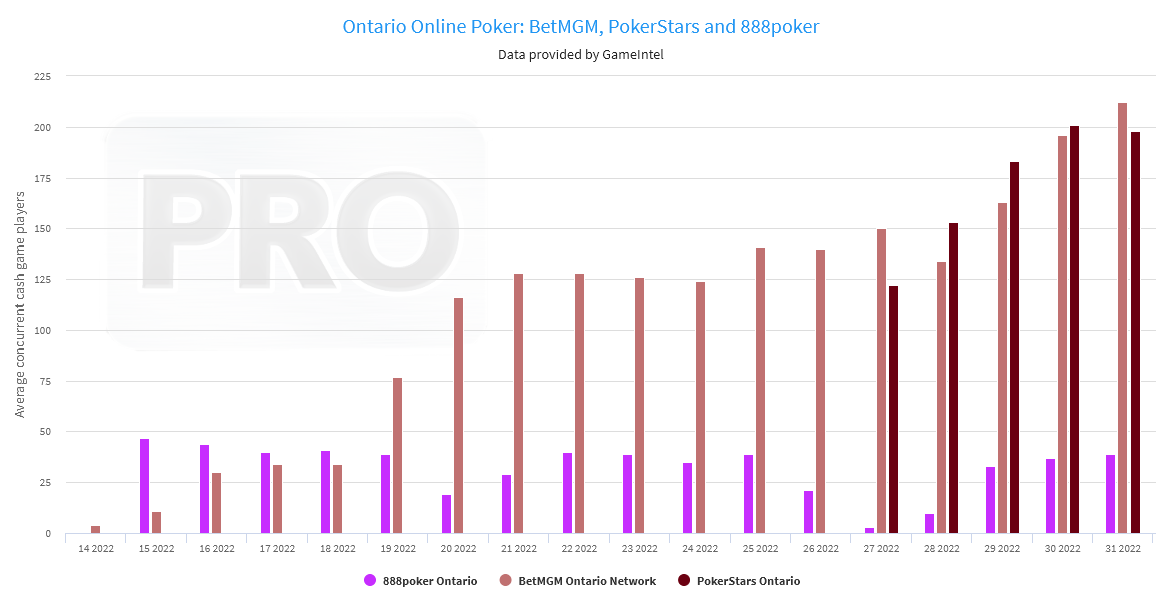 PokerStars enjoyed a boost thanks to the Ontario Platinum Series (OPS) — not only the operator's first tournament series but the first run by any operator in the regulated Ontario market.
The OPS was a win for operator and players alike. It was an ambitious series, with $1 million in guaranteed prizes, but it managed to collect just north of this figure across its 90 events. Seven went 50% over their guarantee; two more than doubled it.
But, as was likely expected by the operator, there were overlays, too: astute players will have shared over $100,000 in overlay value as some tournaments missed their mark. In total, 30 — one-third — of all scheduled tournaments failed to meet their guarantees. All told, the series attracted almost 25,000 entries, and this action also spilled over to the cash game tables.
After the series concluded, cash game traffic flattened out, allowing BetMGM to jump back on top. Cash game players returned to the operator's tables in droves, and traffic leaped 8% week-on-week to 212.
As Operators Battle, Ontario Online Poker Players are the Big Winners
This battle for the top spot is good news for players in the province. The market continues to grow with almost 450 concurrent cash game players. Both PokerStars and BetMGM offer a decent number of cash game tables and attractive weekly guaranteed tournaments. 888poker, while smaller, still has enough players at peak times to provide an alternative place to play.
Notably, the introduction of PokerStars was almost entirely additive rather than cannibalistic, with the global operator bringing its existing Ontarian player base into the new segregated market. While BetMGM Poker dipped the first week PokerStars launched, by the second week, it was already setting its new traffic highs, and both have grown almost every week since. Meanwhile, 888poker's traffic was between 35 and 40 just before the PokerStars launch; it is the same size now.
Before the PokerStars launch, the Ontario online poker market sat at around 160 average seats filled; it is almost three times today.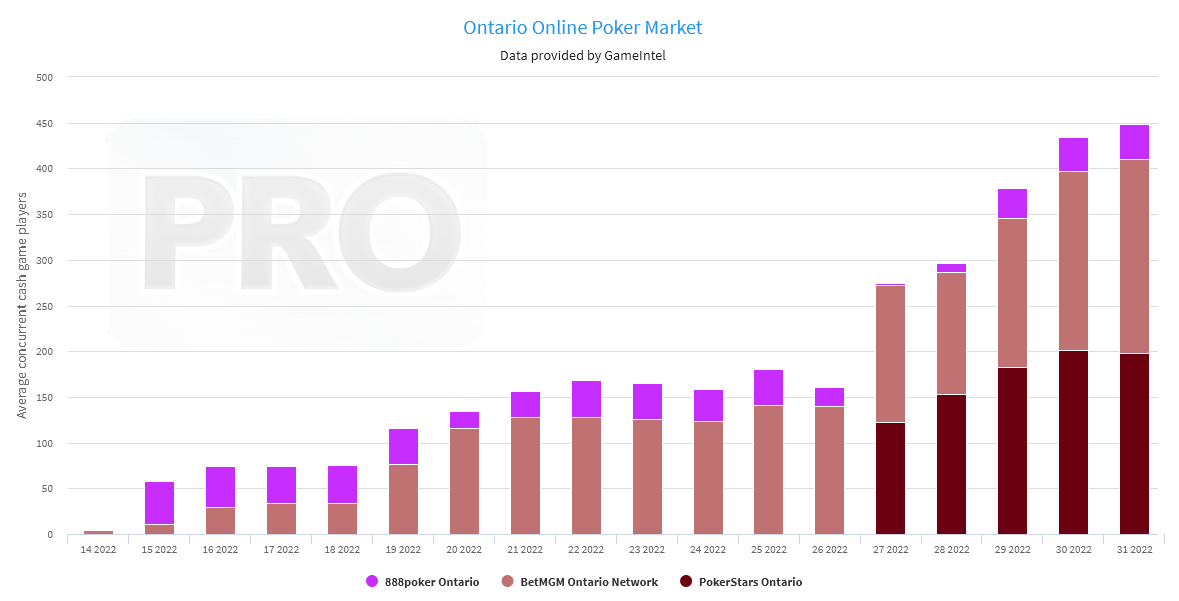 Ontario is Now Larger than Any US Online Poker Market
As reported on Poker Industry PRO last month, the Ontario market was already larger than any single US online poker state, and this lead has only grown in the following weeks.
Looking at the week starting October 1, the Ontario online poker market is now larger than the multi-state online poker network combining multiple operators in New Jersey and the WSOP/888 network that spans New Jersey, Nevada, and Delaware.
These operators combined for 382 average seats this week; the Ontario operators hosted 16% more cash game players over the same period.
North American Poker Markets: Week Starting October 1
| Market | PokerStars | BetMGM | WSOP/888* | Combined |
| --- | --- | --- | --- | --- |
| Ontario | 196 | 212 | 36 | 444 |
| Pennsylvania | 199 | 52 | 69 | 320 |
| Michigan | 140 | 87 | 46 | 273 |
| NJ, NV, and DE* | 23 | 93 | 266 | 382 |
| Total | 558 | 444 | 417 | 1419 |
* Only WSOP operates in Nevada and Delaware. 888 operates in Ontario. WSOP's brand will ultimately be used by GGPoker in Ontario, with its launch pending.
Ontario Market Should be Far from its Peak
Despite the impressive growth over the last four months, the market is expected to grow even further from where it is today.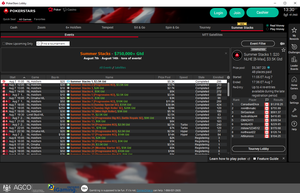 For a start, there is the usual seasonality to online poker — June and July are traditionally the quietest months of the year, with traffic growing in autumn and peaking in the new year. Operators should see some natural, organic growth over the coming months as players seek more at-home entertainment options as the warm weather abates.
Secondly, operators are only starting to gear up their marketing and promotions. PokerStars remains the only operator to try a guaranteed tournament series with OPS; it has just quietly launched another series, Summer Stacks, which could swell the cash game seats at PS:ON once again. Plus, its big series of the year — The Ontario Championship of Online Poker aka ONCOOP — is not far away.
Other operators are assuredly preparing their own competing series. There is no official word yet, but pokerfuse expects BetMGM to launch its own branded online series for Ontario players in August. We expect the series to be in line with what PokerStars has been offering, so players can expect extensive five-figure guarantees and likely a good opportunity for overlay.
Finally, at least one more operator is expected to launch in the market — WSOP.CA, powered by GGPoker. This operator has obtained a license from the regulator but still has to complete the final step — executing its operating agreement — to go live. It has opted to continue to serve the market from offshore while this is pending, but it is expected to move players over sometime this fall.
Combined, it seems likely that the market will exceed 600 concurrent cash game seats in the winter — and players will have the choice of four top-class poker platforms, each vying for a piece of the pie.