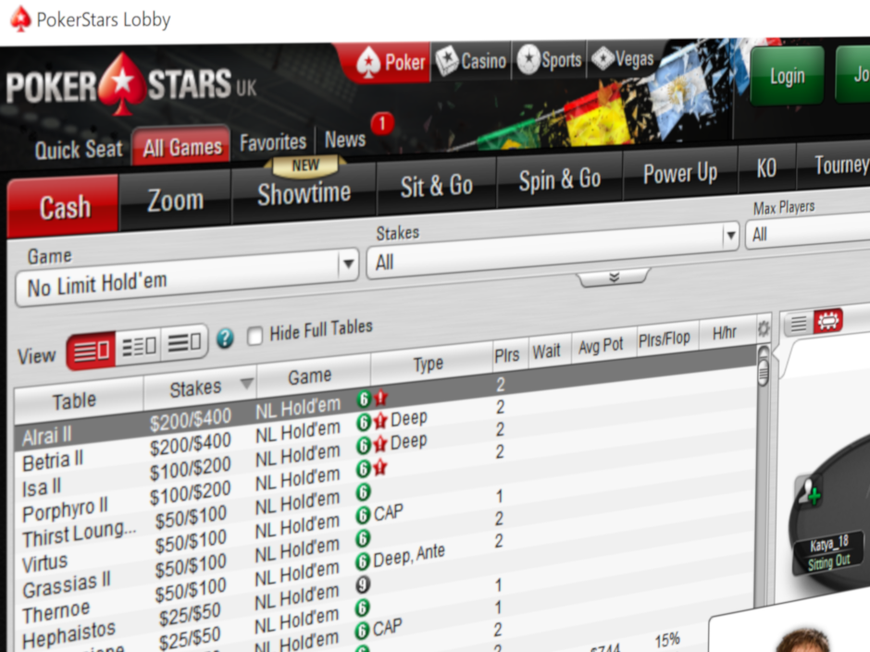 PokerStars, the worldwide leader in online poker, has announced plans to reduce multi-tabling of regular cash games on its platform to six tables. A test phase for the "major" policy change is set to begin on July 17 in the segregated Italian market.
"I understand that this announcement will not be seen as good news by these players and that facing such a radical change will be difficult," commented Severin Rasset, Director of Innovation and Operations for The Stars Group and PokerStars.
The intent of this shift in policy is to reduce the time players take to act at these tables which PokerStars contends will create "an atmosphere where the game is fun, fast and enjoyable for all." According to the company, the speed of the games and other players taking too long to act are among the most frequent complaints registered.
Signup to PokerStars now and receive a special reward!
Admittedly, PokerStars' own data reveals that on average players that are multi-tabling take the same time to act as their single-tabling counterparts, and they even act quicker in certain instances, but the times when they do act slower create a considerable drag on the game, according to PokerStars.
Rasset explains, "when there is an important decision to make at a table, all other tables must wait. And, of course, the more tables being played the more frequently this situation can happen."
Other games such as Zoom will not be impacted by the new policy.
Worldwide Rollout
No definitive date has been set for the new policy to be applied to the .COM and other segregated player pools. The company intends to take into consideration the data it collects in Italy and determine the best course of action in other markets.
Italy will also be a testing ground for PokerStars blind lobby feature, Seat Me, which limits players ability to select a particular table and seat for cash games. Instead, once a player chooses a game type and stake level, the online poker software automatically seats them at an available seat.
Not only does this feature streamline and simplify the user experience by removing the cluttered appearance of dozens of choices in the lobby, but it also serves to reduce predatory behavior by players using prohibited third-party software tools such as seating scripts.
If the Seat Me testing period in Italy is any indication of the time expected before a further roll-out of the multi-tabling limitation is initiated, players in other markets could see this six table maximum as soon as the end of the year.
Multi-Tabelers Are People Too
According to internal data, only 0.3% of players on PokerStars play more than six tables at one time, and while PokerStars expects the new limitation to restrict a small fraction of its player base, it understands that no matter how small the percentage, there are people behind the numbers.
"I am acutely aware that behind this percentage, we have players with a personal story. Some of them might rely on poker for a living. I understand that this announcement will not be seen as good news by these players and that facing such a radical change will be difficult," Rasset explained.
Expected Results
While limiting the number of concurrent cash games will have an adverse effect on those that rely on volume to achieve their current win rates, PokerStars believes there is a compensating path forward for its multi-tabling players.
"We also fully expect the current multi-tablers to adapt by focusing more on each table and, as a result, win more at those tables, Rasset revealed. "In light of previous changes, we expect that winning more will be achieved by playing a wider range of hands and giving more action, which will lead to a much more fun game for all players."
High-Volume Play Further Discouraged
Changes impacting high-volume players have been a point of controversy in the poker community in recent years. In 2016 PokerStars capped its rewards program at approximately 30% of rake paid and removed its highest tier, Supernova Elite. It also moved away from milestone rewards that incentivized high-volume play in favor of rewards accessible to a larger portion of its customers.
Further changes to its loyalty program were introduced last year with the advent of Stars Rewards. Under the new loyalty scheme, rewards are individually tailored using such metrics as stakes played, frequency of play and overall net deposits.
PokerStars has also addressed criticism by the poker community that its changes have hurt the dream of moving up the ranks and becoming a professional poker player—a motivating factor that fueled the drive of many professional poker players—with its investment in poker-related programming and integration of its rewards program with the popular live-streaming platform Twitch.
PokerStars has invested heavily in sponsoring players that promote poker on Twitch.
Eric Hollreiser, Vice President of Corporate Communications for PokerStars and the executive with overall management responsibility for Twitch told pokerfuse last month that the company sees Twitch as "a new avenue for poker players to earn a living doing what they love doing. This is a deliberate strategy to invest in the dream of having a poker career."
PokerStars to Expand Its Blind Lobby
Following its introduction in Spain and subsequent trials in France and Portugal, the Seat Me feature will soon hit the Italian market.
If all goes as expected, PokerStars expects its blind lobby system to be introduced to its .COM player pool by the end of the year.