Full Tilt Poker Opens for Play-Money, Players can View Balances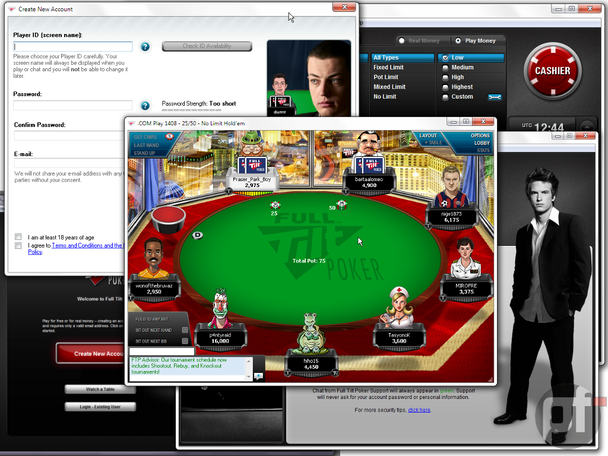 It's been a long road; 489 days, to be precise. But today, Full Tilt Poker came back online and started dealing cards once again.
One week ahead of its full relaunch for real money, today Full Tilt went back online for the public to log in and play for play-money.
Players can now download the software from FullTiltPoker.com and can log back into their accounts. They can also see their account balances and FTP points, observe and play on play money tables, and create new accounts.
The lobby appears much the same. The most notable alterations are cosmetic changes to promote its new face of Full Tilt and new pro roster. But beneath the skin there are dozens of minor improvements and changes, according to Poker Room Manager Shyam Markus.
The sign-in procedure is the same as before, and players will be prompted to enter their security token number if they used one before. After being prompted to accept new terms and conditions, and the recommendation to change their password, players will be back to the FTP lobby just like before—but without any real-money tables.
All cashier functionality, including deposit and withdrawal, player-to-player transfer, the Full Tilt Store, and the new "Transfer to PokerStars" button, are disabled until November 6.
Players in regulated markets—Spain, France, Italy, Belgium, Denmark and Estonia—will not be able to play on Full Tilt. They can still download the software and play the play-money tables, but when logging in receive a warning that real-money games are not available.
For these countries, PokerStars is working with regulators to return this money by November 6 by a process of pairing PokerStars and Full Tilt accounts, so FTP funds will be transferred to PokerStars. The company is still working with regulators in Italy, "to determine the appropriate process to ensure compliance with local regulations," according to a press release from last month.
Players in the US are instructed to go to FullTiltPoker.net, the play money site, although this will not be available until November 6. US players still await the department of justice to announce the payment processor that will facilitate repayment. PokerStars is not responsible for the repayment of US players.
In announcing the launch, Shyam Markus stated that the early open is "more of a beta test than anything," and requested players give play-money a try to test the servers and system before the real-money launch.