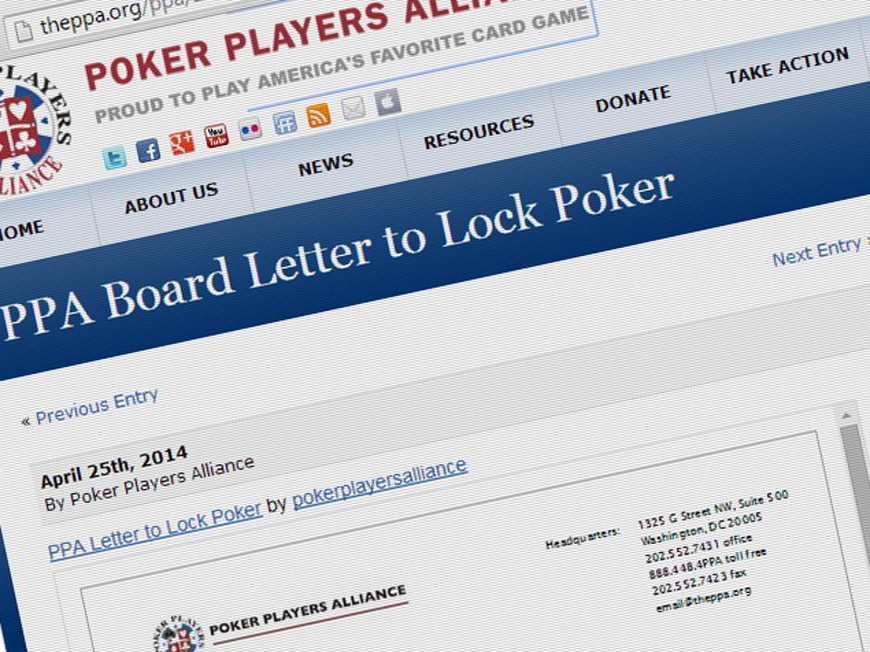 Eight months after Poker Affiliate Solution's downgraded Lock Poker to an F, the Poker Players Alliance (PPA) has sent an open letter to the operator requesting that it respond to its inquiries.
The PPA explains that it "keeps its members informed of problems concerning player funds held on account at poker sites," adding that it "works as aggressively as possible to protect and/or facilitate return of those player funds when poker businesses have failed to do so."
According recent reports, over 50 players have waited over a year for a withdrawal from Lock Poker.
"The oldest pending cashout dates back to November 25, 2012. Players report $936,000 in late withdrawals owed by Lock Poker," reads the latest update, citing publicly compiled statistics.
Locked Out
Lock Poker left the Revolution Gaming network in October last year following a history of cashout problems.
In a statement to pokerfuse issued at the time, the network explained that "due to lack of payment to the Network and a large growing debt," it was forced to segregate Lock players almost entirely from cash games on the network.
"The network issued an official final demand notice to Lock in October and unfortunately must now pursue Lock to the full extent possible by law to recover all monies owed and damages caused," read the statement.
Lock created its own new network where, as the PPA letter points out, it continues to advertise misleading estimated withdrawal time frames.
The PPA states that the time estimate on the web site "clearly falls far short in warning new depositors of the significant cashout situation at Lock Poker."
Four Questions
The board members of the PPA considered "simply issuing direct warnings to all [its] members concerning the Lock Poker situation"—but first decided Lock should have the opportunity to communicate directly with the PPA.
The group requests answers to four questions:
1. Does Lock Poker keep players' funds segregated from operating funds? If so, what
mechanism is used to accomplish this separation?
2. Does Lock Poker have, or will it be implementing, a system to organize its payment processing so that those who have been waiting the longest will be given priority in future payments?
3. Does Lock Poker have a timeline of its plan to pay its players in full?
4. Will Lock Poker immediately provide open, accurate, up-to-date information regarding time required to process customer withdrawal requests?
Players have been demanding answers to these questions for over a year, but have never succeeded in getting an adequate response.