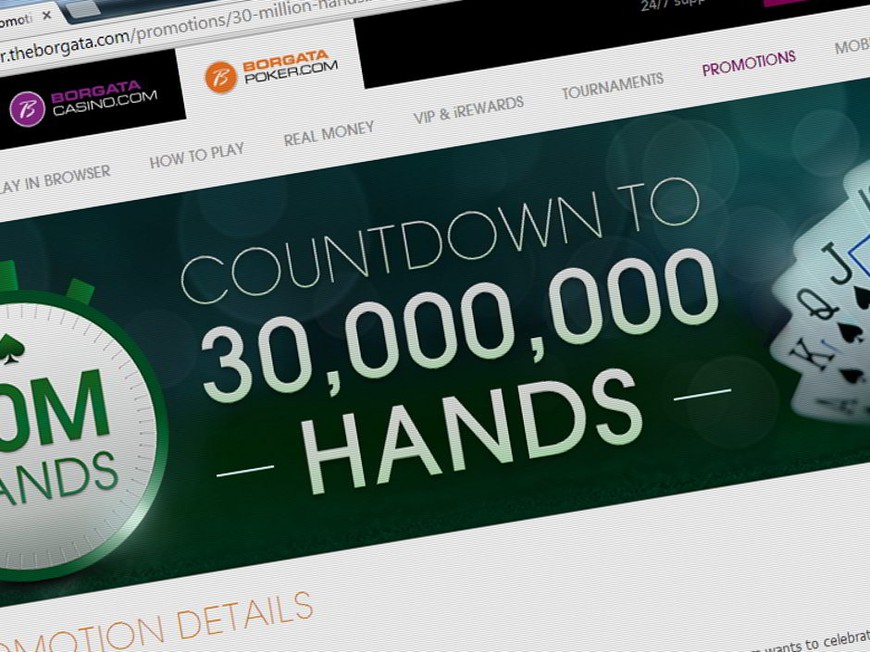 In anticipation of dealing 30 million hands in New Jersey, BorgataPoker.com has announced its Countdown to 30 Million Hands promotion.
Borgata will be awarding $1,000 cash to the winner of each millionth hand dealt starting at 25,000,000 with the winner of the 30 millionth hand taking down $10,000. Other players at the table that are dealt into the milestone hands leading up to 30 millionth hand will receive $100 and players in the hand when the 30 millionth hand is dealt will receive $1,000.
"All hands dealt at cash tables, fastforward games, Sit 'n Go's and tournaments qualify for the grand prize," according to the press release.
"We have been extremely satisfied with the positive response from poker players since the commencement of internet gaming in New Jersey and we can't wait to see our 30 millionth hand hit the virtual felt," said Steve Nathan, Vice President of Marketing. "We are thrilled to provide the type of experience that has made Borgata among the largest regulated online poker communities in the country and it's our pleasure to reward players with extra cash for helping us achieve this great accomplishment."
It is expected that the 30 millionth hand will be dealt sometime in mid-April.
Milestone hand promotions have become popular in online poker and have provided a boost in traffic as players are attracted to the possibility of a huge payday.
PokerStars has been running milestone hand promotions for years, achieving 100 billion hands dealt in June 2013.
Ultimate Poker reached the 10 million hand mark in Nevada last August.
Recently French online poker operator Winamax ran a successful milestone promotion for its one billionth hand, though some avoidable issues were encountered.