Online gambling became regulated in Connecticut with Governor Ned Lamont signing HB 6451 into law on May 27, 2021. With this, CT has become the seventh US state to regulate online poker.
Connecticut has been flirting with an online gambling bill for a while now, but there have were certain roadblocks in place that needed to be removed. In the state, two Indian tribes, namely Mashantucket Pequot (Foxwoods Resort) and Mohegan (Mohegan Sun), have a monopoly on gambling. So, before a new gaming law could come into effect, the state had to reach an agreement with the tribes.
This agreement was finally signed in March of 2021, clearing the path for the new bill to become law. This agreement gave tribes exclusive rights over online gambling, while the state lottery will be allowed to offer sports betting alongside lottery draws and keno games.
As passed, the law allowed each tribe to launch one online gaming platform, stipulating that both online casino and poker must be hosted on the same platform. Thus, there will be no more than two CT online poker sites to begin with.
After a few months to finalize things, first online casinos and betting sites have gone live in Connecticut, but it seems like online poker is not in the works just yet.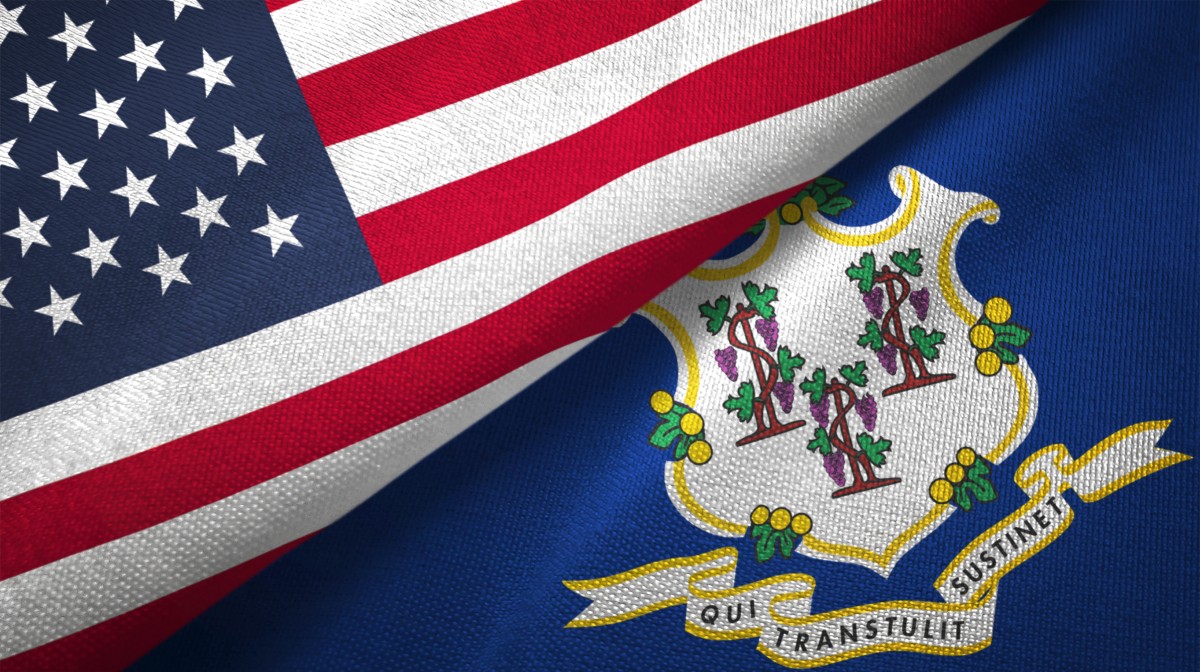 The idea of regulating online gambling in CT has been long in the making. The activity has been recognized as a big potential booster for state revenues, but it still took several years to create a bill that all major stakeholders would be happy with. With the new iGaming law finally in place, coming months should be quite exciting.
First Gambling Sites Going Live in CT
First online casinos and sports betting sites launched in Connecticut in October of 2021, which was in line with our expectations that this would happen sometimes during the fall.
Like with most US states, there was a one-week soft launch period, during which the operators accepted a limited number of players to test everything and show they are capable of running platforms without any issues.
Following the successful soft launch period, three gaming operators launched in the state:
DraftKings in partnership with Mashantucket Pequot – casino and sports betting
FanDuel in partnership with Mohegan Tribe – sports betting and casino
Rush Street Interactive in partnership with the Connecticut Lottery Corporation – sports betting only as per the March 2021 agreement
Still in its very early stages, regulated online gambling in CT is off to a strong start, and all operators have expressed optimism for the future.
Legal Gambling Sites in Connecticut
| Online Casino | Sports Betting |
| --- | --- |
| DraftKings Casino | DraftKings Sports |
| FanDuel Casino | FanDuel Sports |
| - | Connecticut Lottery |
Online Poker Sites in CT
The CT iGaming bill makes room for two online poker sites to operate in the state — one powered by Foxwoods and another one provided by Mohegan Sun. The law stipulates that the tribes can only have one online gambling partner, so future poker rooms cannot be launched separately from online casinos.
However, the number of sites is not the main obstacle for the launch of online poker in Constitution State. With a small population of just over 3.5 million, CT is a fairly small market that might not be particularly attractive to major players in the US regulated market.
The fact the online gambling went live in CT with online casinos and betting sites but no online poker indicates that this particular aspect is not particularly interesting to any operators at this point in time.
In fact, we could see a scenario similar to that in West Virginia. Although the state regulated online poker a while ago, due to small population of 1.8 million, no operators have set up a shop there as of yet. It is quite likely that there will be no regulated online poker in Connecticut before shared liquidity between states become more commonplace, at which point CT operators might look into launching one or both sites, with the view of boosting their players pools by combining them with two or more other states.
It seems like the states will soon be free to enter multi-state agreements and create combined player pools, which makes a population of any individual state less of a factor. Delaware is an excellent example of this, as despite having a population of under one million, it has had online poker since 2013 thanks to the interstate compact with Nevada which New Jersey joined in 2018.
Of the two gaming operators to launch in the state, only FanDuel could realistically set up an online poker site, as the company is owned by Flutter, which also owns the PokerStars brand. DraftKings does not have its own online poker platform and it does not seem likely they would develop one specifically for Connecticut.
So, there are several moving parts right now that could influence the future of online poker in CT. Without the option to share liquidity, operators will probably be in no rush to launch in the state, so fans of online poker in Connecticut might have to wait another year or so.
If things do start to change in the right direction, the question becomes who will try to seize the opportunity and who will be the first across the finish line. At the moment, FanDuel and PokerStars seem to be in the best position, but there might be other contenders.
PokerStars CT
PokerStars has been on a mission to expand its US presence, and the operator is now live in three states (PA, MI, and NJ), with the Nevada expansion as a possibility as well, depending on future developments.
PokerStars USA: The world's largest online poker site is legal and regulated in Pennsylvania, Michigan, and New Jersey!
Great bonus

$50 freeplay or Up to $600 deposit match bonus
The world's most regulated online poker site
Great cash game traffic and some of the best weekly guaranteed MTTs
Stars rewards program rewards play across poker, casino and sports
However, in the current setup, PokerStars CT might not be in the cards just yet. The market is probably too small for the operator. That said, with the interstate poker situation likely to change a lot in the coming months, it is not out of question for the operator to try for the license as a way to continue building the PokerStars USA network.
One of the two gaming sites licensed in the state is FanDuel, which is owned and operated by Flutter, the parent company of PokerStars. So, the platform is already there, so it would only be the matter of branding, i.e. it could be a FanDuel CT poker room that uses the PokerStars software and shares liquidity with licensed PokerStars sites in other states to enter the potential future compact.
DraftKings CT
DraftKings has had a presence in Connecticut offering Daily Fantasy Sports (DFS) even before receiving the online casino and sports betting license.
As expected, DraftKings became Foxwoods' partner for the sports betting and online casino segment. However, the question remains if there will be enough interest to develop an online poker offering given everything we know.
At the moment, the company does not offer an online poker site in any of the regulated states, and Connecticut, on its own, is too small of a market. In the future, when there are interstate compacts in place, perhaps DraftKings decide to expand into this aspect of online gaming as well, but given their business model thus far and the fact they would have to start from scratch and compete against at least one very experienced operator, this seems unlikely.
CT Online Poker Laws and Regulation
The idea for regulating online gambling in CT has been touted for years by a former CT Governor who recognized it could help bolster the state economy by creating new revenue streams. That idea is set to become a reality with the new gaming bill that was finally passed on May 27, 2021.
The CT online gambling bill received the strong support from the House, as it was passed 122-21 and subsequently sent to the Senate. The bill then received similar bipartisan support in the Senate passing by a margin of 28-6.
The senators that were against the bill warned about dangers of the regulation as it could create gambling addiction problems and put those most vulnerable at risk. However, the rest of the Senate was clearly convinced that the positives strongly outweighed the negatives.
On May 27, Governor Ned Lamont put his signature on the bill, giving the go-ahead for the new law.
CT Gaming Bill Highlights
Connecticut has a peculiar situation when it comes to gambling. There are two tribes in the state, operating two casinos, and they have the monopoly on most gambling activities in CT:
The Mashantucket Pequot Tribe operating Foxwoods Resort
The Mohegan Tribe operating Mohegan Sun
There is also Connecticut Lottery Corporation, but it can only operate lottery draws and keno games. So, to pass the bill, the state first had to reach an agreement with the tribes. This agreement also needs to be ratified by the US Department of Interior.
These are the most important stipulations of the CT online gambling bill:
Tribes are allowed to launch one online casino platform each
The platform can offer online casino, sports betting, and online poker
Tribes cannot launch separate platforms for different products
CT Lottery can launch an online platform, offering sports betting, lottery draws, and keno
Online casino and poker will be taxed at 18% for the first five years, after which the taxation rate will climb to 20%. Sports betting income is taxed at 13.75%.
So, as far as CT online poker is concerned, there is room for two poker sites to go live in the state. Companies wanting to get in will need to partner with one of the two tribes as these are the only entities that have the right to offer online poker in Connecticut.
CT Lottery is limited in what it can offer according to the agreement signed in March of 2021, and online poker is not in the cards.
With the current setup, the tribes will likely aim to partner up with companies that can provide them with strong sports betting and online casino platforms. The small population of Connecticut does not land much promise for online poker, so it will not be the main focus.
The first regulated casinos and betting sites will likely go live in the state by the fall of 2021. There could be some unexpected developments pushing things back, but this seems to be the target date at this point in time.
Connecticut and Interstate Poker
With the population of just 3.5 million, Connecticut does not represent a major opportunity for online poker operators. However, we are now at the point where it seems clear that the Wire Act will be reverted to its previous interpretation, meaning its scope does not extend to online poker.
With that development, states will be free to enter multi-state agreements and create shared networks across state lines, gathering much larger player pools.
The CT online gaming bill does not have anything to say on the topic of shared liquidity either way. What is important is that it does not expressly forbid the state operators from entering such compacts in the future. So, when the time comes, it is likely the lawmakers will introduce some amendments to the bill, regulating these matters.
It would be in Connecticut's interest to enter such agreements with states like New Jersey, Michigan, Pennsylvania, and Nevada. These would resolve traffic issues for the sites and make the state a much more appealing and interesting market for online poker.
If things stay the course, we should start seeing some movement on the interstate agreements in the US in the following months. Connecticut might want to join these talks early on, to set things up for when the first poker sites launch in the state.
Safety & Fairness
At the moment, the only body in charge of overseeing gambling activities in the state is the Connecticut Department of Consumer Protection — Gaming Division. This organization issues gaming licenses and oversees the activity of licensed operators to make sure they do everything according to relevant laws.
The new iGaming bill has not changed anything in this setup as there is no mention of a new entity that would deal with issuing online gaming licenses specifically. So, it seems the CT Department of Consumer Protection will take on the role of the main licensing body for the iGaming industry as well.
Players can rest assured that any sites licensed by this body are safe and completely legal. Like in other regulated states, those operators that receive the seal of approval from the Department meet all the required standards in terms of game integrity, player protection, etc.
Banking Options
One of the most important aspects for online poker operators is making sure their players have an easy way to fund their accounts and cash out their winnings. Connecticut is a fresh gaming market, so it still remains to be seen what options licensed sites will bring to the table.
Looking at other regulated markets, though, we can probably expect a list containing methods such as:
Visa / MasterCard

ACH

PayPal
Skrill
Bank transfers
In-person deposits and withdrawals (at Foxwoods and Mohegan Sun)
Methods such as ACH will probably remain the best option for the players when all things are considered. This option offers very safe and reliable transfers that are not susceptible to any common issues.
Those wanting to use credit and debit cards might face problems similar to those that appeared in other regulated states during early days of the regulation. Namely, banking institutions will frequently block transfers to and from gambling sites, even if these sites are completely legal and regulated.
On the whole, CT online poker players should not experience any major issues on this front. In other states, deposits and withdrawals work pretty well with an occasional glitch here and there, and there is no reason to think things will be any different in Constitution State.
Expectations for Shared Liquidity in Connecticut
As we have mentioned several times in this overview, shared liquidity is very important for CT online poker and it might even be the determining factor in whether any poker sites decide to launch in the state.
If there are positive expectations for shared liquidity in the near future, the state might become an interesting market even for big operators as they will seek to further strengthen their foothold in the US. If not, the small population size could put the launch of online poker in CT on the backburner.
Since the state's gaming bill says nothing about shared liquidity possibilities, it seems like lawmakers are more than open to this idea. However, like the rest of the states, they are waiting for the final word on the Wire Act. It is now clear that the DoJ has no plans to appeal the last court decision, so the path is pretty much open for interstate poker.
If Connecticut is quick to seize this opportunity and enter shared liquidity agreements with states like PA and MI, the small size of their own market will become a non-issue.
At the moment, there is only one multi-state online poker agreement in place — the one between Nevada, New Jersey, and Delaware. It can be used as a great role model for the future, if states decide to create new agreements. What is more likely to happen, though, is for the current MSIGA to expand to include new states and keep building on the existing foundations.
So, the next few months will be really important for online poker in Connecticut. If shared liquidity possibilities are in the cards, the state will receive much more interest from current stakeholders, and players might see both potential sites launch in short succession or even simultaneously.
Land-based Casinos and Poker Rooms in CT
Connecticut is not as "rich" as some other states when it comes to its live casino offering. Players looking for some live action, be it on the casino floors or at the poker tables, are currently limited to just two options: Foxwoods Resort Casino and Mohegan Sun.
Foxwoods Resort Casino
Established in 1992, Foxwoods Resort is actually the largest casino in North America, which may come as a bit of a surprise. The resort is owned by the Mashantucket Pequot Tribe and it offers the full scope of services, from hotels and conference halls to casino gaming and poker.
The poker room operates around the clock and offers all the game variations one can think of: Texas Hold'em, Omaha, 7 Card Stud, and even mixed games if there is demand. With around 150 tables spread across the room, there is action for every taste and pocket, with stakes starting as low as $1/2.
Foxwoods is also a great destination for tournament fans, as their schedule is usually filled with events featuring different buy-ins. For those looking for some serious action, there are World Poker Tour tournaments taking place here, and you will also find regular satellites for these if you are looking to get in on a discount.
Those looking for the casino action will find 3500 slot machines spread across the floor and plenty of table games to choose from, including blackjack, roulette, Let It Ride, Pai Gow, craps, 3 Card Poker, Jackpot Hold'em, and more.
Mohegan Sun
Mohegan Sun Casino was founded in 1996 by the Mohegan Tribe of Connecticut. Although not as spacious as Foxwoods, this venue also offers everything a player could possibly ask for to have a pleasant experience, including a state-of-the-art poker room.
Featuring about two dozen tables, the Mohegan Sun poker room also spreads all sorts of game variations, from Hold'em and Omaha to 2-7 Triple Draw and Badugi, if there is demand. The room is typically open 10:00 am — 02:00 am on weekdays and 10:00 am — 04:00 am on weekends.
In the casino area, Mohegan Sun offers even more slots than Foxwoods, with 5000 different titles players can choose from. There are also more than 300 gaming tables available, offering pretty much every casino game under the sun.
FAQ
When was online poker in Connecticut regulated?
Online poker in CT was regulated as a part of the iGaming bill that was signed by Governor Ned Lamont in late May of 2021. The bill also regulates other aspects of online gambling, namely online casinos and sports betting.
Where can I play legal online poker in CT?
At the moment, there are no active online poker sites in Connecticut. The gambling bill allows for two sites in the future, operated by the two state tribes, the Mashantucket Pequot (operating Foxwoods Resort) and Mohegan (operating Mohegan Sun).
It still remains to be seen what companies, if any, the tribes will partner up with to bring online poker to Constitution State.
Do I have to be physically present in Connecticut to play on a CT gambling site?
Yes, like other regulated states, Connecticut requires players to be physically present within the state borders when gambling online for real money. This covers online poker, casino games, and sports betting.
What banking options do CT poker sites accept?
Although no poker sites currently operate in the state, it is safe to assume these will accept payment methods similar to those in other states. This includes PayPal, Skrill, MasterCard, Visa, ACH, bank transfers, and more.
On top of these options, players will probably be able to make in-person deposits via Foxwoods and Mohegan Sun land-based venues.
Who is in charge of licensing and overseeing CT poker sites and online casinos?
The body in charge of licensing, regulating, and overseeing gaming activities in the state is Connecticut Department of Consumer Protection — Gaming Division. It is likely that this Department will deal with online gambling as well, since the bill does not provide for any new body that would address this particular segment.
Does Connecticut share liquidity with other regulated states?
At the moment, there are no online poker operators in the state so it is impossible to talk about shared liquidity. The CT online poker bill does not prohibit interstate compacts, though, so it is possible that these are in the cards in the future.
Being a relatively small market, Connecticut will probably look to take advantage of shared liquidity opportunities once legal issues have been completely removed.
Can I play online poker in Connecticut from my phone?
When online poker finally goes live in CT, there is no reason to think that players will not be able to play from their phones. This is available in all other regulated states and there is nothing in the CT gaming bill language that would prevent operators from going mobile.
Latest Connecticut Online Poker News
---
---
---
---
---
---
---
---
---
---