BetMGM Poker US is one of the best-known and most reputable regulated online poker providers in the States. Currently active in New Jersey, Pennsylvania, and Michigan, BetMGM provides a solid and robust real money online poker platform for players of all shapes and sizes.
Within individual states, the rooms are hosted on the BetMGM Poker US Network, which greatly helps liquidity. Thanks to this, BetMGM can pool players with the two other rooms in the network — Borgata and partypoker. A bigger pool means more round-the-clock action, more MTTs, and higher guarantees.
However, these networks are still state-specific. What this means is that BetMGM Poker PA shares liquidity with Borgata Poker PA, but that pool is separate from other BetMGM, Borgata, and partypoker regulated sites in other states.
However, this likely won't be the case for long. In April, Michigan joined the Multi-State Internet Gaming Agreement, aka MSIGA, which allows operators to pool players across state lines between its four member states — New Jersey, Delaware, Nevada, and Michigan. The door is now open for BetMGM to link up its MI and NJ rooms once it receives regulatory approval to do so.
This will be a huge step in the right direction for the operator's presence, as it will pave the way for the entire BetMGM Poker US Network to combine its player pools across all states in which it operates, creating a proper online poker giant.
This comprehensive and unbiased guide will teach you all you need to know as we cover the differences and similarities between the three BetMGM Poker apps, best-in-class welcome bonuses, mobile poker app and desktop software, games, tournament offerings, and much more.
BetMGM Poker USA: Key Facts
✨ Main Highlight
Highly Trusted & Reputable Brand, Two Bonuses
📍 States Available
New Jersey, Michigan, Pennsylvania
🤜🤛 Shared Liquidity
Combines with Borgata and partypoker player pools, but only in-state, not across state borders
🤑 Freeplay Bonus
Up to $75 in

MTT

Tickets
💰 Deposit Match Bonus
100% up to $1000
🏆 BetMGM Poker Tournaments
BetMGM Poker Championship, Sunday $30k, Daily C-Note, Mega Tuesday
🏦 Banking
PayPal, MasterCard, Visa,

VIP

Preferred™ (Bank Transfers/

ACH

), Skrill, Play+, PayWithMyBank, Electronic Transfer, Apple Pay, PayNearMe, Tapppp
🎁 Rewards
BetMGM Rewards
BetMGM Poker Welcome Bonus
New players at BetMGM Poker can look forward to a lucrative welcome bonus package, which is made up of two parts. A deposit match bonus worth 100% of your deposit up to $1,000 is available, along with up to $75 worth of tournament tickets, which players get to claim on their first deposit, depending on the deposit size.
$1000 BetMGM Poker Welcome Bonus
Like most online poker operators in the US, MGM Poker offers all newcomers a deposit match bonus which they can claim when they make their first real money deposit into their balance.
The bonus in question is worth up to $1,000, but it is a deposit match bonus, which means you cannot get more bonus funds than the size of your deposit.
For instance, if you make a deposit of $500 into your balance, you will be awarded a $500 bonus. The maximum bonus value is $1000, and deposits over that amount will still trigger the $1000 bonus.
Once activated, a bonus will be cleared in increments of 10%. Each increment is released when the dollar amount is earned 14 times over in BetMGM Reward Points. For the $500 bonus, you will need to collect 700 BetMGM Reward Points ($50 * 14) to claim each $50 increment.
The bonus is valid for 120 days, which means you will have plenty of time to clear it and turn your bonus funds into real cash. However, any bonus money that's left after that period will be voided and you will not be able to claim it at a later point.
$75 in
MTT

Tickets

Signing up with BetMGM Poker US will also allow you to claim the other part of their welcome package, which is designed to give players a free shot at their online poker tournaments.

Anyone who makes a real money deposit with BetMGM Poker will trigger this part of the welcome bonus, but the actual value will depend on the deposit size as follows:
$10 to $499 Deposit Awards $25 in Tournament Tickets
$500 to $999 Deposit Awards $50 in Tournament Tickets
$1000 and higher Deposit Awards $75 in Tournament Tickets
The tournament tickets awarded in this way will become available in your account, and you can use them to play any poker tournaments on the platform you choose. The bundles will be made up of $20, $10, and $5 tournament tickets, giving you plenty of options at BetMGM Poker.
The BetMGM Poker welcome bonus package is not the only perk players can get by signing up with the operator, as a variety of other promotions are available to make every minute spent on the platform more valuable.
Players looking to get the maximum bang for their buck will be looking to capitalize on as many of these offers as possible. Thankfully, there is a little something for everyone, regardless of the game format you prefer or the stakes you play.
BetMGM Regulars Rewards
Playing at BetMGM Poker got a lot more attractive in 2023, as the operator introduced its Regulars Rewards, which adds even more value to accumulating BetMGM Reward Points at the poker tables.
The promotion gives every player a chance to earn anywhere between $1 and $4,500 per month in extra value by playing poker and accumulating BRPs in their account.
To get started with the Regulars Rewards, you will need to earn 100 BRPs, which will award you $1 in Rewards. As you accumulate more and more points, you will also get more valuable rewards, and the rate at which you earn will get better.
The maximum Regulars Reward of $4,500 is reserved for players who manage to get 300,000 BRPs in a month, which is not an easy feat but will pay well at BetMGM Poker.
It's also worth noting that you will only receive one Regulars Reward at the end of the month and not the whole sum of the Rewards displayed on the operator's promotion page.
Happy Hour Cash Games
Poker players across the US are used to happy hour, meaning two drinks for the price of one, but now you can also earn twice the BRPs for the same amount of play.
For a limited time, BetMGM Poker is running Happy Hour Cash Games in periods between 3:00 and 5:00 PM, with double points awarded for all play across all cash game tables.
Since cash games are the best way to accumulate BRPs, this promotion will work well for those looking to grind them out, especially now that it works in combination with the BetMGM Rewards.
Hot Tables
BetMGM Poker is giving back even more to cash game players via the Hot Tables promotion, which will run throughout 2023.
The promotion gives cash game players a chance to win a random boost by simply playing at the right table at the right time.
Tables will turn Hot randomly throughout the day and award cash prizes of up to $3,000, depending on the stakes being played and the level of Hot Table you get lucky to sit at. Hot Table levels include:
Bronze: From $1 to $30
Silver: From $2 to $60
Gold: From $4 to $75
Platinum: From $10 to $120
Diamond: From $200 to $3000
At Bronze and Silver Hot Tables, the winner of the hand will take down the entire extra pot. For higher-level Hot Tables, the winner of the hand will receive 50% of the extra pot, while all other players will get to share in the remaining 50% of the cash.
BetMGM Rewards
While many online poker operators offer a rewards program unique to its poker brand, BetMGM Rewards is a rewards program stretching across the operator's online and live products country-wide.
Playing online poker at BetMGM Poker US also puts you well within the BetMGM Rewards, as it allows you to accumulate two different types of points that work towards getting you more valuable awards on the platform. These are:
Tier Points
BetMGM Reward Points
Tier Points
Tier Points are accumulated at a rate of 500 Tier Points per $100 paid in rake and tournament fees at BetMGM Poker US. Unlike many other points you get from online poker, Tier Points cannot be converted into cash but are used to determine your VIP Tier at BetMGM.
The more Tier Points you accumulate in a calendar year, the more perks you will be able to get at various BetMGM estates, and you will earn more BetMGM Reward Points.
Here are the BetMGM VIP Tiers and what you can get from being a member of each:
VIP

Tier
Tier Points
Perks
Sapphire
0 to 19,999
Two $5 Free Bets Yearly
Pearl
20,000 to 74,999
10% Extra Points, Two $10 Free Bets Yearly
Gold
75,000 to 199,999
20% Extra Points, Two $25 Free Bets Yearly, Premium Support
Platinum
200,000+
30% Extra Points, Two $100 Free Bets Yearly
Noir
By invitation only
40% Extra Points,

VIP

Manager
BetMGM Reward Points
Unlike Tier Credits which only determine your VIP Tier and the rate at which you earn Reward Points, BetMGM Reward Points serve as a type of currency.
Like Tier Credits, BetMGM Reward Points are earned at a rate of 500 per $100 paid in rake, and they can be exchanged in the BetMGM Store for a variety of poker bonuses, tournament tickets, and other goodies. You can also use your BetMGM Reward Points to pay for food or other services across BetMGM properties anywhere in the world.
Finally, BetMGM Reward Points are also used with other promotions, such as the Regulars Rewards, which are also awarded based on the Reward Points you accumulate over a period.
BetMGM Poker US Tournaments
As you would expect from a major online poker operator, BetMGM Poker US runs a series of poker tournaments across each of its markets every day, with buy-ins ranging from just $1 to hundreds of dollars at a time.
If you are looking for tournament poker action, all you need to do is turn on your BetMGM Poker client at any time, and there will be at least a few games running or getting ready to launch. However, if you are looking for some really exceptional events, you may look forward to:
Sunday $30k Gtd: $215 buy-in every Sunday
Daily C-Note Tournament: $100 buy-in every day
Mega Tuesday: $535 buy-in every Tuesday
While these select few tournaments are mostly reserved for players with deeper bankrolls, a variety of satellite and feeder events run across the platform as well, allowing players to win tournament tickets or direct seats in these daily and weekly tournaments and a chance at a massive bankroll boost.
Tournament Series
Running big tournament series requires big player pools, and this is something that many online poker rooms in the US are still struggling with, considering the restrictions that prohibit interstate play.
Yet, BetMGM Poker is one of the few that manage to run regular tournament series, with the New Jersey-based US Network Online Series putting players from BetMGM Poker, Borgata Poker, and partypoker all together in one big poker show.
The series runs yearly and offers events with buy-ins starting from $109, along with plenty of qualifiers to give everyone a chance to participate and compete.
Spins
Modern online poker rooms can hardly operate without some form of a jackpot SNG tournament, and at BetMGM Poker US, these tournaments are called Spins.
Spins give players a chance to win a random prize between 2x and 1,000x their initial buy-in, with three players competing in each game. These games are fast-paced and easy to get into, making them an ideal option if you are looking to unwind, have some fun, and try to get lucky.
BetMGM Poker Spins are played across four levels, and these are $1, $5, $10, and $25, with the biggest jackpot you can win is the $25,000 prize in the $25 Spins.
Cash Games
Cash games are the staple of any online poker site, and the only thing limiting action at BetMGM Poker US is that its sites do not share liquidity due to state borders coming in the way. This sometimes creates problems with liquidity, especially at higher stakes and games that are not specifically No Limit Hold'em.
When it comes to stakes being offered, you can play everything from $0.01/0.02 to $25/50 in games like No Limit Hold'em and Pot Limit Omaha, while the likes of Omaha Hi/Lo and Stud are also offered, but sparsely played.
Low level fast-forward tables are also available, but action at these rarely runs due to the same liquidity problems all US poker sites currently face. Yet, you can find some fast-forward action at BetMGM Poker on occasion.
| Game | Lowest Stakes | Highest Stakes |
| --- | --- | --- |
| NLHE | $0.01/0.02 | $25/50 |
| LHE | $0.02/0.04 | $30/60 |
| PLO | $0.01/0.02 | $10/25 |
| PLO8 | $0.01/0.02 | $25/50 |
| Stud/Stud8 | $0.15/0.30 | $5/10 |
Software
The big advantage BetMGM Poker US has over many of its competitors is the fact it uses partypoker software as part of the deal it has with the internationally acclaimed operator. Partypoker has been around for decades and has had every opportunity to develop and tweak the software to make it perfect for the players, and this means BetMGM Poker players can enjoy some of the best online poker experiences in the country.
Reliability
Software stability and reliability are important when it comes to playing online poker. There is nothing more annoying than getting disconnected from the server half-way into a big hand, or the software freezing on you just as you are about to fire that river bet.
Thankfully, BetMGM Poker software is extremely stable and suitable for multi-tabling, prolonged sessions, and high-stakes action. If problems do occur while playing, they are more likely to be a product of other factors like internet connection or poor hardware than the software itself.
Functionality
These days, it is equally important for an online poker platform to be widely available across different types of operating systems and devices.
BetMGM Poker US shines in this area too, as desktop users can play it whether they are running a PC or a Mac, while mobile platforms are available for iOS and Android powered devices, covering the vast majority of devices players might want to use to play online poker.
All platforms are very intuitive and easy to use, and you should not have problems running them even on older devices as they are not too hard on your hardware.
New versions of BetMGM Poker US offer a host of new and exciting features such as the option to run it twice, throwable items, emojis, and much more.
Appearance
Looks may not matter as much as functionality and stability, but they do still matter, especially when playing multiple tables or trying to play for many hours.
The software still retains that classic look that partypoker got us used to back in the day, and combined with some modern features and higher end graphics, this style works like a charm.
You can use table and card customization options to make the software more appealing to your personal preferences, although some work could be done to extend customization options and give players even more choices when it comes to software appearance.
Mobile App
Like we already mentioned, BetMGM Poker US is available to mobile players as well, with the mobile app available for download directly from the operator's website. Don't be surprised if you don't find the app in the official app stores, as online poker apps are usually not allowed there.
The app can be downloaded for Android and iOS devices, and it runs smoothly on new and older devices alike once you download it and update it to the latest version.
The BetMGM Poker mobile app will give you full access to all the functionalities the operator has to offer, from cash games and tournaments to BetMGM Rewards, promotions, and all other perks.
In relation to the competitors, BetMGM Poker offers one of the most attractive and functional mobile apps and makes it very easy for players to enjoy playing online poker on the go.

Last verified: August 2023
Special Signup Offer
100% deposit bonus up to $1000!
Up to $75 in

MTT

tickets on top of the bonus
Frequent

MTT

series with good guarantees
Great action around the clock
Please play responsibly. If you or someone you know has a gambling problem and wants help, call 1-800
GAMBLER
.
BetMGM in the US
BetMGM has a strong presence in the regulated US market. The operator runs three poker rooms as of right now, with its eyes set on new opportunities as they become available. The currently active BetMGM Poker US sites are:
All of these poker sites share some common characteristics. First and foremost, all are powered by the tried and tested partypoker software, which ensures a great gaming experience across all BetMGM US sites.
Players can also access similar bonuses, promotions, and game variations in all regulated markets. That said, there are some subtle differences between rooms in different states.
BetMGM Poker New Jersey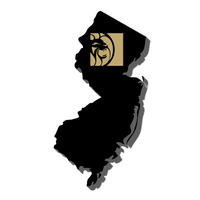 The first BetMGM poker site in the US went live in New Jersey in 2017, joining the already fairly active market populated by partypoker NJ and Borgata Poker NJ (both operating on the BetMGM US Network), as well as PokerStars NJ, 888, and WSOP NJ.
Despite being late to the party, BetMGM found its place in the NJ online poker space, welcoming players with up to $75 in MTT tickets and a 100% match bonus on their first deposit of up to $1000.
Players have access to a nice range of daily and weekly tournaments with good prize pools and a variety of cash game options across all stakes, up to $25/50.
Download the BetMGM Poker NJ App or learn more in our BetMGM Poker NJ Review »
BetMGM Poker Michigan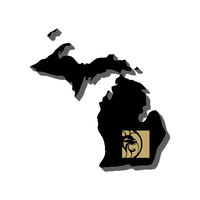 BetMGM Poker was in no rush to spread its online poker offering across the US. Instead, the operator focused more on other products, delaying the launch of the online poker sites despite having the required licenses.
Thus, the second BetMGM poker room in the US went live only in March of 2021. BetMGM Poker MI joined the regulated Michigan market together with the industry giant PokerStars MI.
The room offers a nice welcome bonus for all new players, consisting of:
$Up to $75 in

MTT

tickets (depending on the deposit size)
100% up to $1000 on the first deposit
Players can take advantage of a variety of promotions to boost their bankrolls, such as the operator's trademark The Grind promo. The regular tournament schedule is quite solid, and there are also tournament series featuring bigger buy-ins and larger guaranteed prize pools.
As for the game variations, BetMGM Michigan spreads Texas Hold'em, PLO, 7 Card Stud, and Stud 8, with stakes ranging from $0.01/0.02 to $25/50.
Sign up for BetMGM Poker MI or check for the latest promo codes and info in our BetMGM Poker MI Review »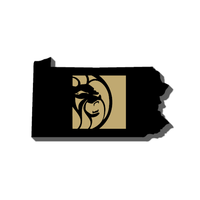 The latest of the BetMGM US poker sites to go live was the one in Pennsylvania. BetMGM Poker PA launched in April of 2021 together with Borgata Poker PA, another operator hosted on the partypoker US Network.
The room came out with the identical welcome bonus offer available in other regulated states, so nothing was surprising. That said, the welcome bonus available at BetMGM sites in the US is quite generous and nothing to be sniffed at.
Players in PA have access to several leaderboards, adding value to the everyday grind. The tournament schedule is quite similar to that featured in other regulated states and offers a good variety of buy-ins and formats.
Download the BetMGM Poker PA App or learn more about cash games, tournaments, and much more in our BetMGMG Poker PA Review »
Check out BetMGM
USA

in action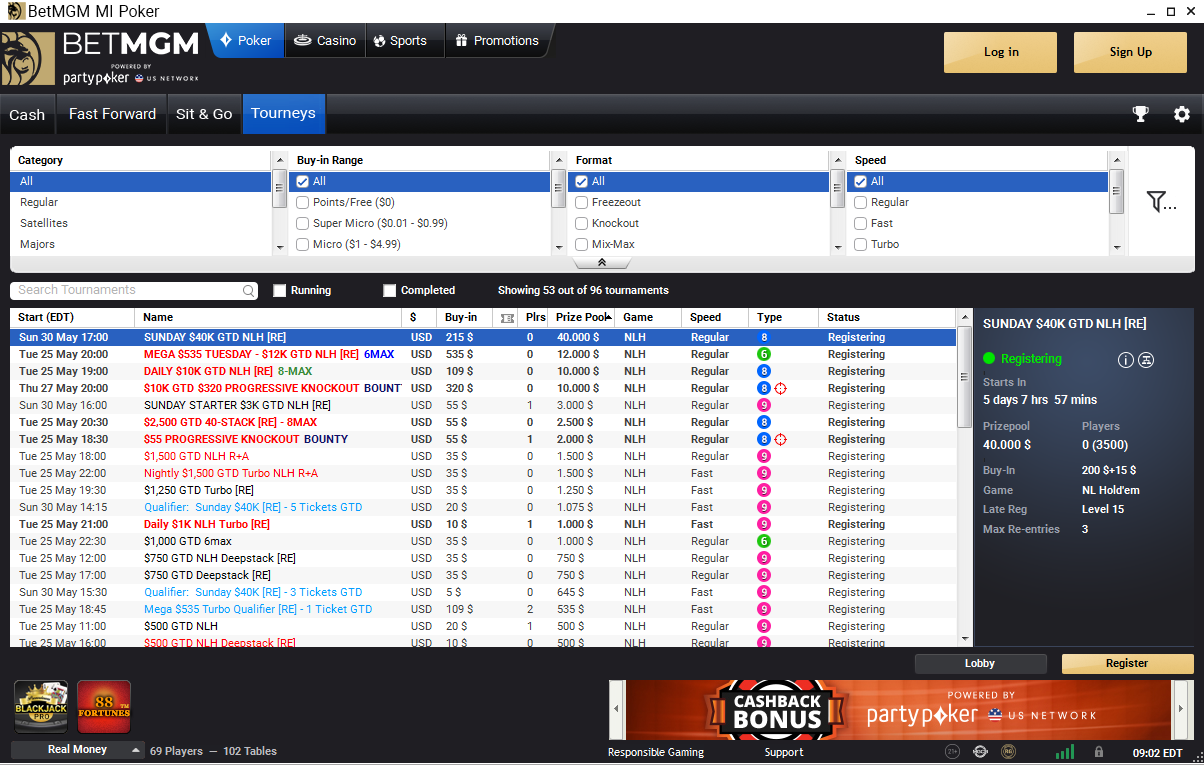 BetMGM NJ offers a lot of MTTs with good guarantees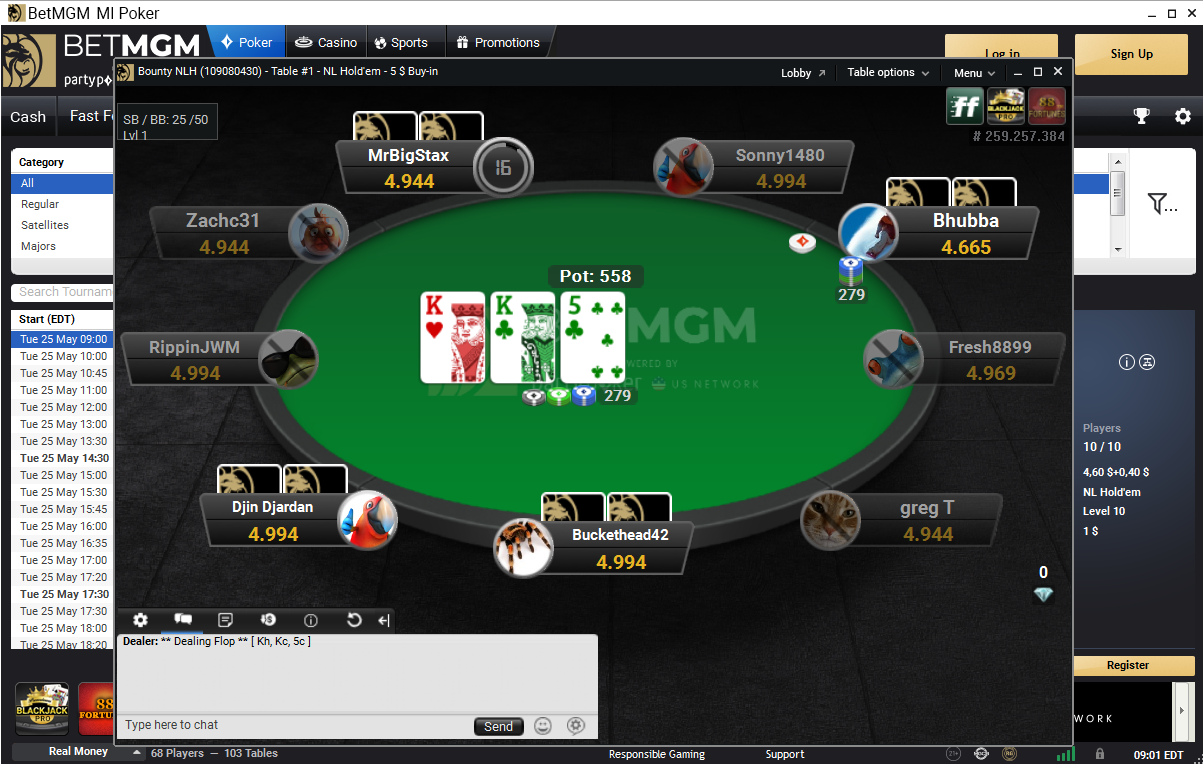 Sleek partypoker software ensures a pleasant gaming experience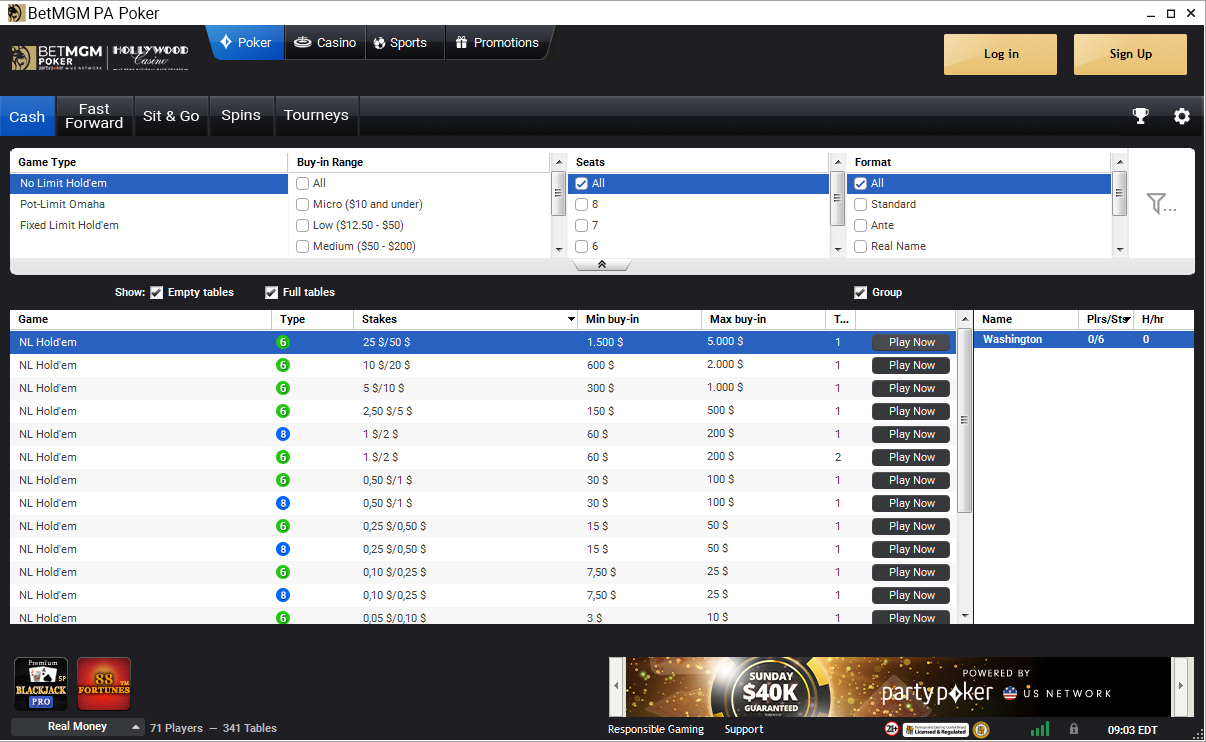 Variety of cash game stakes available at BetMGM PA going up to 25-50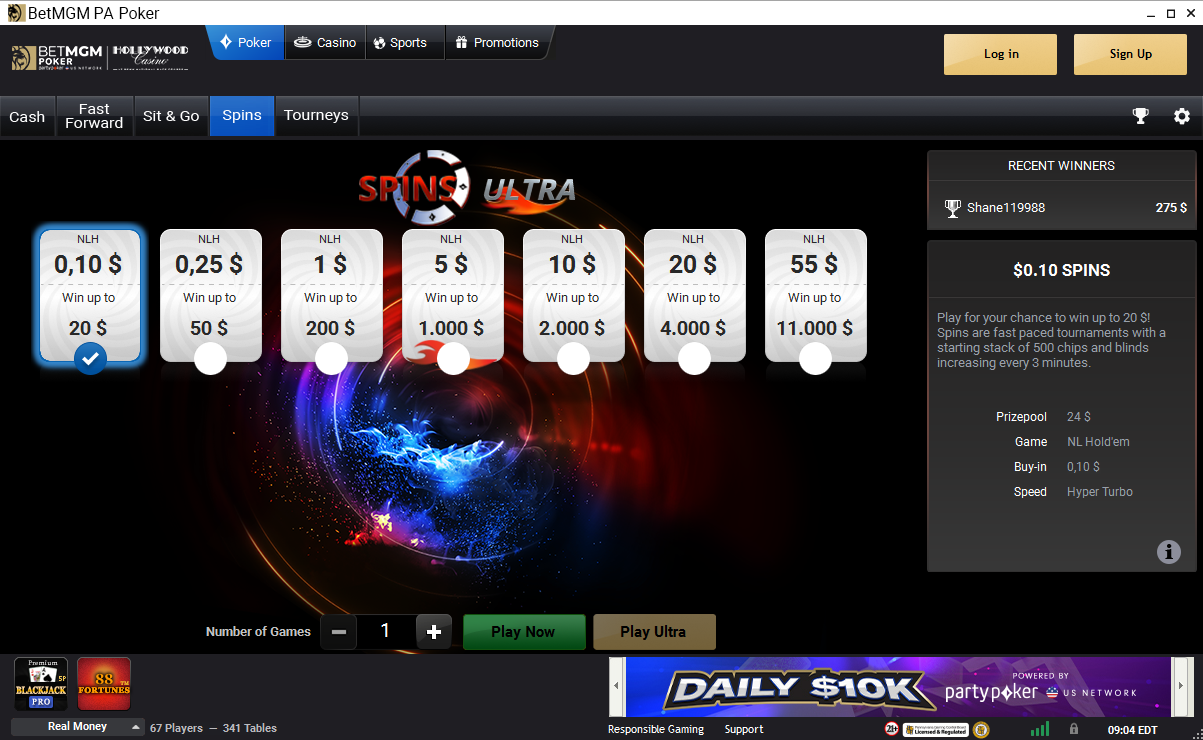 Players at BetMGM Poker PA can try their luck with popular Spins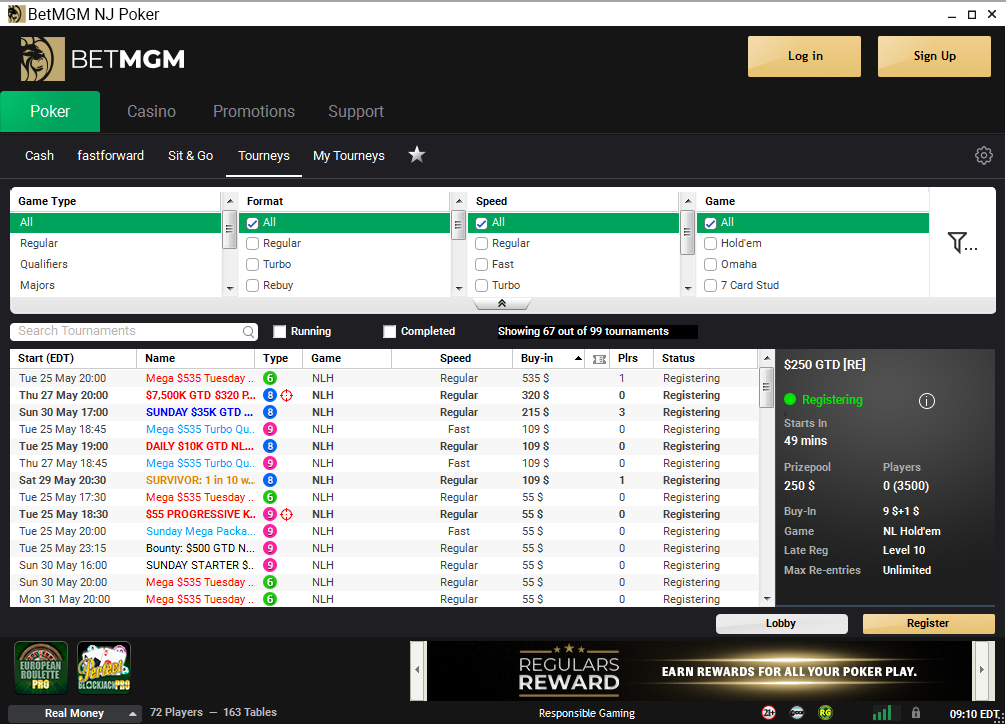 Great range of MTTs across all levels and for all bankrolls at BetMGM NJ Poker
Players can even test their skills in less popular variations like 7 Card Stud
How to Sign Up With BetMGM Poker US
You'll need to create an account to start playing real money online poker on BetMGM Poker US. The process is quick and easy, follow these simple steps:
Choose your state from the list provided
Click the "Join Now" button located in the top-right corner
Enter your email and create a password to begin the registration process, then click "Continue"
Complete the registration form by providing the required information, such as name, surname, date of birth, and other details * Remember to enter the bonus code POKERFUSE in the corresponding field
Check your email inbox for a confirmation link from BetMGM
Click the link to verify your account
Once your account is verified, you can log in and begin playing
Remember that to participate in real money games on the platform, you must be located in a state where online poker is legally permitted and must be of legal age. Additionally, it is important to abide by all applicable laws and regulations pertaining to online gambling in your jurisdiction.

Last verified: August 2023
Special Signup Offer
100% deposit bonus up to $1000!
Up to $75 in

MTT

tickets on top of the bonus
Frequent

MTT

series with good guarantees
Great action around the clock
Please play responsibly. If you or someone you know has a gambling problem and wants help, call 1-800
GAMBLER
.
BetMGM Online Casinos & Sportsbooks
As mentioned, online poker is just one segment of the overall BetMGM USA operations. The operator focuses quite heavily on its other two products: BetMGM Casino and BetMGM Sportsbook.
Although this is quite common, it is worth mentioning that players can play all of these products under the same account within the respective jurisdiction. For example, a player who opens an account with BetMGM MI Poker can use the same account to play casino games or place sports wagers.
BetMGM Poker US Banking
At BetMGM Poker, players can rest assured that online banking is both safe and easy. With a variety of options available, players can choose the method that best suits their needs.
When it comes to depositing on the site, players have access to the following options:
VIP

Preferred™ (BetMGM's recommended ACH/e-check deposit provider)
Visa
Mastercard
Play+ (Prepaid account)
PayPal
Electronic Transfer (via "Bill Pay" function)
PayWithMyBank Online Banking
Apple Pay
PayNearMe
Tapppp
BetMGM Poker recommends the VIP Preferred method for withdrawal, which connects directly to your bank account for ACH transactions and e-checks, ensuring a smooth and secure process. Players can also use the PayWithMyBank option to withdraw funds from the site. Many players also prefer the extra security and ease of PayPal.
The following table summarizes the available options that you can use for both deposits and withdrawals:
| Payment Method | Deposits | Withdrawals |
| --- | --- | --- |
| ACH/e-check | Yes | Yes |
| Visa | Yes | Yes |
| PayPal | Yes | Yes |
| Play+ | Yes | Yes |
| PayWithMyBank Online Banking | Yes | Yes |
| Casino Cage | Yes | Yes |
BetMGM Poker US Safety & Fairness
Online gambling in the United States is considered to be more secure for players than offshore sites due to several key factors:
Regulatory oversight: Regulated online gambling sites are overseen by state-level gaming agencies such as the Michigan Gaming Control Board or the New Jersey Division of Gaming Enforcement, ensuring that they abide by strict rules and regulations for consumer protection, fair play, and transparency.
Player safety features: Regulated sites must offer tools for responsible gambling, self-exclusion options, and deposit limits to help players manage their activity.
Effective dispute resolution: In case of any conflicts, regulated sites must have a clear and transparent process for resolving disputes between players and the site.
Financial security: Regulated sites must maintain strict financial regulations, such as keeping player funds in separate, segregated accounts to protect them in case of the site's failure.
Game integrity: Regulated sites must use games that have been certified fair and tested by independent auditors to guarantee a fair chance of winning.
Data security: Regulated sites must have robust security measures to protect players' personal and financial information, such as

SSL

encryption and firewalls.
Geolocation Technology: Some of the regulated sites in the US are required to use geolocation technology to ensure that players are physically located in the state where online gambling is legal and regulated.
Overall, regulated online gambling sites in the US are bound by much stricter standards than offshore sites, ensuring players a safer, fairer, and more secure experience.
Online Poker Regulation in the US
The regulated online poker market in the US started to form a couple of years after the events of Black Friday. Since American players were left with no good options for online poker, the need for regulation became bigger than ever before.
Individual states started to look for ways to put online poker into a legal framework, but it turned out to be a long process that is still ongoing. As of today, only a handful of states have passed laws regulating online gambling, and a few more seem to be close to doing the same, but there are no guarantees.
Early days of BetMGM in the United States
Although Nevada passed the first online poker bill in 2013, this did not mean much for BetMGM Poker in the US. In fact, no brands under Entain (formerly GVC) have launched in Nevada as of yet, although this could be in the cards in the future.
In New Jersey, online gambling was regulated the same year, and two of the Entain brands, namely Borgata and partypoker, launched shortly after. However, the first BetMGM US poker site would take another four years to go live. It was only in 2017 that the operator entered New Jersey, kicking off its adventure in the States.
It is worth mentioning that the company behind partypoker and other related brands did not have to deal with the "bad actors" issue, which made things complicated for PokerStars in the US. Party left the US market shortly after the passage of the UIGEA, setting itself up nicely for the launch of regulated poker in the States.
While BetMGM USA was a somewhat slow starter, it picked up the pace, expanding to other regulated states after the successful launch in New Jersey.
2018 Onwards: BetMGM Picks Up Speed
In 2018, Pennsylvania passed an online gambling bill of its own, becoming the fourth state to offer regulated online poker in the USA. PokerStars PA was first across the finish line, launching the online poker room in 2019. BetMGM waited to see how things would play out and finally expanded its USA presence with BetMGM PA in early 2021.
Michigan joined the ranks of regulated US states in 2019, but it took a little while for the first poker rooms to go live in the state. Once again, PokerStars was the first to the market, launching early in 2021, but BetMGM was not far behind. BetMGM MI Poker went live in April of the same year.
In general, BetMGM Poker in the US had no problems getting licenses from relevant regulatory authorities such as NJDGE, MGCB, and PGCB. Backed by a strong and reputable company, the operator ticks all the boxes and is able to offer a safe online poker platform fully in line with regulatory requirements.
Year
Legal Developments
Significance for BetMGM Poker

USA

2013
First legal poker sites go live in NV and DE
No licenses are issued to partypoker

USA

Network sites
2013
Online poker goes live in New Jersey
Borgata and partypoker get licenses from

NJDGE

, but not BetMGM
2017
Legal poker is still only available in NJ, NV, and DE
BetMGM finally receives an NJ license and goes live for poker in the US
2018
Pennsylvania passes iGaming regulation
BetMGM applies for a license, which is granted in 2020
2019
Michigan and West Virginia regulate online poker
US BetMGM presence expands with poker site in MI in 2021
BetMGM in the US Highlights
The BetMGM US presence may not be the biggest or the most significant for the online poker market. Still, there is no denying the operator has contributed a lot to creating a nice and healthy environment for all fans of online poker in the States.
The room has become the main competitor to PokerStars by launching in Michigan and Pennsylvania. There is nothing better for the user than a healthy dose of competition between companies.
To celebrate its launch in Michigan, BetMGM organized a tournament series featuring more than $300,000 in guaranteed prizes across 10 events. This may not be on the same level as MICOOP, but it still adds a lot of value for all tournament fans in the state.
In Pennsylvania, the operator did not have the kind of start it was hoping for. Some of the major events had rather hefty overlays, showing that Keystone State would be a tough market to crack. Still, this did not discourage the site from offering a variety of promotions and freerolls for its players.
Future of BetMGM in the US
BetMGM Poker is one of the biggest names in the regulated online poker market in the US. Present in all three major markets and with potential plans to enter Nevada, the future looks bright for the room.
Michigan joining the MSIGA opens new possibilities for the operator as this should allow BetMGM Poker MI to share its player pool with BetMGM Poker NJ, creating a much bigger platform. However, there have been no movements in this direction as of yet, so we will have to wait and see what the future brings.
Pennsylvania is still not a part of any multi-state agreements, although this could change.
As for other future prospects, it is likely that BetMGM will look to launch its poker offering in other states if and when they pass relevant gaming bills.
Shared Liquidity
For a long time, BetMGM Poker was one of the few online poker rooms in the US to share its liquidity with anyone, as partner sites Borgata Poker and partypoker all shared liquidity across the state of New Jersey.
Yet, BetMGM was all on its own in all other states, just like its competitors, but that all might be about to change.
According to the most recent news, BetMGM Poker may be looking to merge the liquidity of its NJ, MI, and PA sites in the near future, as other operators also give hints of impending mergers and bigger liquidity pools for the players.
To date, WSOP is the only site that shares liquidity across state borders, as WSOP NJ and WSOP NV players get to enjoy the luxury of playing in a unified player pool. All of this will likely be history very soon, as BetMGM Poker and other operators look to join player pools from different states and finally offer American players a more robust online poker experience they have been hoping for.
BetMGM US
FAQ
Is BetMGM Poker Legal in the US?
Yes, BetMGM Poker is completely legal in the US. The operator is fully licensed and regulated in several US states — Michigan, Pennsylvania, and New Jersey — by relevant licensing authorities, which allows it to offer online poker within those particular jurisdictions.
Where is BetMGM Poker Legal?
At the moment, BetMGM Poker legally operates in the states of Michigan, Pennsylvania, and New Jersey. In 2022, the operator also expanded northward, setting up shop in the newly regulated Ontario online poker market — its first non-US real money poker room.
Is BetMGM Poker Legit?
Yes! As a fully regulated and legally operating site, BetMGM Poker must meet stringent safety and security protocols to ensure you — and all your info — are completely secure and protected by the latest high-encryption technologies.
BetMGM also offers a full suite of responsible gaming tools to further ensure player safety, offering options such as deposit limits and time limits to help mitigate harmful gambling.
Can I Play on BetMGM Poker?
Yes, so long as you meet certain legal requirements. The biggest requirement is for the player to be physically present inside the state that has issued the particular BetMGM US license. All players must also be of age (21 years or older) and US residents.
Is There a BetMGM Poker App?
Yes! All the rooms on the network use powerful partypoker software to power their online poker offerings. partypoker represents one of the most established brands in the online poker world, ensuring players have a smooth and enjoyable experience whenever they log in to play. Follow this link to download the BetMGM Poker app and start playing!
Do BetMGM US Online Poker Rooms Share Liquidity Between States?
Currently, players on BetMGM Poker sites in the US can only play against other players in the same state. This is likely to change in the near future as BetMGM will look to combine player pools of all the US sites they operate, especially with Michigan joining MSIGA, the interstate iGaming agreement that allows for online poker across state lines, among the MSIGA states. As New Jersey and Michigan — two states BetMGM Poker operates in — are both MSIGA states, we expect to see liquidity shared between the two very soon.
Can I Play on BetMGM in the US While Traveling as a Tourist?
No, you cannot. You need to be a US resident with an SSN and an address in the United States. If you are only visiting for a short period, you will not be able to register with any of the BetMGM USA poker sites.
Can I Play on the BetMGM US Network From Any US State?
No, you can only play on BetMGM US poker sites from within the states they are licensed in. Since real money online poker in the US is regulated at the state level, players are required to be in the state that has issued the license for the operator to be able to legally play with that operator.
Latest BetMGM Poker US News