BetMGM Poker USA is one of the best-known and most reputable regulated online poker providers in the States. Currently active in New Jersey, Pennsylvania, and Michigan, BetMGM provides a solid and robust platform for poker players of all shapes and sizes.
The room is hosted on the BetMGM Poker US Network, which helps a lot in terms of liquidity. Thanks to this, BetMGM in the US can rely on players in other rooms in the network, namely Borgata and partypoker.
However, these networks are still state-specific. What this means is that BetMGM Poker PA shares liquidity with Borgata Poker PA, but that pool is separate from other regulated states where the room has a presence.
This is currently the biggest challenge for BetMGM Poker in the US and something the operator will likely look to tackle in the upcoming months. With the recent court decision stating clearly that the Wire Act does not apply to online poker and the DOJ failing to meet the deadline to appeal this decision, the legal environment is now pretty much set for new interstate compacts.
This would be a huge step in the right direction for the BetMGM USA presence, as it would pave the way for the entire partypoker US Network to combine its player pools from multiple jurisdictions, creating a proper online poker giant.
BetMGM in the US
BetMGM has a strong presence in the regulated US market. The operator runs three poker rooms as of right now, with its eyes set on new opportunities as they become available. The currently active BetMGM Poker US sites are:
All of these poker sites share some common characteristics. First and foremost, all are powered by the tried and tested partypoker software, which ensures a great gaming experience across all BetMGM US sites.
Players also have access to similar bonuses, promotions, and game variations in all regulated markets. That said, there are some subtle differences, so we are bringing you a quick overview of all currently active BetMGM Poker sites in the US.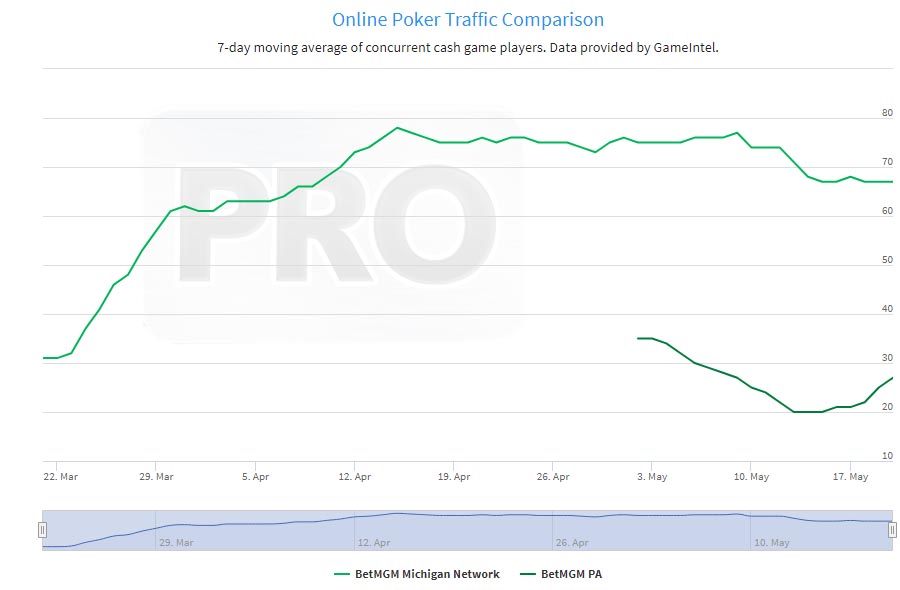 BetMGM Poker New Jersey
The first BetMGM poker site in the US went live in New Jersey in 2017, joining the already fairly active market populated by partypoker NJ and Borgata Poker NJ (both operating on the BetMGM US Network), as well as PokerStars NJ, 888, and WSOP NJ.
Despite being late to the party, BetMGM managed to find its own place in the NJ online poker space, welcoming players with $25 in freeplay funds and a 100% match bonus on their first deposit up to $1000.
Players have access to a nice range of daily and weekly tournaments with good prize pools, as well as a variety of cash game options across all stakes, all the way up to $25/50.
_Download the BetMGM Poker NJ App or learn more about BetMGM Poker NJ real money games in our comprehensive guide »
BetMGM Poker Michigan
BetMGM Poker in the US was in no rush to spread its online poker offering. Instead, the operator focused more on other products, delaying the launch of the online poker sites despite having the required licenses.
Thus, the second BetMGM poker room in the US went live only in March of 2021. BetMGM Poker MI joined the regulated Michigan market together with the industry giant PokerStars MI.
The room offers a nice welcome bonus for all new players, consisting of:
$25 in freeplay funds ($10 in cash and $15 in tournament tickets)
100% up to $600 on the first deposit
Players can take advantage of a variety of promotions to boost their bankrolls, such as the operator's trademark The Grind promo. The regular tournament schedule is quite solid, and there are also tournament series, featuring bigger buy-ins and larger guaranteed prize pools.
As for the game variations, BetMGM Michigan spreads Texas Hold'em, PLO, 7 Card Stud, and Stud 8, with stakes ranging from $0.01/0.02 to $25/50.
_Sign up for BetMGM Poker MI or check for the latest BetMGM Poker MI Promo Code in our comprehensive guide »

Special Signup Offer
100% deposit bonus up to $1000!
Up to $75 in

MTT

tickets on top of the bonus
Frequent

MTT

series with good guarantees
Great action around the clock
BetMGM Poker Pennsylvania
The latest of the BetMGM US poker sites to go live was the one in Pennsylvania. BetMGM Poker PA launched in April of 2021 together with Borgata Poker PA, another operator hosted on the partypoker US Network.
The room came out with the identical welcome bonus offer available in other regulated states, so there was nothing surprising there. That said, the welcome bonus available at BetMGM sites in the US is quite generous and nothing to be sniffed at.
Players in PA have access to several leaderboards, which add some value to the everyday grind. The tournament schedule is quite similar to that featured in other regulated states and offers a good variety of buy-ins and formats.
_Download the BetMGM Poker PA App or learn more about BetMGM Poker PA real money games in our comprehensive guide »
Check out BetMGM
USA

in action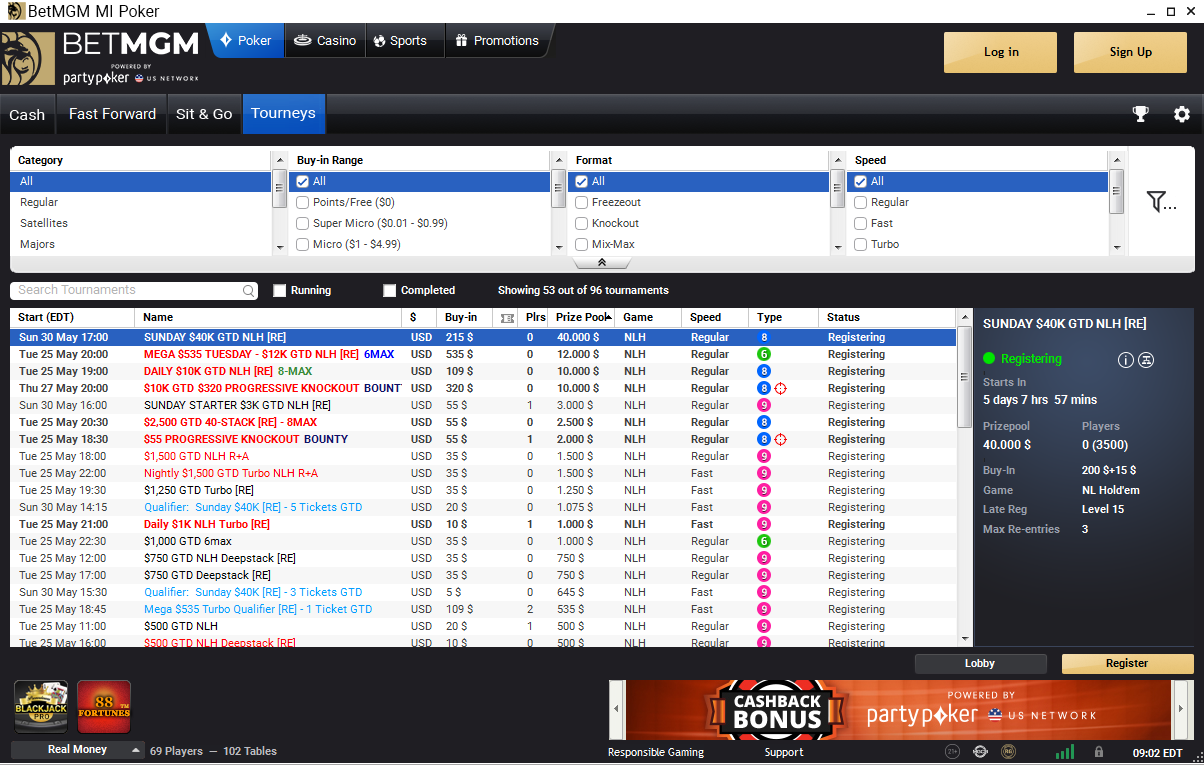 BetMGM NJ offers a lot of MTTs with good guarantees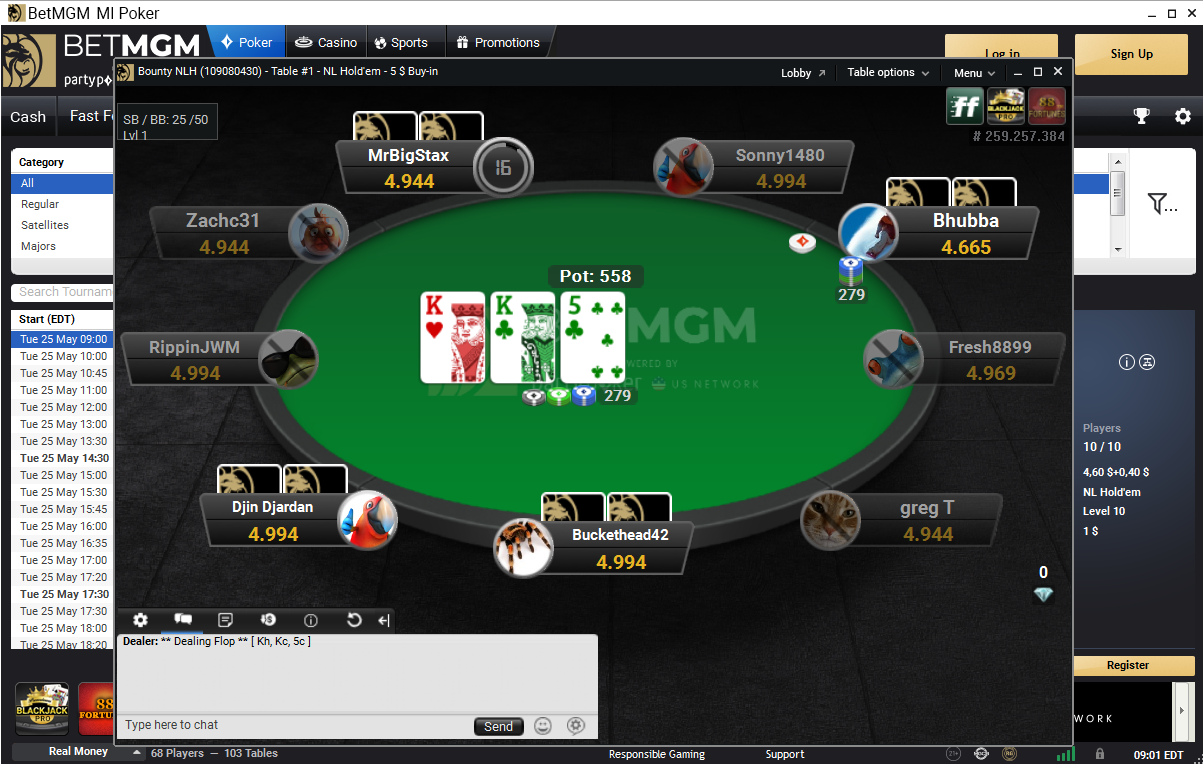 Sleek partypoker software ensures a pleasant gaming experience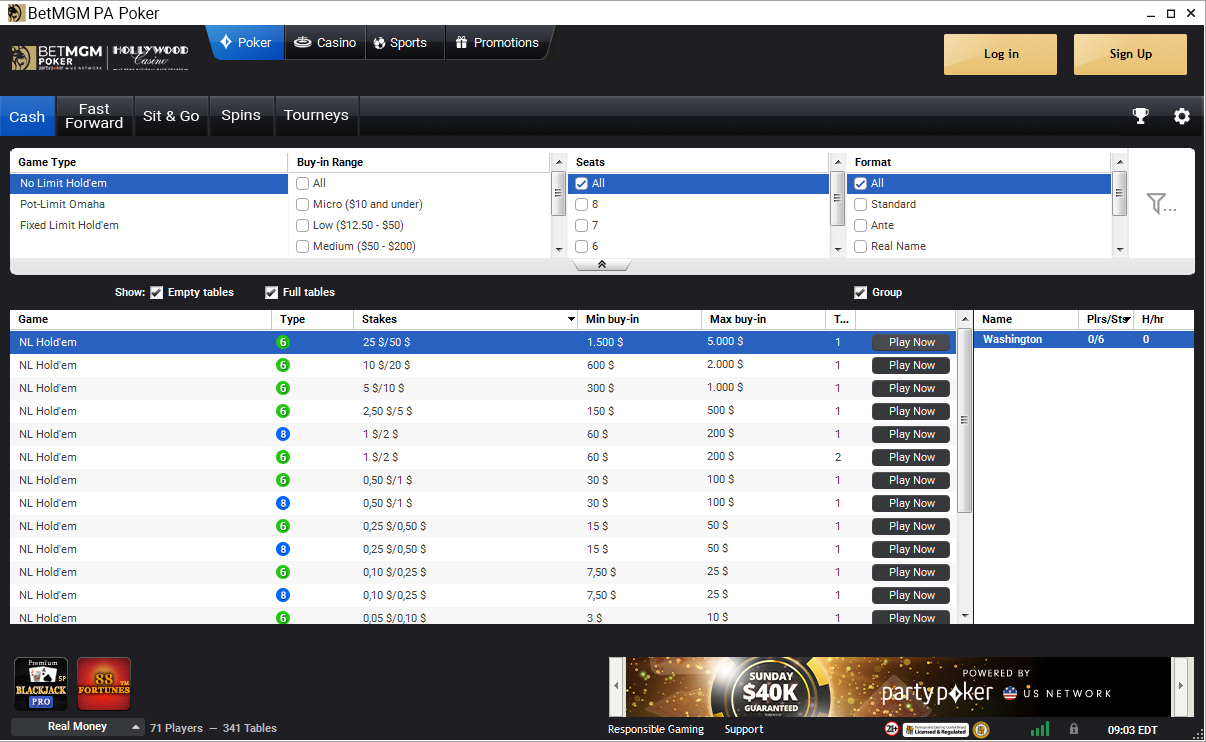 Variety of cash game stakes available at BetMGM PA going up to 25-50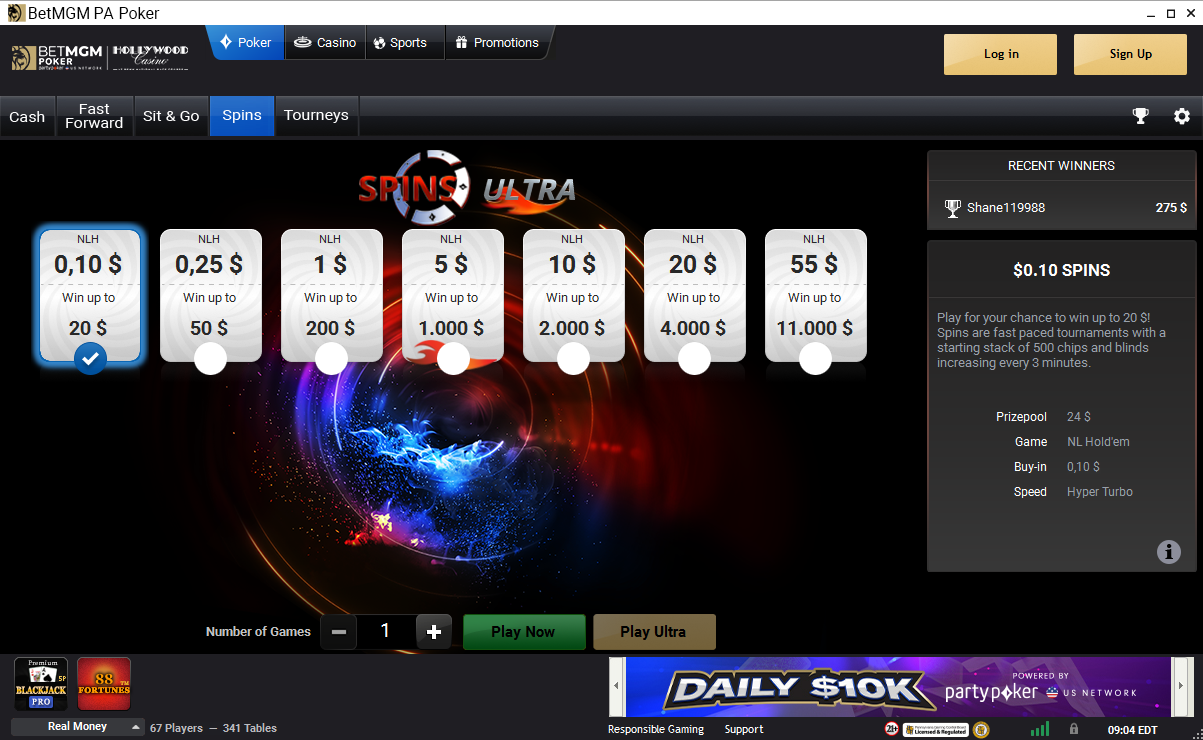 Players at BetMGM Poker PA can try their luck with popular Spins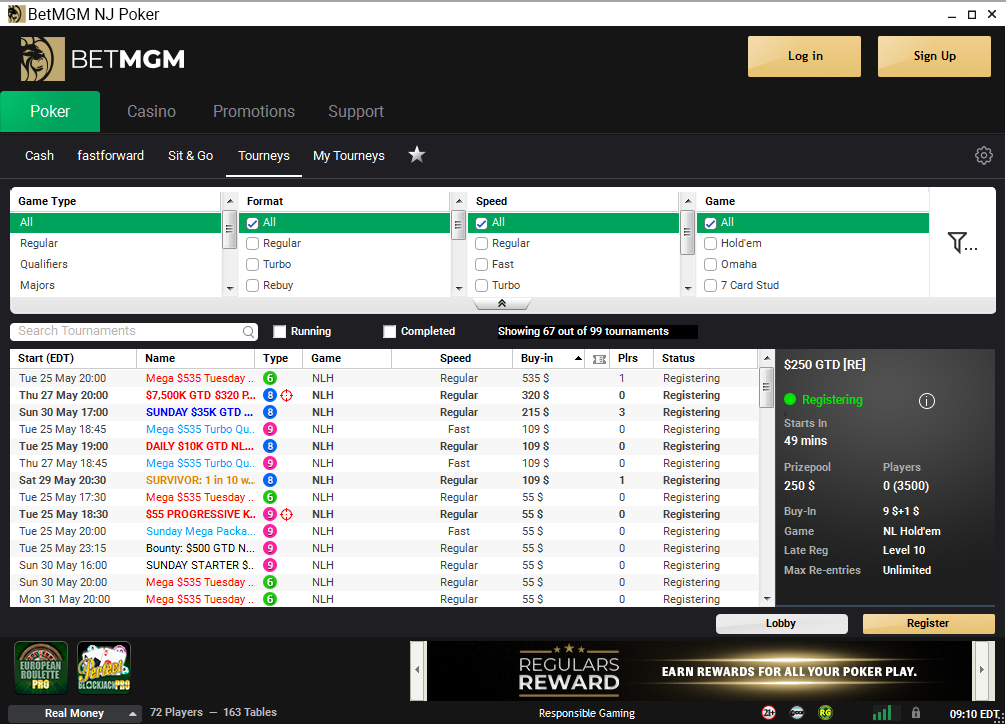 Great range of MTTs across all levels and for all bankrolls at BetMGM NJ Poker
Players can even test their skills in less popular variations like 7 Card Stud
Online Casino & Sportsbooks Powered by BetMGM US
As mentioned, online poker is just one segment of the overall BetMGM USA operations. The operator focuses quite heavily on its other two products: online casino gaming and sports betting sites.
Although this is quite common, it is worth mentioning that players can play all of these products under the same account within the respective jurisdiction. For example, a player who opens an account with BetMGM MI Poker can use the same account to play casino games or place sports wagers.
Online Poker Regulation in the US
The regulated online poker market in the US started to form a couple of years after the events of Black Friday. Since American players were left with no good options for online poker, the need for regulation became bigger than ever before.
Individual states started to look for ways to put online poker into a legal framework, but it turned out to be a long process that is still ongoing. As of today, only a handful of states have passed laws regulating online gambling, and a few more seem to be close to doing the same, but there are no guarantees.
Early days of BetMGM in the United States
Although the first online poker bill was passed by Nevada in 2013, this did not mean much for BetMGM Poker in the US. In fact, no brands under Entain (formerly GVC) have launched in Nevada as of yet, although this could be in the cards in the future.
In New Jersey, online gambling was regulated the same year, and two of the Entain brands, namely Borgata and partypoker, launched shortly after. However, it would take another four years for the first BetMGM US poker site to go live. It was only in 2017 that the operator entered New Jersey, kicking off its adventure in the States.
It is worth mentioning that the company behind partypoker and other related brands did not have to deal with the "bad actors" issue, which made things complicated for PokerStars in the US. Party left the US market shortly after the passage of the UIGEA, setting itself up nicely for the launch of regulated poker in the States.
While BetMGM USA was a somewhat slow starter, it picked up the pace expanding to other regulated states after the successful launch in New Jersey.

Special Signup Offer
100% deposit bonus up to $1000!
Up to $75 in

MTT

tickets on top of the bonus
Frequent

MTT

series with good guarantees
Great action around the clock
2018 Onwards: BetMGM Picks Up Speed
In 2018, Pennsylvania passed the online gambling bill of its own, becoming the fourth state to offer regulated online poker in the USA. PokerStars PA was first across the finish line, launching the online poker room in 2019. BetMGM waited to see how things would play out, and finally expanded its USA presence with BetMGM PA in early 2021.
Michigan joined the ranks of regulated US states in 2019, but it took a little while for the first poker rooms to go live in the state. Once again, PokerStars was the first to the market, launching early in 2021, but BetMGM was not far behind. BetMGM MI Poker went live in April of the same year.
In general, BetMGM Poker in the US had no problems getting licenses from relevant regulatory authorities such as NJDGE, MGCB, and PGCB. Backed by a strong and reputable company, the operator ticks all the boxes and is able to offer a safe online poker platform fully in line with regulatory requirements.
Year
Legal Developments
Significance for BetMGM Poker

USA

2013
First legal poker sites go live in NV and DE
No licenses are issued to partypoker

USA

Network sites
2013
Online poker goes live in New Jersey
Borgata and partypoker get licenses from

NJDGE

, but not BetMGM
2017
Legal poker is still only available in NJ, NV, and DE
BetMGM finally receives a NJ license and goes live for poker in the US
2018
Pennsylvania passes iGaming regulation
BetMGM applies for a license, which is granted in 2020
2019
Michigan and West Virginia regulate online poker
US BetMGM presence expands with poker site in MI in 2021
BetMGM in the
USA

Highlights

The BetMGM US presence may not be the biggest or the most significant for the online poker market, but there is no denying the operator has contributed a lot to creating a nice and healthy environment for all fans of online poker in the States.

By launching in Michigan and Pennsylvania, the room has become the main competitor to PokerStars, and there is nothing better for the user than a healthy dose of competition between companies.

To celebrate its launch in Michigan, BetMGM organized a tournament series featuring more than $300,000 in guaranteed prizes across 10 events. This may not be on the same level as MICOOP, but it still adds a lot of value for all tournament fans in the state.

In Pennsylvania, the operator did not have the kind of start it was hoping for. Some of the major events had rather hefty overlays, showing that Keystone State would be a tough market to crack. Still, this did not discourage the site from offering a variety of promotions and freerolls for its players.

We will likely see much more from BetMGM Poker sites in the US in the coming months. The room is in an unenviable position considering PokerStars US is its main competitor in all regulated states. But, if the past is any indicator, the operator is more than capable of holding its own even in these challenging conditions.

Special Signup Offer
100% deposit bonus up to $1000!
Up to $75 in

MTT

tickets on top of the bonus
Frequent

MTT

series with good guarantees
Great action around the clock
Future of BetMGM in the
USA
Right now, BetMGM Poker in the US is facing some big challenges in all regulated states it operates in. However, things could easily turn for the better in the near future as interstate compacts are about to become a reality.
First of all, it seems like the company behind the partypoker US Network is getting ready to finally enter Nevada. Regardless of what brands go live in the state, BetMGM NJ will be able to immediately combine player pools with those operators as they are hosted on the same network, and Nevada and New Jersey already have a shared liquidity agreement in place.
The company has already received its license to go live in Nevada, so the launch seems imminent, and this is the biggest likely development in the near future.
As for the other states, with the DOJ not appealing the decision, it seems that the Wire Act interpretation is legally rolled back to apply only to sports betting, although there is still some uncertainty on that topic.
This could open doors for operators to start combining player pools across state lines without any fear of legal complications. For BetMGM Poker in the US, it would mean the ability to share liquidity with any states, current, and future ones, which license any of the rooms on the partypoker US Network.
Both MI and PA have added language to their iGaming bills that allow for the creation of MultiState agreements once legal conditions are met. So, the coming months could be very exciting for BetMGM Poker in the US.
As for other future prospects, it is likely that BetMGM will look to launch its poker offering in other states if and when they pass relevant gaming bills. As things stand right now, Connecticut and Illinois are the most likely candidates to do so in the near future, and it stands to reason that BetMGM will try to get a license at least in Illinois, the state with the population of over 12.5 million.
BetMGM US
FAQ
Is BetMGM Poker legal in the US?
Yes, BetMGM Poker is completely legal in the US. The operator is licensed in several US states (Michigan, Pennsylvania, and New Jersey) by relevant licensing authorities, which allows it to offer online poker within those particular jurisdictions.
Can I play on the BetMGM US network from any US state?
No, you can only play on BetMGM US poker sites from within the states they are licensed in. Since online poker in the US is regulated at the state level, players are required to be in the state that has issued the license for the operator to be able to legally play with that operator.
What are the legal requirements to play on a BetMGM Poker site in the US?
The biggest requirement is for the player to be physically present inside the state that has issued the particular BetMGM US license. All players also have to be of age (21 years or older) and have to be US residents.
Can BetMGM US players play against people in other states?
As of right now, players on BetMGM Poker sites in the US can only play against other players in the same state. This is likely to change in the near future as BetMGM will look to combine player pools of all the US sites they operate, as well as with those of other rooms on the partypoker US Network.
Can players from Europe or other parts of the world play on US BetMGM sites?
No, players have to be physically present in the US and in the licensing states to access individual BetMGM Poker sites in the USA. So, even Americans cannot play on BetMGM US when traveling outside of the country.
Can I play on BetMGM in US when traveling as a tourist?
No, you cannot. You need to be a US resident with an SSN and an address in the United States. If you are only visiting for a short period, you will not be able to register with any of the BetMGM USA poker sites.
What states does the BetMGM US network cover?
At the moment, BetMGM US has a presence in Michigan, Pennsylvania, and New Jersey.
Latest BetMGM Poker US News
---
---
---
---
---
---
---
---
---
---