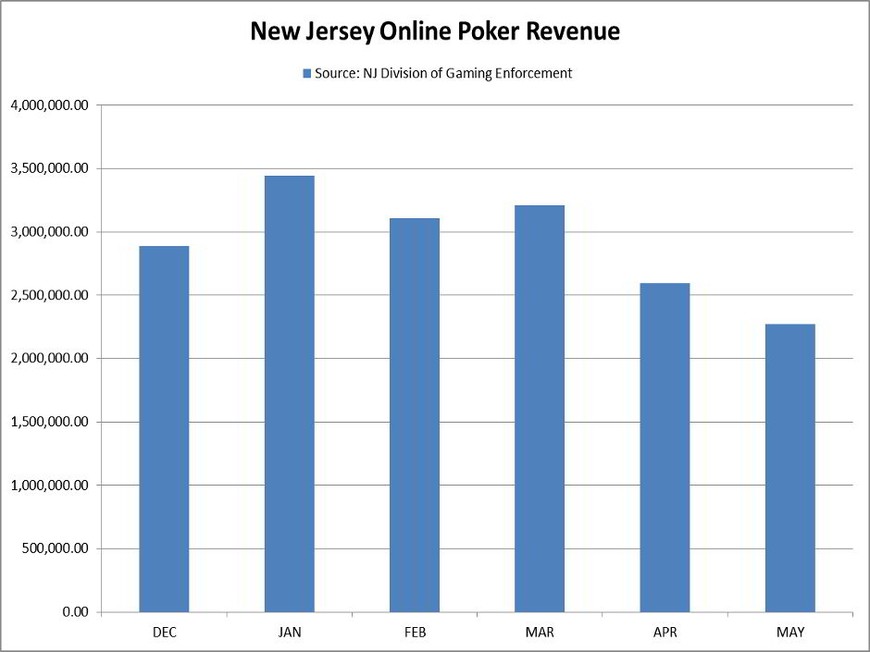 New Jersey online poker revenue numbers released by the state's Division of Gaming Enforcement (DGE) on Thursday show a second consecutive monthly decline in revenue.
Much of the decline can be attributed to seasonal online poker trends in which online poker traffic decreases during warmer months.
Compared to April, total online poker revenues were down 12.28%—or $318,182—to $2,273,657.
Taking into account the extra day in May as compared to April, "Daily" online poker revenues have declined 15.11%—or $13,051. The daily income generated in May for online poker in New Jersey was $73,344, compared to $86,395 in April and $103,570 in March.
Internet gaming overall shed 8.39% from $11.43 million in April to $10.47 million in May. This represents the second straight month of igaming decline in the state of New Jersey.
Revenue and Market Share Breakdown
The May 2014 online poker revenue stream and market share percentages for the three main competitors in New Jersey were relatively in-line with the overall decline for the month.
Borgata/partypoker online poker revenue fell $184,636—or 13.27%—to $1,206,261. The combo lost a modest 0.6 share points but still retains the majority of the revenue with 53.05% of the market.
The partnership of WSOP and 888 lost $124,529 in monthly online poker income—a decline of 10.81% to $1,027,161. However, market share for the duo improved 0.74 points to 45.18%.
Ultimate Poker continued to lose ground with a monthly revenue slide of $9,022—or 18.32%—to $40,230 for May 2014. Market share for the site fell slightly from 1.90% in April to 1.77%.
Online Gaming Accounts
According to the New Jersey DGE, total online gaming accounts for the month of May increased 8.9% to 351,136.
In contrast to the New Jersey revenue dive, Nevada is currently experiencing a boom due to the 2014 World Series of Poker.