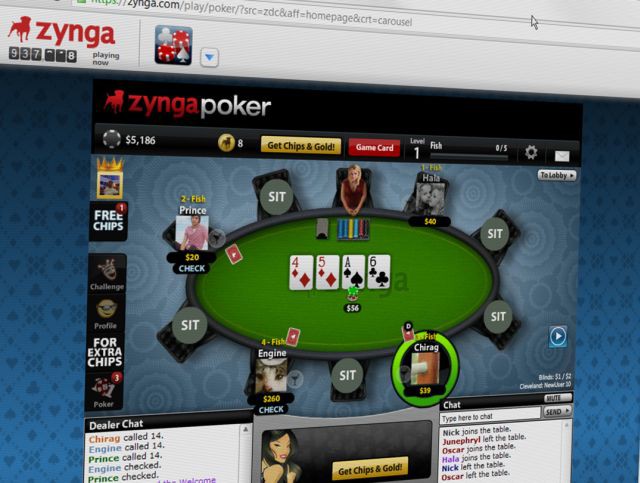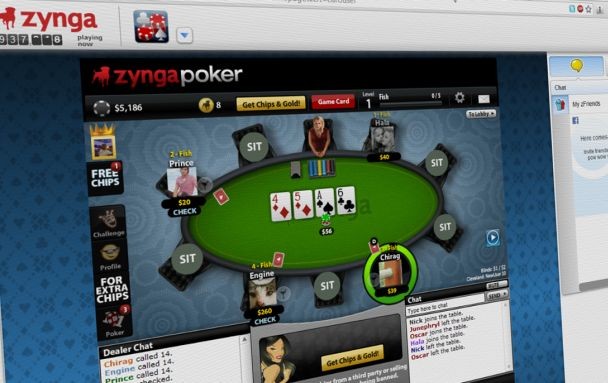 Social gaming giant Zynga has again stated it is actively considering branching into real money gambling ahead of a second quarter results call today.
Talking in a CNN Fortune interview last week, Zynga founder and CEO Mark Pincus reasserted the company's interest in real money gambling, stating that it was "actively exploring" the market, both in the US and beyond.
Pincus stated that online gambling is illegal in the United States today, but added: "I think it has a good chance of being [legal], but I am not a good predictor of politics." He did not rule out the possibility of spending money lobbying, saying "I think that we would like to participate in the conversation." "Zynga has deep pockets—they raised more than $1bn in cash from the IPO—and the company has a history of big buys."
Notably, Pincus did not reference the fact online gambling is moving forward at the state level, and that the first online poker sites will go live in Nevada in a matter of months. Zynga is not known to be an applicant for a Nevada license.
Pincus also stated Zynga was "actively exploring the opportunity" of being part of a "$15 billion industry" of online gambling in the UK and EU countries.
Meanwhile, recent reports suggest Zynga is considering both purchasing bwin.party's "surplus asset," the Ongame Network, or licensing existing online poker software platforms, to move into real money poker.
The news coincides with a second quarter earnings call, which will be held later today. Since its initial public offering eight months ago, Zynga stock has performed poorly, falling from its initial offering of $10 per share to below $6 over concerns of declining player numbers and questions over long term revenue potential on the Facebook platform.
Analysts and investors will be paying close attention today to Zynga's figures. The company has stated its intentions to move away from its dependence of the Facebook platform and on to mobile devices and look for new sources of revenue.
But it is not the first time the company has shown interest in the online gaming market. And thought it has talked of bringing online gambling to Zynga customers for over six months, there has been little concrete developments.
Initial Enthusiasm
Despite well established online gaming markets in Europe for years, Zynga has not always claimed an interest in diversifying into real money gaming. "Soon after Unleashed, new rumors began that Zynga was getting into real money gaming, despite no mention during the investors' event."
Original "real money Zynga" rumors started swirling in mid-2011, but were quoshed back in November when the head of Casino Games at Zynga told EGR Magazine they had no plans for real money gaming. This came while Facebook was relaxing its online gaming rules and courting potential online gaming partners.
But things move fast, and by January 2012 Zynga was telling AllThingsD.com that it was in "active conversations" with potential real-money gaming partners.
Why the change of heart? Many cite the Christmas gift from the Department of Justice clarifying the Wire Act and paving the way for state-based online gaming the catalyst. However, the recent words from Pincus indicate little interest in the United States market unless federal legislation passes.
There was more apparent real-money preparation in February when Zynga added to its free-play gambling portfolio with its partnership with slots and bingo company Slingo. Although Zynga Slingo is another free-play "social" facebook game, Slingo is also offered in brick-and-mortar casinos in the US and Canada.
And Pincus was again talking real-money gambling. In late February he spoke about the "mind-blowing" potential in real money gambling, which he considers a "perfect fit" for its social games.
Pincus also referenced Wynn, stating "We have incredible respect and admiration for brands and groups like the Wynn," fueling speculation that the two were in talks. Wynn previously had a short-lived agreement with PokerStars that broke down after Black Friday, and is a known applicant in Nevada.
Stocks Down and Zynga Focuses Elsewhere
But that was five months ago, and there has been no concrete investment from Zynga into real "Only time will tell if the latest spate of rumor and "serious interest" is mere posturing ahead of another quarterly earnings report, or its first real push towards entering the online gaming market."
money gaming.
State-level gambling in the United States is going ahead, with Nevada right around the corner (although things are murkier in Zynga's home state of California), and more countries have regulated online gaming in Europe. But while Zynga has announced new games, new platforms and searches for new sources of revenue, there has been no progress towards real money gambling.
In a candid interview with AllThingsD.com in May (the same news outlet that reported the "real interest" in online gaming four months prior), Mark Pincus chose not to mention online gaming. Only when questioned by a member of the audience regarding the potential of online gambling did Pincus remark that "when the regulatory situation makes it available, we'll see an explosion."
When asked how big that would be for Zynga, Pincus replied "it entirely depends on the regulation. If the regulation changes, it will be big for all games." But around this time, Nevada was already driving a clear path to regulated online poker.
One month ago, Zynga held its annual "Unleashed" event, where the company unveils to investors its new products and plans for the coming year. Investors concerned over the falling share price were eagerly awaiting the one-day event.
Talks mostly focused largely on new platforms, and Pincus stressed the importance of diversifying from Facebook onto mobile. A new "Zynga Platform" at zynga.com and social network, zFriends, were announced, and new revenue streams, including apparel sales, were unveiled. Head of Casino Games at Zynga Poker, Jesse Janosov, unveiled their new game, Elite Slots.
But there was no mention of real money gaming. By the end of the day, shares slid and "investors were very disappointed," according to one analyst's interpretation.
Fresh Speculation
Soon after Unleashed, new rumors began that Zynga was getting into real money gaming, despite no mention during the investors' event.
First reported by EGR, Zynga is known to be one of many potential interested parties in the sale of the Ongame Network and, more recently, that it was considering bids from GTECH G2 and iPoker for providing a real-money poker platform. And, in the aforementioned Fortune interview, Pincus once again stated that the company was "actively exploring" real money gaming.
So what can we make of the latest speculation? If Zynga really were moving into real money online poker, an acquisition of Ongame makes sense: Ongame is cheap—Shuffle Master agreed to buy the network for €29.5m (before it withdrew from the deal)—and for their money they get access to the regulated markets of Italy, France, Spain and Denmark as well as the wider international market where Ongame already operates. The network also has Poker on the mobile for Android, iPhone and iPad, and it recently integrated a casino product.
Zynga has deep pockets—they raised more than $1bn in cash from the IPO—and the company has a history of big buys. In January Zynga hired Barry Cottle to lead acquisitions, and in February they spent $180m to buy rival app developer OMGPOP. Cottle said in April: "We're sitting in a very advantageous position … We have a significant amount of cash, we have no debt, and we have access to debt to be as aggressive as we need to be."
Only time will tell if the latest spate of rumor and "serious interest" is mere posturing ahead of another quarterly earnings report, or its first real push towards entering the online gaming market.
And how successful would Zynga Poker for Real Money be? There is still a question mark over the value of its giant customer base, and how well suited Zynga is to operate a real money gambling business. A good portion of its user base is under the legal gambling age and many are in the US where the regulation of online gambling could take many years to work itself out.
Zynga is huge—likely larger than all other free play and real money poker sites combined—but its players play for very different reasons than real money poker players. According to one recent report, up to 50% of Zynga's revenue comes from 1% of its customer base: "whales" who spend hundreds or thousands a year on free-play chips. One percent of a reported 35 million in active monthly players is still a lot of depositors, but these customers on Zynga Poker are affectively buying "top dog" status by buying millions of play chips—A $500 deposit on a real money gambling site will not bring you close to the top levels.
Zynga is a gaming company, and excels at using social media and "gamification" to create games so addictive players will buy virtual products and chips in order to level up. The company brings with it expertise in game design but—other than the Poker Table Ratings team it acquired in early 2011—it lacks knowledge in marketing and operating a real gambling business, and all the intricacies that go with it: Regulation, customer service, security, game protection, payment processing—the list goes on.
Poker players hoping for a new boom in online poker should probably temper expectations. In a way, the Zynga Poker boom has already taken place—it has introduced online poker to hundreds of millions of people, and real money operators will have benefited from this new level of interest in the game. I am sure most Zynga players are at least aware that there is "another side" to online poker, where you can play for real money. If Zynga does launch a poker platform, it will have an incredible potential customer list to up-sell—but what fraction will convert is unknown.