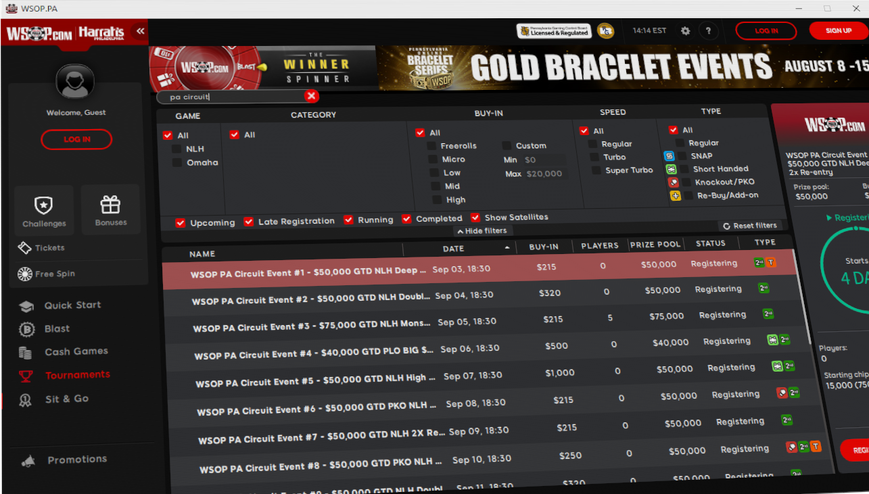 Pennsylvania online poker players will once again be competing for the coveted WSOP gold jewelry. After successfully hosting the first-ever online bracelet series in the Keystone State just weeks after the room went live, players at WSOP PA will now be able to vie for the esteemed WSOP gold ring.
Starting Friday, September 3, the World Series of Poker brand will host the inaugural online circuit series in Pennsylvania—the PA WSOP Online Circuit—featuring a dozen official ring events. These twelve circuit events sport an ambitious $630,000 in cumulative guaranteed prize money.
Although the official announcement has yet to be made, these events have been deployed on the WSOP PA software and players can already register for the events.
Every day one event is scheduled at 6:30 PM EST until September 14 with each of them guaranteeing between $25,000 and $100,000. Buy-ins are on the higher side, starting at $215 and going up to $1000—though a majority of them costs $215. The average buy-in throughout the series is $374.
A wide variety of formats will be part of the schedule including WSOP PA exclusive Progressive Knockouts (PKOs), Double and Monster Stacks, turbo tournaments as well as a Pot Limit Omaha (PLO) tournament. All these events allow re-entries ranging from two to three, with the exception of event #11: a $25,000 guaranteed NLH with an entry fee of $215 that will be played as a freezeout tournament.
The Main Event will have a $100,000 guarantee—the largest of the 12-day festival. It will cost $525 to enter, and players will be able to re-enter up to three times. As per the terms and conditions, Circuit events that will run on Sunday will not only award a gold ring but also a seat to the WSOP 2021 Main Event worth $10,000.
Just like its counterpart series that runs in New Jersey and Nevada, the WSOP PA Online Circuit will feature a $10,000 leaderboard, where the top ten players will win a share of $10,000 in tournament tickets. Additionally, there will also be a $25,000 freeroll that will be open to all the winners of each gold ring event and the top performers of the series leaderboard.
Furthermore, there will also be a Grinder's Only Second Chance "winner take all" Freeroll for players who have played at least three ring events. The winner of this freeroll will earn a seat into the $250,000 Year-End Championship event that will award a WSOP gold bracelet to its winner.
Both the freerolls will run on Sunday, September 17 at 4:30 PM and 5:30 PM respectively.
Pennsylvania-Exclusive
WSOP

Online Circuit Series

The inaugural Online Circuit series in Pennsylvania will be running as part of the 2021 WSOP Circuit season. This year, every stop on the tour has been moved online due to the continued fallout from the ongoing COVID-19 pandemic.

A total of 13 WSOP Online Circuit series were announced earlier this year—with all but one meant to run for players in New Jersey and Nevada. One series was touted to run in a "newly regulated market" which many had rightly guessed would be for players in Pennsylvania.

Seven of the 13 WSOPC tours have already concluded and another has almost come to an end. The Rio Online Circuit that is currently ongoing guarantees $1 million in prize money over 12 official ring events. It will culminate tomorrow with a $100,000 guaranteed High Roller event.
Fourth Tournament Series on
WSOP

PA in Just a Few Weeks

The tournament action on WSOP PA has been extremely juicy as the upcoming PA WSOP Online Circuit will be the operator's fourth online tournament festival in just a few weeks.

The WSOP PA online bracelet series that ran earlier this month paid out nearly $1.5 million in prize money over eight events, averaging close to $200,000 per tournament.

Just after the bracelet series was over, the operator ran two back-to-back tournament festivals: A first-ever PKO series in the WSOP USA market and a Keystone Classic with combined guarantees of over $600,000.

Another market—Michigan—will see a WSOP MI real-money launch soon and Michiganders can also expect to see a flurry of tournament activity including a Michigan exclusive online bracelet series.

The PA WSOP Online Circuit runs from September 3 through September 14.
PA

WSOP

Online Circuit Series Schedule
Tournament
Date
Buy-in
Guarantee

WSOP

PA Circuit Event #1 – $50,000

GTD

NLH

Deep Turbo 2x Re-entry
Sep 3
$215
$50,000

WSOP

PA Circuit Event #2 – $50,000

GTD

NLH

Double Stack 2x Re-entry
Sep 4
$320
$50,000

WSOP

PA Circuit Event #3 – $75,000

GTD

NLH

Monster Stack 2x Re-entry
Sep 5
$215
$75,000

WSOP

PA Circuit Event #4 – $40,000

GTD

PLO

BIG

$500 6-Max 3X Re-entry
Sep 6
$500
$40,000

WSOP

PA Circuit Event #5 – $50,000

GTD

NLH

High Roller 6-Max 2x Re-entry
Sep 7
$1,000
$50,000

WSOP

PA Circuit Event #6 – $50,000

GTD

PKO

NLH

2X Re-entry
Sep 8
$215
$50,000

WSOP

PA Circuit Event #7 – $50,000

GTD

NLH

2X Re-entry
Sep 9
$215
$50,000

WSOP

PA Circuit Event #8- $50,000

GTD

PKO

NLH

Turbo 2x Re-entry
Sep 10
$250
$50,000

WSOP

PA Circuit Event #9 – $50,000

GTD

NLH

Double Stack 2x Re-entry
Sep 11
$320
$50,000

WSOP

PA Circuit Event #10 – $100,000

GTD

NLH

Main Event 3x Re-entry 8-Max
Sep 12
$525
$100,000

WSOP

PA Circuit Event #11 – $25,000

GTD

NLH

Freezeout
Sep 13
$215
$25,000

WSOP

PA Circuit Event #12 – $40,000

GTD

NLH

BIG

$500 3x Re-entry 8-Max
Sep 14
$500
$40,000