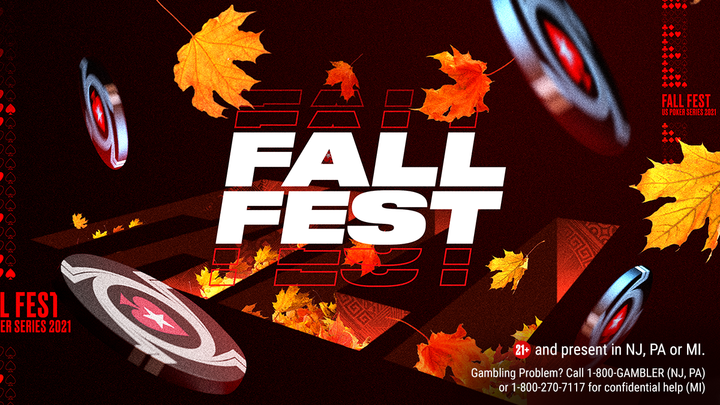 The weather may be getting colder with autumn well underway, but the prize pools in PokerStars' Fall Fest series have been scorching. While there were a few games in each market that didn't quite hit the guarantee on the opening weekend, all three series are well above overall guarantee at this point.
Winter is coming, but before that happens, PokerStars is heating things up with the Fall Fest US Poker Series. There are special games running on the theme in all three US markets, so players in New Jersey, Michigan, and Pennsylvania can get in on the Fall Fest action.
So far, there has been just over $600,000 guaranteed in Fall Fest events across markets, but nearly $700,000 has been handed out in prize pools so far. All three markets handed out more than the guarantees over the first weekend of play, with rake more than making up for the few games that didn't hit the promise.
PokerStars USA: The world's largest online poker site is legal and regulated in Pennsylvania, Michigan, and New Jersey!
Great bonus

$50 freeplay or Up to $600 deposit match bonus
The world's most regulated online poker site
Great cash game traffic and some of the best weekly guaranteed MTTs
Stars rewards program rewards play across poker, casino and sports
Each market collected at least 12% more than promised in guarantees, though all had a small scattering of overlay. PokerStars Michigan was the best market by percentage, collecting more than 17% more than the guarantees in place.
Meanwhile, PokerStars NJ covered by 14% overall across its first 13 events. Promotionally, PokerStars PA was the lowest at 12% over. However, it had by far the highest guarantees—in fact, more than MI and NJ combined—so it paid out a lot more in prize money.
Fall Fest Overview through Nov 22 by Market
| | | | | |
| --- | --- | --- | --- | --- |
| | Events | Gtd | Collected | % over Gtd |
| MI | 17 | $176,500 | $207,488 | 117.56% |
| NJ | 13 | $117,000 | $133,821 | 114.38% |
| PA | 13 | $307,500 | $344,763 | 112.12% |
| Total | 43 | $601,000 | $686,072 | 114.16% |
First Weekend of Fall Fest a Scorcher
Fall Fest 2021 kicked off at PokerStars in the US on Nov 20th, and all three markets saw a good opening weekend. The turnout was high enough to break the guarantee on nearly all events, with the few shortfalls that did occur easily covered by rake.
In general, it was the higher buy-ins in the three states that fell short, but none of the shortfalls was egregious. The biggest deficit in dollar terms came from Pennsylvania, where the $100,000 guaranteed Sunday Special, Fall Fest Edition fell about $6,500 short of the guarantee, but the game collected more than $8,350 in fees to offset that.
There were some notable standouts during the opening weekend as well, but many of the best performers in terms of prize pool were also the lowest guarantees. A $3,000 guaranteed event in New Jersey built a prize pool of $6,900 for a huge 230% increase over the promise.
In dollar terms, a couple of the games collected more than $8,000 above their promised totals. In Michigan, the Sunday Marathon guaranteed $10,000 but collected a whopping $18,600, while in Pennsylvania the $15,000 guaranteed Fall Brawl got $23,200 in total prizes.
Plenty of Autumn Action Still to Come
All three markets have games running through November 29, and the action is sure to warm even the coldest fall evening. While the Fall Fest series is running in all three markets for PokerStars USA, Michigan players are getting something a little different.
While the Fall Fest at PokerStars NJ and PokerStars PA are both pretty standard tournament series, the games in Michigan are branded Fall Fest 50/50. That means for Michigan, the plan is to run 50 games with a $50 buy-in each, while NJ and PA will run 40 games each with variable buy-ins.
There is still a lot of action yet to come in all the series, with games running until the final Sunday of November. There are Thanksgiving Thrill games in all markets on Nov 25, as well as juiced-up progressive bounty games throughout the week.
On the final weekend of November, the Main Event will run in all three states, guaranteeing $275,000 between PA, MI, and NJ. The Main Events start on Nov 28 with varying buy-ins and guarantees.
PokerStars US Fall Series: Main Event Details
| State | Buy-in | Guranatee |
| --- | --- | --- |
| Pennsylvanina | $200 | $150,000 |
| New Jersey | $300 | $75,000 |
| Michigan | $50 | $50,000 |
There are a lot of other special Fall themed events throughout the week, including:
Fall Brawls – Tournaments in the ever-popular progressive KO format. Featuring a variety of buy-in levels and knock-out values.
Last Man Standing Tournaments – The entire prize pool is divided up amongst the top 7 finishers. The winner takes 75% and there are big knock-out bounties for each elimination.
The Thanksgiving Thrill – a special edition tournament for Thanksgiving Thursday (November 25).
The Gobbler – A 5-Max Total KO all-action event for Thanksgiving night.
Main Event Previews/Trainers — A dress rehearsal to the real deal. Tournaments in PA and NJ with the same structure as the Main Event, but for a fraction of the buy-in. Perfect for players with smaller bankrolls, or those who want to sharpen their skills before the big day.
$500 High Roller – A big buy-in exclusive for players in PA (November 23).
Check out our preview of the Fall Fest for all the details, including ways to qualify for games for free, or on the cheap. Fall Fest games are running until Nov 29, and may be the perfect side dish to Thanksgiving turkey over the upcoming holiday week.