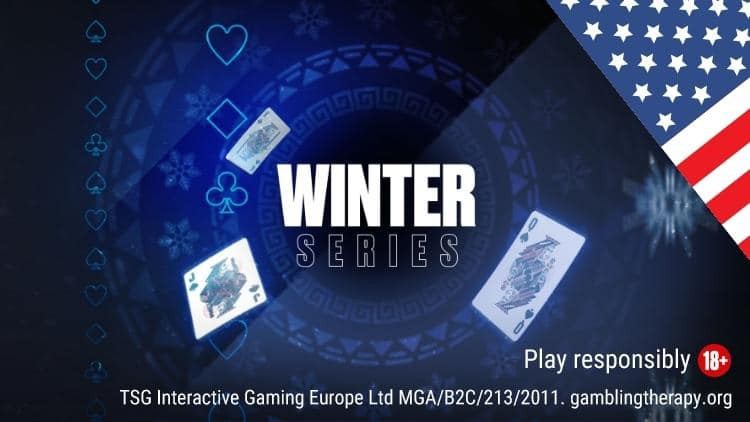 PokerStars USA started off 2022 with a Winter Series festival in all three of its US markets with more than $2 million guaranteed. In the end, PA, MI, and NJ combined to award a cool $2,823,900 in prizes across 128 events in total.
All three states in the PokerStars USA portfolio broke their local guarantees. Overall, the three online poker series came in about 31% over guarantee, with PA beating its series guarantee by more than 37%.
There were a total of 45,177 entries recorded across Pennsylvania, Michigan, and New Jersey. Nearly 22k entries were on the board in PA, while MI had more than 15k entries swelling its prize pools.
As usual, Pennsylvania came out as the biggest series. That is not a huge surprise, given that PA is the largest market for PokerStars USA at about 12.8 million people compared to just under 10 million for MI and almost 8.9 million for NJ.
Even considering the population differences, PA still came out overwhelmingly on top. In PA, there were $107,296.88 in prizes for every million residents, compared to $86,792.83 per million in MI and $65,717.18 per million in NJ. Overall across the markets, PokerStars USA averaged just under $90k per million population.

Last verified: September 2023
Great Welcome Bonus!
100% deposit bonus up to $600!
Play one hand & get $100 in bonus play funds
Top-quality mobile app
Best online

MTT

schedule
Please play responsibly. If you or someone you know has a gambling problem and wants help, call 1-800
GAMBLER
.
PokerStars

USA

Winter Series: By the Numbers
PokerStars PA
PokerStars MI
PokerStars NJ
Totals
Prizes
$1,373,400
$866,800
$583,700
$2,823,900
Gtd
$1,001,500
$651,000
$501,000
$2,153,500
Avg Gtd
$22,727
$15,476
$11,905
Entries
21,861
15,482
7,834
45,177
Events
44
42
42
128
% Above Gtd
37.13%
33.15%
16.51%
Avg Buy-in
$108
$100
$121
Prizes / Million Pop
$107,297
$86,793
$65,717
$89,169
Average Entries
496.8
368.62
186.52
Big Start to 2022 for PokerStars
USA
After the conclusion of a successful Winter Series in the global .com market, PokerStars turned its sights on the United States to celebrate the winter season. Overall, the three series averaged $89,169.22 per million residents served and about 355 entries per event.
There was $2,153,500 guaranteed across the three states, but the series ended up significantly above that number. In total, there was $2,823,900 worth of prizes handed out — an increase of more than 31% over the pre-series promises.
Each market held a very similar series, though PA had two more tournaments on the schedule, including one "hybrid" event that awarded some cash as well as tickets to the Main Event. The prize pool for that hybrid tournament was not included in prize pool totals for PA, but the number of entries was included, so the actual prizes from PA were actually slightly better than represented here.
Winter Series in Pennsylvania
PokerStars PA put on the biggest show, but that was hardly a surprise as the biggest market. Pennsylvania was the only state to promise more than $1 million in prizes, with $1,001,500 guaranteed before the series got going. Only one game in the PA market failed to hit the guarantee.
In the end, the series blew past that with $1,373,400 in total prizes on the back of 21,861 total entries. Over the 44 events (including the hybrid MTT/Satellite), that works out to an average of just over 496 entries per game in PA.
The biggest standout from PA in terms of total prizes was no surprise — The Main Event guaranteed $150,000 and ended up with more than $180k to award to the top poker players. However, there were a couple of other notable games.
Winter Series Event #30 had one of the smaller guarantees of just $5,000 but crushed the goal by more than 200% with $15,700 in total prizes at the end of the game. Five other games came in at more than 100% above their guarantees, but that was the only one to blow past 200%.
One other notable PA event was Winter Series Event #06, the only tournament other than the Main Event with more than $100k in prizes. It was always going to have at least $100k from the guarantee but ended up squeaking past that for a total of $106,300.
Winter Series in Michigan
The PokerStars MI series ended up with 33.15% extra in prizes over the $651,000 initial guarantee with $866,800 in total prizes. Three games in Michigan missed their guarantees, but that had a very limited effect on the overall numbers.
Once again, it was the Main Event that had the biggest prize pool. The only game in Michigan that capped $100,000 in prizes, the Main Event got 651 entries for $121k in total prizes.
Thre games in Michigan more than doubled the guarantee. The $2k guaranteed Winter Series Event #30 got $4.5k in total prizes for the biggest percentage increase, but the $7.5k Winter Series Event #03 got 104% of its guarantee with 561 entries and $15,300 in prizes.
Winter Series in New Jersey
As the smallest of the three markets, it makes sense PokerStars NJ had the smallest series as well. with just over $500k guaranteed going in, New Jersey saw 7,834 entries for $583,700. That was up about 16.5% over the pre-series guarantee, so it was still a decent result.
PokerStars NJ missed the guarantee on five Winter Series Events, including in the $75k guaranteed Main Event, but it had a few decent hits as well. Winter Series Event #28 came in 85% over guarantee with $7.4k in prizes while Winter Series Event #25 got 77.5% extra at $7.1k in prizes.
The successful Winter Series was no doubt just the beginning of exciting things to come from PokerStars USA in 2022. Poker players in PA, MI, and NJ should look for all sorts of upcoming value from the operator, including special state-specific tournaments like the Michigan Classic, NJ Classic, and Pennsyl-MANIA, or the return of the popular knockout series called the Bounty Builder Series.
The Winter Series helped PokerStars USA hit the ground running in 2022, but it was just the opening volley in what promises to be a big year.