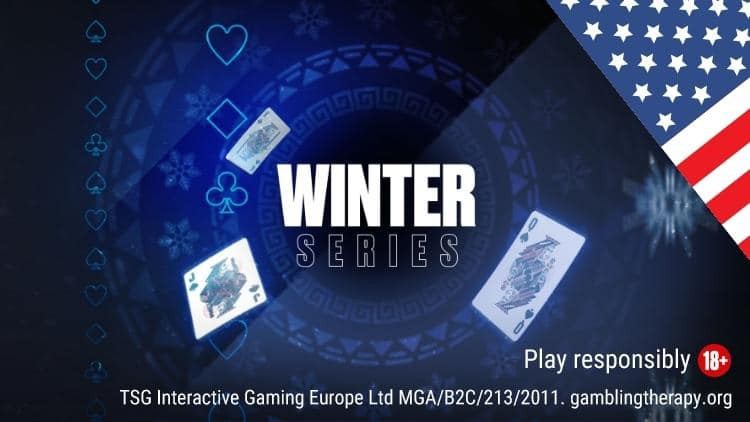 PokerStars' Winter Series may have come to a close in the dot-com market but it is now its turn for the US players to flaunt their tournament poker skills as PokerStars USA schedules its annual flagship series in each of its three US states.
Starting January 22, the three Winter Series will run simultaneously on PokerStars NJ, PA, and MI clients, promising more than $2 million in combined guaranteed prize money over the course of ten days.
Pennsylvania will be leading the pack with $1 million in guaranteed prize money — same as last year — while players in Michigan will be vying for a $650,000 guarantee and $500,000 for players in New Jersey.
PokerStars USA: The world's largest online poker site is legal and regulated in Pennsylvania, Michigan, and New Jersey!
Great bonus

$50 freeplay or Up to $600 deposit match bonus
The world's most regulated online poker site
Great cash game traffic and some of the best weekly guaranteed MTTs
Stars rewards program rewards play across poker, casino and sports
Each state will play host to over 40 events with buy-ins suitable to all types of bankroll budgets ranging from $10 to $1000. As per usual, the buy-ins are slightly more expensive for players in the Garden State — averaging about $121 per event. The Winter Series schedules in the two counterpart states are very similar — averaging $108 for players in the Keystone State and exactly $100 for the Wolverine State players.
PokerStars

USA

Winter Series 2022 Comparison
| | PokerStars PA | PokerStars MI | PokerStars NJ |
| --- | --- | --- | --- |
| Total Gtd | $1,000,000 | $650,000 | $500,000 |
| No. of Tournaments | 44 | 42 | 42 |
| Avg Gtd | $22,727 | $15,476 | $11,905 |
| Buy-ins Range | $10 to $1000 | $10 to $1000 | $10 to $1000 |
| Avg Buy-in | $108 | $100 | $121 |
| Main Event | $200 buy-in, $150K Gtd | $200 buy-in, $100K Gtd | $300 buy-in, $75K Gtd |
The Winter Series reaches its peak action on January 30 with two-day Main Events scheduled for each state. The Pennsylvania leg has the largest guarantee of $150,000, while the Main Events in Michigan and New Jersey have guarantees of $100,000 and $75,000, respectively. They cost $200 to enter, except for New Jersey, which has an entry fee of $300.
Ahead of the Main Event, players can rehearse their skills by playing the Main Event Trainers and Warm-Ups. They are structured quite similarly to the Main Event but for a fraction of the buy-in and faster blind levels. There is also a Mini version of the Main running on the same day costing $30 in Pennsylvania and Michigan and $50 in New Jersey.
Aside from the Main Events, there are a number of other star attractions throughout the series. These include:
Marathons — These 15-minute long levels with deep structures have been added to the schedule to test the patience and endurance of the players. These are available in various buy-ins ranging from $50 to $200 depending on the state.
High Rollers — A couple of High Rollers have been also included for players with deep pockets, with buy-ins of $500 and $1000. The $1000 High Roller is a freezeout available to players in Pennsylvania and Michigan.
Sunday Special Winter Editions — Piggybacking on the weekly schedule, the Sunday Special editions come with boosted guarantees but cost the same.
Mixed Games — Players who enjoy games other than Hold'em are up for a real treat as the Winter Series also offers niche games such as

HORSE

, PL Omaha Hi/Lo, and 5-Card Draw. These are available to players in Pennsylvania and Michigan.
Daily $10 Freezeouts — A number of freezeouts have also been included in the schedule, some of which cost as little as $10. In a freezeout tournament, players only have a single bullet to use and cannot re-enter the same tournament.
The rest of the schedule covers a wide range of formats, including progressive knockouts, 4-max turbos, deepstacks, and more. Pennsylvania players have the option of an intriguing event called Winter Hybrid, scheduled to run on January 29 for a buy-in of just $10. In this event, players not only compete for the regular prize but the top 15 finishers also win a seat to the Main Event.
Plenty of Ways to Qualify for the Winter Series
Satellites for the highlighted events are already live in the client, with buy-ins starting at $5 at the lowest level. But players looking to* win seats to the series for free* can do so by participating in Depositor FREEZErolls.
All players have to do is make a deposit of at least $30 using the bonus code 'WINTER30' and earn a ticket to the Depositor Freeroll tournament. Alternatively, players can increase their chance of winning a ticket to the Main by making a deposit of $100 or more using the code 'WINTER100' and earn an entry to the bigger Freezeroll. These FREEZErolls take place on January 22.
Something that has become a bit of a trend at PokerStars, Second Chance Freerolls will also run during the series, giving players that bust an event before making the money a second chance at the action. These Second Chance Freerolls run every day from January 23 to 30.
PokerStars

USA

Winter Series 2022 Offers
| | Pennsylvania | Michigan | New Jersey | Bonus Code | Date |
| --- | --- | --- | --- | --- | --- |
| Depositor FREEZErolls Deposit $30 or More | $3,000 | $2,000 | $1,500 | WINTER30 | January 22 |
| Depositor FREEZErolls Deposit $100 or More | $10,000 | $5,000 | $4,000 | WINTER100 | January 22 |
| Second Chance Freerolls | $8,000 | $8,000 | $8,000 | Not Applicable | January 23 – 30 |
PokerStars USA Winter Series — At a Glance:
January 22 – 31 (10-day series)
$2 million in combined guarantees
Over 40 tournaments in each state
Depositor FREEZErolls & Second Chance Freerolls available in all three jurisdictions
Winter Series Debut on PokerStars MI
While the Winter Series has run on PokerStars NJ and PokerStars PA markets on multiple occasions before, it will be the first time the series will take place on PokerStars MI.
Last year, PokerStars went live in Michigan at the end of January while, at the same time, the operator was running the Winter Series in its counterpart states New Jersey and Pennsylvania. PokerStars did not run the Winter Series in Michigan but instead ran the MICOOP as their first tournament series.
The inaugural edition of the Winter Series in Michigan looks to be impressive as it guarantees $650,000 and is spread over just 42 events. This means that the average guarantee per tournament stands at over $15,000.
Meanwhile, the Winter Series in New Jersey will be its sixth installment. It began with $275,000 in 2017 and has now grown to $500,000. The average guarantee per event is just close to $12,000 — the lowest since its inception.
Winter Series NJ History
Year
Total

GTD

No. of Tournaments
Avg

GTD

Main Event
2017
$275,000
10
$27,500
$400 buy-in, $75,000

GTD

2018
$325,000
12
$27,083
$400 buy-in, $100,000

GTD

2019
$300,000
15
$20,000
$400 buy-in, $80,000

GTD

2020
$300,000
21
$14,286
$400 buy-in, $60,000

GTD

2021
$500,000
40
$12,500
$300 buy-in, $100,000

GTD

2022
$500,000
42
$11,905
$300 buy-in, $75,000

GTD
The Winter Series in Pennsylvania will only be its third edition. The debut series in 2020 had $675,000 in total guarantees and grew to $1 million for its second edition. The total guaranteed prize money for the 2022 edition is the same but there is one fewer event, so the average guarantee per event is the highest, sitting at $22,727.
Winter Series PA History
Year
Total

GTD

No. of Tournaments
Avg

GTD

Main Event
2020
$675,000
30
$22,500
$300 buy-in, $100,000

GTD

2021
$1,000,000
45
$22,222
$300 buy-in, $200,000

GTD

2022
$1,000,000
44
$22,727
$200 buy-in, $150,000

GTD
All three Winter Series run from January 22 to 31 on the PokerStars NJ, PokerStars PA, and PokerStars MI clients.