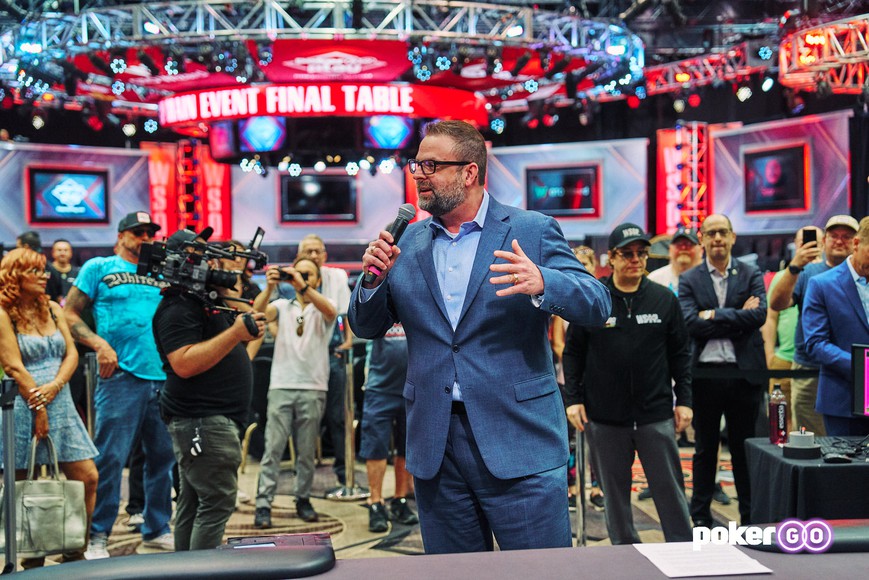 Key Takeaways
Day 1A turnout enjoyed a 20% increase compared to last year, raising expectations for a record-breaking attendance.
Notable poker figures participated in Day 1A, including former Main Event champions Joe Cada, Martin Jacobson, Damian Salas, and Jaime Gold.
WSOP's extensive qualifying campaign, the "Road to Vegas," successfully qualified nearly 800 players for the Main Event.
If the Main Event sets a new participation record, a "Main Event for Life" golden ticket will be awarded to one lucky player.
The highly anticipated World Series of Poker 2023 Main Event kicked off yesterday at the iconic Horseshoe Las Vegas & Paris Las Vegas, setting the stage for an exhilarating blend of hope and heartbreak that defines this annual gathering of poker enthusiasts.
The first of the four starting flights on Sunday, July 3 closed with an very strong turnout. According to PokerNews, a total of 1080 players took their seats on the inaugural day of the world's richest poker tournament, locking in over $10 million in the prize pool.
One-third of the field has been eliminated, leaving 721 players (representing 66% of the initial field) has survived to take a stack through to Day 2ABC.
The Day 1A figures exhibit a notable increase of 20% compared to last year's event. If this upward trend persists across the remaining starting flights, not only will this year's WSOP Main Event surpass the 2006 record, but it may also breach the significant milestone of 10,000 participants.
Historically, the first of the four starting flight tends to have the fewest participants; to attract over 1,000 players is a very strong start. To compare, last year, exactly 900 players participated in Day 1A.
This year's edition marks the second largest Day 1A recorded in WSOP's recent history. The Main Event in 2019 saw 1336 players enter Day 1A. It's worth noting, however, that the 2019 edition only featured three starting flights; this year's event offers a much greater opportunity for players to compete across multiple flights.
The first day saw many prominent figures in the poker world enter the tournament. According to PokerNews, four Main Event champions played Day 1A: Joe Cada (2009), Martin Jacobson (2014), Damian Salas (2020), and Jaime Gold (2006) — and all of them managed to survive.
Other notables name that also bagged include Dominik Nitsche, Shaun Deeb, Faraz Jaka, as well as Doug Polk who is among the chip leaders for Day 1A.
WSOP

2023 All Set to Break All-Time Record

Even before the series kicked off, event organizers hoped this year's Main will go down in the records books as the largest ever. Last year's Main drew 8663 entries — falling shy of the record 8773 entries set in 2006 by just 110 seats.

In their relentless pursuit to surpass a 17-year-old record, officials have left no stone unturned. And a large part of the effort has involved conducting an extensive qualifying campaign spanning several months.

Through its exclusive international partner, the GGPoker app, WSOP has successfully launched the "Road to Vegas" campaign, initially aiming to award 600 seats to the Main Event.

Remarkably, they surpassed their own expectations by qualifying nearly 800 players through a diverse range of platforms. Additionally, WSOP has joined forces with over a dozen live poker rooms across six countries and four continents, hosting a wide range of qualifier tournaments.

Online players are not left behind, as WSOP is currently running the "112 Seat Sprint" campaign for the US players. This two-week initiative guarantees the availability of 120 Main Event seats through online satellites.

These concerted efforts are proving fruitful, not only for the Main Event but also for the other gold bracelet events. Per statistics tracked by pokerfuse and Poker Industry PRO, average participation has surged by over 15%, with almost a dozen events breaking previous records.

"We are on pace to make history with the largest WSOP of all time this year and have already hosted ten record-breaking events so far at the 2023 WSOP," said Senior Vice President and Executive Director of the World Series of Poker, Ty Stewart in a recent press release.

To add an extra layer of excitement to these record-breaking endeavors, an interesting twist has been added: In the event that a new participation record is established, the organizers have decided to offer a never-before-seen prize that may never be replicated: a coveted "Main Event for Life" golden ticket. This gives one lucky player WSOP Main Event entries every year for the next 30 years.

Three more Day 1s remain and two Day 2s which allow late registration through the first two levels. The action continues with Day 1B today, July 4th, a cherished public holiday in the United States commemorating Independence Day

Day 1C kicks off a day later and Day 1D on Thursday, July 6. The Main Event will play down to a winner on Monday, July 17.
WSOP

Main Event Turnout History (2012-2023)
| Year | Day 1A | Day 1B | Day 1C | Day 1D | Day 1E | Day 1F | Day 2ABC | Day 2D | Total |
| --- | --- | --- | --- | --- | --- | --- | --- | --- | --- |
| 2012 | 1066 | 2114 | 3418 | | | | | | 6598 |
| 2013 | 943 | 1942 | 3467 | | | | | | 6352 |
| 2014 | 771 | 2144 | 3768 | | | | | | 6683 |
| 2015 | 741 | 1716 | 3963 | | | | | | 6420 |
| 2016 | 764 | 1733 | 4240 | | | | | | 6737 |
| 2017 | 795 | 2164 | 4262 | | | | | | 7221 |
| 2018 | 925 | 2378 | 4571 | | | | | | 7874 |
| 2019 | 1336 | 1915 | 4879 | | | | 95 | 344 | 8569 |
| 2021 | 523 | 845 | 600 | 2550 | 797 | 1045 | 145 | 145 | 6650 |
| 2022 | 900 | 880 | 1800 | 4481 | | | 148 | 454 | 8663 |
| 2023 | 1080 | | | | | | | | |