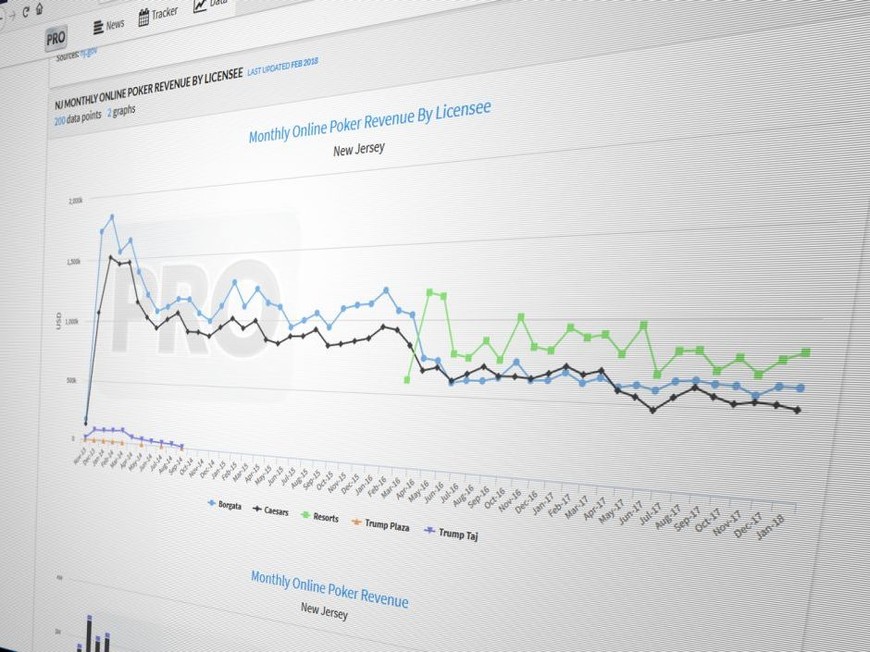 Online poker operators in New Jersey collectively suffered their worst January on record in terms of revenue since the market launched more than five years ago, according to figures released last week by the Division of Gaming Enforcement (DGE).
The state regulator reported that a combined $1.95 million was generated at internet poker rooms in the state marking the first time that revenue has fallen below $2 million in a month that has traditionally been one of the busiest of the year for online poker.
New Jersey Online Casinos Set New Record
In contrast, revenues at online slots and other internet casino games are flourishing with operators reporting more than $20 million collected for the first time.
Golden Nugget led the way with almost $7.3 million in revenue generated last month.
While combined all operators set the new high-water mark for revenue, they have been no stranger to growth. January 2018 marked the 38th consecutive month that the sector has posted monthly year-on-year growth, and the trend still shows no signs of tapering off.
The Standout New Jersey Online Poker Room
Of the three land-based casinos under which all of the all of the New Jersey online poker rooms are licensed, only Resorts (partnered with PokerStars) recorded an increase in revenue over the final month of 2017. PokerStars started the year with a month-on-month rise of 5% reporting revenues of nearly $817,000.
Online poker rooms under license of Borgata (including BorgataPoker, partypoker and the most recent addition Pala Poker) reported a fractional decrease with revenues totaling almost $627,000 for the month, and those under the license of Caesars (including WSOP.com and 888poker experienced more than a 4% decline with just over $507,000 reported.
For the iconic brands under Caesars, January 2018 was the second worst month on record in terms of revenue, with only June of last year bringing in less rake and tournament fees when the total reached just over $470,000.
Why is Online Poker Suffering in New Jersey?
Online poker in New Jersey has experienced 11 consecutive months of year-on-year revenue declines and were it not for the infusion of life the market received when PokerStars joined the market in March 2016, that streak would be even longer.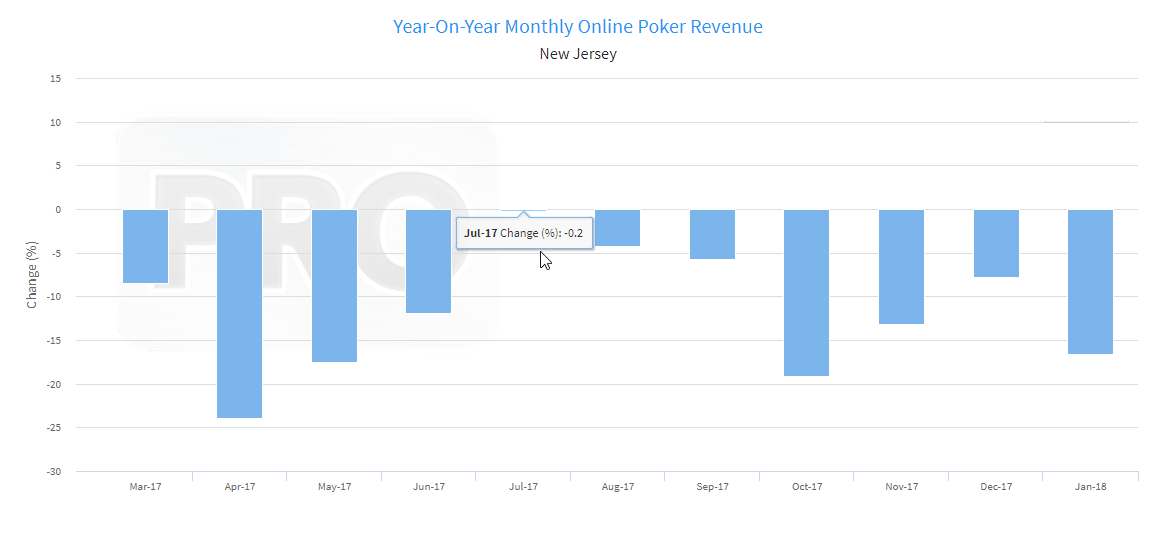 While PokerStars did provide a reprieve from falling revenues for New Jersey online poker, that period only lasted a year before the declines returned.
The main reason that online poker operators in New Jersey are seeing revenues in steady decline is the segregation of its player pool.
Following its first year offering online gaming, the DGE released a 10-page document announcing its first-year achievements in online gaming and outlining its goals for the future. It also highlighted the importance of liquidity sharing for peer-to-peer games such as poker.
Liquidity Sharing Coming to New Jersey
In October, New Jersey announced that it had reached an agreement with Nevada and Delaware to join their combined online poker liquidity pool.
"Pooling players with Nevada and Delaware will enhance annual revenue growth, attract new consumers, and create opportunities for players and Internet gaming operators," former New Jersey Governor Chris Christie stated at the time. "This agreement marks the beginning of a new and exciting chapter for online gaming, and we look forward to working with our partners in Nevada and Delaware in this endeavor."
However, because liquidity will only be shared across state lines between poker rooms on the same platform that are licensed in each jurisdiction, only the 888/WSOP.com partnership stands to benefit as it is the only software legally available in the US outside of New Jersey. As a result, the implementation of the agreement, for which a date has yet to be announced, is expected to have a minimal impact.
Pennsylvania Will Be the Key to Reviving Online Poker in New Jersey.
Pennsylvania is the latest state to enact online gaming legislation, and once online gaming is live, which is expected to happen before the end of the year, it will be the most populated of all states in the US to offer online gambling.
This means we will probably see a wide array of online poker operators enter the market, making the state a perfect online poker liquidity sharing partner for New Jersey. In fact, talks between gaming regulators in each state with this goal in mind have been taking place since before the igaming law was passed in Pennsylvania.
However, until the states combine forces, expect declining revenues to continue to be the norm in New Jersey.