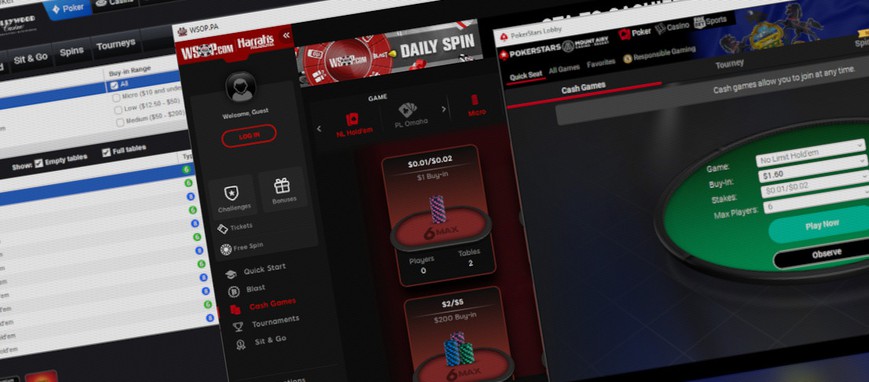 Online Poker in Pennsylvania looks as healthy as it has been for some time. December saw a strong uptick to round off what has been an unpredictable year by any measure.
The rally is not entirely surprising as the month is traditionally one of the strongest on the poker calendar — however, revenue was also up 12.2% on December 2020.
According to the Pennsylvania Gaming Control Board (PGCB), three of the state's four operators saw an increase on November's figures, resulting in an 11.1% increase month-over-month and taking PA online poker revenue over $3 million for the first time since August.
That date is significant, as it represents WSOP PA's first full month in the Keystone State, and featured its inaugural Online Bracelet festival. That series alone generated nearly $1.5 million in prize pools — and was largely responsible for a 23% increase in overall monthly revenue.
December's performance is a sign that the kind of income seen in August might be sustainable long-term. Aside from that month, it was the best turnover since July 2020, when online poker was experiencing a mini-boom due to coronavirus lockdowns.
It seems unlikely that we will see numbers like that again any time soon. The PGCB's figures show that annual revenue fell in 2021 — to $32.4 million — a 9.6% decrease, and down $3.5 million from 2020.

Last verified: December 2023
Great Welcome Bonus!
100% deposit bonus up to $600!
Play one hand & get $150 in bonus play funds
Top-quality mobile app
Best online

MTT

schedule
Please play responsibly. If you or someone you know has a gambling problem and wants help, call 1-800
GAMBLER
.
No Change at the Top
PokerStars PA is still the dominant poker room in the state. This is unsurprising as, until the end of April, it was the only poker room in the state.
With four operators now live in PA, it goes without saying that PokerStars PA has lost some of its market share. However, it still controls two-thirds of business in the jurisdiction, which is a respectable slice of the pie in a four-way contest.
Moreover, its competitors appear to have brought new players to PA, rather than eating into PokerStars' own player base. As a result, Stars' revenue is largely unchanged compared with pre-pandemic levels.
The $2,043,714 grossed in December is almost indistinguishable from the total taken in November 2019, when PokerStars PA controlled 100% of the market. The figure is up 14% on November and the operator also managed a 1.8% increase in market share during that time — up to 66.7%.
How the Other Operators Stack Up
WSOP PA continued to sit a comfortable second in the state, grossing $639,833 — a 1.4% decrease on November's $648,623.
After WSOP PA launched in July, it immediately established itself as the closest challenger to PokerStars. After its initial spike due to the World Series Online events, its traffic has plateaued.
In the last four months of 2021, its market share was virtually static: 20.6% in September, 20.6% again in October, and a brief rise to 23.5% in November — thanks perhaps, to another online bracelet event — before returning to a more familiar 20.9% in December.
Last verified: December 2023
Special Signup Offer
100% deposit bonus up to $1000!
Up to $100 in free play with first deposit
Top-quality software
Compete for

WSOP

bracelets & rings
Please play responsibly. If you or someone you know has a gambling problem and wants help, call 1-800
GAMBLER
.
BetMGM PA remains a clear third in the state — as far in front of Borgata PA, as it is behind WSOP. It grossed $288,853 in December, up an impressive 24.1% on November's disappointing figures.
Meanwhile Borgata PA still lags behind — a distant fourth, with revenue of just $89,545. Its turnover kept steady throughout the last third of 2021 — never falling below $84k or rising above $108k in a single month.
December's total was a 5.2% increase on November's $85,114. However, its market share fell — dipping below 3% for the only time since May, which was its first full month of operation in PA.
Difficult to Draw Conclusions
2021 was a year of contradictions for online poker in Pennsylvania. In one sense, everything changed. The state went from a de facto monopoly to a four-handed battle for market share, in the space of just two months.
In another respect, the status quo has been maintained. PokerStars' takings are virtually identical to pre-COVID levels and since the jurisdiction became a quartet, revenues and market share have barely changed at all.
And while the PGCB figures show overall revenue down significantly on 2020, the circumstances of that year were so unusual, that it is impossible to make strong comparisons.