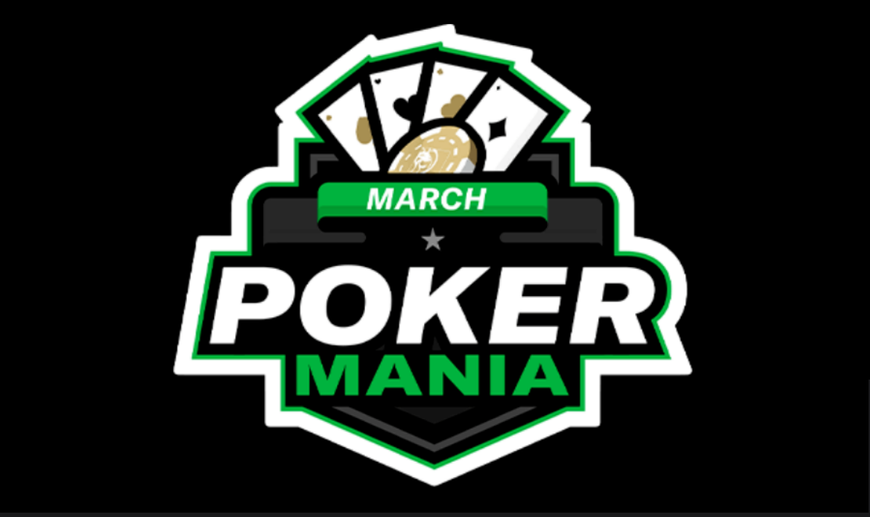 March Poker Mania is coming to BetMGM Poker USA this month giving players an amazing chance to compete against the pros. Depending on which state they are playing from, players will be able to play against BetMGM ambassador Darren Elias, as well as notable pros Andrew Neeme, and Matt Berkey.
The March Poker Mania games look very similar across the three jurisdictions its running in, with only the guarantees changing from state to state. At both BetMGM Poker PA and BetMGM Poker MI, players will be competing for $380,000, while BetMGM Poker NJ players will be playing for $410,000.
That means there is $1.17 million guaranteed across the three BetMGM Poker USA markets, but there is more. Each state also has a $10,000 added Heads-Up Bracket Battle where players can test their one-on-one poker skills against either Berkey, Elias, or Neeme.
Additionally, each series features a Phased event. There are eight Phase I games in each market playing into the $75,000 Guaranteed Phase II Main Event on March 27, the final day of play in the series.
"We're thrilled that March Poker Mania will feature three poker titans, offering BetMGM players multiple new touchpoints with our brand," said Luke Staudenmaier, Director of Poker at BetMGM, in a recent press release.
"It's the first time that we've produced an online poker event in multiple states and with multiple hosts — simultaneously, and we're excited to further connect our players and our brand with MGM properties across the country," Staudenmaier further added.
BetMGM March Poker Mania: At A Glance
Dates: March 20 – March 27
Total Games: 19
Total Phase I Games: 8
Average Buy-In: $301
Median Buy-In: $215
Guarantee

PA: $380,000
MI: $380,000
NJ: $410,000

Special Signup Offer
100% deposit bonus up to $1000!
Up to $75 in

MTT

tickets on top of the bonus
Frequent

MTT

series with good guarantees
Great action around the clock
Please play responsibly. If you or someone you know has a gambling problem and wants help, call 1-800
GAMBLER
.
BetMGM's March Poker Mania Details
The series itself looks the same across all three BetMGM markets, with only the guarantees changing. In each of the newer markets of Pennsylvania and Michigan, players can expect to play for $380k in total guarantees across the series, while the more established New Jersey market will play for $410k.
In addition to the nightly Phase I games running every day at 7 pm that feed into the Phase II Main Event on March 27, there is at least one game every day. March 20 and March 27 feature three games plus Phase I, while all other days feature one extra game.
The best value game looks to be the Half-Price Progressive Knockout on March 20 at 6 pm. For just $109, players in PA and MI will compete for $30,000, while Garden State players will have $35,000 in the prize pool. This is the least expensive buy-in on the schedule, and the healthy guarantee makes it a very juicy event.
The other event to note will give players the chance to play heads-up against a hero. Darren Elias, Matt Berkey, and Andrew Neeme will all be active in their state's $10k Added Head's-Up Bracket Battle.
Residents of Michigan and New Jersey will get an extra bonus as well, with live events planned in both states. On March 23 and 24, Andrew Neeme will host a cash game and a sportsbook hangout at the MGM Grand Detroit, and on March 24 and 25, Darren Elias will host a sportsbook meet-up and a live poker tournament at the Borgata Hotel Casino & Spa.
The series comes fresh off the back of Bounty Blitz tournament series that concluded last Sunday.
BetMGM

USA

March Poker Mania Schedule
Date
Time

MTCT

Name
Total
Buy-In
PA/MI Gty
NJ Gty
March 20
5:00 PM

MARCH

POKER

MANIA

#1:

NLH

8-Max Warm Up
$535
$500
$40,000
$50,000
March 20
6:00 PM

MARCH

POKER

MANIA

#2: Half Price Progressive Knockout 8-Max
$109
$50
$30,000
$35,000
March 20
8:00 PM

MARCH

POKER

MANIA

#4:

NLH

Turbo 8-Max
$215
$200
$20,000
$25,000
March 21
8:00 PM

MARCH

POKER

MANIA

#6:

PLO

6-Max
$215
$200
$15,000
$15,000
March 22
8:00 PM

MARCH

POKER

MANIA

#8: Progressive Knockout 6-Max
$535
$250
$25,000
$25,000
March 23
8:00 PM

MARCH

POKER

MANIA

#10:

NLH

8-Max
$320
$300
$15,000
$20,000
March 24
8:00 PM

MARCH

POKER

MANIA

#12: Progressive Knockout 6-Max
$320
$150
$20,000
$25,000
March 25
8:00 PM

MARCH

POKER

MANIA

#14:

PLO

6-Max
$215
$200
$15,000
$15,000
March 27
5:00 PM

MARCH

POKER

MANIA

#17:

GTD

Main Event

NLH

8-Max
$1,060
$1,000
$100,000
$100,000
March 27
6:00 PM

MARCH

POKER

MANIA

#18:

GTD

Phase II Main Event

NLH

8-Max
$535
$500
$75,000
$75,000
March 27
7:00 PM

MARCH

POKER

MANIA

#19:

GTD

NLH

Second Chance Turbo 8-Max
$215
$200
$25,000
$25,000