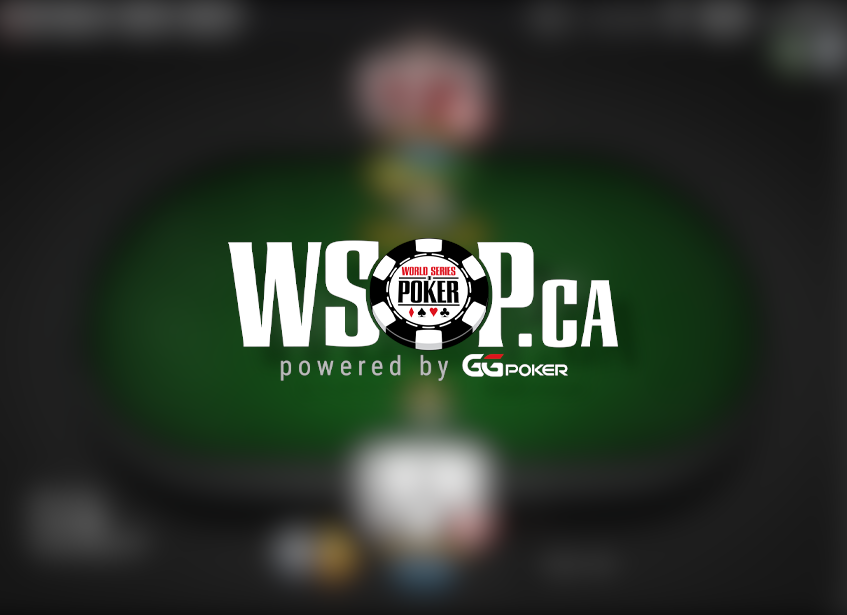 WSOP Ontario has solidified its place as leader of the cash game seats in the newly regulated real money Ontario online poker market and now commands a 77% lead on its next competitor, PokerStars, the latest figures reveal.
Last month, the network breached the 400 mark. It maintained that growth, hovering around 410 to 420 seats, per data observed by independent monitor GameIntel and available exclusively on the Poker Industry PRO platform.
It is larger than all the other online poker networks in Ontario combined, controlling the market with just north of a 50% share. All other combined networks, including PokerStars Ontario, the BetMGM Poker Ontario Network (BetMGM, partypoker, and bwin), and 888poker Ontario, make up the remaining 49.8%.
Ontario Cash Game Traffic: November 2022
| Network | Cash Game Seats | Market Share |
| --- | --- | --- |
| 888poker | 41 | 4.97% |
| BetMGM | 136 | 16.48% |
| PokerStars | 234 | 28.36% |
| Total | 411 | 49.82% |
| WSOP | 414 | 50.18% |
| Entire Ontario Market | 825 | 100.00% |
WSOP

Ontario: Key Highs Since its Launch
Gained further traffic following its launch in late September
Comfortably leading over PokerStars, the former market leader, with over 400 seats
Dealing more cash game hands than all the other networks in Ontario combined
Has the biggest cash game traffic in the entire regulated North American market
Successfully ran its inaugural Ontario-only Circuit and Online Bracelet Series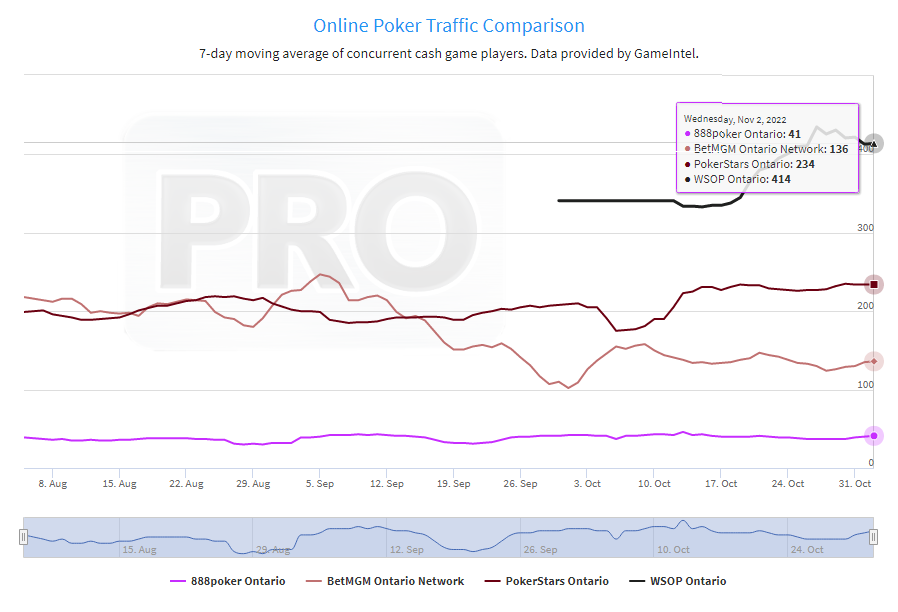 Want to get in on the action? Get your WSOP Ontario Download and start playing!
WSOP

Entered the Province Fully Prepared

WSOP was the latecomer to the Canadian province, acquiring the existing player base from GGPoker and migrating them to a new WSOP-branded platform using GG's world-class software. It launched in late September with much fanfare. Immediately after entering the market, it ran the province's first-ever Online Circuit Series, followed by an Online Bracelet Series.

These prestigious back-to-back tournament series coupled with generous welcome offers, helped it snatch the crown from PokerStars and the new room has shown no signs of giving up its king status.

In fact, since its launch week, WSOP.ca has seen cash game traffic rise 21%, putting it further ahead of PokerStars Ontario, which is currently reporting 234 concurrent seats, based on a 7-day moving average.

But PokerStars Ontario, which had been previously leading the market, has not been negatively affected by the entry of WSOP. It is reporting more concurrent players than before and is at its all-time peak. But its market share has fallen by half, from 58% before the launch of WSOP.ca to 29%.

BetMGM Ontario — which shares its player pool with partypoker and bwin — has not had a bad outing. Much like PokerStars, it has added traffic, averaging 136 concurrent seats, up from 110 on September 30, but nowhere near its peak of 247 seats seen in early September. It is currently holding a market share of 16.48%.

Meanwhile, 888poker Ontario, the first to set foot in the regulated Ontario market, is struggling to boost its traffic and is stuck around 40 concurrent seats. It sits at the bottom with a share of nearly 5%.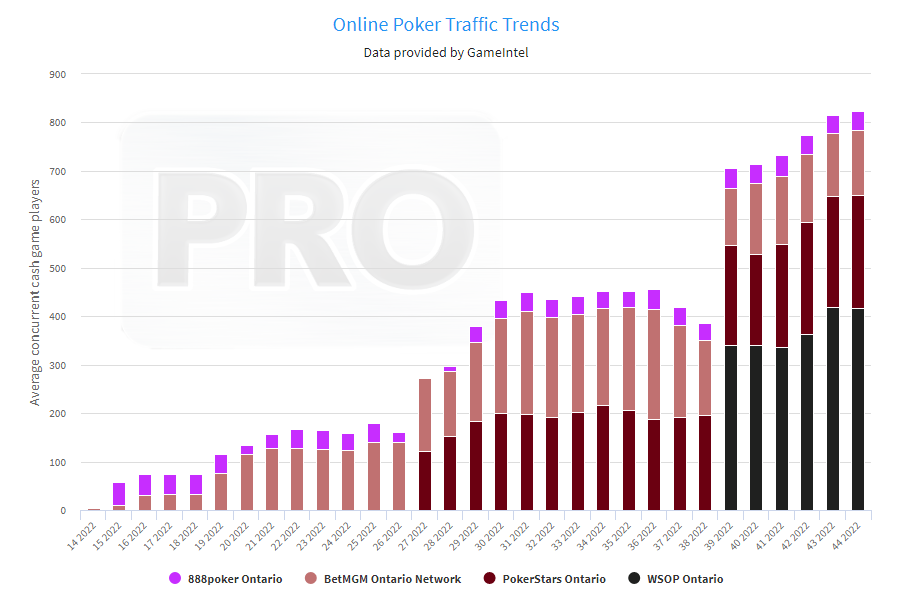 Thanks to the launch of WSOP, the entire Ontario online poker market has touched over 800 concurrent cash game players. It is just a few dozen seats away from remarkably overtaking the whole US regulated online poker market, comprising New Jersey, Nevada, Delaware, Pennsylvania, and Michigan.
Suppose we add the long-standing Canada Poker Network, running on outdated IGT Poker software, serving players in Quebec, British Colombia, and Manitoba. In that case, the Canadian-regulated market reaches 977 seats, nearly 100 more than the US regulated market.
Overall, the addition of WSOP to the Ontario regulated market has had an additive effect, with the market being up by more than double since late September.
Ontario online poker rooms vs. Other Markets: Cash Game Traffic on November 2
Network
Sites
Avg Cash Players
888
888poker Ontario
41
BetMGM
BetMGM Poker, partypoker, bwin
136
PokerStars
PokerStars Ontario
234

WSOP

WSOP

Ontario
All Ontario
825
Canada Poker
LotoQuebec, Playnow
152
All Canada
977
NJ, NV, DE

WSOP

, 888, Delaware racinos, PokerStars, BetMGM, partypoker, Borgata
304
Pennsylvania
PokerStars,

WSOP

, BetMGM, Borgata
298
Michigan
PokerStars,

WSOP

, BetMGM
286
All USA
888
It is far higher than its sibling networks in the US market in New Jersey, Pennsylvania, and Michigan — although WSOP uses 888's software to run its operations in the US market.
WSOP

Networks in North America Traffic Stats
State/Province
Brands
Software
Current Traffic
All-time High
Ontario

WSOP

Ontario
GGPoker
414
435 (Oct 2022)
New Jersey

WSOP

, 888, Delaware Casinos
888's Old Software
178
499 (Apr 2020)
Pennsylvania

WSOP

Pennsylvania
888's New Software
53
97 (Feb 2022)
Michigan

WSOP

Michigan
888's New Software
55
88 (Apr 2022)
WSOP

Ontario Took the Lead Right Off the Bat — Despite Being Last to Enter

Though WSOP was the last major poker network to enter Canada's largest province, it displaced PokerStars from the top spot the same week it launched. This shows that the first-mover advantage did not work out in Ontario.

But there were reasons for it. Those who were the first to enter the province (888 and BetMGM) were competing in a local market with a segregated player pool and limited game offerings. Meanwhile, PokerStars and GGPoker, continued to serve the Ontario online poker players under their offshore licenses — thanks to a temporary move sanctioned by the regulator while their license applications were pending.

This created a peculiar de facto two-tiered market where regulated operators offered an inferior product to those that remained unregulated. But PokerStars eventually transitioned into the regulated market in late June, leaving GGPoker the sole operator to take advantage of this sanction.

This would have persuaded many players to switch to the GGPoker platform from the existing segregated networks, as GG was the last to offer extensive tournament guarantees and expansive game offerings to Ontarians.

With GGPoker/WSOP entering the white market, the de facto two-tiered system finally ended, creating a fair environment with all the operators operating in a ring-fenced pool.

WSOP's powerful brand plus the GGPoker's player base, its generous welcome offers, and GGPoker's superior software have thus given it a sizeable lead over PokerStars and other networks.