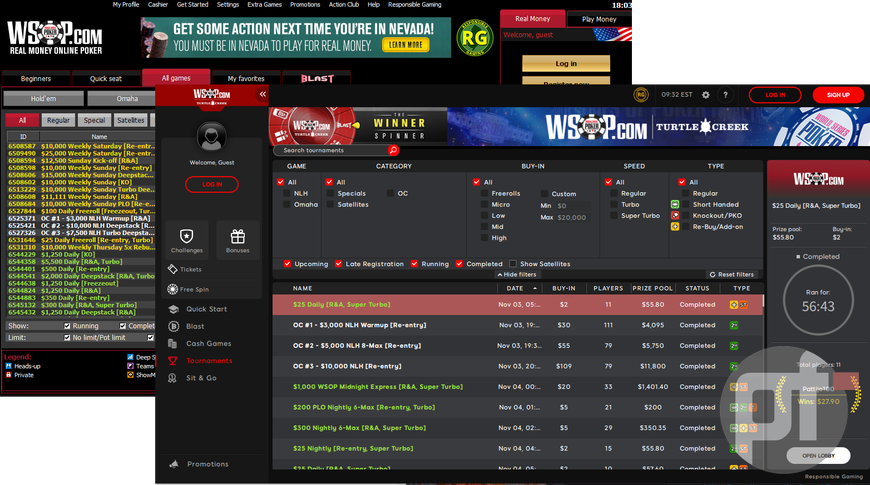 If you're from New Jersey or Nevada and have been playing online poker on the WSOP platform, you might have wondered why WSOP still uses the classic 888poker software in these two states while WSOP PA and WSOP MI platforms are running on the new cutting-edge 888 software.
In a world that has advanced in technology by leaps and bounds, consumer demand for taste and preferences has changed dramatically recently, and users' attention has decreased. Yet, the WSOP uses clunky and outdated software reminiscent of poker clients seen in the late 2000s.
The WSOP platforms with multi-state online poker player pools in New Jersey, Nevada, and Delaware have not seen a major revamp to its client for nearly a decade. The lobby looks about the same as it did a decade ago, and the software misses out on many features crucial for sustainability.
Last verified: August 2023
Special Signup Offer
100% deposit bonus up to $1000!
Up to $100 in free play with first deposit
Top-quality software
Compete for

WSOP

bracelets & rings
Please play responsibly. If you or someone you know has a gambling problem and wants help, call 1-800
GAMBLER
.
For instance, the old software does not support Progressive Knockouts (PKOs) — one of the most liked tournament formats. There is also no ability to multi-table or support the Pot-Limit Omaha variant. And not to mention the WSOP US app, which is well behind the times.
Not that the older version is unplayable, but the new version brings it more in line with modern software design, adapts to today's ever-changing world, and puts it on a par with its competitors.
Also, the software upgrade would be necessary should WSOP decide to merge its existing NJ/NV platform, which is using the old 888 software, with WSOP MI, which is powered by 888's new software platform.
Poker 8 — The New 888 Software Which
WSOP

Actually Uses in PA & MI

When WSOP entered the new markets in Pennsylvania and Michigan in 2021 and 2022, it went live with the state-of-the-art 888's Poker 8 software. It represents a significant overhaul of the classic old-looking desktop and mobile apps. It is an improvement to the decade-old software by offering enhanced filtering ability, a sleeker & more modern look lobby with easy access to all relevant information, improved filters, and a more responsive client.

Along with a slick new interface & design, the new software also supports PKOs, Multi-flight tournaments, the latest craze in poker — Mystery Bounty, support for PLO tournaments and the ability to multi-table on mobile phones, new hand replayer, a biometric login feature on mobile, improved graphics, portrait mode on mobile, emojis, and a lot more.
WSOP

Poker 8 Software: At a Glance
New desktop client on Windows and Mac

Clean new lobby
Redesigned filters
Overhauled lobby design
Cleaner tables
New sound effects and animations

New Features

PKO

Tournaments
Multi-Flight Tournaments
Mystery Bounty

New mobile app for Android and iOS

Portrait design
Slick new layout
Play up to four tables simultaneously

PLO

available
Biometric Login

Where has it been deployed?

All the markets with the exception of New Jersey, Nevada and Delaware

WSOP

also utlizies Poker 8 software in Pennsylvania and Michigan
New Jersey and Nevada were the next in line but yet to see the rollout
The new software has everything that players in today's world may desire. 888poker received a couple of trophies for its new poker platform at the Poker Listings Operator Awards in 2020 for the categories: Best Beginner Software and Most Improved Software.
The new 888 software the operator bills as "Poker 8" has been live for over three years and rolled out in its multiple markets, including in Ontario, where it launched earlier this year. However, WSOP, which uses the 888 software in New Jersey & Nevada, has yet to switch to the modern platform.
So the big question is — why hasn't WSOP updated its poker software in New Jersey and Nevada?
Neither WSOP nor 888 have given specifics about the reasons behind the delay, leaving players and analysts to only guess at the situation preventing a Poker 8 rollout. However, we can speculate that one of the four following situations — or a combination — is playing out internally.
Last verified: August 2023
Special Signup Offer
100% deposit bonus up to $1000!
Up to $100 in free play with first deposit
Top-quality software
Compete for

WSOP

bracelets & rings
Please play responsibly. If you or someone you know has a gambling problem and wants help, call 1-800
GAMBLER
.
What could be stopping

WSOP

from upgrading its software in NJ/NV?
Regulatory/Logistics:

WSOP

could be awaiting regulatory approval from either of the three regulators — Nevada, New Jersey, or Delaware — which could delay the rollout of a replacement for the classic software. Even requiring minor changes to the platform or adding a new format may require approval from the regulators, which often takes time to implement. Even 888's own platform in New Jersey and the three racinos that use the aforementioned software have yet to undergo an upgrade.
Friction with 888: Another reason is that there could be some conflict or friction with its long-standing partner, 888, who has been a software supplier to

WSOP

for nearly a decade. In recent years,

WSOP

has ditched 888poker as its official sponsor for the World Series and instead went with GGPoker as the primary sponsor and the go-to partner for offering official online satellites. The partnership has done wonders for both brands. Indeed, in Ontario,

WSOP

chose GGPoker to power its

WSOP

.ca platform instead of joining hands with 888, which it has done in every other market where it operates. Perhaps,

WSOP

opting to choose GGPoker over 888 may have irked the latter.
Waiting for Shared Liquidity:

WSOP

could also be waiting for Michigan regulators to approve the merger of its existing NJ/NV/DE player pool with MI before it rolls out the new software. However,

WSOP

MI software works under the new engine, and

WSOP

NJ/NV still uses the venerable software platform. For the merger to perform smoothly, the operator will probably have to upgrade its software to be compatible with what

WSOP

offers in the Great Lakes State.
Perhaps Looking to Switch to GGPoker's Software: We'll discuss this further in the article's next installment, including why we think this could happen. Keep watching this space for Part II of this series.
Whatever may delay the rollout of Poker 8 in the remaining US states, the sooner they upgrade, the better. WSOP has been enjoying control of the US online poker market thanks to its unique position in NV-NJ-DE, but with the impending merger of MI, WSOP will face increased competition once its rivals form a multi-state player pool. A modern-looking poker client is a must if WSOP wants to stay competitive.