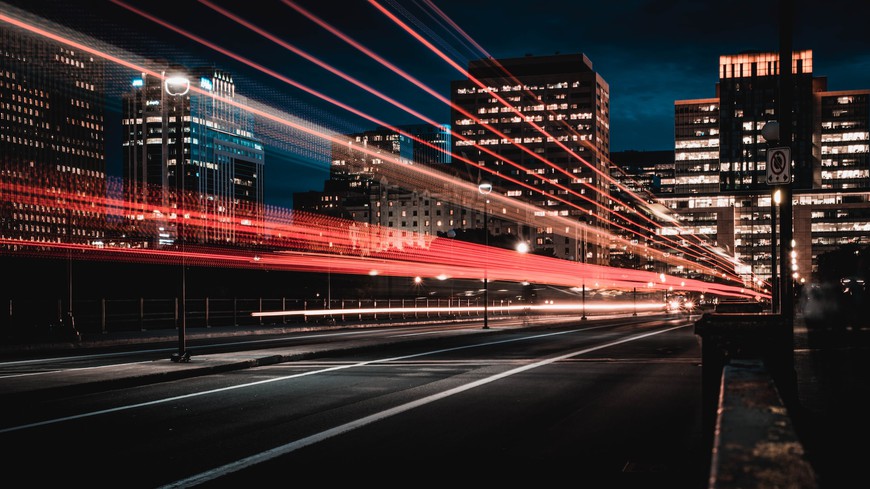 In the global market, GGPoker has maintained its dominance in terms of cash game rankings but not in the regulated Ontario online poker market where PokerStars is showing who's the boss.
For the 17th consecutive week, PokerStars Ontario has held a solid first place in Canada's largest province, averaging close to 280 concurrent cash game seats, based on a seven-day moving average.
However, its traffic has slightly declined this month, from a peak of 320 average players in February, down by around 15% in March. But still, it has a decent lead over second-ranked GGPoker Ontario, which runs in partnership with WSOP, by a margin of 20%.
WSOP/GGPoker Ontario has maintained the same traffic, at approximately 220 concurrent seats, over the past month, as per the cash game statistics tracked by independent monitor GameIntel and available exclusively on the Poker Industry PRO platform.
The margin between the two was wider at the start of the year, with a gap of over 100 seats, but now PokerStars' lead over GG has diminished to 55 seats.
Third-placed BetMGM Poker Ontario network, which comprises three skins — partypoker, bwin, and BetMGM — has seen a sharp fall in its cash game activities, down to 128 seats. At the start of the month, the tri-skin network was ahead of WSOP/GGPoker Ontario, with over 230 seats.
Meanwhile, 888poker — the first entrant to the market continues to trail and is reporting just over 30 seats.
PokerStars Ontario: Key Points
PokerStars has been live in Ontario for nine months
It has pretty much led the market for most of its existence
Currently averages 280 concurrent cash game seats
Maintains a market share of 42%
Has kicked off its first-ever Spring Championship series —

ONSCOOP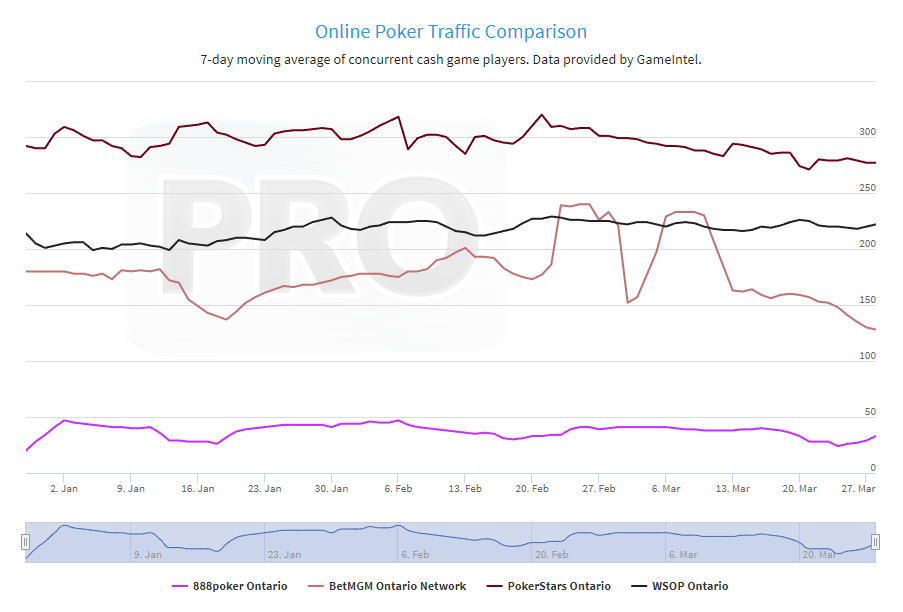 Though PokerStars has lost a bit of traffic from February, it has maintained the same market share of 42% seen last month. GGPoker Ontario saw a slight uptick from 30% to 33.6%, while 888poker lost its share marginally from 6% to 5%. BetMGM Ontario has seen a drop of 3% from the last reported figure of 22%.
Ontario Online Poker Rooms and Their Market Shares
| Operator | Market Share |
| --- | --- |
| PokerStars | 41.97% |
| WSOP/GGPoker | 33.64% |
| BetMGM | 19.39% |
| 888poker | 5.00% |
Ontario Online Poker Market Nearing One-Year Anniversary
The real money Ontario online poker market will be one-year-old next week. On April 4, 2022, 888poker Ontario became the first regulated online poker room to go live. Despite being the first operator to enter the market, it has remained at the bottom for most of its history.
BetMGM Poker and its sister skins partypoker Ontario and bwin Ontario, followed suit launching in mid-April.
Ontario players had to wait a couple of months to see the third option when PokerStars legally entered the market in late June, while GGPoker, in partnership with WSOP, opened its doors in late September.
The first nine months proved a combat zone as all four networks tasted the number one position in cash game rankings. The first month belonged to 888poker, but after that, BetMGM and PokerStars battled for the pole position on multiple occasions.
Then came WSOP/GGPoker Ontario on September 30. Immediately after going live, the network rocketed to the number one spot and averaged over 400 occupied cash game seats — far ahead of its rivals. It appeared that GGPoker would continue its dominance in the province, but that was not to be seen.
PokerStars Ontario fought back and reclaimed the top spot. Since then, it has been untouched, solidifying its number-one position for nearly four months.
BetMGM Ontario gave a good fight for second place, and for a brief period, it topped GG but has returned to its regular position of third place.
Today, the market has stabilized, with each network serving for at least six months. However, the overall market is down to below 700 — from its peak of around 850 in November.
The biggest open question is how the top two networks will stack up against each other in the summer. GGPoker Ontario will likely host a WSOP online bracelet series later this year. It is expected to attract significant traffic during that period, but until then, PokerStars will likely remain on top.
However, it is far too early to predict what the market will look like later this year or even as far as the following year. There is a likelihood that the competition will further increase with the potential entry of the iPoker network in Ontario — or even possibly a Run It Once Poker Ontario launch.
But still, PokerStars and GG are likely to rule the Ontario market for the foreseeable future though BetMGM is expected to give tough competition.-