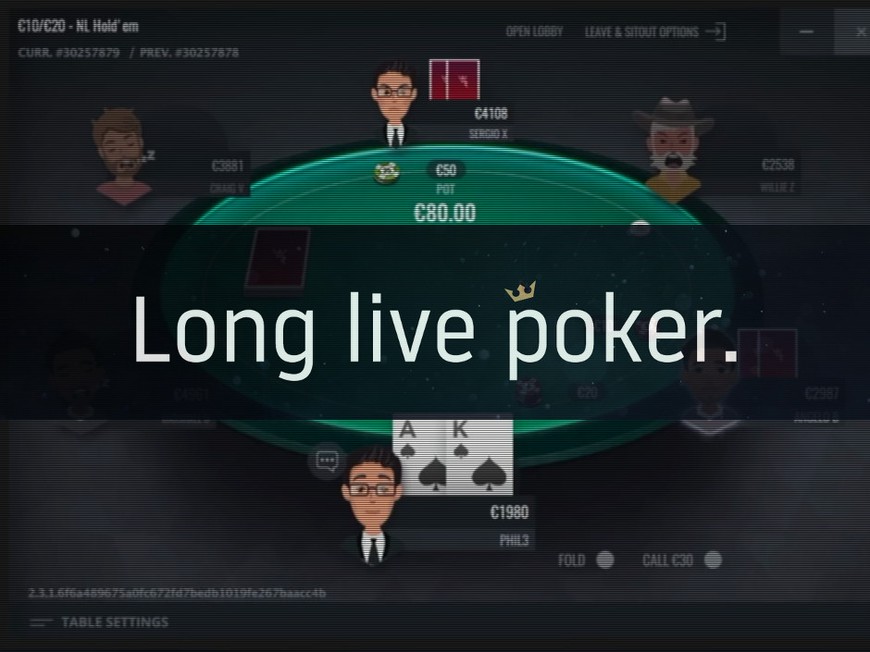 It has been over a year since Run It Once Poker (RIO) halted its dot-com online poker operations to bring its innovative platform to the newly rejuvenated US market.
"We're far from finished," said Phil Galfond, the founder of the upstart Run It Once Poker, when he announced the closure of the room in late December 2021.
The global online poker community had been rooting for Galfond and his team to succeed ever since the project was first announced back in 2016. Indeed, when the site went live in 2018, it immediately succeeded in generating a significant level of buzz thanks to its various innovative and unique features, which made RIO stand out from the crowd.
Last verified: August 2023
BetRivers Casino Special Signup Offer
Losses over first 24h covered up to $500!
Best wagering requirements out there
Trusted & fully regulated online casino
Play slots from top game providers
Please play responsibly. If you or someone you know has a gambling problem and wants help, call 1-800
GAMBLER
.
These included the revolutionary Splash the Pot system, which randomly added money directly to the cash game pot; unique Dynamic Avatars, which were based on players' recent play history; a built-in HUD dubbed HeroIQ; SNG Select, a blend of classic sit and go's and lottery-style sit and go's; and Legends, the operator's weekly cashback program that rewarded up to 75% and a lot more.
But despite its efforts, the site failed to gain enough traction to keep its doors open. The site closed on January 3, 2022, and all real money games and sit & gos were suspended.
Galfond pointed to declining traffic over the previous 18 months as one catalyst for closing and also cited development problems and mounting costs in a candid blog post announcing the closure in December 2021.
Two months later, its path to enter the regulated US market was made public after Rush Street Interactive (RSI), a leading igaming operator in the US, announced that it had acquired Galfond's brainchild product for $5.8 million and would use its online poker platform to integrate into its existing gaming vertical.
A recent tweet by Galfond suggests that the US launch will retain the Run It Once naming though it will be powered by BetRivers — the flagship online casino brand of RSI.
As Run It Once Poker prepares to enter the US regulated market, let us go through some of the unique features that set it apart from other online poker rooms — and will likely return for US players.
To know more about RIO's plans for the US online poker market, including where it could launch and when, check out our in-depth guide to Run It Once US.
1) Splash the Pot — RIO's Revolutionary Rewarding System
Perhaps the most innovative and revolutionary feature that created quite a buzz in the media when the site launched was Splash the Pot (STP). Unlike anything seen before, it was the operator's unique take on the rewards system. As the name implies, rewards were added directly to the pot randomly.
Initially, the loyalty program returned 51% rake of all rake taken at the table in the form of extra money distributed and added to cash game pots. This was later changed to 30% to make way for the room's weekly cashback program, Legends, but more on that later.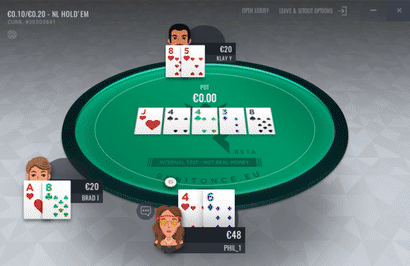 How big the pot "splashed" was based on the pot size on the previous hand — The bigger the pots played at the table, the higher the rewards given out. A splash ranged from 1 big blind to 1000 big blinds on rare occasions. Each time a splash of 100 big blinds or more was triggered, players were forced "all-in or nothing," meaning they competed only for the splashed pot.
The feature added new dynamics to the game and served as an additional form of bot deterrent, and it would be surprising if the US relaunch did not include this game-changing feature. Pokerfuse expects some tweaks to be made to the STP once the site goes live in the US markets.
2) Dynamic Avatars
Another unique feature that RIO offered was the Dynamic Avatars system, where each opponent had a random avatar that takes on a unique expression based on the player's recently-observed play style. The design featured eight facial expressions — asleep, passive, angry, and others.
These expressions were based on vital preflop statistics available in heads-up displays (HUDs), such as Voluntarily Put Money in the Pot % (VPIP), Pre-Flop Raise % (PFR), and 3-Bet %.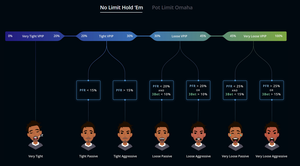 An opponent playing too tight will have their expression shown as 'asleep,' while someone playing very aggressively will have an angry face on their avatar. The expressions only changed after a player played ten hands.
Dynamic Avatars were implemented to disincentivize the use of third-party tools such as HUDs and help protect casual players by removing any edge that players might gain from finding a way around the policy and illegally operating HUDs.

Last verified: August 2023
Special Signup Offer
100% deposit bonus up to $1000!
Up to $75 in

MTT

tickets on top of the bonus
Frequent

MTT

series with good guarantees
Great action around the clock
Please play responsibly. If you or someone you know has a gambling problem and wants help, call 1-800
GAMBLER
.
3) HeroIQ — Optional Built-in
HUD
Six months after opening its doors to the public, the operator deployed an optional built-in HUD, dubbed HeroIQ that tied in perfectly with the room's Dynamic Avatar system.
The built-in HUD provided the three most common preflop statistics -VPIP, PFR, and 3-bet percentage- which has long been the "default" heads-up display statistics in third-party software. Again, much like the Dynamic Avatars system, the HeroIQ stats were displayed after a minimum of ten hands were played.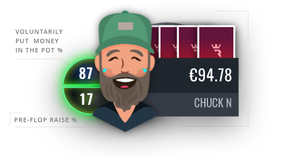 The VPIP and PFR statistics were shown next to the avatar of all players at the table, including their own. When the player hovered over the display, the 3-bet percentage was shown, along with two gauges and the number of hands observed. These stats were also color-coded with a simple heat map ranging from green to red.
While the Dynamic Avatars categorized the player into one of eight different expressions, HeroIQ showed the numbers behind the avatar.
Once Run It Once Poker US goes live and (re-)launches HeroIQ, it will be the first operator to launch a built-in HUD in the US regulated online poker market.
4)

SNG

Select
SNG Select was the operator's unique take on lottery jackpot sit and gos. The game offered both standard sit and gos, called Classic, and lottery sit and gos, called Cub3d. Cleverly, it used the same player pool for both games. This means that games go off quite fast, even during quiet times.
The Classic version was relatively straightforward: Players competed for a fixed prize based on the total prize pool minus the rake. The Cub3d version worked like the proven hit lottery-style SNG format, where the prize pool was randomized and could be anything from 2 times the buy-in up to 1500 times the buy-in.
Regardless of which players chose, the games were three-handed and in the winner-takes-all format, although if players were playing Cub3d, there were special "Glitch" random prizes that could be triggered, rewarding them with a bonus even if they lost.
Once RIO relaunches for players in the US, SNG Select will undoubtedly be one of its main game offerings.
5) Legends — Operator's Traditional Weekly Cashback Program
On top of Splash the Pot, RIO also offered a standard loyalty program called Legends. The rewards system encouraged high-volume play by returning more money weekly to players that reach specific play-through targets.
The program had five reward tiers, from the basic "Clubs" to "Legends," the highest tier. Each of these tiers consisted of five levels, except for Legends, which had unlimited levels. Upon completing every level, players were rewarded with cash added directly to their bankroll, plus they received a level-up boost (free points towards unlocking higher levels).
Players earned one point for every €0.05 in rake paid.
The entry-level Clubs tier started at 10% rakeback, achievable for anyone who earns at least 60 points, equivalent to paying just €3 in rake. These cash rewards increased as players generated more and more points, thus incentivizing players to put in higher volume.
The final tier, Legends, guaranteed €900 in cash rewards for every 90,000 points (€4500 in contributed rake) a player accrued during a week.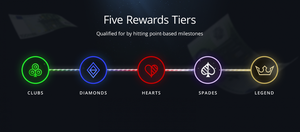 There were also opportunities for earning points faster, including bonuses for starting tables and stopping them from breaking, for playing regularly, and for weekly "streak" bonuses, allowing rakeback percentages to climb higher.
Combined with the Splash the Pot rewards program, the rakeback returned to players ranged between 30% to 75% (for those on the highest Legends tier).
The room will likely retain its Legends weekly cashback program — though there might be some tweaks once the site goes live.

Last verified: August 2023
Great Welcome Bonus!
100% deposit bonus up to $600!
Play one hand & get $100 in bonus play funds
Top-quality mobile app
Best online

MTT

schedule
Please play responsibly. If you or someone you know has a gambling problem and wants help, call 1-800
GAMBLER
.
6) StreamR — Secondary Rewards Program for Streamers
In addition to the Splash the Pot and Legends loyalty systems, the room also offered a secondary rewards program called StreamR. The program encouraged players to stream their play live on Twitch in exchange for 50% to 110% in additional rakeback based on the number of viewer hours accumulated in a month.
The program comprised four levels, with the first requiring 200 hours of watch time for 50% rakeback, while Level 4, the highest tier, required 20,000 hours of watch time for 110% rakeback. This level automatically qualified a player for the RIO Team Pro status.
This innovative rewards program could make a comeback once the room relaunches.
7) Auto Seating & Fixed Buy-in
RIO's international version offered cash games through the blind lobby system of auto-seating, with all buy-ins fixed at 100 big blinds. The policy was implemented so that games are quick to join and fair to play.
Indeed, the system reduced players' ability to hunt specific opponents by removing the list of tables and players playing on the table. Instead, players were just presented with a choice of buy-in and were automatically moved to an available seat — eliminating seat selection.
Furthermore, along with a blind lobby, the room implemented a fixed buy-in system. The fixed buy-in system was partly created to "force bankroll management" on recreational and professional poker players.
We expect RIO V2 to continue with the auto seating and fixed buy-ins. If it does implement this policy, RIO would be the first online poker room in the regulated US market with a blind lobby.