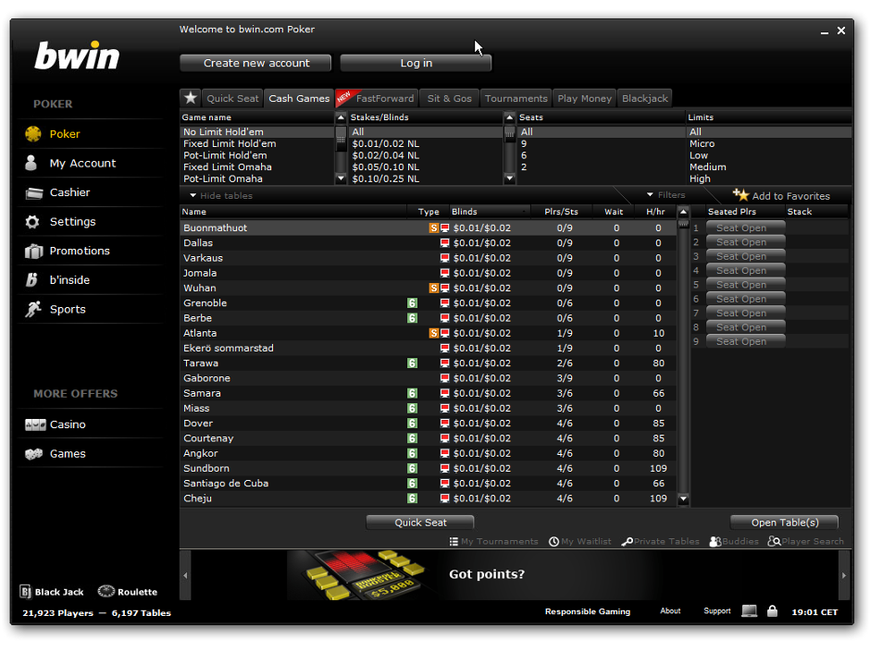 Key Takeaways
Merger of bwin and Party Gaming in 2011 made bwin's Ongame Network expendable.
Ongame was eventually sold to Amaya in October 201.2
bwin migrated its players to the PartyPoker Network.
Former bwin players and players on the PartyPoker Network now have the benefit of increased liquidity.
bwin.com successfully transitioned its player base onto the PartyGaming platform on Tuesday, meaning poker players on bwin now share the same player pool as PartyPoker.
Although no announcement was made prior to the transition, bwin.party was committed to completing the move before year's end.
For bwin players, they will see a significant increase in real-money games running. PartyPoker has approximately double the active cash game players as Ongame. They will also have access to Party's fast-fold product.
In a bwin blog post today confirming the transition, late registration tournaments and custom avatars were among the features touted on the new platform.
PartyPoker players should see a noticeable bump in new traffic, assuming most bwin players move onto the new software. Much of the increased liquidity will be weighted towards the micro-stakes. Various estimates put bwin's player base at 30-50% of the Ongame Network, which could mean a 15-25% bump in traffic at Party.
Players on other Party skins, such as WPT Poker and Empire Poker, will also naturally observe the traffic increase.
The bump is likely to put it ahead of perennial rival iPoker for number 3 spot on PokerScout's much-quoted global ranking of poker networks, ordered by average cash game traffic. It will also close the gap on Full Tilt Poker, which re-entered the ranks at number 2 when the network relaunched, and where traffic numbers are in decline and have yet to plateau.
For players on the other Ongame skins, there will be a drop in traffic. However, many of bwin's Ongame tables were exclusive bwin-only tables, so the drop may not be pronounced, and may not be so noticeable outside micro-stakes.
The move has been on the cards since the merger of the two gaming giants PartyGaming and bwin in March 2011. A year later, the formal sale of Ongame was announced, and was expected to completed by the end of 2011.
However, the sale was delayed, as interested parties ducked out of the deal.
The group was still committed to a merger of player pools by the end of 2012, and when the final sale of Ongame to Amaya happened in October 2012, the transition was able to be completed on time.
Correction Dec 19: Article originally stated the bwin/party merge was in 2010, not 2011.