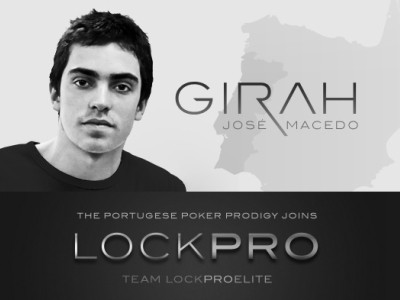 It is a story that apparently has no end. In the latest twist to the ongoing drama surrounding "Girah," his ex-sponsor Lock Poker announced Thursday it was not simply satisfied with cutting ties with Macedo.
"Lock is currently pursuing legal action against José so we are unable to make a substantial comment at this time," announced Lock's poker room manager Eric Lynch. The statement continues:
"We do realize that ongoing silence can lead to people jumping to conclusions. What happened goes against the very core of our player based philosophy and we intend on exercising our legal rights in the most severe degree. We will keep you updated as things progress."
Hours after Macedo admitted to a hole-card sharing scam that netted him over $30k, Lock Poker announced it was cutting ties with Macedo, stating that he had "defrauded" players.
Questions still surround Lock Poker for its apparent inability to spot a $100k chip dump from Haseeb Qureshi to Macedo, despite auditing his account and detecting multi-accounting.
In an effort to balance the negative, Lock Poker announced last week the signing of Spain's Leo Margets, replacing Macedo's empty seat in the "LockPRO Elite" roster. More good news should come next week, as Merge skins begin to accept players from the United States once again.
This latest statement clearly shows Lock Poker is not happy to just sweep the Girah scandal under the rug.
Liked this story? You should follow us on twitter and keep updated.