The long-awaited Run It Once Poker site is right around the corner. It successfully completed an extended beta test in September and October, with around 1000 registered players chosen in its biggest real money beta test to date.
RIO Poker is an upcoming online real money poker site headed by Phil Galfond, a professional poker player, a coach, and three-time WSOP Bracelet winner. The project was first revealed two years ago as Galfond felt that the online poker sites at that time lacked "transparency" and he was looking for a "fair, honest, transparent" poker site.
Initially, the site was supposed to launch in Q1 2017. However, the project kept delaying for various reasons but now the site is almost ready and will be launching this week.
The online poker room is licensed in Malta and regulated by the Malta Gaming Authority. The company also holds a license from the UK Gambling Commission to launch in the UK.
Here are the answers to some of the questions that you may have on Phil Galfond's upcoming online poker site.
Sign up to Run It Once today and enjoy up to €600 in deposit bonuses! »
When is the site launching?
RIO Poker will go live for real money for the first time publicly on Wednesday, February 6.
The site has been in development for two years and has been doing private beta testing since April 2018. On September 13, the site went live for a special invite-only real money beta test for the first time. Hundreds of players around the world participated in this beta testing that ran for three hours from 11:00 to 14:00 EST.
Following a successful first beta test, it ran another beta test in October. However, during this beta test, many players faced technical issues such as long delays between the dealing of the hands, crashes, payment and login issues, among other bugs. However, most of these issues including the pause issues have been fixed now.
Will the online poker room be available in my region?
The site operates internationally under a Malta license—so if you usually have access to the international player pools on sites like PokerStars, 888, and partypoker, you should be able to access RIO Poker when it launches. This includes Canada, South America much of Europe, including Sweden, Finland, Netherlands, Russia, and Germany (with the exception of one state). It is available in the UK too, thanks to RIO's UKGC license.
The company is considering its options in the smaller licensed jurisdictions, like Denmark and Bulgaria. It is not expected to be live in these jurisdictions at launch. Similarly, jurisdictions with segregated player pools are also understood to be on its radar—Spain, France, Italy, Portugal etc—but not on the immediate roadmap.
Due to the legal situation, the site will not be available across the United States. The operator has not indicated any interest to enter the legal state based markets of New Jersey or Nevada, nor future states expected to go live with real money online poker, like Pennsylvania and Michigan.
Here's what the terms and conditions say: "Games for real money shall only be available to players residing (and physically located) in a jurisdiction which does not prohibit the offering of such games by persons licensed in Malta."
Players residing in the following full list of countries cannot participate in any real money games or create an account on RIO poker: Afghanistan, Australia, Belgium, Bosnia and Herzegovina, Bulgaria, Democratic People's Republic of Korea, Denmark, Estonia, France, Germany (State of Schleswig-Holstein), Greece, Guyana, Iran, Iraq, Italy, Lao People's Democratic Republic, Portugal, Romania, Spain, Syria, Uganda, United States of America, Vanuatu, Yemen.
What games will be available at launch? At what currency will the games be available?
The first phase of launch will offer only poker cash games with both No Limit Hold'em and Pot Limit Omaha variants. Cash games will be offered as 6-max and the games will run in Euro (€) currency.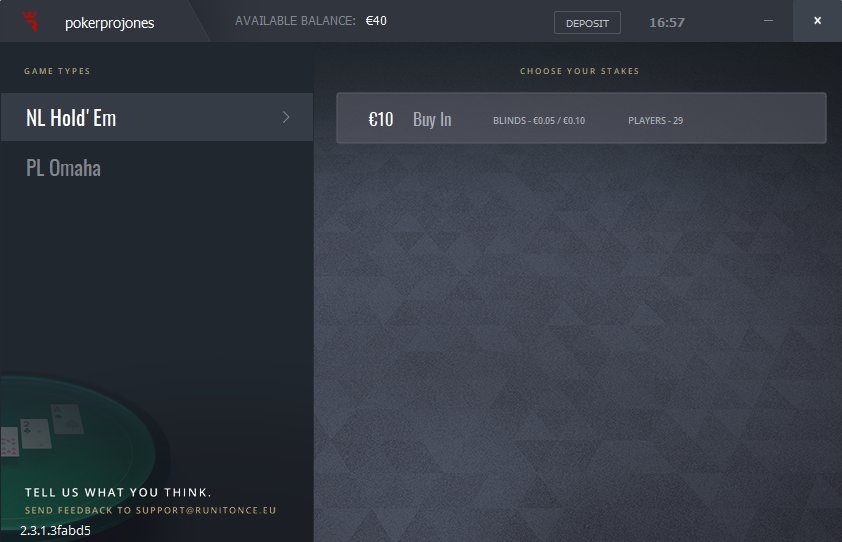 The site expects to launch Tournaments, Sit & Go's and other formats in its second phase launch. Phil Galfond has also said that he wants to offer other niche variants including mixed games as well. Short Deck Poker, also known as Six Plus Hold'em is also on company's radar. However, the company's first priority is to launch tournaments and sit & go's ahead of the mixed games.
What are my Deposit/Withdrawal Options? Will the site accept cryptocurrencies?
During the real money beta test deposit and withdrawal options were Visa/MasterCard, Neteller, Skrill, ecoPayz, bank transfer powered by Trustly, and AstroPay. However, depending on the player's location, these payment methods may vary, and the options could change at launch.
The site is not expected to accept cryptocurrencies at the time of launch—but it could be on the roadmap. Phil Galfond stated on Reddit when asked about his site will accept cryptocurrencies:
I view this as one of the top priorities among the things that we haven't solved yet. Regulations regarding crypto transactions are evolving quickly, and we are investigating options which are compliant with our regulators' requirements. I am sure that we'll be able to eventually, but the when = as soon as they let us
Will players be able to choose their own table or seat? Also, will players be able to join the cash game table with a customized buy-in?
No, players won't be able to pick their own table or seat. The site has adopted blind-lobby functionality which it calls "AutoSeat." Under this system, players simply choose the game and stake and are automatically taken to an available seat. If no seat is immediately available, players join a global waiting list.
All the cash games will have a fixed buy-in of 100 big blinds.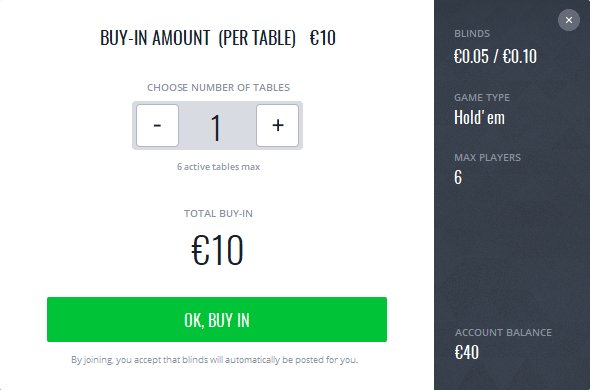 Will there be any cap to the number of tables a player can play?
Yes, cash game tables will be limited to six tables for every player. Phil Galfond in one of his blog updates asked the poker community to vote whether four- or six-table maximum would be better for the site, laying out the pros and cons for both.
"I've seen table caps discussed in many places … these days, public sentiment seems to have shifted in favor of a low table cap," Galfond said in his blog post.
"People argue that mass multitablers are 'bad for the games.' Personally, I believe that in large part, the 'right' table cap will change over time, based on the player pool, skill gaps, and a number of other factors," he added.
The community voted for a six maximum, and hence the table cap is six tables.
Has the site announced the rake structure? What is the rewards program or rakeback structure?
Yes, RIO Poker has revealed its rake tables along with its primary rewards program: "Splash the Pot."
More details can be found here.
Phil Galfond has also announced a unique program that will be rewarding players who stream while playing on Run It Once Poker with up to 110% in net rakeback.
A four-level program called "streamR" will be introduced. Players on Level 1 will need 200 hours of "watch time" and they will receive 50% net rakeback. Similarly, Level 4 will require 20,000 hours of watch time and players will be rewarded 110% rakeback.
More details on Run It Once streamR rewards program can be found here.
Sign up to Run It Once today and enjoy up to €600 in deposit bonuses! »
Will the use of HUDs and other third-party tools be permitted?
No, HUDs will not be allowed. Instead, the software will provide an inbuilt system that will act as a HUD through its unique Dynamic Avatar feature (see below).
As for other third-party tools, the answer is no—the site will take a hard-line stance against any tools that are used during gameplay to assist the player. The site's terms and conditions say:
The use of any software program which facilitates artificial intelligence or automated play is strictly prohibited, and the company will take proactive measures to detect and prevent any use of prohibited software.
All other third party poker assistance programs are prohibited during gameplay. This includes any software that provides information about the playing habits or actions of the other players at the table, software that provides advice on playing strategy, or any software that interacts directly with the client including scripts or macros. This prohibition applies to all offerings unless explicitly stated otherwise.
How does the Dynamic Avatar system work?
Dynamic Avatar system is a unique innovative industry-first feature that has been implemented as part of the company's plan to disincentivize the use of HUDs and "bumhunting". The site has not revealed the full details of its unique Dynamic Avatar system. However, it is believed that dynamic avatars work based on how players play their hands.
"Our Dynamic Avatars only take into account hands you've played against an individual opponent, just like your own HUD would, so you may display an expression to one opponent that is different than what your other opponent sees," wrote Phil Galfond in May.
For example, a player who plays "loose aggressive" will show an angry face, a player who plays "very loose aggressive" will show an enraged face. Similarly, a player who doesn't play too many hands displays "sleepy" expression. A player who is new to the table will appear with no expression and will be labelled as "New Player".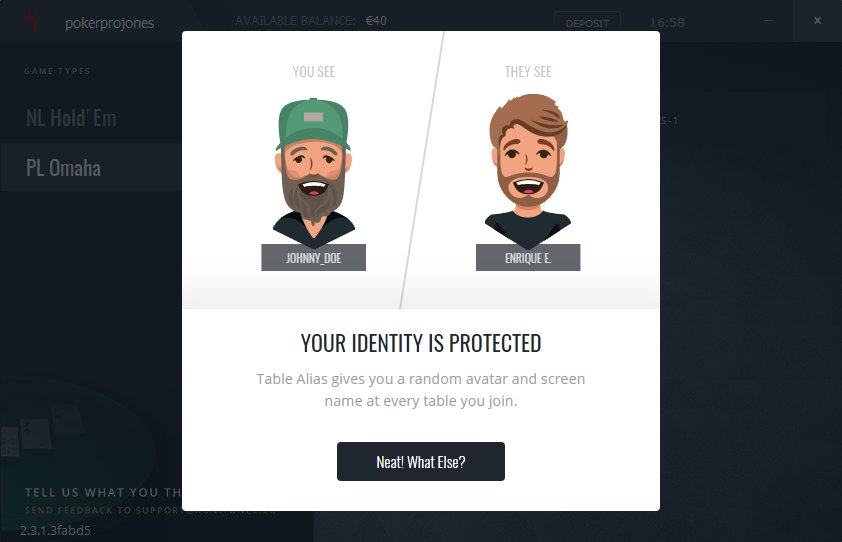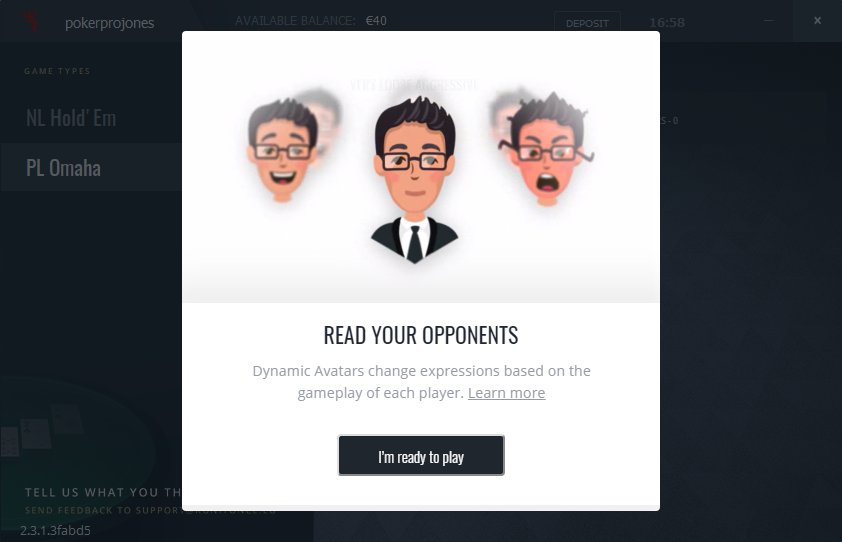 From Grinning to Angry, from Enraged to ROTFL, Game Face to Puzzled, there are eight facial expressions that change regularly based on the player's recently observed play style.
Interestingly, the expressions which players see are based on the hands they have played against that player at the table.

Sign up to Run It Once today and enjoy up to €600 in deposit bonuses! »
Does the site allow players to take notes?
Yes, players can make a note on other players by clicking on the avatar of the player. The site also allows marking players with five different color coding. However, they will be valid for only four hours.
Will players be able to communicate with other players?
No, the operator will not be providing a traditional chat box table. Instead, players will be able to communicate with other players through a limited set of emoji's and acronyms such as "NH", "TY", "YOLO".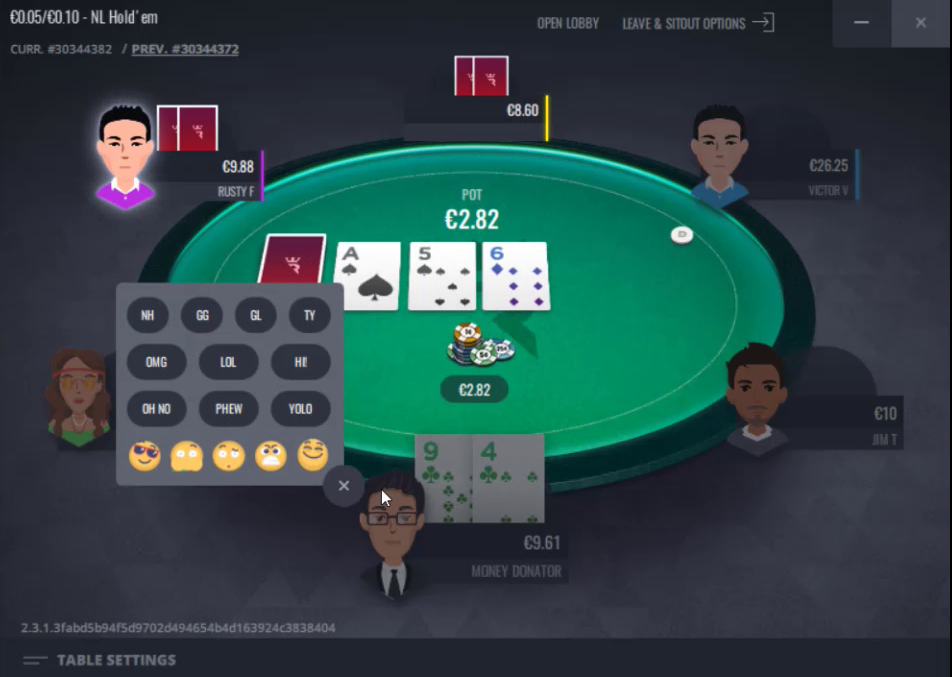 Does the site support Mac client? Also, will
RIO

poker be launching an app for mobile users?

We can confirm that the second beta testing session will support MAC clients along with Windows Desktop client.

The site has not yet revealed a mobile app yet. But it is expected, RIO will release an app for Android and iOS users in the near future. There is no word on whether there will be a browser-based client.