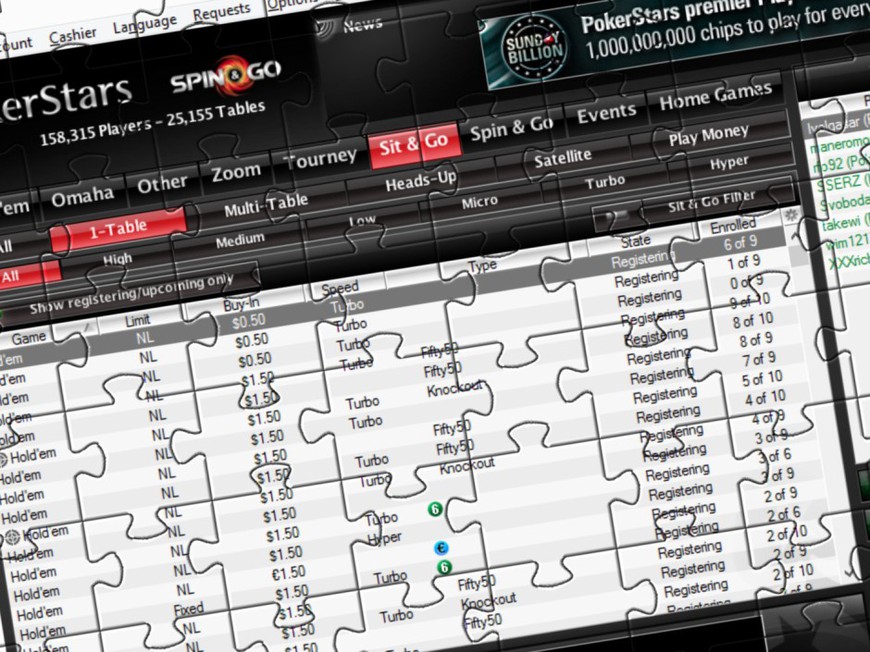 Setting exchange rates fees and increasing rake. Casino games, and new poker variants that blur the boundaries. Cutting affiliates and cutting pros. Withdrawing from gray markets. How many of these decisions came from high up?
The Rational Group of 2014 sure looks a lot different to Rational Group of 2013, and its new owner Amaya is in the spotlight.
Are the myriad of abrupt changes made in the last few months all down to the Canadian public company, eager to reassure investors that its $5 billion acquisition (and debt accrual) makes sense by using its "expertise" to streamline the operation, cut costs and raise profits?
Are they set on killing the goodwill that has made PokerStars the global market leader in online poker?
The rhetoric is succulent and convenient but a close inspection at each decision shows the situation is more nuanced—with many of the changes already set in motion well before Amaya was on the scene.
The Acquisition
Before we look at each change in turn and analyze each decision, let's first set the stage. Amaya announced the acquisition of the Rational Group brands in June of this year and completed the sale in August, less than three months ago. It paid $4.9 billion for PokerStars, Full Tilt, all of its live tournament series, its brands, patents and software.
What else did it get? A 65 million-strong customer base and an online poker brand that dominates almost every country in which it operates. Licensed in over a dozen jurisdictions, its goodwill and reputation have remain almost completely untarnished.
And it is an unbelievably profitable company. In the first half of this year, it generated over half a billion dollars in revenue. On that, it made over $200 million in profit. That is a profit margin of close to 40%.
Even more impressive: Revenue was up 4% on the same period in 2013, and profit was up a staggering 15%. That is in an industry that is much tougher one year on.
How did PokerStars manage this? Its marketing costs were down significantly, implying more efficient customer acquisition and retention. Presumably other cost savings came throughout its infrastructure (removing duplication from PokerStars and Full Tilt likely one) helped Rational celebrate its big 2014 profit bump. The takeaway here is that these cost-cuttings came well before any Amaya acquisition.
So in summary, Amaya just bought a money-making machine. A machine that is increasing its profit margins with a well-oiled system of marketing, the two best software products on the market, a dominant position in Europe and an exciting future in the US.
Making knee-jerk reactions and messing with a winning formula would seem maddeningly short-sighted. With that in mind, let's look at some recently changes, dispell some mistakes, and assign some blame.
Full Tilt Cutting its Pros
If you are to believe the PR, the decision to lose its lead pros Viktor Blom and Gus Hansen came after "year-long review of the Full Tilt brand"—setting the time scale well before Amaya came on the scene.
Whether you take that as gospel or not, the decision will hardly surprise any online railbird. Both players have lost a lot at the nosebleed tables, and to many observers they are the only reason high stakes games run at all. In other words, they are the fish, not the professionals. Beyond nosebleed action, neither player does much in terms of promoting the brand—Hansen even failed to turn up to his own tournament.
Ending the high-cost contracts with Hansen and Blom was clearly not some knee-jerk decision. It has been coupled with a new marketing strategy that is clearly aimed at attracting lower stakes, lower volume, casual poker players. The new marketing campaign is not a rushed response, but a carefully considered change in marketing approach.
Instead of spending marketing dollars on two high-profile pros with nebulous attraction, it is spending the money on TV spots promoting "the stories of Full Tilt," make space for casino games promotion, and promotions that give away $100,000 in freerolls. Whether you agree that's the best use of money, this is clearly a long-thought out decision that came from within the Full Tilt ranks.
Conclusion: Cutting Pros was a rational business move, part of its more efficient use of marketing dollars that got underway in 2013—Pre-Amaya.
Spin & Go
Many see the introduction of Spin & Gos, the lottery-style sit and go that PokerStars rolled out to dot-com this month, as a clear indication that its new owners are seeking to blur the boundary between poker and casino "gambling" games, to reduce the skill edge of the games it offers, and bit-by-bit dumb-down the online poker experience.
But they are missing context to this narrative: PokerStars did not invent the format.
PokerStars was the first to experiment with the variable-rate prize pool with Golden Sit and Gos, but these always included added prize money. It was Winamax that crystallized the concept into the common format proliferating today—the 3-handed, high speed, instant-seat tournament structure where the rake is built into the prize pool.
When Winamax brought them to the French regulated market way back in summer 2013, they were a huge success. Over 29 million games have been played since its introduction—that's 60,000 a day.
It was inevitable that the format would roll out to other online poker rooms: competitors cannot sit back and see a format succeed elsewhere, as it will attract away its player base. While operators would rather lead with new formats, they absolutely have to follow where necessary. That is why lottery sit and gos went to iPoker as Twister, Full Tilt as Jackpot, and now Spin & Go on PokerStars. Lottery SNGs will become as ubiquitous as fast-fold poker.
Conclusion: Pre-Amaya PokerStars was following the pack.
Casino and Sports
Surely, then, the addition of casino games to Full Tilt and PokerStars (in Spain, so far…), and the promise of sports-betting is a clear demonstration that Amaya Gaming is meddling with the PokerStars winning formula?
While the new owner certainly has eyes on bringing new igaming verticals to Rational Group brands, the plan was already in motion before they were on the scene. It was confirmed way back in the summer of 2013—a full year before the Amaya acquisition—that Full Tilt was adding casino games to the client. They launched in January of this year with blackjack and roulette. A month later, pokerfuse revealed that PokerStars was considering entering the global sportsbetting market. Meanwhile, Full Tilt signed a slate of deals to bring a variety of slots games to the client. This was all before Amaya was on the scene.
So if it wasn't the hand of Amaya, why the addition of casino games? Obviously there is the incentive of a bigger house edge over rake-based online poker, but online poker-only operators also face the same issue as with Spin & Go: If customers want casino games, they will take their spend elsewhere. This issue is more acute in regulated markets, where the number of operators is restricted.
Conclusion: Pre-Amaya PokerStars planned to cater to what its customers want hoping to boost retention while enjoying bigger margins.
Changing its Signup Bonuses and
VIP

Program

This is mostly dispelling a bit of a myth that was first raised on Two Plus Two and has since been repeated on a few online poker sites. As written on 2+2, sign-up bonus changes to PokerStars and Full Tilt go back to at least 2013. Definitely pre-Amaya.

The VIP changes are similarly fairly minor—in fact, taking off 5% from Supernova Elite for 2014 was surprising for how minor the change was. Before Amaya was on the scene, PokerStars foreshadowed much more substantive changes. Most industry observers expected big changes to the top end of the VIP program, something inline with the overall industry trend of catering more to the lower-volume, more casual players.

Conclusion: There will be bigger changes to the VIP program in 2015, but that was the plan Pre-Amaya.
Withdrawing from Grey Markets
We now reach changes where Amaya comes into the picture, and the first is clear cut: Withdrawing for around 30 gray markets was prompted by a review by the "management team and advisors" of "commercial opportunities and business risks."
If there was any doubt this came from on-high, Ongame, Amaya's other online poker product, also withdrew from the same markets.
Conclusion: An Amaya business decision that signals a clear change in policy.
Changes to Currency Exchange Rates
A bizarre decision. PokerStars quietly added a 2.5% exchange rate fee for all deposits and withdrawals.
The change itself is not that shocking—all other major operators impose a fee. As Michael Josem, head of PR at PokerStars pointed out, "we were probably the world's best place for players to exchange currency until now." A 2.5% fee is competitive with other such transaction fees in both online poker and outside.
What was striking about the change was the lack of communication. There was no announcement ahead of time—community uproar prompted statements from Josem on 2+2, and a lengthy blog post by Head of Corporate Communications Eric Hollreiser.
Why the change? Many would surmise it simply as a "money grab"—Hollreiser said it in only slightly different terms.
"We've made a lot of hard decisions over the years, some of which have cost the company a lot of money … we invested heavily in stabilizing the global online poker ecosystem following Black Friday; purchasing Full Tilt and paying back that company's players," he wrote.
He goes on to add that the new fee was akin to "bankroll management."
The 2.5% fee is unlikely to raise substantial revenue—for most players they can avoid the fee by making transfers within the cashier first. But the lack of communication smacks of an underhanded extra tax.
Conclusion: A poorly communicated, surprise extra tax, where a lack of early communication raises legitimate concerns.
Cutting Affiliates
It's impossible to judge how far-reaching the decision to end agreements with long-standing affiliates was—PokerStars said it was a "very small number" of non-performing partners. Affiliates allege that some of the largest recurring contracts were canned overnight.
Conclusion: Dumping high-cost affiliate accounts is a quick way for a new owner to make a fast buck, but these changes could have been coming as part of PokerStars' marketing efficiencies anyway.
Rake Increases
And finally, this week's bombshell—increased rake at cash games, tournaments and spin & gos; the end of the Battle of the Planets leaderboard; the new rake on MTT add-ons and rebuys in some regulated markets. This one was announced publicly without any preamble and spin, and for that PokerStars should be commended. But it's never going to be a crowd pleaser, regardless of the pitch.
While the overall impact to the player is not clear, there is little conclusion to draw other than that this is a direct attempt to increase revenue from a broad set of players. All big bet cash game players at low-stakes and up will pay more if they start tables or try and keep them going—an odd subset of players to tax.
The extra cost on hyperturbos seems to make more sense—these were always priced at an industry low and the value of the VIP program still makes these profitable. Still, the loss of the BoP leaderboard is a big blow to high volume grinders.
Perhaps most curious is the decision to significantly increase the rake at Spin & Gos, which only recently debuted. As I've argued here before, lottery sit and gos need a sub-5% rake to make them attractive, and PokerStars soon after debuted a 4% rake. Increasing this to 5-7% basically accepts that these games are a pure revenue-generating machine for the operator, making them likely unbeatable to serious players.
Conclusion: Along with the affiliate changes and currency exchange rate fees, this likely ensures that Amaya can report an impressive H2 2014 to its investors—and anger its high volume player base.