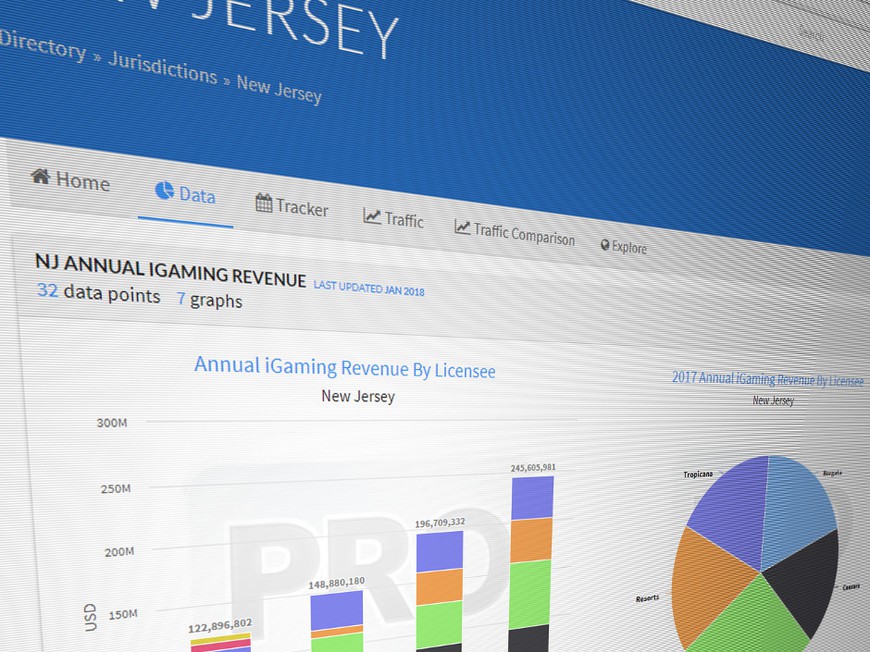 Lawmakers in states facing significant budget deficits may want to take notice of the success of the online gaming market is New Jersey where revenues from igaming continue to grow at a staggering pace.
Revenue from online casino games in the state grew by 30% in 2017 compared to those generated in 2016. According to figures released by the New Jersey Division of Gaming Enforcement last week, online casino games (including such favorites as blackjack, roulette and slots) generated $221.3 million last year.
Online poker generated an additional $24.3 million, bringing the total revenue generated from online gaming in the state to $245.6 million.
Online Casino Games Are Good for Both Business and New Jersey
This thriving business sector produced $43 million in taxes for state coffers last year and a total of $126.4 million since casino operators in the state began offering online versions of their games in November 2013.
And the growth in popularity of playing casino games over the internet is showing no signs of slowing down. The growth realized in 2017 is consistent with the pattern of growth since the market opened.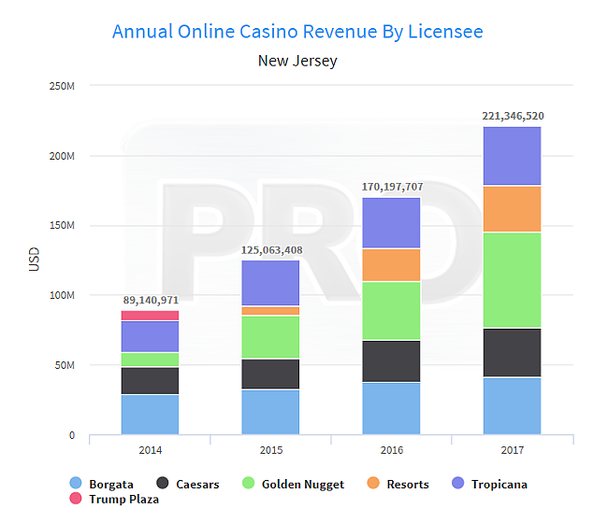 Yet, the industry still faces opposition, much of which comes from lawmakers trying to get the federal government to ban all online gaming with a few select exceptions.
Some Still Want Online Gambling Banned in the US
Just last month, a group of lawmakers petitioned the US Justice Department to revisit banning online gaming, calling for a "full and public debate in Congress."
Previous public debates have resulted in embarrassment for those trying to justify the internet gambling ban as opponents were easily able to poke holes in their arguments and point to outdated, misleading and in some instances just plain false information used to substantiate their position on the ban.
New Jersey lawmakers responded with a letter to the Justice Department of their own this week touting among other things, the extraordinary measures the state has taken to ensure the safety consumers that choose to patronize the online gaming sites in their state.
"Strict regulation procedures, rigorous regulations, and constant monitoring have proven effective at preventing underage gambling in New Jersey, with some studies stating that online gambling may be more effective at verifying identification and preventing underage gambling than land-based casinos," Senators Robert Menendez and Cory Booker assert.
The letter, also signed by eight of New Jersey's members of the US House of Representatives, goes on to cite gambling addiction experts that claim there is no research that links the internet with an increase in problem gambling.
"Placing a blanket prohibition for online gambling would be an antiquated approach to a 21st century issue," the letter concludes.
What Started the Push to Ban Online Gambling?
The efforts to outlaw gambling over the internet in the US are largely the result a single lobbying group: The Coalition to Stop Internet Gambling (CSIG). Backed by billionaire Sheldon Adelson, CSIG has been advancing one of Adelson's top political priorities: banning online gambling.
"In my 15 years of working with him, I don't think I have ever seen him this passionate about any issue," said Adelson's top political adviser Andy Abboud back in 2013 when the formation of CSIG was announced.
Soon after, a group of lawmakers introduced the Restoration of the Wire Act (RAWA), the main legislative vehicle for Adelson's efforts which sought to reverse a 2011 opinion by the US Justice Department that the 1961 Wire Act is limited in its scope to restricting only wagers placed on sporting events.
However, proponents of the ban have had no real success, in spite of the numerous attempts to advance the political agenda of their main supporter. And, with more states passing online gambling legislation (the most recent being Pennsylvania), the road is only looking more difficult for those in resistance to online gambling.