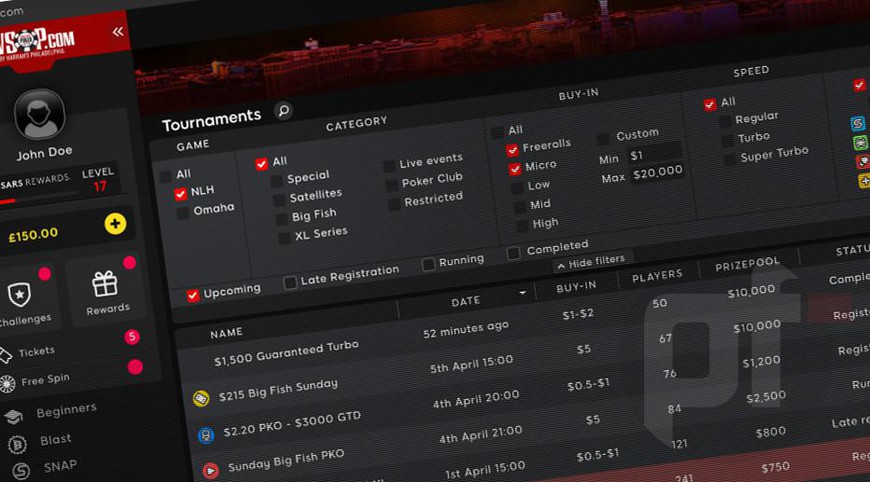 888, in conjunction with WSOP.com and Caesars, is set to expand their poker operations in the United States to Pennsylvania and Michigan.
In recent documents around 2021 Q1 earnings, the operator confirmed plans to roll out the new Poker 8 software in two new states this year. In a call with investors, executive made it clear they were expecting new poker launches by the end of June.
The WSOP US expansion has been rumored for a while. Pokerfuse broke the story in February 2021 that the operator hoped to go live in Pennsylvania, and potentially Michigan, by the summer. In March, pokerfuse also revealed a demo of the WSOP PA client running on the new 888 online poker platform.
However, there have been no firm timelines nor specific details beyond these reports until now.
WSOP

.com USA
: The world's most recognizable poker brand is legal in
Nevada, New Jersey
,
Pennsylvania
, and
Michigan
!
Massive Value

100% deposit bonus up to $1000 + $50 in free play
The only online poker network that spans across multiple states
Compete for real

WSOP

bracelets and rings in official online events from your own home
Frequent reload bonuses and lucrative monthly promotions
In the most recent presentation on earnings from the first quarter of 2021, more specific plans were confirmed.
"Regarding market launches," Itai Pazner, 888 Holdings CEO, told investors on the Q1 2021 conference call late last week, "we're planning to launch in the first half of this year—which basically means in the next couple of months … two additional poker states with our partnership with Caesars and WSOP."
Poker 8 is expected to be a big part of the rollout as well. The operator confirmed that the new software platform, already rolled out to most non-US markets throughout 2019 and 2020, will get its US debut in either Pennsylvania or on WSOP Michigan.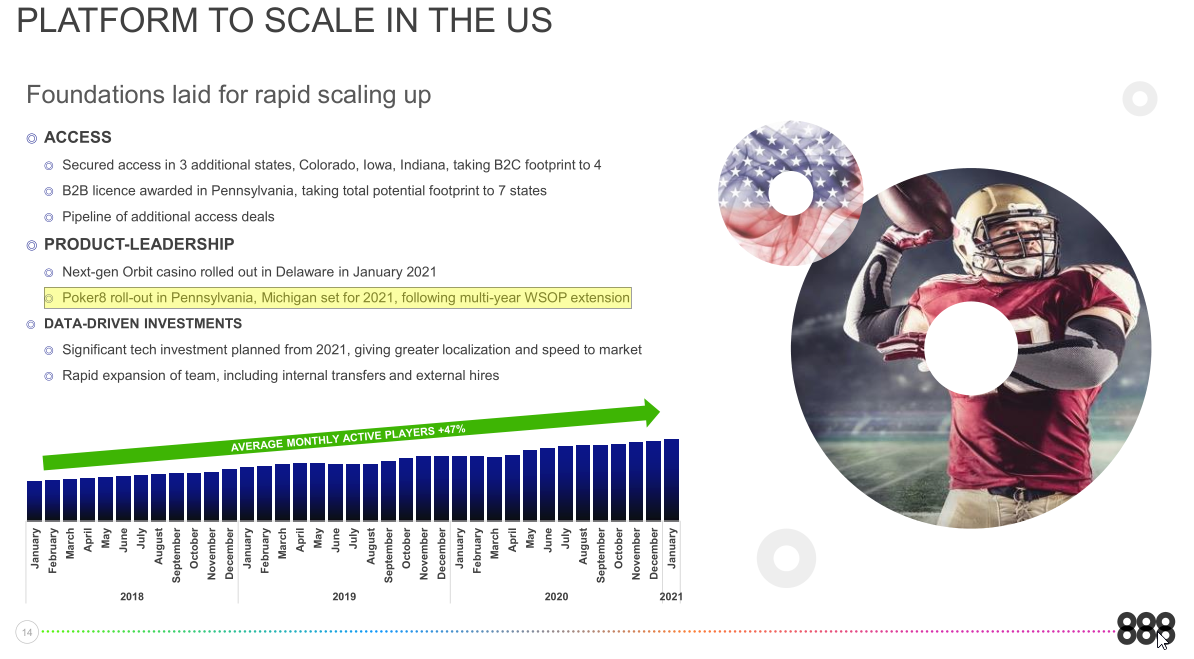 Which State First?
It is still unclear which state will launch first, but there is some indication in the regulatory status. In PA, 888 already has a license to operate, but they are still awaiting regulatory approval in Michigan.
In an exclusive interview with pokerfuse in February of this year, Senior Vice President and Head of US at 888 Holdings Yaniv Sherman indicated that the Michigan launch may depend on the regulator's position on shared liquidity.
"We've started our discussions," Sherman said about Michigan licensing, "and depending on their position on shared liquidity, that will determine the timing of when we can launch Michigan as well."
With licensing already in place, it seems likely that the first new room for 888poker will come in Pennsylvania. Until late in April, PokerStars stood alone in the PA poker market as the only operator offering online poker. That changed on April 28 when BetMGM Poker PA soft-launched in the state.
That all points to a PA launch first, but recent indications suggest the MI launch may no longer be strictly dependent on shared liquidity. The commitment to open both rooms in the first half of this year shows that, like their competitors, it may have decided not to wait for that situation to resolve.
Leveraging New Jersey Strength
888poker is currently the only operator in any US market to operate a multi-state player pool. It combines the players of WSOP.com in Nevada and New Jersey, 888poker in New Jersey, and those playing on the three "racinos" in the state of Delaware.
In the New Jersey market, where they currently compete directly with PokerStars NJ and BetMGM NJ, which runs on partypoker software, they told a consistent lead, even without the benefit of the Poker 8 software.
PokerStars NJ
: The global online poker giant offers legal, regulated online poker in
New Jersey!
For more than a decade, PokerStars has led the industry with the best software, largest player pools and safest environment to play
Great Welcome package: $50 after playing a single cash game hand at any stakes
Or a big first deposit bonus: huge 100% up to $600 deposit bonus with code STARS600
Home of the Sunday Special, NJCOOP, Spin & Gos and more
While the New Jersey rooms still run on the classic 888poker software, they still top the market in both cash game traffic and general poker revenue. They have held the revenue lead fairly consistently since late 2018. though in recent months rival BetMGM Poker NJ has been giving them a run for their money.
888poker plans to add the Nevada-New Jersey-Delaware network to the Poker 8 family after they rollout the new software in the new states, but they will certainly be leveraging the strength of their position in New Jersey in the new markets over the next couple of months.
There is plenty to be excited about in the 2021 US strategy from 888poker. As the only US operator currently running multi-state games through the Multi-State Internet Gaming Agreement (MSIGA), and with the new rooms opening in PA and MI within the next two months, 888poker mat well be in the best position to capitalize on new states that might choose to sign on to the MSIGA.
It is expected that there will be more clarity regarding the MSIGA by the end of the first half of 2021. That will change the online poker landscape in the US dramatically, and all the operators will be looking to take advantage if more states join in.
PokerStars has a lot of experience in shared liquidity in regulated European markets like Spain, France, and Portugal, but they have been hesitant to get involved in multi-state action in the US while the issue was in legal limbo. No doubt they have plans to implement some form of shared liquidity when the legal situation clarifies.
But with its position as the only operator currently working within the MSIGA, 888poker seems to have a clear advantage in expanding their existing inter-state offerings very quickly once the option is available. Getting a presence in PA and MI before the end of H1 2021 may well signal their first step toward that ultimate goal.