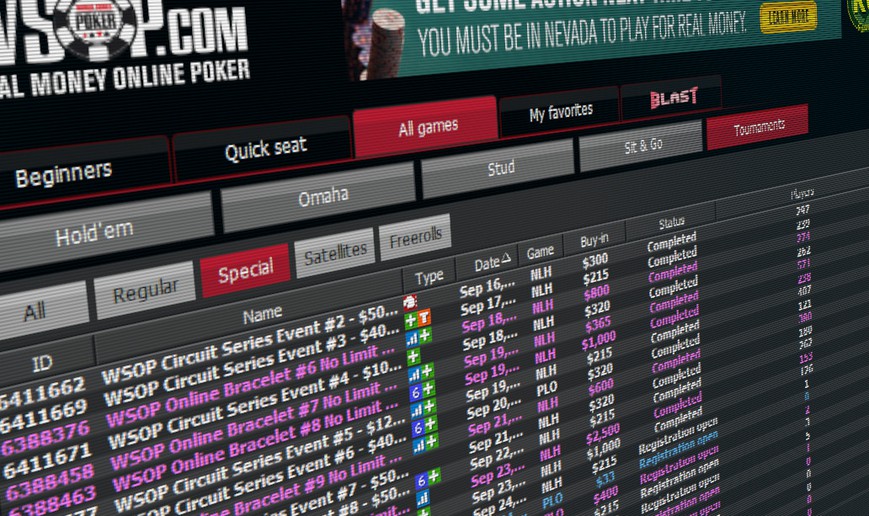 The domestic portion of the WSOP US Online 2022 bracelet series New Jersey and Nevada sharing the same player pool is off to a slow start. The online festival kicked off on September 10 and encompasses 33 bracelets taking place over a period of six weeks with events running nearly every day.
This is the second time the operator has run online bracelets for the US players this year — it previously ran one over the summer alongside the live series. That produced over $13 million in total prize money spread over 13 events, averaging just over $1 million per event.
The ongoing online-only series has been comparatively quiet in turnout. So far, nine bracelets have concluded; a quick glance at the tournament lobby suggests that the participation is much lower than what it usually gets.
Special Signup Offer
100% deposit bonus up to $1000!
$50 in free play with first deposit
Top-quality software
Compete for

WSOP

bracelets & rings
In fact, none of the events have exceeded $400,000 in prize money and the prize pools are averaging around $300k — three times lower than what these events achieved during the summer online bracelet series.
The comparison isn't apples-to-apples: usually traffic peaks during the summer period and declines in September in the US markets, particularly for WSOP which attracts thousands of domestic and international players to Nevada during the live series.
Even so, the operator will be disappointed with the participation levels so far.
WSOP

2022 Online Bracelet Series Turnout in NJ/NV
| Event | Buy-in | Entrants | Prize Pool |
| --- | --- | --- | --- |
| #1 | $400 | 755 | $271,800 |
| #2 | $500 | 698 | $314,100 |
| #3 | $3,200 | 124 | $376,960 |
| #4 | $1,000 | 273 | $245,700 |
| #5 | $500 | 515 | $231,750 |
| #6 | $800 | 393 | $282,960 |
| #7 | $365 | 913 | $299,464 |
| #8 | $1,000 | 384 | $345,600 |
| #9 | $600 | 515 | $278,100 |
Events Comparison Shows Much Lower Participation
The $400 buy-in Kickoff event on the opening day brought in 755 entrants for a total prize pool of $271,800. The same event during the summer series with a buy-in of $500 attracted 1776 entries creating a prize pool nearly four times larger.
The $3200 buy-in High Roller event attracted 124 entrants to bag a prize pool of 376,960. During the summer series, the same event drew 442 entries to produce $1.3 million in prize pool.
The $365 buy-in — the cheapest event of the series — pulled the biggest crowd, drawing in 913 entrants to amass nearly $300k. A similar event back in June attracted twice the turnout and a prize pool of around $750k.
Prize Pool Comparison:

WSOP

Online Bracelets 2020 – 2022
2020
2021
2022

NLHE

Kick-Off
$771,500
$574,650
$271,800
$3200 High Roller
$1,507,840
$948,480
$376,960
Across the board, $2.6 million in prize money has been generated over 9 bracelet events, averaging just $294,048 per event.
Events are being held almost every day, even during the weekdays when the traffic is low. Still, compared to the previous editions, the turnout is down significantly. These events usually produce prize pools well over $500,000 and attract a field size of 1000 entrants or more.
Is
WSOP

US Suffering from Bracelet Fatigue?

The lower turnout in bracelet events could be because of a lack of appetite for tournament bracelets in a rather saturated schedule so far this year. The operator has handed out close to 120 bracelets in 2022 to date, close to 30 of which were awarded online.

The ongoing online series features an additional 78 bracelets — 45 of which are being run for players in the US and 33 on GGPoker for international players — bringing the tally for the current year to 195 (of which 107 are online).

Some will argue that offering so many online bracelets makes the series less prestigious — and this is having a negative impact on participation rates.
Will
WSOP

Michigan Save the Day?

This raises another question: whether the New Jersey-Nevada pool desperately needs a boost from Michigan.

The WSOP US app is offering an online bracelet series in all its markets, including a separate series in both Michigan and Pennsylvania. Michigan officially became part of the US multi-state poker compact in May, but the actual merger has yet to take place.

Once that happens, cash game traffic will probably double overnight and tournament prize pools will see a sharp increase.

And it could happen as soon as next month — but it will be too late for this bracelet series. WSOP is running a separate series for Michigan players, with two events already concluded, each producing prize pools of around $80,000.

Additional prize money of $80,000 may not be a game changer, Michigan joining the existing player pool would have a much bigger impact. The Wolverine State has a population of 10 million — nearly a million more than New Jersey and 2.5 times greater than Nevada and Delaware combined.

Currently, the standalone MI player pool may not be enticing to many but it being part of the bigger pool would suddenly make it more appealing to play, creating a domino effect.

MI operators are expected to merge their MI pool with NJ in October.

Check for the latest WSOP US Promo Code and start playing!