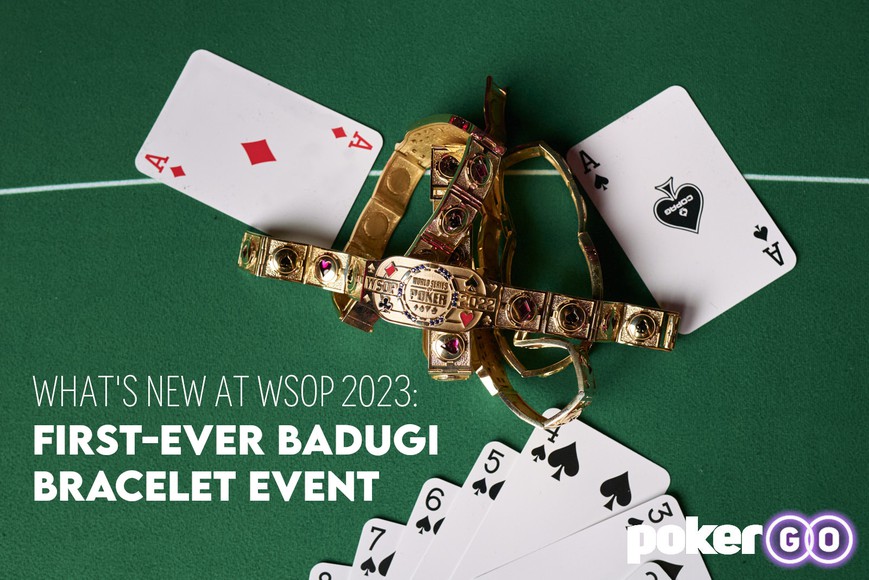 The team behind the World Series of Poker is always active, looking for ways to expand the schedule and add new and exciting events to attract players. The upcoming WSOP 2023 will be no different in this respect, as several new tournaments are added to the docket.
One of these is the first-ever Badugi bracelet event. While the game was featured previously as a part of mixed games and dealer choice events, the 2023 WSOP is the first time players can win a bracelet by playing only Badugi from start to finish.
If you are a fan of this lesser-known variation or want to try something new, keep reading to find all the details you need to know, including some essential tips and the best online poker sites in the USA where you can put your skills to the test before the big tournament.
Last verified: November 2023
Special Signup Offer
100% deposit bonus up to $1000!
Up to $100 in free play with first deposit
Top-quality software
Compete for

WSOP

bracelets & rings
Please play responsibly. If you or someone you know has a gambling problem and wants help, call 1-800
GAMBLER
.
WSOP

2023 Badugi Event Details

In the past, newly added tournaments often had a fairly steep buy-in, especially when featuring less popular variations. This is not the case for the first-ever Badugi tournament, as players can get a shot at the bracelet for just $1500.

The tournament in question is Event #20, on Jun 7. It will be a one-day affair, allowing for more flexibility. The late registration will remain open for the first nine levels, and one re-entry is allowed per player.

WSOP 2023 Badugi Event: Key Details
Event #20 –

WSOP

2023 Badugi Event
June 7th, one-day event
Buy-in: $1500
Re-entry allowed
Late registration is open for the first nine levels
What Is Badugi? Basic Rules Explained
Although it never caught on as one of the popular mainstream variants, Badugi is quite entertaining. It belongs to the lowball poker group, so the goal is to have the best low hand at the showdown.
The best possible hand you can have is A-2-3-4, but there is a catch. All four cards must be different (unpaired) and of different suits. Holding any four cards of different suits means you have a Badugi, which can beat any other hand with only three or fewer unpaired cards of different suits.
When two or more players hold Badugis, the one with the lowest card at the top wins, for example, a 5-7-8-9 beats a 2-3-5-10 Badugi.
The game is played with blinds (like Texas Hold'em) but is a draw game. After the initial round of betting, players get an option to draw, at which point they can replace anywhere between one to all four cards (or they can return none, staying pat). Another round of betting follows this.
The process repeats two more times, so there are, in total, four rounds of betting and three drawing rounds, during which players try to make the best hand or convince others they have the goods. After the final betting round, the showdown ensures to determine the winner.
Basic Badugi Strategy Tips
Like every other poker variation, Badugi has its specific strategies. We will not go into too much detail here, but will try to give you some basic pointers to help you if you are entirely new to the game.
The starting hand selection is critical in this game. If you get involved with too many weak hands, you will lose a lot of chips over time.
From early positions, stick to very strong hands — 10-low or better Badugis and strong three-card hands (7 or lower).
As you move towards the late position (cutoff), you can add J-high Badugis, 8-high three-card hands, and the best two-card hands containing an ace.
Button — all Badugis, 9-high three-card hands, A-2 through A-4 two-card combos.
This is not an extensive overview of Badugi starting hands, but it should give you a solid idea of what to look for when deciding whether to get involved.
Beyond picking the hands, your position and the number of players involved in a pot play a crucial role. Having a position will give you a lot of information about your opponents, and the general rule of thumb in multi-way pots is that you will need a stronger hand (in absolute terms) to win at a showdown.
The reality is that resources for Badugi strategy are pretty scarce, so the best way to prepare for the WSOP 2023 is by playing at very low stakes. It will give you a good feel for the game dynamics and what to expect with different types of hands.
Where Can You Play Online Badugi in the US?
You might be wondering what online poker sites in the US even offer Badugi and if you can get some practice in for free or at small stakes, as it is never recommended to put a lot of money on the line when learning a new variation.
Currently, PokerStars US is the only operator to offer the game in the United States, so players in PA, MI, and NJ are in the best spot regarding learning by doing. If you're not a PokerStars member, you can sign up and start playing Badugi in minutes.
There are even play money Badugi tables, which means you do not have to risk any cash. This is probably a good place to start if you have just learned the rules and have no playing experience.
Once you are ready to graduate to real money, you will find a couple of limit Badugi games running around the clock on the site, although you might need to wait a little while for seats to get filled.
The 2023 World Series of Poker will bring loads of action, but if you are looking for a change of pace or something to challenge yourself, a Badugi bracelet event with an affordable buy-in could be just the right thing. If you spend some time playing and studying the game, you will probably have a decent shot, as the event will likely be filled with people having fun and taking a stab at it.
Head to PokerStars to start practicing your Badugi strategy!
Check out our complete guide to the 2023 WSOP, including info on all the new events this year, full schedule details, qualifiers, and much more.