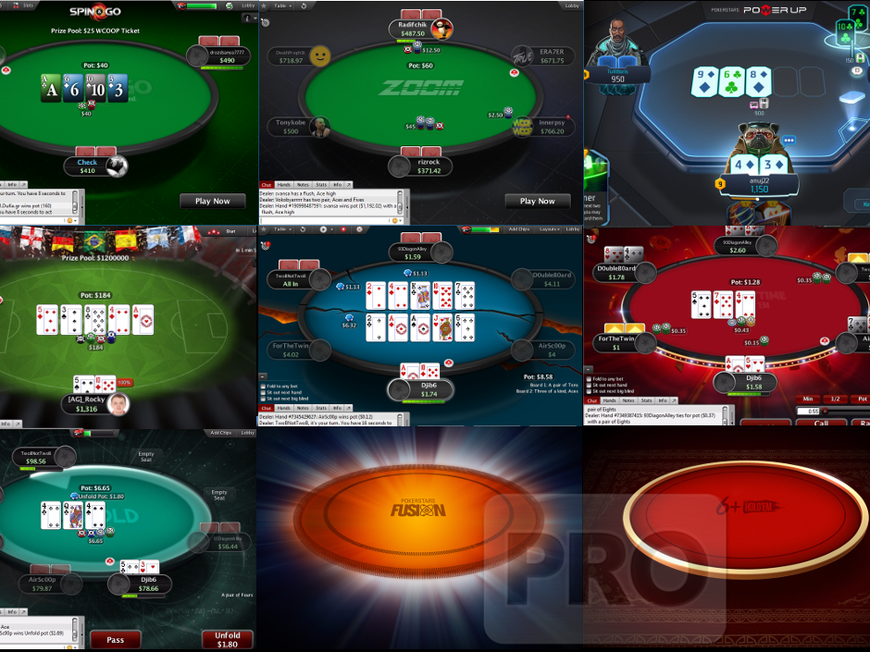 The world's leading online poker site, PokerStars, may bring back its novelty twists on the classic Texas Hold'em poker variant— Split Hold'em and Showtime Hold'em—in Multi-Table Tournament (MTT) format.
Throughout this year, a series of new cash game products have been launched from the operator in an attempt to keep poker fresh in a way that appeals to both recreational and professional players.
We are considering putting variants in, such as MTTs, because player feedback showed that they [would appreciate] this.In an exclusive interview with Poker Industry PRO, Severin Rasset, PokerStars' Director of Poker Innovation and Operations, talked about the new novelty cash game formats, the company's strategy around them, and the plans for the future of these games. He also responded to our question about whether we would see Split Hold'em or Showtime Hold'em in an MTT format.
"We are considering putting variants in, such as MTTs, because player feedback showed that they [would appreciate] this," said Rasset. "Some players were disappointed that they could not find games when we turned them off, so this is something that we want to potentially offer."
"2018 is the first year we have created a stream of new games that occur on a regular basis. In that regard, we are quite happy that we have completed four new variants of NLHE in one year, and we still have three months to go," Rasset added.
Rasset's implication that the company could be planning to launch more new variants this year follows the discovery of assets by pokerfuse and Poker Industry PRO that appears to suggest at least two new games are in the company's pipeline.
I would say that overall we want to have games with a clear skill gap between players.Fusion, details of which are unknown, but it appears to be a blend of two exiting poker formats, and Six Plus Hold'em, a game with a short deck that has been gaining popularity over the last couple of years are candidates for the next limited release.
Rasset also indicated that new game innovation will continue in 2019.
A Quick Look Back at PokerStars Innovations this Year
Because the new poker variants by PokerStars have only been available for a limited time, a recap of the games that have been released so far in 2018 follows.
Split Hold'em
The first novelty game to launch this year was Split Hold'em. As pokerfuse predicted before its launch, Split Hold'em is a game based on a common home game known as Double Flop Hold'em, where two boards of community cards are dealt and the pot is split between the best hand on each board. It is believed to be the first time that such a format was available in online poker. The format was spread in a 6-max cash game format and lasted for six weeks.
Why Play on PokerStars?

Sign Up Today »
Largest player base in the world.
Home of Spin & Go, Power Up and lots of other unique game variants.
Biggest weekly tournament schedule around.
Reaction to Split Hold'em among members of the poker community was mixed. Many liked the format as it added new strategies and new dynamics to the game like adjusting the value of starting hands and bet sizes. However, there were some with the opinion that the split pots generated more rake for the operator which reduced their edge.
The skill factor was a consideration when developing these new variants. "For the skill aspects of these games, I think there are multiple elements that we need to take into consideration to determine what the 'skill' of the game is," Rasset revealed.
"It's hard to compare something like Spin & Go and a new cash game variant, Rasset continued, noting that in addition to the obvious difference of having a split pot, "the skill gap [for Split Hold'em] might evolve over time."
But PokerStars is not aiming to eliminate the skill gap between recreational players and high-volume players.
"I would say that overall we want to have games with a clear skill gap between players," Rasset made clear.
Split Hold'em launched on March 28 and was removed from the lobby on May 14 after running for six weeks.
Showtime Hold'em
Showtime made its debut shortly after Split Hold'em was withdrawn. The game differed from traditional Texas Hold'em by forcing players to expose their hole cards as soon as they folded. Like Split Hold'em, Showtime Hold'em was also introduced in a 6-max cash game format.
"It made for a fun twist on hold'em that rewarded careful observation while forcing you to rethink your strategies," wrote a PokerStars Staff member on PokerStars blog.
The variant was well received from the players as it led to players bluffing more and playing more aggressively. The game did not involve any split pots like in Split Hold'em. Conventional thinking was that more skill was involved in Showtime as players used information available from folded hands to make better decisions on future streets by accounting for dead cards when counting outs or assigning ranges to their opponents.
The game launched on May 23 and continued for two months before getting removed on July 23.
Unfold Hold'em
The latest variant to join a long line of poker game innovations from PokerStars is Unfold Hold'em. The game was launched just days after Showtime was taken down.
Unfold involves a unique twist on poker by letting players "unfold" their mucked cards and allowing them to get back in the game after the flop. Again, pokerfuse and Poker Industry PRO revealed the format ahead of its launch.
"Producing temporary games and temporary content reinforces the gaming experience and I believe that's one of the keys to creating sincere engagement from our players," said Rasset.
Unlike the previous novelty poker formats, Unfold plays as an 8-max cash game and has a separate pot for the players who folded preflop. Surprisingly, the game was slated to be a permanent offering, but this was later changed as the operator removed "permanent" wording from its press release.
The game can still be found in the PokerStars client, but it is expected to be withdrawn soon. The decision to fold this game was first revealed to pokerfuse in an official statement on September 10.
Compared with the other cash game novelties, the game has not been well received by players. One of the criticisms of the game is that Unfold pots are raked. Rake ranges from 5% at the higher stakes to as high as 8% at the lower and micro stakes.
Unfold Hold'em made its debut on August 1 and it is expected to be withdrawn from the client this week.
Will PokerStars Launch These New Poker Variants in Regulated Markets?
We also asked PokerStars if there are plans to launch these new games in the regulated markets like the European Segregated market, Italy and New Jersey. Rasset commented, "When it comes to the regulated markets (France, Spain, Italy and Portugal) it depends on each situation."
"Each market has its own rules. Our overall goal is to offer the right games for the different regulated markets, because they are just as important as .com."