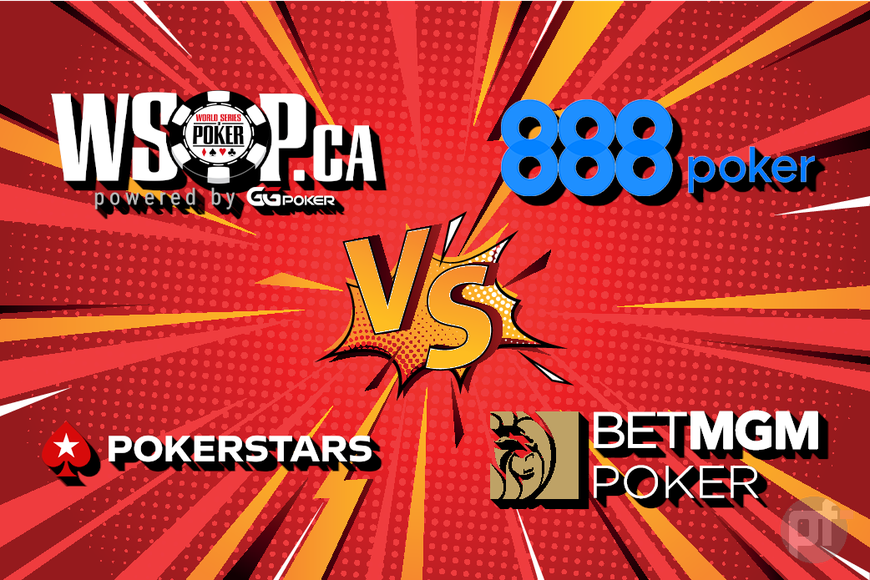 Now that we've done an in-depth comparison of tournament offerings, let's take a closer look at cash game offerings to determine which operator reigns supreme in terms of providing ring games in Ontario.
Ontario has the distinction of being the most populous province in Canada, with a population of almost 15 million, making it an attractive market from an economic perspective. It also boasts a robust economy, has higher purchasing power than many jurisdictions in North America, has a high income, and is an area where online poker is particularly popular.
The Ontario online poker market is highly competitive, with four different poker networks and six distinct poker rooms available. To assist players in determining which operator offers the best ring game offerings in Ontario, we will be comparing and contrasting the offerings of each operator. With so many options available for Ontarians, we guide you through the process of finding the best cash games in the market.
Ontario Online Poker Rooms: Cash Game Offerings Highlights
PokerStars offers the widest range of cash game formats. including exotic variants such as 6+ Hold'em & Tempest Hold'em
BetMGM Poker is the only network to offer a randomized cash drops feature at cash games
BetMGM also exclusively spreads a fast-fold cash game, which it calls FastForward
GGPoker.ca exclusively offers a 5-Card Pot-Limit Omaha game
888poker is the only network that runs 9-handed cash game tables
Ontario Online Poker Cash Game Comparison
| Operator | Distinction |
| --- | --- |
| PokerStars | Short Deck Hold'em |
| GGPoker.ca | 5-Card Pot Limit Omaha |
| BetMGM | Fast-Fold Variant |
| 888poker | 9-Max Tables |
Ontario Online Poker Rooms Cash Game Table Stakes
| Operator | Hold'em | Omaha |
| --- | --- | --- |
| PokerStars | $0.01/$0.02 to $50/$100 | $0.01/$0.02 to $50/$100 |
| GGPoker.ca | $0.01/$0.02 to $25/$50 | $0.01/$0.02 to $10/$20 |
| BetMGM | $0.05/$0.10 to $10/$25 | $0.05/$0.10 to $10/$25 |
| 888poker | $0.01/$0.02 to $10/$20 | $0.01/$0.02 to $2/$5 |
PokerStars Ontario
PokerStars leads the way when it comes to offering a wide variety of cash game tables globally. In Ontario, it brings that same experience.
There is always plenty of action and finding a table on the PokerStars Ontario app is pretty easy. Available stakes range from CAD $0.01/$0.02 to $50/$100 for both NLHE and PLO. The operator does not offer mixed games as it does in the US markets but spreads exotic poker variants.
It is the only operator in the province that spreads 6+ Hold'em (also known as Short Deck) cash game tables spread out in nearly a dozen table stakes from $2nl to $500nl.
Furthermore, the site also runs an exciting unique poker format called Tempest Hold'em, played as an ultra-short stacked all-in-or-fold game with three blinds. The game is available in six different buy-ins.
PokerStars Ontario also offers unique perks such as Run It Twice and an insurance feature called "All-In Cashout."
But not every game type is offered in the room. Presumably, the operator does not spread the ultra-popular fast-fold poker variant Zoom in Ontario due to a lack of enough player liquidity. There are also no heads-up tables or full-ring 9-handed tables, as all the cash games are available in the 6-max format.
Currently, the site gets the most traffic in terms of cash games and should be your go-to online poker room in Ontario.
Sign up for PokerStars Ontario and start exploring the variety of games on offer.
Standout cash game offerings or features of PokerStars Ontario:
Dozen table stakes available from 2nl to 1000nl for both

NLHE

and

PLO

Offers Short Deck variant
Runs unique All-In or Fold format called Tempest Hold'em
All-in insurance and Run It Twice features available
WSOP/GGPoker Ontario

GGPoker, which operates in partnership with WSOP, was one of the latest entrants into the regulated market. However, from the start, GGPoker Ontario made a significant impact by overtaking PokerStars in terms of the number of cash game hands dealt.
Currently, it holds the #2 spot in the province, but there is no shortage of game availability.
Hold'em cash games start at micro-stakes of $0.01/$0.02 and go up to $5/$10. The site also offers featured high-stakes tables with buy-ins of $10/$20 and $25/$50.
In terms of Omaha, the stakes begin at the same range as Hold'em but reach up to $10/$20. The network also supports 5 Card PLO, which is a variation of Omaha where players are dealt five hole cards. 5-Card PLO at GGPoker.ca is available from $0.01/$0.02 to $5/$10, but the action is mostly at high stakes rather than low or micro-stakes.
The network does not offer heads-up tables nor the fast-fold variant Rush & Cash, which GGPoker runs in the dot-com market.
One massive advantage of GGPoker.ca is that the site has a built-in Heads-Up Display feature called Smart HUD, available for free to all players. The feature levels the playing field by displaying basic statistics, including information about a player's playing style.
Besides the in-house HUD tool, the operator also has EV Cashout — WSOP/GGPoker's version of the insurance feature at cash games. Just like PokerStars, GGPoker also charges a 1% fee each time a player opts for insurance. The room also supports straddle/no-look all-in bets and multiple dealings.
Sign up for GGPoker.ca and try out all the exclusive features like all-in insurance and All In or Fold that you won't find elsewhere.
Standout cash game offerings or features of GGPoker Ontario:
Runs special 4-handed All-In or Fold poker variant
Availability of 5-Card

PLO

Spreads special

VIP

Tables
Supports all-in insurance feature, run it multiple times, and straddle bets
BetMGM Poker Ontario

The BetMGM Poker Ontario app offers a variety of No-Limit Hold'em and Pot-Limit Omaha action, with blinds starting at $0.05/$0.10 — which is higher than its competitors — and going up to $10/$25. These games are available most of the time at some level.
The operator also spreads heads-up tables, but only for NLHE. These start at table stakes of $0.25/$0.50 up to the highest stakes of $10/$25. Players can also find fast-fold play, where the action is lightning-fast.
Fast-fold style poker, also known as Zoom at PokerStars and FastForward at BetMGM/partypoker, is a cash game variant where there is no waiting for a hand to finish, and players are taken to a new table as soon as they fold or the hand finishes. However, finding active FastForward games may be a challenge during the week, but some action can be found at peak times on the weekends.
BetMGM is the only operator in the province to provide heads-up and fast-fold variants.
In addition to heads-up and fast-fold style cash game tables, the operator also exclusively spreads Hot Tables — the operator's version of randomized cash drops. This feature works with the operator adding extra money at cash game tables in addition to the regular cash pot. These randomized drops can range from 1 big blind to 1500 big blinds.
The variance-reducing feature Run It Twice is also offered as an optional feature at BetMGM Ontario.
At the time of writing, BetMGM Ontario, which shares its player pool with partypoker Ontario and bwin, is ranked #3 in terms of cash game traffic.
Register for a BetMGM Poker Ontario account for some head-up and fast-fold poker. Maybe you'll even get lucky at a Hot Table._
Standout cash game offerings or features of BetMGM Poker Ontario:
Exclusively offers heads-up cash game tables in Ontario
Fast-fold variant availability
Only operator to offer randomized cash drops Hot Tables in Ontario
Offers Run It Twice feature
888poker Ontario

888poker was the first room to enter the regulated Ontario online poker market, but it has not been able to gain a significant share of the market in terms of cash game traffic.
However, it should not be underestimated, as there is plenty of availability of cash games at 888poker Ontario. The site spreads both No-Limit Hold'em and Pot-Limit Omaha games. Blinds range from micro-stakes of $0.01/$0.02 all the way up to $10/$20 for NLHE and $0.01/$0.02 to $2/$5 for PLO.
It is also the only room that offers classic full ring tables with nine players on the table at micro-stakes of $0.01/$0.02 and $0.02/$0.05 NLHE. The site also has the Push or Fold cash game format at high-stakes tables.
Where 888poker truly excels is in running big tournaments, offering weekend tournaments with generous guarantees. Additionally, it is the only operator in the province to introduce the popular Mystery Bounty tournament format.
Create an 888poker Ontario account and start exploring its cash game tables.
Standout cash game offerings or features of 888poker Ontario:
9-handed cash game tables
Push-or-fold cash game tables
Which Ontario Online Poker Room Has the Best Cash Game Offerings?
Here's a breakdown of what we recommend:
In terms of game availability and variety of buy-ins, PokerStars has the best spread in Ontario. It's also the only option for those looking to play Short Deck.
For a softer player field, GGPoker.ca is an ideal choice, as the site has a high number of recreational players. It also offers featured

VIP

high-stakes tables with buy-ins of $10/$20 and $25/$50, catering to all types of players. Additionally, the site offers an optional all-in insurance feature and allows "straddle" bets.
If you're looking to play heads-up tables or fast-fold style variants, BetMGM Poker is the best choice.
For those who prefer playing 9-handed tables or 6-handed Push or Fold format, 888poker is the perfect fit.
To dive in deeper, check out our comparison table below. It might help you pick the site that is best suited for you.
Ontario Online Poker Ring Games Comparison II
| Operator | Heads-Up | 6-Max | 9-Max | Fast-Fold | All-In or Fold | Short Deck |
| --- | --- | --- | --- | --- | --- | --- |
| GGPoker.ca | No | Yes | No | No | Yes | No |
| PokerStars | No | Yes | No | No | Yes | Yes |
| 888poker | No | Yes | Yes | No | Yes | No |
| BetMGM | Yes | Yes | No | Yes | No | No |